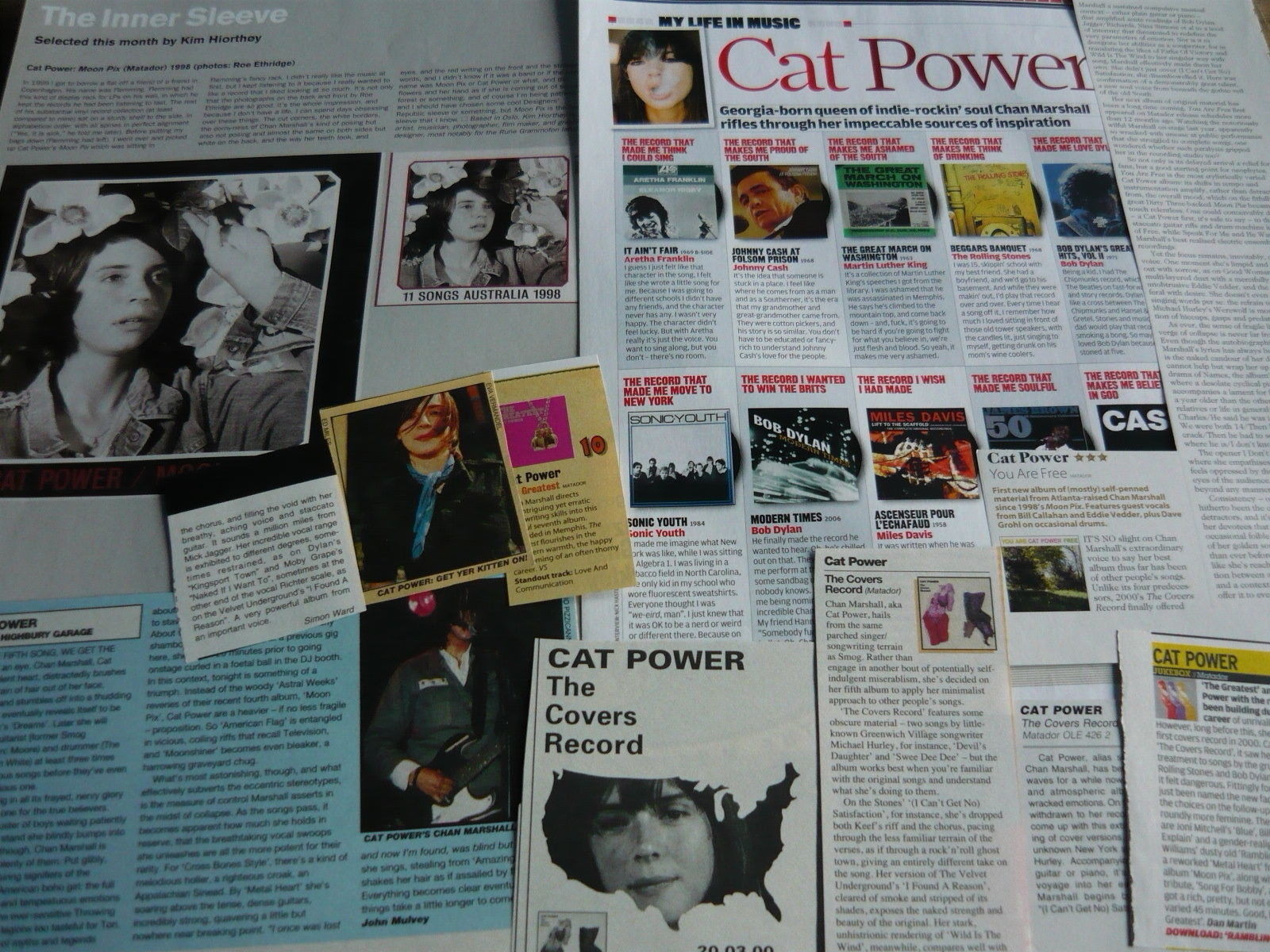 Cat Power was originally the name of Chan Marshall's first band, but has become her stage name as a solo artist. Born in Atlanta, Marshall was raised throughout the southern United States, and began performing in local bands in Atlanta in the early 1990s. Marshall grew up in a chaotic, poor family with a largely absent blues musician father and a mother from whom she would later become estranged. She has written about alcoholism, violence and assault and, on one song – "Black" she sings of running all the way upstairs, to escape someone who "threw me in the bath with an ice and a slap / can of Coke down my throat / on his whole hands and knees".
She was discovered opening for Liz Phair in 1993 by Steve Shelley of Sonic Youth and Tim Foljahn of Two Dollar Guitar, with whom she recorded her first two albums, Dear Sir (1995) and Myra Lee (1996), on the same day in 1994. In 1996, she signed with Matador Records, and released a third album of new material with Shelley and Foljahn, What Would the Community Think. Following this, she released the critically acclaimed Moon Pix (1998), recorded with members of Dirty Three, and The Covers Record (2000), a collection of sparsely arranged cover songs.
After a brief hiatus she released You Are Free (2003), featuring guest musicians Dave Grohl and Eddie Vedder, followed by the Soul music influenced The Greatest (2006), recorded with numerous Memphis studio musicians. A second album of cover tracks, Jukebox, was released in 2008. In 2012 she released the self-produced Sun, the highest charting album of her career to date.
Critics have noted the constant evolution of Cat Power's sound, with a "mix of punk, folk and blues" on her earliest albums, and elements of soul and other genres more prevalent in her later material. Her 2012 album Sun incorporated electronica in a self-proclaimed move from the "slower" guitar-based songs she initially wrote for the album. If you're a fan of Cat Power's music, you might be thinking: "Well, hang on a minute, she was drunk the last time I saw her live, in fact she turned her back on the audience, muttered something inaudible, stopped in the middle of three songs and then walked off." Such erraticism is indeed something her live shows became known for; in her own life there were psychotic breakdowns, and she went to rehab for alcohol and prescription-drug addiction. Her diehard fans never wavered, though. For them, to know Cat Power's heartbreaking, raw music is to love her unconditionally, giving her a rightfully elevated position in the American alt-rock scene
The complete recorded works of Georgia by way of New York, South Carolina and Miami artist Cat Power, reveal's a complicated artist, and a highly unpredictable one. Yet throughout Marshall's career, she's maintained a singular sense of bluesy melancholy that remains a staple of who she is as a songwriter.
Dear Sir (1995)
Cat Power's first album doesn't reveal much of what her future held, aside from the fact that there's a certain sense of walls-closing-in tension. Dear Sir is a lo-fi indie rock record like almost any other lo-fi indie rock record of the mid '90s, except a notch or two better ,drummer Steve Shelley and guitarist Tim Foljahn amplify the nervous energy that Marshall's songwriting holds, and you can already tell that voice she has is capable of expressing the kind of resonant emotion-over-virtuosity weariness of which artists typically nail the balance when they're twice the age she is here. The version of Cat Power that Chan Marshall debuted on first album Dear Sir is, in essence, fairly similar to what she's done all along, just much more stripped down and on a smaller budget. But at its heart, the connection remains — a bluesy, melancholy approach that comes wrapped up in a lot of soul and a lot of tears. Aesthetically, though, Dear Sir is mostly a low-key, lo-fi indie rock album that displays Chan Marshall's songwriting at its rawest,
The Tom Waits song "Yesterday Is Here," cowritten by Kathleen Brennan and originally from Franks Wild Years, is Marshall's first great recognizable cover. While the arrangement doesn't start out too far from the original's staggering minimalist junk shop blues, it's a brief but intense and unexpected turn into a monomaniacal motorik beat (if that motor threw a rod). This rendition shows off the way Marshall's voice can turn her surroundings into shaky ground.
Undercover EP (1996)
This track, from a brief session in Portland, has a funny story behind it (at least if the YouTube comments are to be believed). Apparently, as Marshall was on her way to the studio to record Undercover, she changed her mind about one of the songs she wanted to record, and scrapped something she had planned in favor of Dead Moon's "Johnny's Got A Gun." As a result, she spent her drive to the studio studying a copy of Dead Moon's Defiance LP to memorize the song's lyrics.
That's how Marshall took one of the most underrated garage-punk protest songs of the '90s and found a way to make her quiet intensity sound as capable of busting through walls as Toody Cole's amplified snarl did. It's a kind of sloppy-spontaneous performance — she omits the first verse and forgets the words to the last but damn, it works.
Myra Lee (1996)
Released only six months after Dear Sir, and what would be her second album of three in a one-year span, Myra Lee is considerably darker and more complex than its predecessor, but at the same time, a good measure more difficult. It can't be a complete coincidence that Steve Shelley plays on this album, which sounds frequently like the dissonant songs of early Sonic Youth. Nonetheless, Marshall's bluesy, folk-influenced songwriting still remains the focus, but presented in a considerably more gothic fashion. Its opening track, "Enough," speeds up and slows down in pursuit of a nervous breakdown more than a climax, which grows even more intense when re-recorded for the same year's What Would The Community Think. Similarly, "We All Die" is a harsh noise rock trip that follows a descending riff into the underworld. The cover this time around is a sparse, jangly take on Hank Williams' "Still In Love," and the re-recorded version of "Rockets" continues a tradition of revisiting old songs, which comes up repeatedly through Marshall's career (Dear Sir's "Headlights," itself was a reprise of an early single). There's a little more complexity to Myra Lee, though Marshall is still one album away from really tapping into the kind of affecting songwriting that made her later albums such emotional powerhouses.
Hank Williams had dealt with pain his entire life from spina bifida, and when a fall made it worse in 1951 a few months after "I Can't Help It (If I'm Still In Love With You)" hit No2 on the Billboard country singles chart — he started to self-medicate the only way a traveling musician in the early '50s could find, namely alcohol and a cocktail of painkillers, up to and including morphine.
Whether or not that's the Hank Williams that Marshall had in mind when she recorded her version, it's the one that might come to mind thinking about the chronic illness and depression-related alcohol abuse she had to fight through over the years to get to where is is today. But think of the artist foremost, here the country love song deftly reimagined as the cream of '90s indie rock, concealing a deep wistfulness in what half-listens might disguise as amateurishly played affectless calm. Instead, it's an actual manifestation of feeling so completely defeated by heartbreak that you can't even get the focus to play it tight.
What Would the Community Think (1996)
With two albums released in less than a year, Chan Marshall had transitioned from Steve Shelley's Smells Like Records to the bigger indie Matador Records, which is where she revealed her first flat-out great record. On a purely aesthetic scale, "What Would The Community Think" is cut from the same cloth as its predecessors. It features the same musicians, maintains the same production style, and even has some of the same songs Myra Lee's "Enough" is made into an even more manic and climactic track here in the penultimate slot. But the songwriting here is stronger and more sophisticated. "Good Clean Fun" seems always on the verge of snapping, its tense verses extending into some dangerous places before finally revealing a chorus that references Carly Simon and never actually explodes. "Taking People" has some gorgeous slide leads, and "Nude As the News" is one of the most intense and intensely personal songs in the entire Cat Power catalog. It comes from a place of genuine struggle and anguish, as it was written about Marshall's own experience having an abortion when she was 20.
Chan Marshall's second album under the name Cat Power, a lo-fi recording at maverick Doug Easley's Memphis studio, her soft, engagingly shy voice and delicate acoustSc guitar supported by Easley's pedal steel and Sonic Youth drummer Steve Shelley's percussion. though Easley and Shelley are better known for working with much louder, noisier artists than Marshall, they never overpower her sensitive but sturdy material. sounding more self-assured than she did on her debut, 1995's 'Dear Sir', Marshall invests more passion and fire in songs like the foreboding 'Water and Air' and the obsessive, feedback and piano-laced title track than one expects to find in the slacker-friendly lo-fi genre. elsewhere, the delicate 'King Rides By' is an unvarnished love song that packs an equally powerful emotional wallop. this is an outstanding, underrated album.
There are, of course, a few covers, which likewise make for some strong inclusions, particularly Marshall's take on Smog's "Bathysphere." Smog's Bill Callahan was her boyfriend at the time, and the two would move in together in a house in South Carolina, though that didn't last. Callahan has a long history of writing outstanding songs, though in this case, Marshall's is the definitive one.
This isn't the first time Cat Power paid tribute to Peter Jefferies — there was a cover of "Sleepwalker," by his post-punk band This Kind Of Punishment, on Dear Sir  but this cover from her breakthrough first album on Matador is bound to be a lot of people's introduction to the New Zealand musician, mine included.
It's clear from the original version of "Fate Of The Human Carbine" why Marshall might have considered Jefferies something of a kindred artist. The restrained anxiety in this performance, paired with the lyrics' implication of a panopticon that needs to be hidden from ("They all come and peep through a hole in the wall/ Keep the bastards guessing"), is the sort of feeling that permeates Cat Power's best early work. Paring back Jefferies' intricate guitar technique into a serrated-edge acoustic churn adds some panic to the melancholy.
Moon Pix (1998)
Moon Pix is possibily Cat Power's best album. This is, of course, entirely arguable. There is no qualitative way of proving it, and there are just as many entirely valid defenses for many of Chan Marshall's other records, though "You Are Free" is probably the one that stands up strongest against this one. Moon Pix isn't a victory because it's the most perfectly executed, This is the classic, spooky and off kilter album from Cat Power. Chan adopts a kind of child-visionary persona, delivering an idiosyncratic mixture of surreal, direct, and insinuating lyrics that are enough to rend your heart the more you hear them. her voice is husky yet pure at the same time, and she's at her best with minimal instrumentation, just her stark vocals and a muffled guitar, sounding like the saddest, most hopeful person on earth singing to herself in an empty room. originally released in September 1998 on Matador.
It sounds great, though later albums like "The Greatest" would prove that bigger recording budgets could, in fact, greatly enhance Cat Power's sonic potential. What makes "Moon Pix" so special, really, is that it nearly perfectly encapsulates everything so bewitching about Chan Marshall's dark, honest songwriting.
Playing the 20th-anniversary concert of her album"Moon Pix" in the Sydney Opera House in May. It's an album that she wrote, inspired by a nightmare when living alone in a farmhouse, and recorded in Australia in 1998, which was then described by Rolling Stone as her "breakthrough record". The concert cemented something in her head about her own sanity; her own power. Marshall met so many fans who wanted to tell her what certain songs helped them through: a brother's suicide, madness, loss. The more stories she heard, the more she realised what her small act of creation had achieved. Plus, she found a power in the songs themselves that didn't fit with her memory of the girl who had written them decades earlier. "I didn't know I loved myself then, when I was younger. But when we played them, I realised the great love that I had had for myself. Those songs had been me trying to prove to myself,
Moon Pix is where Cat Power's strengths as a musician and an idea-generator saw her established (dis)comfort zone of indie/folk/punk expand into a more sure-footed place, with lusher arrangements and a rhythm section with more breathing room (via Mick Turner and Jim White of the Dirty Three). On this album, Marshall traded claustrophobia for wide-open vistas. It's an immersive, even welcoming record, which is pretty noteworthy considering half the original songs were written to stave off the harrowing aftereffects of a hallucinatory nightmare. "I felt as if something was coming fast, straight from under the earth, these dark spirits … then they came, thousands of them, all up against the kitchen window. They were clear, black as night, trying to get into my soul. That's when I grabbed my acoustic guitar. I thought that if people found my body, I needed to leave a tape. So I just played the songs that became Moon Pix. It was horrifying."
The one cover on Moon Pix is a traditional folk song, "Moonshiner," but the liner notes state that it was "inspired by The Bob Dylan." Marshall revealed in a recent interview, that she remembered hearing his version at around age 25: "I was so in love with this person who was so abusive. I just came to terms with it recently. He was a good man, he just had a lot of demons. He put this on, and it validated my pain, and listening somehow took the pain away. 'Moonshiner' was the softest bed I could ever lie on. I felt validated, realized." But then you hear how weary and lost she sounds in this version, and look into what she adds to the lyrics: "You're already in hell, you're already in hell/ I wish we could go to hell."
What makes the album all the more interesting is the chilling gothic atmosphere that seeps through every track, as it does on the crackle of thunder in "Say," or the eerie flute that accompanies "He Turns Down." In doing press for the album, Marshall tells a recurring tale in which she's awoken by someone in a field in South Carolina, becomes surrounded by evil spirits and starts writing songs to keep from altogether losing it.
The Covers Record (2000)
"The Covers Record", it's her finest album, though it's certainly stunning in its spare, skeletal beauty. Rather, it's a key album in getting a better insight into who Chan Marshall is as a musician and a songwriter. That probably sounds counter intuitive – gaining insight into a songwriter's persona via other people's songs but it's through her choice of covers that the composite picture of Marshall's various influences, and the manner in which she applies her own filters. Half of the album comprises either standards or traditional folk songs from the public domain, including a gorgeously spare take on "Sea of Love" and a haunting, tearjerker of a take on "Wild Is the Wind." Her choice of rock covers is all the more revealing, however. In Marshall's hands, Velvet Underground's "I Found a Reason" goes from a heartfelt love song to a statement of faith and acceptance of death.
Recently repressed on vinyl, these are covers of other people's songs. yet she sings them with no less intensity than if they were her own. on 'I Can't Get No Satisfaction' she removes the chorus and returns it as elegant slow blues. Most appropriately, she covers 'Red Apples' by Smog whom she resembles in approach. obscure (traditional and early) Dylan, Nina Simone and Michael Hurley tunes complement the bruised but not buried surroundings. originally released in march 2000 on Matador Records. 
The first of two covers albums Marshall recorded in the '00s,"The Covers Record" is right about where dramatic re-interpretations of other people's songs went from an occasional fascinating diversion into a distinct corner of Marshall's career. Her version of the Rolling Stones' most iconic song is a gutsy way to open a record otherwise marked by folkier offerings, and looks out of place on a tracklist otherwise devoted to traditional songs and deep cuts from Smog and Moby Grape.
Looks, maybe, but not sounds: If you're going to cover one of the most famous songs in rock 'n' roll, and it's already been famously covered by DEVO, why not do the inverse of what they went for and go for ennui in place of monomania? No rhythm section, no chorus, not even That Riff — just a meditation on what happens when the initial youthful energy that accompanies that burst of frustration eventually disintegrates and you're just left with the lingering downer effects of all these outside influences battering your sense of self.
"The Covers Record" is one of Marshall's most emotional records, part of which comes from how stripped down it is, and part of which comes from Marshall's connection to the songs, which is remarkably different from that of their original performers. More than any other album in her catalog, it's a reflection of how crucial traditional American blues and folk music is on Chan Marshall's songwriting.
You Are Free (2003)
In a manner of speaking, "You Are Free" is Cat Power's breakup album with fame. Every artist with some level of success goes through it, from Neil Young's On the Beach to Bob Dylan's Self Portrait. But Marshall's kiss-off to being held on a pedestal, which has only compounded in recent years with some uncomfortably forthcoming interviews (which come to think of it make her kind of a rock star for being so anti-glamour), is neither as angry as Young's nor as shambling as Dylan's. In fact, "You Are Free" is second only to "Moon Pix" in terms of being Marshall's most cohesive and powerful statement. It also, ironically, is the album with the most famous guest musicians. Eddie Vedder lends his backing vocals to "Good Woman," a sad chamber folk song that chills with its gentle narration of a crumbling domestic scene. Its instrumentation is stripped down to the skeleton, her ethereal voice not so much haunting as spooky.
By the time Cat Power got to this song by Greenwich Village vet-folkie Michael Hurley, he'd already recorded studio versions of it in four different decades.
Each version feels a little different, but they all share that sense of empathy for a misunderstood monster, and Cat Power's version adds another layer of pathos. There's the way those strings — arranged by David Campbell, who did the same for Linda Ronstadt, Leonard Cohen, and (his son) Beck — tremble into existence, bristling and swaying and taking an air of perilous tightrope balance that simultaneously invokes horror movie tension and romantic tragedy. There's also the fact that Marshall's habit of stripping out any lyrics that don't fit the mood she's putting across leaves "Werewolf" without any of the violence implied by the original: All the pain's in the love itself.
The Greatest (2006)
Almost anything that Cat Power has recorded could in some way be classified as sad and beautiful, but in the case of "The Greatest", it's sad and beautiful in a much more conventional manner. Which is to say, it's a classic pop album.  To capture this rich, soulful aesthetic, Marshall recorded in Memphis with some of the biggest session players of the '60s and '70s, including Leroy and Mabon "Teenie" Hodges, who are best known for backing Al Green. As such, it garnered a few Dusty In Memphis comparisons upon release, which is perfectly fitting given the brassy, breezy soul of songs like "Could We" and "Living Proof," the latter of which ranks among Marshall's sexiest tunes, rhythmically speaking. But the vulnerability that's been part of her music remains, it just manifests itself in different ways, from the third-person tale of a boxing hopeful on the lush, heartbreaking title track ("Once I wanted to be the greatest/ Two fists of solid rock/ With brains that could explain any feeling") to the more conventionally Cat Power-sounding "Hate," with almost satire-level lines of self-loathing: "I said hate me, myself and I / Said I hate myself and I want to die." The unexpected peak, however, comes in the final track, "Love & Communication," which abandons the lushly arranged pop sound for a dirty, Crazy Horse-style barnburner that at once finds Marshall sounding both abrasively defiant and perfectly natural.
Teaming Cat Power with the Hi team who recorded behind Ann Peebles and Al Green was an unexpected and brilliant idea. A special alchemy took place at Ardent Studios in Memphis which enhanced both Cat Power's gorgeous smoky voice and the soulful groove the band has laid down. I would say that that it was worth the price of the album just for the majestic opening song, The Greatest, were it not that it is also available as a single, but that would be to unfairly demean the rest of the record. Of course Cat Power does not need embellishment, as is demonstrated on the unadorned song Hate. Cat's most accomplished album to date.
Jukebox (2008)
Cat Power's first album of covers, The Covers Record, was mesmerizing in how simply Chan Marshall took on various rock and folk songs from a wide range of eras, and made them entirely her own. Jukebox is another album entirely comprising covers, including a cover of a Cat Power song, but the feeling isn't nearly as enchanting. The idea, admittedly, is cool: Marshall and the Dirty Delta Blues Band, which made up the touring band she used behind The Greatest that featured members of The Dirty Three, Chavez and the Jon Spencer Blues Explosion, play a loose and soulful session of covers. That's it! Simple, easy, hard to ruin. But something about it just doesn't add up to the gorgeous, charming collection that The Covers Record did. In fact, some of it is downright corny. The band's take on Frank Sinatra's "New York" takes a light, breezy standard and attempts to make it grittier, which in turn only makes it cornier. Her cover of Joni Mitchell's "Blue" is cool enough, but doesn't quite match the graceful sadness of the original. But the biggest point of contention is her reworking of Moon Pix's "Metal Heart." Granted, five out of nine Cat Power albums feature a song in its second version, but this one feels utterly unnecessary. The original is so achingly gorgeous, I'm not sure why you'd want to mess with it, but then again, this is something she's been known to do repeatedly, so why stop now, I guess. The remainder of the album is fine enough, but Jukebox on the whole seems like it could have been divided up in to b-sides.
Jukebox features a great version of Nick Cave's 'Breathless'. Cat Power returned with 'Jukebox', It was her second album of cover songs and a tribute to the great vocalists who have influenced her over the years. recorded in Dallas, Memphis and Miami with Stu Sikes (who also worked on Loretta Lynn's grammy-winning 'van lear rose'), 'Jukebox' contains thirteen tracks, eleven of which are covers. the other two tracks – 'Song to Bobby', is brand new and a suitable inclusion as she wrote it about meeting Bob Dylan for the first time (it also precedes her version of 'I Believe in You' on this record) plus a new version of Cat Power's own 'Metal Heart'. this is the first record she has made with her band Dirty Delta Blues – the quartet of Dirty Three's Jim White, delta 72's Gregg Foreman, Jon Spencer Blues Explosion's Judah Bauer and Lizard Music's Erik Paparozzi – and they make up a big part of this album.
Also making guest appearances on the record are Spooner Oldham , Larry Mcdonald, Teenie Hodges, and Matt Sweeney (chavez). the album includes covers of Frank Sinatra, Hank Williams, James Brown, Dylan, Billie Holiday, Janis Joplin etc.
Marshall singled out Hot Boys' '99 album Guerilla Warfare as a revelation: "At that time there was so much music that my friends were making that had no groove in it, so I just wanted something I could fuckin' move to." But you can't move to this version of Guerilla Warfare cut "I Feel" unless you're rocking in place, which is just as well. Stripping out most of the specificity of the original's references while keeping the emotional core of its pacing-in-a-tiny-room stress, it treats its source material not as an excuse to slum it in gangsta exoticism but to zero in on what it is in those lyrics that she can connect to directly: defiance in the face of people who refuse to even comprehend you.

Sun (2012)
As of 2012, Chan Marshall is a grown-ass woman of 40, and a good listen through Sun, her ninth album, certainly reflects that. It's a much tighter album than her 2008 covers jam Jukebox, and even a more dynamic record than The Greatest, which admittedly contained some of her prettiest songs. But what's most important about Sun is how much Marshall challenges herself to expand into weirder but nonetheless remarkable material. Lead single "Ruin" makes good use of the Dirty Delta Blues Band by kicking up a driving rock song that makes for one of the album's catchiest tracks. Pulsing krautrocker "Manhattan" is somewhere between Neu! and Eno, and that makes for a particularly satisfying surprise. But then "Silent Machine" just tears shit up the old fashioned way with some down and dirty blues rock. Sun is quintessential Cat Power, but also contains some of the least Cat Power-sounding material she's ever recorded. For that matter, as evident on the sprawling "Nothin' But Time," Marshall sounds more positive than she ever has, and that seems to reflect her personal life, in which she seems to be in a much healthier place than she has through much of her career. A complicated performer with a long and nonetheless captivating history, Cat Power continues to stand as a vessel for fearless and powerful songwriting.
Six years after her last album of original material ('the Greatest', 2006), Chan Marshall moved on from her collaborative forays into memphis soul and delta blues. she wrote, played, recorded and produced the entirety of 'Sun' by herself, a statement of complete control that is echoed in the songs' themes. Marshall calls 'Sun' – "a rebirth," which is exactly what this confident, ambitious, charismatic record feels like. "Moon Pix (1998) was about extreme isolation and survival in the crazy struggle," she says. "Sun is don't look back, pick up, and go confidently into your own future, to personal power and fulfilment." the music on 'Sun' employs a sweeping stylistic palette: there's the classic Cat Power haunting guitar and provocative vocal hook in 'Cherokee' ("marry me to the sky…bury me upside down"); the irresistible latin-sounding nine-piano loop of 'ruin'; upbeat, almost dancey electronic anthems like 'Real Life' and '3,6,9'; and the stirring, 8-minute epic 'Nothin But Time,' featuring a vocal cameo by Iggy Pop. the swagger of 'Silent Machine' brings to mind mid-70s Jagger, contrasted with the unusual, sparse production of 'Always On My Own'. the narrative arc of the record is deeply optimistic; the music is defiantly modern and global. though devoid of grave bedroom confessionals, 'Sun' is possibly Cat Power's most personal album to date. for all its layered expansiveness, it is as handcrafted as her debut, and never has a Cat Power album so paralleled her personality and state of mind – channelling her humour, anger, deep empathy, musical inspirations, technical skill, and spiritual inquiry into an album that's both surprising and comforting. those versed in the Cat Power discography will detect elements of 2003's landmark album 'You Are Free', which experimented with vocal forms and beats borrowed from urban music, and the spellbinding authority of songs like 'American Flag'. 'Sun' is incredibly fresh, reflecting its forward-looking mindset.
Wanderer (2018)
"Wanderer" is her 10th album release. Her old record label, Matador Records , wanted her last album, Sun, "to be a hit record, and the pressure was overwhelming". So she moved to Domino Recordings, where she felt she could have "some kind of sacred, secret space with this record. I didn't want to think about what anybody else wanted. I only wanted to think about what arrived in my brain."Chan Marshall (aka Cat Power) produced "Wanderer" herself, writing and recording it's 11 tracks in Miami and Los Angeles. Lana Del Rey guests on one track! Richly glorious vocals sing folk for indie kids. Almost Appalachian harmonies are the icing on a homemade cake of indefinable sweetness. Gently tender songs trickle and flow like dancing sunlight. Splashes of piano, loping guitar and a quivering Rhodes help to wrap up the songs in a parcel of loveliness.
Wanderer is, in many ways, a quintessential Cat Power record, with Marshall's clarion voice front and center in a set of songs that remarkably stark and straightforward. But, if old Cat Power records might easily have been viewed as repositories for pain, Wanderer is, at its heart, a testament to the transformative nature of songs, an album-length imagining of alternate paths, redemptions, connections, and open-ended possibility.
Cat Power, the vocalist, songwriter, musician, and producer Chan Marshall released her new album "Wanderer" via Domino Recordings. Produced in its entirety by Marshall, "Wanderer" includes appearances by long-time friends and compatriots, as well as guest vocals courtesy of friend and recent tour-mate Lana Del Rey. Written and recorded in Miami and Los Angeles over the course of the last few years, the new album Wanderer is a remarkable return from an iconic American voice. "Wanderer's" 11 tracks encompass "my journey so far," says Marshall. "The course my life has taken in this journey – going from town to town, with my guitar, telling my tale; with reverence to the people who did this generations before me. Folk singers, blues singers, and everything in between. They were all wanderers, and I am lucky to be among them."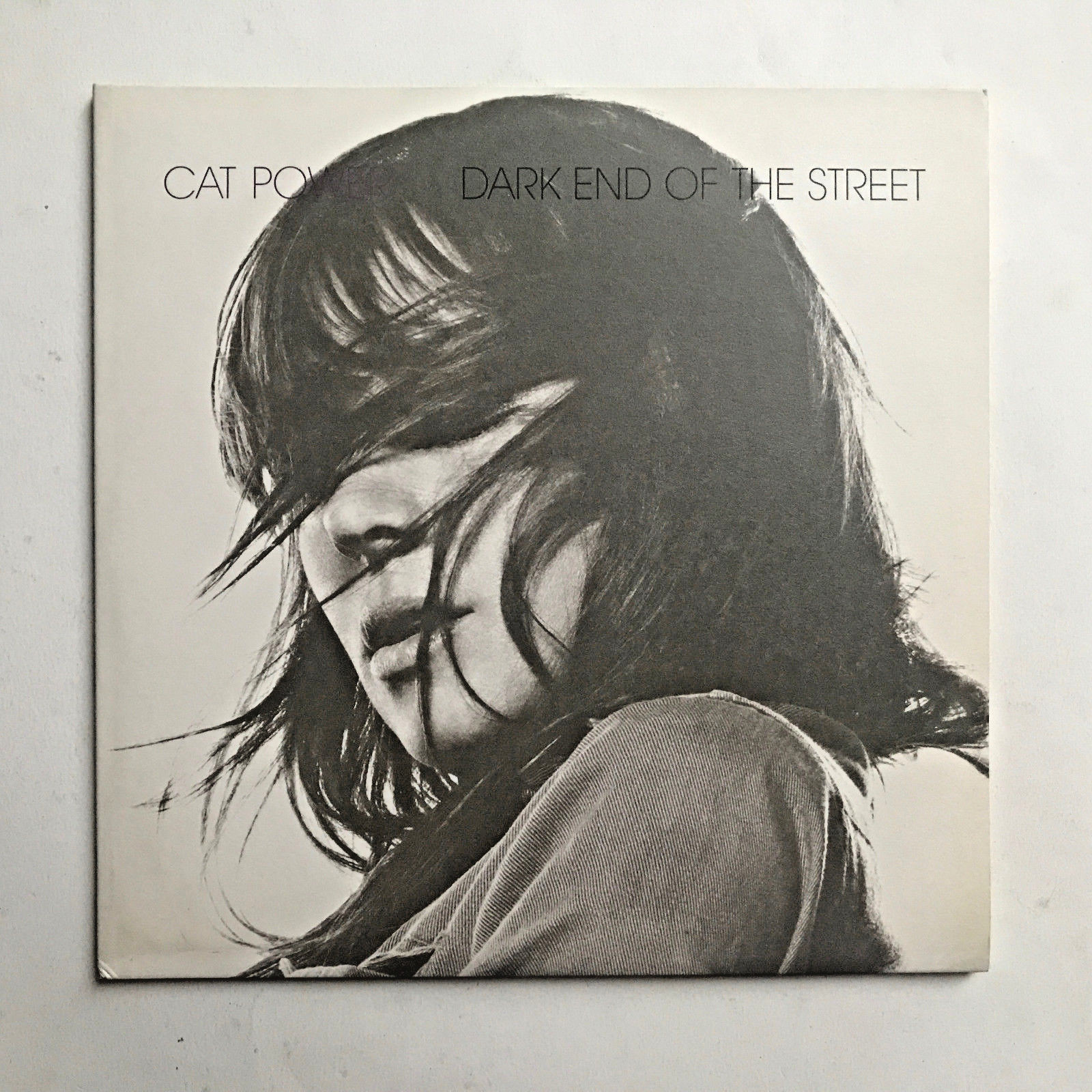 The albums:
Dear Sir (1995)
Myra Lee (1996)
What Would the Community Think (1996)
Moon Pix (1998)
The Covers Record (2000)
You Are Free (2003)
The Greatest (2006)
Jukebox (2008)
Sun (2012)
Wanderer (2018)