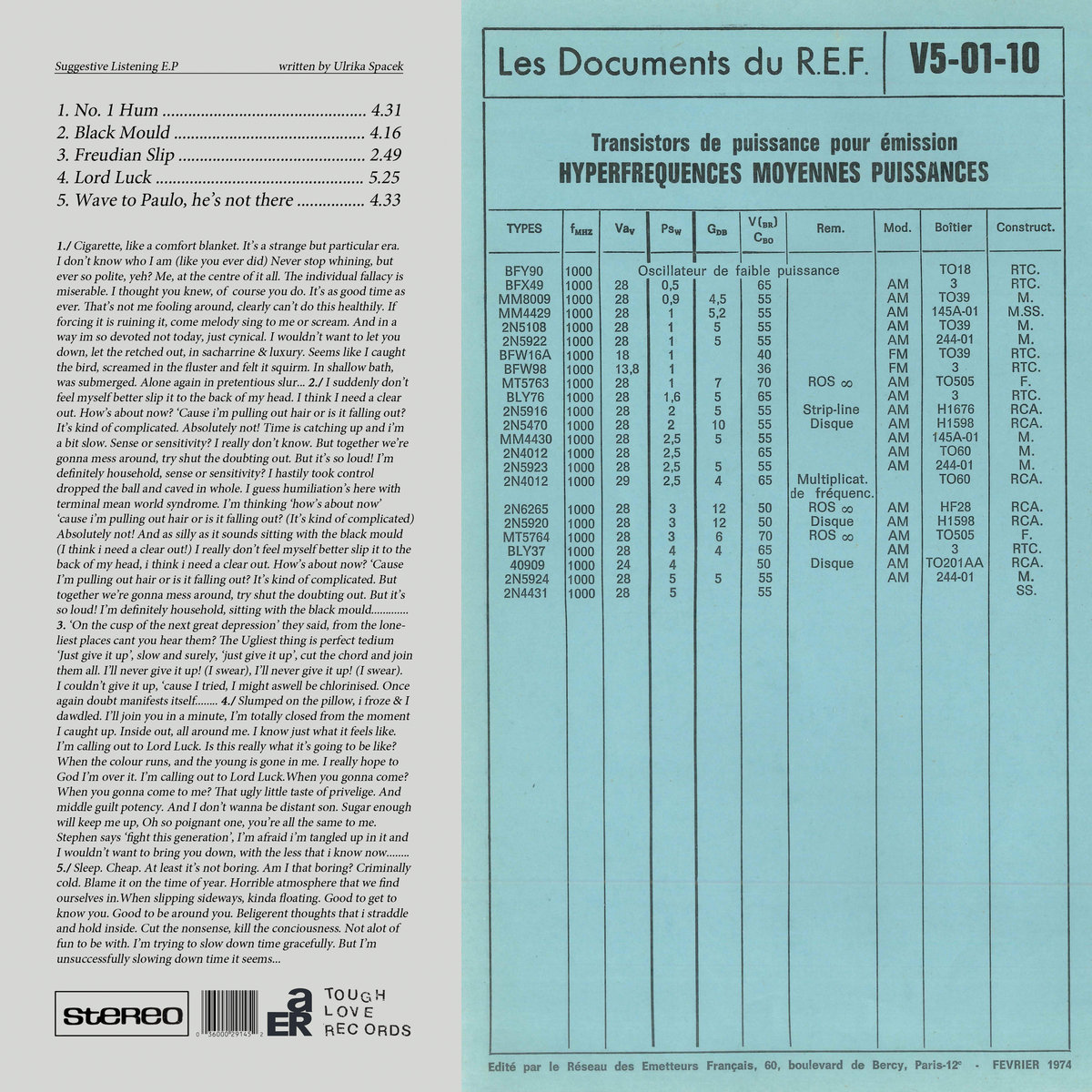 New song 'Lord Luck' taken from forthcoming E.P 'Suggestive Listening':
Ulrika Spacek 
have always been strong believers in a long play format when it comes to making records, but for this new release they decided it was time to explore the 'extended play' format.
The Suggestive Listening EP 
will be released on 
April 21st
 as part of this year's
Record Store Day.
The band started working on the new record in January 2017, "in that empty space when you're waiting for your last record to come out". Recording began at KEN, their shared house – a former art gallery so named because of a cryptic inscription found above the front door. Not just a studio and home, KEN is essentially the band's hub, a space in which the surrounding ephemera of videos, artwork and even band photos are all created. After this, work for the EP moved to France where the band explored recording live for the first time and here the band worked with now-full-time member, Syd Kemp.
In an act of self-awareness, Ulrika Spacek chose to make something that killed the 'three-part interweaving guitar' characteristic that partly defined Modern English Decoration. The intention was to deconstruct the standard three guitar, bass and drums line-up used on the first two albums, aiming to strip back the overall sound whilst simultaneously bringing certain elements to the foreground. Very few guitar effects pedals are present on the record, and a different computer was deliberately used in order to steer away from the plug-ins employed on previous albums.
"Lyrically this release came out of a time of common late 20's existentialism, a time of huge self doubt and questioning in many aspects of our lives". In contrast to the generally veiled form of lyrical expression on the band's first two records, Suggestive Listening displays an interest in 'literalism', "In a time where we were struggling to find clarity we wanted our music to express the opposite". This is also reflected in the choice of artwork for the release, which not only bears the record's lyrics, but also song lengths and the very definition of an E.P itself. Additionally, fans may note that there are two different coloured front covers, one pink, one blue, each limited to 500 copies.
This change in approach was foreshadowed around the release of 
Modern English Decoration
, when they claimed that, "We won't return to this sound again. Though as fanatical fans of music, we feel the beauty lies in how these different offshoots go on to inform our future records". As such,
Suggestive Listening
, might be continued an evolution more than a wholesale shift in focus.
In preperation of its release, Oysterland, a night curated by Ulrika Spacek, will take place the night before at Doomed Gallery in London. The E.P will be played back-to-back in exhibit form, with the layers of instrumentation played on separate speakers. Audience members are invited to make their way around the gallery allowing a personal and unique listening experience. Speakers will be positioned inwards so that audience members can either walk through the musical layers of the E.P or position themselves in the middle of the room where all parts come together.
Released 21/04/18 via Tough Love Records as part of Record Store Day 2018. Available from all good record shops. Please note: there are two versions of the record sleeve, one blue, one pink, each limited to 500 copies.
'Suggestive Listening' will be played back-to-back in exhibit form the night before release at Doomed Gallery Dalston. Layers of instrumentation will be played on separate speakers. Audience members are invited to make their way around the gallery allowing a personal and unique listening experience
Tracklist,
A1 No. 1 Hum
A2 Black Mould
B1 Freudian Slip
B2 Lord Luck
B3 Wave to Paulo, he's not there
Also available digitally:
Bandcamp: https://goo.gl/BzReB4

Upcoming Live Dates:
25th April – Corsica Studios, London,
10th May – Psych over 9000, Gent, BE
11th May – Eden, Charleroi, BE
12th May – Le Beau Festival, Paris, FR
19th May – Kulturclub Schon Schön, Mainz, DE
20th May – Volksbühne Berlin, DE (with Cavern of Anti-Matter)
12/14 Oct – Desert Daze Festival, CA