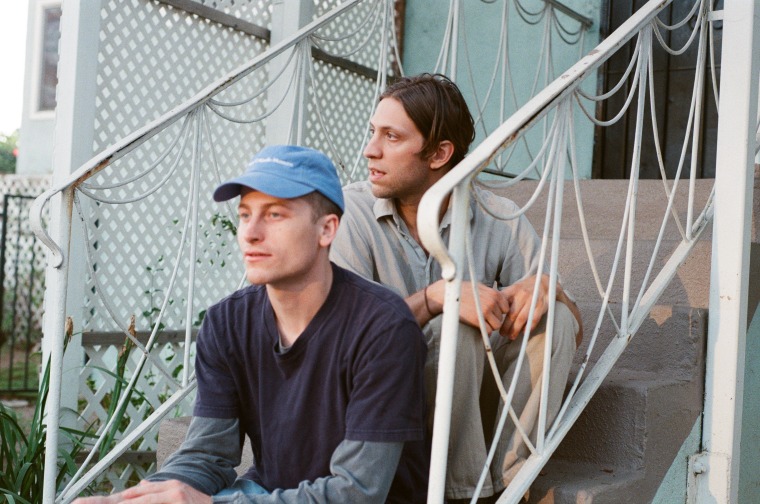 Hovvdy, the Austin-bred slowcore duo of Charlie Martin and Will Taylor, released their third album Heavy Lifter today. Built around melancholic guitars and self-conscious vocals, lead single "Cathedral" is a lilting groove that feels like having a series of existential realizations in the middle of a field.
While Heavy Lifter does come off as familiar, the record also expands their sound. Working in close collaboration with engineer and producer Ben Littlejohn in various makeshift studios around Texas, they've refined their languid melodies and expanded on their previously muted production. It's still cozy, but it also veers toward the cinematic, with brief forays into Auto-Tune, distorted drum machines, and hip-hop-inspired beats.
Lead single "Cathedral," is a gentle introduction to this evolution. First it's dominated by cyclical, strummed guitars reminiscent of Elliott Smith, and then it transforms into a sleepy anthem for late-summer nostalgia. Martin says he wrote the first part "a long time ago," inspired by a "weird vision or dream about being in the past and seeing my grandma at this church." Halfway through, the song seems to careen back in time, with Martin repeating the line: "maybe never come back here, we can stay with our friends." It captures the youthful feeling of infinite time and endless summers, when you stay out with your friends and have zero responsibilities.
The duo sing of finding your own spirituality and learning how to step outdoors in the face of anxiety: "Trust I'll calm down / Always do somehow / Open my door / Brighter than before / Outside, hide," they whisper, sunnily.
Hovvdy have always had an uncanny ability to create a comforting effect with their songs, even when those songs are about fear, anxiety and their own personal shortcomings. Fans of their zoned-out, slowed-down indie-pop have come to rely on the duo for their consistently soothing music, and it's a mantle they've gladly taken up. "I was really trying to make something that would make people feel better," Martin says of Heavy Lifter, on the phone from his bandmate Taylor's house in Austin. "And I think they have served that purpose for me too, just from making them."
"Heavy Lifter" on Limited Edition Vinyl