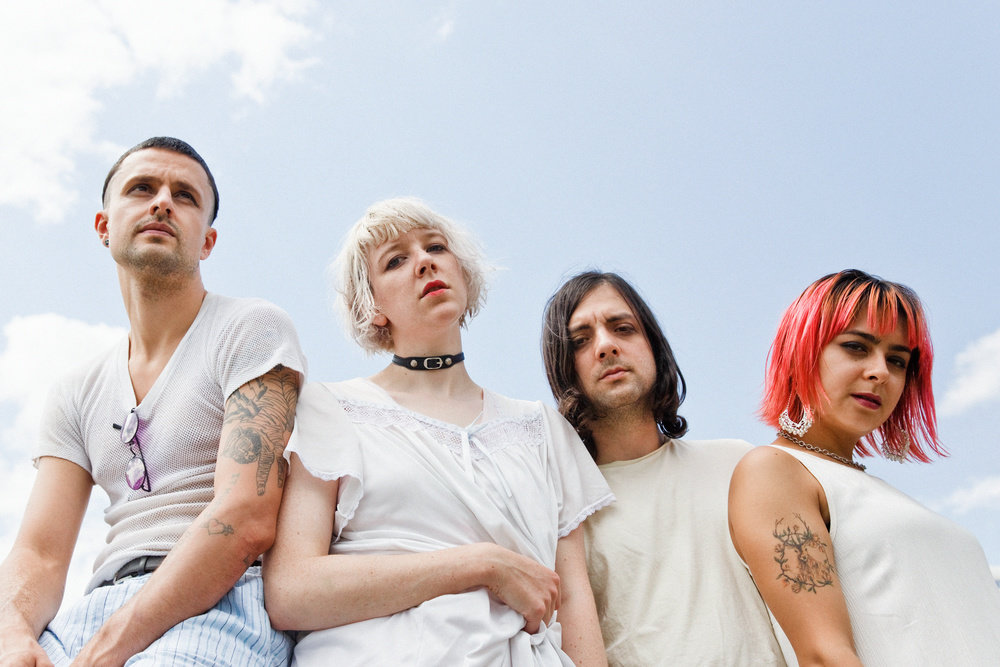 It's been a tempestuous time for Dilly Dally since the release of their explosive, critically acclaimed debut album 'Sore.' It appears that the pressure cooker environment of life on the road, the cycle of relentless promo and touring took a toll on the band's mental well being to such an extent that they almost called it quits.
They took time out to deal with their own individual needs, find some much-needed headspace and when they the felt ready regrouped and made a decision – 'fuck this, let's do our thing.' The result is their second album, the appropriately named 'Heaven' which guitarist and singer Katie Monks has described as "the album we'd make if the band died and went to heaven,". The lead track 'I Feel Free' demonstrates that Monks' trademark razorwire nettle sting roar remains as impassioned and potent as ever whilst her bandmates have reignited that raging fire that made their debut such a thrilling ride.
The wonderfully poignant cinematic accompanying video, written and directed by Monks herself, sees her literally digging her bandmates (and a rather sexy flying V) from the grave in an attempt to bring them back to life. It acts as a curiously moving metaphor for the recent turbulent times the band have endured as Monks desperately tries to revive them, pleading with them as if to say – let's not kill this, let's fight for each, the band, and what we've created between us.  It's a stunning return from Dilly Dally who have always managed to mix rage with vulnerability to produce some wonderfully real visceral music and 'I Feel Free' just might be the Toronto four piece's most succinctly powerful moment yet.
In a sense, that's precisely what happened. It's been three years since Dilly Dally released their acclaimed debut record, 'Sore,' and in that time, the Toronto rockers managed to tour the world and take the press by storm, only to nearly call it quits and walk away forever. Rising from the ashes with more power and conviction than ever before, the band's new album is, appropriately enough, titled 'Heaven,' and it's a fierce, fiery ode to optimism, a distortion-soaked battle cry for hope and beauty in a world of darkness and doubt. Monks describes the songs as coping mechanisms, and the collection does indeed form something of a survival kit for hard times, but even more than that, it's a declaration of faith in the power of music and a burning reminder that we need not wait until the afterlife for things to get better.
"It felt like there was no point in doing another record if it wasn't genuine or if we made it for anybody other than ourselves," says Monks. "We wanted this album to be something that could help heal old wounds and rejuvenates us while we're on the road, something that could give us a clean slate and a fresh start. Making this record helped us fall in love with each other all over again."