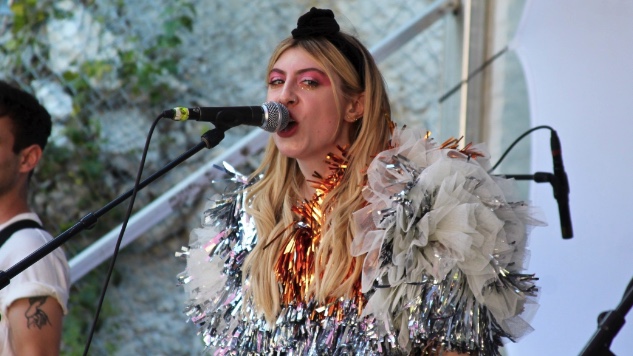 To fully understand the energy of frontwoman Eva Hendricks and Charly Bliss, you gotta see them live. I learned that when the Brooklyn four-piece totally smashed the stage the first time I saw them. Not sure why I was surprised, but any doubts I might've had about Charly Bliss were effectively squashed. Hendricks is a dynamic instrumentalist and her distinctive high-pitched voice stands delightfully front and centre on a range of harmonies. This is a killer indie power-pop band.
Indie rock quartet Charly Bliss have an otherworldly knack at rendering certain playful images just as sinister: "cardboard cereal," a bleeding snow cone, a mouth red with Gatorade. 2017's Guppy established the band as masters of this subversion. Their crunching guitars and Eva Hendricks' sweet, pointed vocals sliding through increasingly pop arrangements are the vehicle for a creeping dark that filters through each track's observations of the mundane humour and horror of human affection. 2019's stellar Young Enough polished its predecessor's frayed, glittering edges for a slow burn of synthesizers and sharpened focal points; that cleaner sound also made room for a deeper emotional reservoir. Both are examples of kinetic and potential energy refined to an art.
"We're young enough / To believe it should hurt this much." They're old enough to recognize it.
Listen / Buy Young Enough