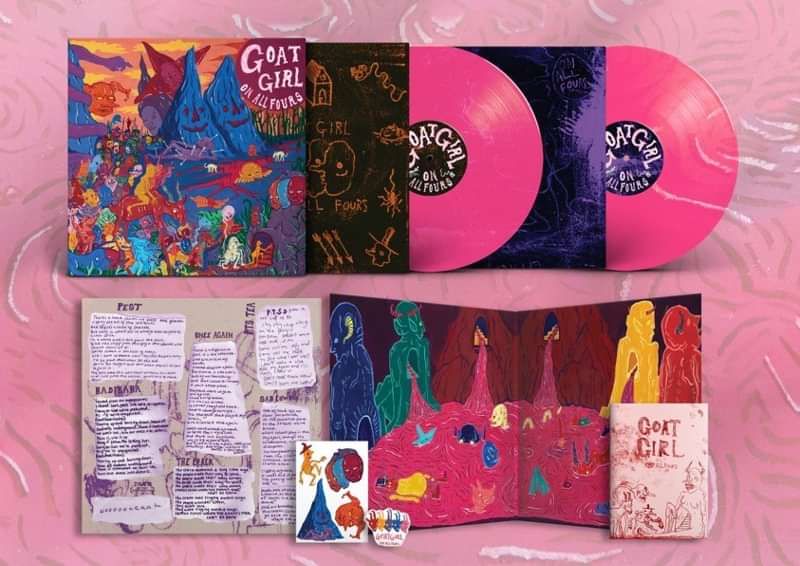 Nearly three years after their self-titled debut, Goat Girl return with their sophomore record, "On All Fours". In the time between albums, the London group have matured in their approach to music making; for On All Fours, the band collectively collaborated on song writing, often switching instruments and exploring new sonic territory. Lead singles "Sad Cowboy" and "The Crack" are exciting new examples of Goat Girl's growth.
Goat Girl's new album On All Fours was produced by Dan Carey (Kae Tempest, Black Midi and Franz Ferdinand) in South London in early 2020. This new record sees the band veer away from the confrontational lyricism of their debut and indicates Goat Girl's maturing perspectives in discussing the world's injustices and social prejudices, using the music to explore global, humanitarian, environmental and mindful well being. Goat Girl's frequent use of sci-fi synthesisers, off-beat chord progressions, analogue drum machines, diverse vocal styles and distinct, gritty guitars fuse a musical language that expresses both former characteristics and newer developments of the band's sound and vision On All Fours.
For their follow-up to their very good 2018 debut LP, UK group Goat Girl once again worked with producer Dan Carey. Where their first was a rough-and-ragged, guitar-centric record, though, On All Fours adds synthesizers to the mix which, on the singles shared so far, brings bounce to Goat Girl's swaggering sound.
Released on January 29th