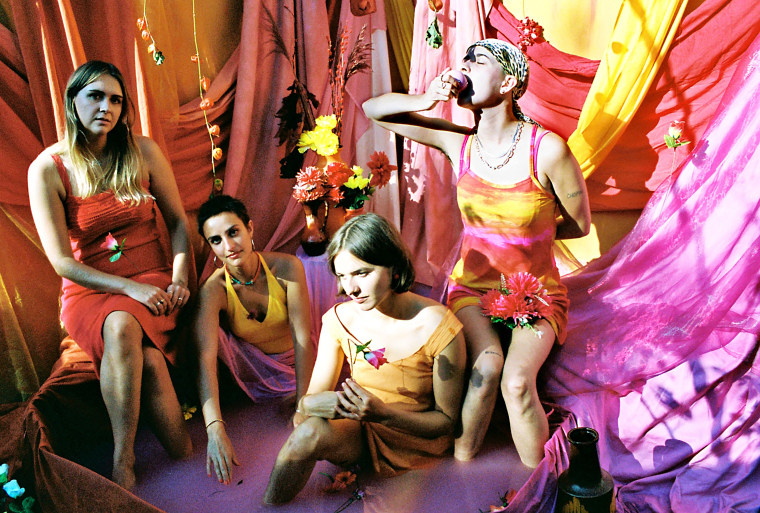 British indie band Goat Girl will kick off 2021 with a brand new album, "On All Fours". We have already heard lead single "Sad Cowboy" and today brings the arrival of its follow-up, "The Crack."
Produced by Dan Carey, "The Crack" is written from the perspective of someone starting a new life on a planet free from the problems and injustices facing the one we currently share. The whirl of synths and buzzing guitars remain a constant from the band's 2018 debut but there's a new found space and authority to Goat Girl on "The Crack" as they look increasingly outwards in their songwriting. Naturally, for a song about our close relationship with our climate, the band headed to the shore to film "The Crack" video. All four members of the group, plus a selection of dancers, donned the wild outfits you can see below in an effort to portray a journey through a land lost to time.
Speaking about the new song, lead vocalist L.E.D. told us "'The Crack' emerged from an imagined post-apocalyptic world whereby people flee into space for a new life on an unruined planet, as the result of the pillaging of Earth. This song transformed from a simple electronic demo with synth bass and electronic drums, to the embellished version that it is now. For recording, we kept it in the family, enlisting Lottie's Dad Nic Pendlebury to play viola and our good friend Charlie Loane to play trumpet on the chorus, further expanding the collaborative feel of the track. The music video made by Lottie's sister, Molly Pendlebury, was filmed over two days at Botany Bay, where we shuffled barefoot across the beautifully rugged landscape. The masks and costumes made by Molly really add a surreal edge and a comical undertone to the video."
On All Fours is out on January 29th via Rough Trade Records.