One of the best West Coast folk-rock/psychedelic bands, Love may have also been the first widely acclaimed cult/underground group. During their brief heyday only lasting all of three albums. They were also one of the first integrated rock groups, led by genius singer/songwriter Arthur Lee, one of the most idiosyncratic and enigmatic talents of the '60s. They were stars in their native Los Angeles and an early inspiration to the Doors, they perversely refused to tour.
Love was formed by Lee in the mid-'60s in Los Angeles. Although only 20 at the time, Lee had already scuffled around the fringes of the rock and soul business for a couple of years. In addition to recording some flop singles with various bands, he wrote and produced a single for Rosa Lee Brooks that Jimi Hendrix played on as session guitarist. Originally calling his outfit the Grass Roots, Lee changed the name to Love after another Los Angeles group called the Grass Roots began recording for Dunhill. Love's repertoire would be largely penned by Lee, with a few contributions by guitarist Bryan MacLean.
Inspired by British Invasion bands and local peers the Byrds, Love built up a strong following in hip L.A. clubs. Soon they were signed by Elektra Records, the noted folk label that was just starting to get its feet in rock (it had recorded material by early versions of the Byrds and the Lovin' Spoonful, and had just released the first LP by Paul Butterfield). Love released three albums with core members Lee, Echols (lead guitar, vocals), Bryan MacLean (guitar, vocals), and Ken Forssi (bass). The drum chair revolved between Alban "Snoopy" Pfisterer (Love, "7 and 7 Is") and Michael Stuart (all tracks on Da Capo except "7 and 7 Is", Forever Changes). Pfisterer reportedly found the demanding drum parts on "7 and 7 Is" so exhausting that he and Arthur Lee alternated takes on the first recorded outtakes, but on the final take used for the record, Pfisterer performed the entire track Da Capo also included Tjay Cantrelli, who was added on saxophone and flute while Pfisterer moved to organ and harpsichord. Both were out of the group by the time Forever Changes was recorded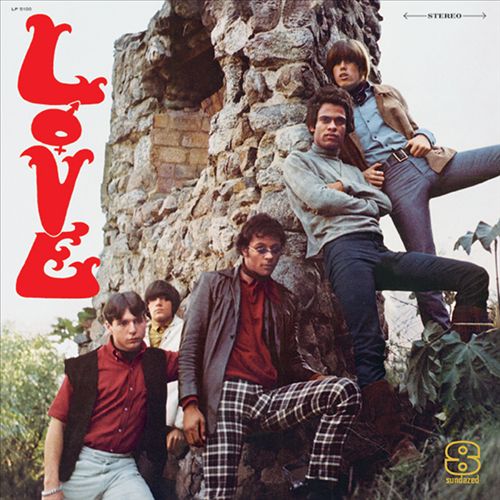 Love  –  Love (1966)
Love's debut is both their hardest-rocking early album and their most Byrds-influenced. Arthur Lee's songwriting muse hadn't fully developed at this stage, and in comparison with their second and third efforts, this is the least striking of the LPs featuring their classic lineup, with some similar-sounding folk-rock compositions and stock riffs.
A few of the tracks are great, though: their punky rendition of Bacharach/David's "My Little Red Book" was a minor hit, "Signed D.C." and "Mushroom Clouds" were superbly moody ballads, and Bryan Maclean's "Softly to Me" proved that Lee wasn't the only songwriter of note in the band.
Love   –   Da Capo  (1967)
Love broadened their scope into psychedelia on their second effort, Arthur Lee's achingly melodic songwriting gifts reaching full flower. The six songs that comprised the first side of this album when it was first issued are a truly classic body of work, highlighted by the atomic blast of pre-punk rock "Seven & Seven Is" (their only hit single), the manic jazz tempos of "Stephanie Knows Who," and the enchanting "She Comes in Colors," perhaps Lee's best composition (and reportedly the inspiration for the Rolling Stones' "She's a Rainbow").
It's only half a great album, though; the seventh and final track, "Revelation," is a tedious 19-minute jam that keeps Da Capo from attaining truly classic status.
Love  –  Forever Changes (1967)
Love's "Forever Changes" made only a minor dent on the charts when it was first released in 1967, but years later it became recognized as one of the finest and most haunting albums to come out of the Summer of Love, which doubtless has as much to do with the disc's themes and tone as the music, beautiful as it is. Sharp electric guitars dominated most of Love's first two albums, and they make occasional appearances here on tunes like "A House Is Not a Motel" and "Live and Let Live," but most of Forever Changes is built around interwoven acoustic guitar textures and subtle orchestrations, with strings and horns both reinforcing and punctuating the melodies.
The punky edge of Love's early work gave way to a more gentle, contemplative, and organic sound on Forever Changes, but while Arthur Lee and Bryan MacLean wrote some of their most enduring songs for the album, with the lovely melodies and inspired arrangements. A certain amount of this reflects the angst of a group undergoing some severe internal strife, but Forever Changes is also an album that heralds the last days of a golden age and anticipates the growing ugliness that would dominate the counterculture in 1968 and 1969; images of violence and war haunt "A House Is Not a Motel," the street scenes of "Maybe the People Would Be the Times or Between Clark and Hillsdale" reflects a jaded mindset that flower power could not ease, the twin specters of race and international strife rise to the surface of "The Red Telephone," romance becomes cynicism in "Bummer in the Summer," the promise of the psychedelic experience decays into hard drug abuse in "Live and Let Live," and even gentle numbers like "Andmoreagain" and "Old Man" sound elegiac, as if the ghosts of Chicago and Altamont were visible over the horizon as Love looked back to brief moments of warmth. Forever Changes is inarguably Love's masterpiece and an album of classic enduring beauty.