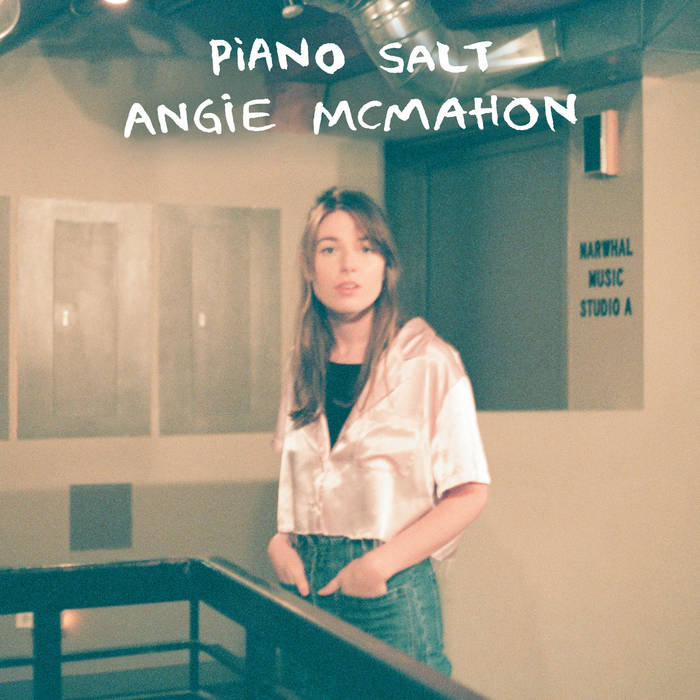 There's a certain beauty within Angie McMahon's music that's always present, but never quite the central focus of her work. It's something that underlays the potent emotion of her earliest work in 2017 – "Slow Mover's" strange mix of uplifting ache; "Keeping Time" soaring choruses – right through to her 2019 debut record "Salt", an 11-track collection of songs that encapsulated Angie McMahon's charm as both a musician and storyteller in a similar vein to some of her biggest comparables and influences – Joni Mitchell, Bruce Springsteen, Stevie Nicks.
However, this remarkable and almost unexplainable pocket of beauty is something that really reaches a fever pitch in Angie McMahon's live show, at the points where her live band step away for a moment and leave Angie alone in the spotlight. It's here where Angie becomes her most brilliant; the lyricism and storytelling that underpins her work's emotional richness entering the forefront to the point where you can't brush it away or focus on anything else – you simply have to stand there and take it all in.
It's something that really shone in this video filmed with her in 2018, where Angie – amidst a tour with Canadian musician Leif Vollebekk – stripped back the then-unreleased If You Call to its most subtle and remarkable, backed by the greenery of Victoria Park florist/plant store Green Bunch. With the production of the single's recorded form replaced by only gentle piano, guitar and Leif Vollebekk's devastingly-beautiful vocal cries, the moment is something that can draw you to tears from the get-go, even an entire year following its original release:
As it turns out, the acoustic live cover was the catalyst for the now-arriving "Piano Salt EP", a stripped-back collection of tracks from her 2019 debut LP Salt, along with a few covers too. "The version of "If You Call" on this EP was recorded by Pilerats in Perth when we toured Australia with Leif Vollebekk," she explains. "It was this wonderful day where we set up inside Green Bunch, a lovely plant shop/cafe, and filmed and recorded the duet. That was probably the seed being planted for this EP, because by the start of this year I was practising new versions of other songs off Salt too and was able to find a place for all of those with this release."
The full collection of tracks that form "Piano Salt" ahead of its official release tomorrow, October 2nd. It's a gentle seven songs that really flesh out this aforementioned beauty that swirls around Angie McMahon's work when its stripped back to its most raw and subtle, indulging in the richness of Angie's vocal and how she's able to turn the emotions of Salt – and a few other special songs too – into potent, devastatingly beautiful moments that encapsulate Angie's talents as one of Australia's most brilliant songwriters and vocalists.
It opens with a swirling, piano-backed cover of Soon that feels almost like a modern-day reimagining of classical music, and its ability to tell stories and emotions even at music's most minimalist and acoustic. This trait really shines amongst Piano Salt. When Slow Mover is pulled back to its most subtle, the soft sense of cathartic release that floats amongst the single's cries are replaced by an almost-haunting presence that on a surface level, makes you feel the track's lyrics underneath a new emotional lens. Keeping Time provides a similar moment – a favourite of Angie's catalogue that many would associate with their introduction to the Melbourne musician painted in an entirely new light – while the EP-closing Pasta aches in a way that's conveyed in the original, but emphasised this time around.
The EP also gives the opportunity for Angie McMahon to shine in another area she's long-adored: covers. "It's been a real treat to release second versions of some songs, and have an excuse to do more covers too," she says. "I love covers." Her Isol-Aid set early on in the festival's existence seemed to encapsulate the whole event's beauty , and a big part of that came through two covers that Angie performed; one of Bruce Springsteen's The River, and the other of Lana Del Rey's Born To Die.
TheBorn To Diecover is a highlight of the EP, joined by a video also premiering today, filmed The Perch Recording Studio, Castlemaine. It's a cover that pays tribute to Lana's distinct performance style, and how she – like Angie – are really capable of highlighting this deep sense of emotion through their work. "This cover of Born to Die was just so fun to play. I love the way Lana sings, so deep and emotive, and I wanted to pay tribute to that way of performing because it has inspired me as an artist in the way I write and sing my own songs too."
The whole EP – and the covers included within it – are a coming full circle moment for Angie too. "Piano is the first instrument I learnt and the one that made me first love singing. My favourite piano song when I was young was k.d lang's cover of Hallelujah. So this EP feels like a return to my piano-cover-loving inner kid," she explains. "It's been a really nice creative opportunity to recreate the feeling of some bigger songs off my first record, give them a new life, and cover some of my favourite songs too. It gave me something to do when we went into quarantine."
The end result is something remarkably brilliant. 
This is a mixture of footage from my home in lockdown, when everything went slow, and the Hozier tour that I joined in November last year, when everything was moving so fast. We were travelling around America, my sound engineer Jono and I, following the Hozier bus and having our own adventures every day. I'm so grateful he kept the go pro on for that month, and that the audiences were so warm, and that I have a safe and comfortable home to slow down in now. Thank you to our friend Lewis Parsons who edited all of this together so flawlessly. this version of Soon almost made it onto the Salt record, there has been a band version and a piano version floating around for a while, and in the end we decided on the band version. It's so nice to be able to bring this one out now, and I hope it connects with people.
"Slow Mover" by Angie McMahon under exclusive license to AWAL Recordings Ltd Released on: 2017-10-09