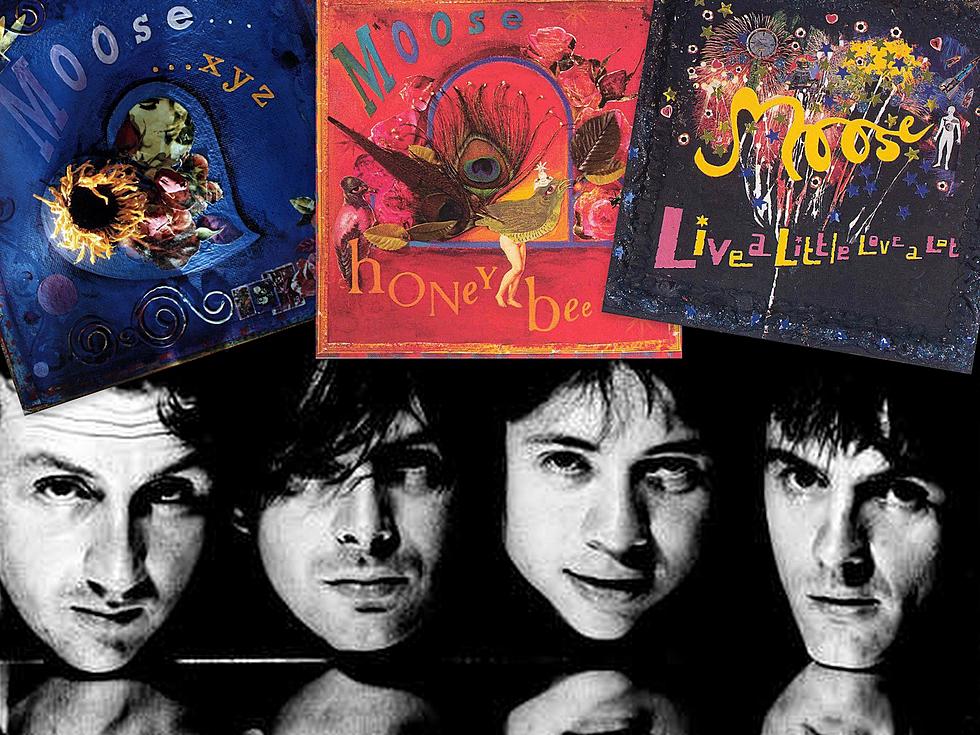 The announcement that Lush's Miki Berenyi had formed a new group called Piroshka was pretty exciting on its own but learning the rest of the line up made it even more so. The rhythm section is former Elastica drummer Justin Welch (who was Lush's drummer on their 2016 comeback tour) and Modern English bassist Mick Conroy (who filled in for Phil King who quit Lush right before their final show). But the real excitement for me was learning that KJ McKillop of Moose (and who has two kids with Miki) was part of the band too.
Not a lot of people remember Moose, who formed in 1990 and were part of that initial UK wave of bands that formed right after My Bloody Valentine and Ride blew up in '88/'89. It's also generally accepted that the term "shoegaze" was first used in a Sounds review of an early Moose gig — they said singer Russell Yates spent more time looking at the lyric sheet taped to the floor than the audience so they earned their place in indie history right there. But they were also one of the best bands to come from that scene, even though they largely abandoned the loud guitar miasma sound after their first two (great) EPs. Starting with 1991's Reprise EP, Moose let singer Russell Yates' vocals come more to the fore (it turned out he had an appealing, low key melancholic voice) and distortion pedals gave way to jangly guitars and country influences.
With their debut album ...XYZ, which they made with Let's Active main man and early R.E.M. producer Mitch Easter, there were no heavy elements in their sound, though "dreampop" still applied. They also discovered strings which, along with even stronger country flourishes, really shaped the sound Moose would carry out through the rest of their career. XYZ is one of the '90s great lost albums — their label Hut dropped them and deleted it a week after being released — filled with sparkling, understated guitar pop with gorgeous, inventive arrangements that reveal new layers with repeat listens. It's also got a cover of Nilsson's "Everybody's Talking" and guest vocals from Dolores O'Riordan whose band The Cranberries were still a year away from releasing their debut album. XYZ was, from the start, almost impossible to find (especially in America) but Cherry Red reissued it on CD in 2014 with a bunch of bonus tracks, including the U.S. Sonny & Sam compilation of Moose's early EPs (which I think was their only U.S. release ever). If you've never heard this album, fix that today!
After an EP on their own label, Moose signed with PIAS for their next two records: 1993's Honey Bee, which furthered their string-laden country dreampop sound; and 1995's Live a Little, Love a Lot, which took them into jazzier territory. Both records featured Mick Conroy (who's now in Piroshka) and The Cocteau Twins' Elizabeth Fraser on guest vocals (which wasn't too hard of a get as Moose bassist Lincoln Fong was a recording engineer at the Cocteau's studio, and his brother [and Moose guitarist] Russell makes handcrafted guitars and basses that Robin Guthrie and the band used). Around this era they also had incredible drummer Richard Thomas who played on records by Cocteau Twins, The Jesus and Mary Chain, Felt, Dif Juz, The Wolfgang Press, and more.
Moose's final record would come five years later — 2000's High Ball Me! which saw them incorporating loungey, Mondo Morricone-esque elements to their sound. Moose went silent almost immediately after High Ball Me!'s release though they never officially broke up. All four of their albums are terrific and worth seeking out, though only ...XYZ and Live a Little Love a Lot are on streaming services.
One more note: Even though onetime 4AD artist Chris Bigg designed the Piroshka logo, I would love to see the group work with Laura Lockton, who designed the stunning covers to Moose's first three albums.