How prolific of a songwriter was Stevie Nicks in the '70s and early '80s? Not only did she pen multiple Fleetwood Mac hits – "Rhiannon," "Dreams," "Sara" and "Gypsy," to name a few – but she also found time to write and record a hit solo album, 1981's "Bella Donna".
Stevie Nicks' first two solo albums  "Bella Donna" and "The Wild Heart" reissued via Rhino Records. Each deluxe release will feature not only the original LP but rarities and bonus tracks, like the previously unreleased demo of her solo debut's title track, streaming below. Stripped of its backing vocals as well as the raucous live band and synthesizers featured on the original album version, Nicks' demo is a tender, intimate take on the song. She sings softly above just the piano track, nearly whispering "Bella donna, my soul" and barely reaching the full-throated belt she unleashes on the 1981 recording.
The Legendary Fleetwood Mac singer-songwriter Stevie Nicks joined producer Jimmy Iovine to begin recording her solo debut, "Bella Donna", following the release of the Mac's TUSK and its subsequent tour. Nicks' 1981 collection was quickly certified platinum thanks to singles like "Stop Draggin' My Heart Around" (with Tom Petty and the Heartbreakers), "Leather And Lace" (with Don Henley) and "Edge Of Seventeen." Rhino's triple-disc deluxe edition of the collection uncovers unreleased versions of the latter two classics as well as soundtrack rarities and a concert from 1981 that features performances of songs from the album along with several Fleetwood Mac favourites.
Ahead of Best Of "24 Karat Gold" solo tour, singer-songwriter talks set lists, "sex, rock & roll and drugs" songs, and more
Later this month and just before releasing the reissues, Nicks will embark on a solo tour with opening act the Pretenders. Nicks' tour is in support of her 2014 album 24K Gold, a collection of songs she had cut from her prior solo releases for various reasons. "These are the glory songs," she told of her reason to follow a multi-year world tour with Fleetwood Mac with the solo dates. "These are the sex, rock & roll and drugs songs that I'm actually not really writing right now, and these are the songs I could never write again."
The cover of "Bella Donna," Stevie Nicks's first solo album, shows the artist looking slender and wide-eyed, wearing a white gown, a gold bracelet, and a pair of ruched, knee-high platform boots. One arm is bent at an improbable angle; a sizable cockatoo sits on her hand. Behind her, next to a small crystal ball, is a tambourine threaded with three long-stemmed white roses. Nicks did not invent this storefront-psychic aesthetic—it is indebted, in varying degrees, to Hans Christian Andersen's Thumbelina, de Troyes's Guinevere, and Cher—but, beginning in the mid-nineteen-seventies, she came to embody it. The image was girlish and delicate, yet inscrutable, as if Nicks were suggesting that the world might not know everything she's capable of.
While Nicks's sartorial choices have been widely mimicked, it's rare to hear echoes of her magnanimity in modern pop songs, which are frequently defensive and embattled, preaching self-sufficiency at any cost.  "Bella Donna," from 1981, and Nicks's second solo album, "The Wild Heart," from 1983, are being reissued. Nicks was thirty-three when "Bella Donna" was released. Though its cover might not suggest an excess of reason, in its songs she is a sagacious and measured presence. Her acknowledgment of the heart's capriciousness is gentle, if not grandmotherly. There's surely no kinder summation of love's petulance than the chorus of "Think About It," a jangling folk song about taking a breath before hurling yourself off a metaphorical cliff. "And the heart says, 'Danger!' " Nicks sings. She pauses briefly. "And the heart says, 'Whatever.' " For anyone busy self-flagellating over an error in judgment, this can feel like a rope ladder thrown from above—an invitation to scramble up and out of despair. It is generous and knowing, and offers a clear-eyed conclusion: some things can't be helped.
What does it mean to be Stevie Nicks? To understand loss and longing as being merely the cost of doing business? To acknowledge the bottomless nature of certain aches, yet to know, in some instinctive way, that you'll keep going? Nicks evokes Byron, in spirit and in certitude: "The heart will break, but broken live on."
Nicks was born in 1948, in Phoenix. Her paternal grandfather, A. J. Nicks, Sr., was a struggling country musician, and he taught Nicks how to sing when she was four years old. She was given an acoustic guitar for her sixteenth birthday, and immediately wrote a song called "I've Loved and I've Lost and I'm Sad but Not Blue." The title is a surprisingly succinct encapsulation of Nicks's lyrical alchemy: a combination of acceptance (I am hurting) and perspective (I will not hurt forever).
In 1966, when Nicks was in her senior year of high school and living in Atherton, California—her father, an executive at a meatpacking company, had been relocated there—she met the guitarist Lindsey Buckingham at a party. He was sitting cross-legged on the floor—bearded, curly-haired, and strumming the Mamas and the Papas' "California Dreamin'." Uninvited, she joined him in harmony. ("How brazen!" she later said.) Buckingham asked Nicks to join his band, Fritz. By 1971, the two were romantically involved. They eventually took off for Los Angeles, where they tried to make it as a duo, called Buckingham Nicks, releasing one album, in 1973, to very little acclaim. Not long afterward, Buckingham was asked to join Fleetwood Mac, a British blues band featuring the singer and keyboard player Christine McVie, the bassist John McVie, and the drummer Mick Fleetwood; the group was being rebooted as an American soft-rock act. Buckingham insisted that Nicks be invited, too. She ended up writing two of the band's biggest early hits, "Landslide" and "Rhiannon."
Extraordinary success often leads to spiritual dissolution, and Fleetwood Mac had its share of psychic turmoil. In 1975, Fleetwood divorced his wife, the model Jenny Boyd, after she had an affair with one of his former bandmates. Nicks and Buckingham broke up the following year. Around the same time, John and Christine McVie's marriage collapsed. There was an ungodly amount of brandy and cocaine on hand to help nullify the despair. Still, in 1977, Fleetwood Mac now five wild-eyed, newly single people—released "Rumours," a collection of yearning songs about love and devotion. The record spent thirty-one weeks at the top of the charts, and is one of the best-selling albums in American history.
Nicks's debt is to Laurel Canyon, and to the sentimental, silky-voiced artists who emerged from L.A. in the late sixties and early seventies. Some of those acts—James Taylor, the Eagles—are now considered, fairly or not, irrelevant to the Zeitgeist: too mellow, too affluent, too sexless, too white. Candles and incense and macramé plant hangers; wistful thoughts about weather. Nicks's lyrics often worry over domestic or earthly concerns—gardens, mountains, flowers, the seasons—and how they might affect the whims of her heart. "It makes no difference at all / 'Cause I wear boots all summer long," she sings in "Nightbird." When compared with the dissonant and provocative music coming out of downtown New York, the California sound could seem limp. But the scene in Laurel Canyon was tumultuous. Many of its artists—including, at various times, Nicks—were wrecked by drug addiction. Nicks's voice, a strange, quivering contralto, gives her songs unexpected weight.
"Bella Donna" was produced by Jimmy Iovine, a Brooklyn-born audio engineer who worked on Bruce Springsteen's "Born to Run" and produced the Patti Smith Group's "Easter" and Tom Petty and the Heartbreakers' "Damn the Torpedoes." Iovine spent time in California, but his sensibility was tougher and more plainly that of the East Coast. He later became a co-founder of Interscope Records, where he helped to establish the career of the rapper Tupac Shakur, and, for a period, he oversaw the hip-hop label Death Row Records.
"Bella Donna" reached No. 1 on the Billboard chart, and produced four hit singles: "Stop Draggin' My Heart Around," a duet with Petty; "Leather and Lace," with Don Henley; "Edge of Seventeen"; and "After the Glitter Fades." The last, a country song about the travails of stardom—Nicks wrote it just after she and Buckingham moved to Los Angeles, long before she had a record deal, showing either hubris or prescience—contains organ, pedal steel, and reassurances. "The dream keeps coming even when you forget to feel," she sings.
Nicks, like most artists, culls inspiration from disparate sources. She is prone to saying things like " 'Edge of Seventeen' was about Tom Petty and his wife, Jane, my uncle dying, and the assassination of John Lennon." But her personal life—a tangle of love affairs, often with her collaborators—informs her work in explicit ways. "Heartbreak of the moment isn't endless," she sings, in "Think About It." This might seem like a billowy platitude, but if you are someone who does not think that every flubbed decision is fodder for personal growth, it is comforting to hear someone assert that nearly all mistakes can be neutralized, if not conquered. If "Bella Donna" contains a single directive, it's to love freely, love fully, and hang on. The songs Stevie Nicks left off her debut solo LP "Bella Donna", You can hear why "Blue Lamp" didn't end up on "Bella Donna" The song has a darker, rock-oriented vibe that's quite different from the rest of the album. However, it's one of Nicks' finest solo songs, based on a "dark blue Tiffany lamp" from her mom that "symbolized to me the light that shines through the night," as she told The Source in 1981.
"When Fleetwood Mac  we found them or they found us or whatever you know – it was a definite light at the end of the tunnel for both Lindsey Buckingham and I." However, Nicks also saw the song represent new beginnings in her solo career. "It was very important that it found a place for itself,"."I love that song. It was really the beginning of Bella Donna, because it was the first thing I'd ever recorded with other musicians, and it was the first time I'd ever recorded by standing in a room singing at the same time that five guys were playing. Fleetwood Mac doesn't record that way. They record from a more technical standpoint."
It seemed inevitable Nicks would have had a song on the "Fast Times At Ridgemont High" soundtrack – after all, her manager, Irving Azoff, co-produced the movie. However, "Sleeping Angel" was certainly no tossed-off leftover; in fact, it's one of Nicks' most gorgeous and emotional songs from the era.
Driven by elegiac piano from E.Streeter Roy Bittan and lush backing vocals from Lori Perry and Sharon Celani, Nicks defines the respect she needs in and from a relationship: "I need you because you let me breathe / Well, you've taken me away / But never take me lightly / Or I could never stay."
Incredibly enough, Nicks never actually recorded "Gold and Braid" in the studio, although she played it live on early '80s solo tours. In concert, it's a barn-burning rocker that serves as a perfect contrast to Bella Donna's folkier songs and hints at what it might have sounded like had Nicks followed through on her desire to join Tom Petty and the Heartbreakers.
Nicks' original demo for "24 Karat Gold" is piano-heavy and meditative, with almost stream-of-conscious vocals. The version that surfaced later on "24 Karat Gold" maintains the bones of her demo, the piano especially, but turns into a compact cautionary tale about ill-fated fame and love.
"'Belle Fleur' was about not being able to have a relationship because you were a rock 'n' roll star," she said in 2015. Fittingly, one demo for the song is just piano and voice, featuring Nicks and her backing singers – a sisterhood of support that's always been a through-line in Nicks' work. "The [lyric] 'When you come to the door of the long black car' ,that's the limousine that's coming to take you away. Then your boyfriend is standing on the porch waving at you, like, 'When are you going to be back?' And you're like, 'I don't know, maybe three months?' But then we would add shows to a tour, and I could end up not being back for six months. It was difficult for the men in my life. I lived that song so many times."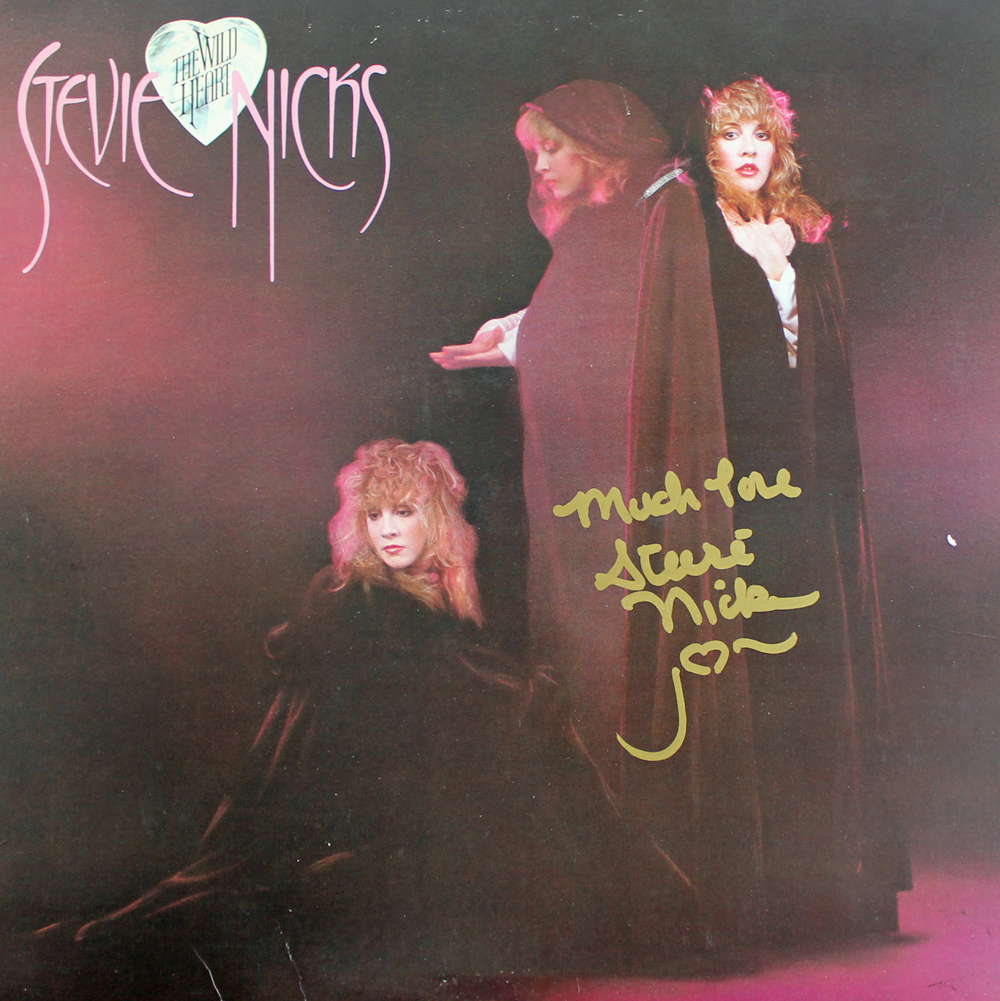 In 1981, Iovine flew with Nicks to the Château d'Hérouville, in northern France, where Fleetwood Mac was recording its next album, "Mirage." Iovine left almost immediately, to escape the interpersonal conflicts that roiled the band. Iovine and Nicks's relationship foundered. The following fall, while Fleetwood Mac was on tour, Nicks's childhood friend Robin Anderson died, of leukemia, at the age of thirty-three. "What was left over was just a big, horrible, empty world," Nicks has said. Days before her death, Anderson had prematurely given birth to a son. Nicks, operating under the savage logic of grief, married her friend's widower, Kim Anderson, thinking that she would help raise the child. They divorced three months later.
By 1983, Nicks was ready to make another record. Her relationship with Iovine was strained, but Nicks asked him to produce the record anyway. "The Wild Heart" is inspired in part by the unravelling of that relationship, and in part by her mourning for Anderson. Nicks frequently cites as a guiding influence for the recording sessions the 1939 film adaptation of Emily Brontë's "Wuthering Heights," which depicts an undying, almost fiendish love. Mostly, the songs are about bucking against the circumstances that separate us from the people we need.
The artist Justin Vernon, of the band Bon Iver, uses a brief sample of "Wild Heart" (a track from "The Wild Heart") on the group's new album, "22, A Million." Nicks's voice is sped up, pitch-altered, and barely discernible as human—just a high, grousing "wah-wah," deployed intermittently. Vernon pinched it from a popular YouTube video of Nicks, in which she sits on a stool having her makeup done, wearing a white dress with spaghetti straps. She begins to sing. Soon, someone is messing with a piano; one of her backup singers joins in with a harmony. The makeup artist gamely tries to continue with her work, before giving up. While the studio recording of "Wild Heart" is saturated, almost wet, this version is all air, all joy.
What affects me most about the video is how profoundly Nicks appears to love singing. Her voice has an undulating, galloping quality. It is as if, once it's started up, there's no slowing down, no stopping; the car is careering down a mountain, with no brakes. You can see on her face how good it feels just to let go.
"Stand Back," the first single from "The Wild Heart," was inspired by Prince's "Little Red Corvette," which Nicks heard on the radio while driving with Kim Anderson to San Ysidro Ranch, in Santa Barbara, for their honeymoon. (Prince played keyboards on the track, though he's not credited in the album's liner notes.) The song was produced in accordance with the style of the era, with lots of synthesizer and rubbery, overdubbed percussion. The lyrics describe a deliberate seduction followed by an acute betrayal. "First he took my heart, then he ran," Nicks sings. The chorus is appropriately punchy: "Stand back, stand back," she warns. Nicks is capable of going fully feral before a microphone, perhaps most famously at the end of "Silver Springs," a song intended for "Rumours" and one of several that she wrote about Buckingham. (It ends with Nicks hollering, "Was I just a fool?") On "Stand Back," she erupts briefly, on the middle verses, but for the rest of the song she is more characteristically sanguine. "It's all right, it's all right," she concedes. "I did not hear from you, it's all right."
Nicks has gone on to make six more solo albums, and three more with Fleetwood Mac. Following her divorce from Kim Anderson, she never married again, or had any children, though a rich maternal instinct runs through all her songs. This, more than anything else, may be the reason that Nicks's work has endured.