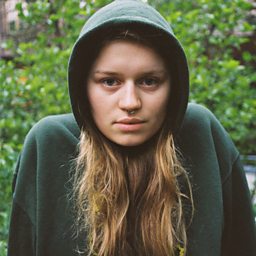 Norway's Girl in Red is unleashing the darkness from within on her inky latest single "Rue." "I wrote this song for my loved ones who are affected by my mental health. I will always try my best to get better for them, and I am forever grateful for their presence in my life," writes Marie Ulven Ringheim of "Rue"  an ode to the Euphoria character of the same name – with Girl in Red's haunted vocals rising like the spires of a gothic cathedral.
Norwegian lo-fi artist Marie Ulven scored a viral hit with her first ever song, I Wanna Be Your Girlfriend, in 2017, which has since been played 80 million times on Spotify.
Born in the quiet North West Norwegian town of Horten in 1999, her early obsessions were The Simpsons and finger boarding, until she was given a guitar at the age of 12.
Her stage name was inspired by the first girl who broke her heart – who will forever remain unaware of the tribute. "I haven't told her and I've never said her real name anywhere," she said.
Ulven has been called a queer icon, but she hopes her lyrics will one day be unremarkable. "We need queer art to make it normal," she told the New York Times.
For fans of: Beabadoobee, Florence + The Machine, The 1975