Iggy Pop is the beating heart of rock 'n' roll. Since 1969, his explosive live performances have set a standard that 99 percent of rock artists have utterly failed to meet. He first vaulted into the public consciousness in 1970, when the Cincinnati Pop Festival was broadcast on TV and a shirtless Iggy walked out into the audience, balancing on their hands, caught a jar of peanut butter hurled from the darkness, and began smearing it on his chest, while onstage his band the Stooges kept right on cranking out their slab-like, psychedelic, grunge-inventing riffs. From that moment on, the Iggy Pop cult — small, but fervent was in full force as the man himself spent show after show flipping, writhing, diving off the stage, and gashing himself with broken glass, while still managing to deliver shockingly smart and perceptive lyrics in a leonine baritone.
Iggy's art balances primitivism and smart popcraft (no pun intended), and avant-gardists have frequently been drawn to his unique fervour. The Stooges effectively ended the '60s with their sullen, minimalistic self-titled debut, produced by the Velvet Underground's John Cale; they launched the '70s with the follow-up, the life-altering "Fun House", produced by Don Gallucci of garage-rock one-hit wonders the Kingsmen ("Louie Louie"). Sadly, neither album sold very well, and it was up to fan and friend David Bowie to attempt CPR on Iggy's career with 1973's "Raw Power" the first of many such interventions. By the following year, the Stooges were fully dead, and Iggy Pop was about to vanish down a rabbit hole of heroin addiction.
In 1977, though, Bowie stepped into the breach again. Eager to retreat from the unmanageable success of his own Ziggy Stardust and Thin White Duke personae, he dragged Pop to Berlin, where he produced Iggy's first two solo albums: "The Idiot" and "Lust For Life", released in March and September of that year, respectively. Bowie even played keyboards on the subsequent tour, documented on one of the most half-assed live albums of all time, "TV Eye: Live 1977".
Iggy spent the first half of the '80s attempting to strike out on his own with the "New Values", "Soldier" and "Party" albums, only the first of which was any kind of triumph; the others combined self-pastiche with poorly chosen covers ("Sea Of Love," "Time Won't Let Me"). His 1982 release, "Zombie Birdhouse", was a weird, arty collaboration with Blondie's Chris Stein and Clem Burke that would be his final statement for four years. In the interim, he survived thanks to royalties from Bowie, who covered "China Girl" (from The Idiot) on 1983's Let's Dance, and "Tonight," "Neighborhood Threat" and "Don't Look Down" on 1984's "Tonight," while co-writing two more songs, "Tumble And Twirl" and "Dancing With The Big Boys," with him. Two years later, in 1986, Bowie produced Blah-Blah-Blah, Iggy's attempt at a gleaming '80s rock album. (It's better than you think.) The commercial moves continued with 1988's metallic, Bill Laswell-produced Instinct and 1990's Don Was-helmed Brick By Brick, on which Iggy strove for Boomer-rock respectability, complete with a backing band of LA studio pros and guest spots by Slash, Duff McKagan, and the B-52s' Kate Pierson.
The '90s were tough on Iggy. His albums didn't sell (and didn't really deserve to), though he was still a breath taking live act. But in 2003, seemingly out of nowhere, he reunited with the Stooges, 30 years after their ignominious demise. Their live shows were, if possible, even more insane than they'd been during the group's original lifetime. Of course, he blew it by taking them into the studio for 2007's misbegotten The Weirdness and 2013's almost entirely overlooked Ready to Die, but those first reunion shows were life-changing for those who were there. 
He kept his solo career going at the same time, of course, releasing records ranging from the introspective and secretly great "Avenue B" to the nü-metal-ish "Beat 'Em Up" and the jazzy "Préliminaires". And the album, Post Pop Depression, a collaboration with Josh Homme.  He is 68, after all.
So what better time to go through his long and surprisingly varied catalogue, and total up the successes and the failures? Let's get started!
The Weirdness (2007)
When Iggy and the Asheton brothers (guitarist Ron, drummer Scott) reunited in 2003, the rock world basically shat itself. During their original lifespan, the Stooges had been regarded as morons who couldn't play their instruments or write a song; both the self-titled debut and Fun House had made exactly zero impact on the charts or in the public consciousness, and Raw Power, even with David Bowie's production help, had been a noisy mess. But in the intervening 30 years, Iggy had transformed himself from rock 'n' roll savage to underground rock star, with genuine hits, TV and movie appearances, and a sterling reputation as an unstoppable live force. In the process, the Stooges' albums had become holy grails, seen as carving out the territory that would later become punk rock. But nobody had expected a reunion, never mind the full-force blast packed by their early shows, with punk stalwart Mike Watt taking over the bass position, and saxophonist Steve Mackay back, too. When it was announced that they were recording a new album, with Steve Albini behind the boards, expectations were high.
And when The Weirdness appeared, those expectations were dashed and then some. If this was just another mediocre late-period Iggy album, it could be shrugged off. He certainly seems to have shrugged when asked to contribute lyrics, as they're some of the laziest and dumbest he's ever written, and we're talking about a guy who sang "Well last year I was 21/ I didn't have a lot of fun/ And now I'm gonna be 22/ I say oh my and a boo-hoo" on the Stooges' debut and somehow made it work. But here he's singing, in a voice more cracked and out of tune than on any album since 1982's Zombie Birdhouse, about going to the ATM. About needing to talk to Dr. Phil. About how his girlfriend left him for "a Mexican guy." It's hard to even pick a worst song from this thing; "Free & Freaky," "My Idea Of Fun," and "Greedy Awful People" are all worthy/worthless contenders. But the tone is set early — the first track on the record is called "Trollin'" (though Iggy appears to mean it in the fisherman sense, not the internet sense). The Ashetons aren't to blame, by the way; their playing is solid, and Ron's riffs have plenty of punch (though Albini's booming drum mix doesn't serve Scott very well; his attack demands a clarity that's not present here). Sadly, the only song that even approaches salvageability here is the next-to-last track on the CD, "Passing Cloud," which lets Steve Mackay wail for a while over an almost Fun House-esque groove. But even that is totally inessential, and best just ignored.
Après (2012)
For the second time in his career (the first being the 1975 demos that became Kill City), Iggy found himself unable to convince a label to buy what he was selling. As its title might imply, Après is a semi-sequel to 2009's Préliminaires, a lite collection of jazz standards and covers, many of them sung in French. It includes versions of Edith Piaf's "La Vie En Rose," Serge Gainsbourg's "La Javanaise," Cole Porter's "What Is This Thing Called Love?," Frank Sinatra's "Only the Lonely," Fred Neil's "Everybody's Talkin'" (from the movie Midnight Cowboy), and perhaps most surprisingly, Yoko Ono's "I'm Going Away Smiling." It's also extremely short — 10 tracks in less than 29 minutes. And his long time label, Virgin/EMI, was totally uninterested in releasing it, so after a few embittered interviews, he put it out himself, selling it online.
Has Iggy earned the right, after more than 40 years as a performer, to make any damn record he pleases? Yeah, probably. But there's not that much to recommend Après to 90 percent of music listeners. The version of "Everybody's Talkin'" is kind of cool, as he adopts a country-ish drawl, and "I'm Going Away Smiling" is a really pretty song that he sings very well. But the French numbers sound like he's reciting the lyrics phonetically off cue cards he can't quite read, and there's not a song here that anyone will hear with brand-new ears based on Iggy's interpretation of it. Strictly for completists.
Skull Ring (2003)
After the meditative Avenue B and the nü-metal Beat 'Em Up, Iggy (or somebody at Virgin Records) decided it was time to reclaim his punk-rock throne by linking up with some folks who kinda sorta embodied punk at the time, like Green Day, Sum 41 and…Peaches? Oh, and he reunited with the Asheton brothers for four tracks. Morbid curiosity about those is probably what's gonna get your average person to listen to Skull Ring, and while they're better than the absolute tripe on 2007's The Weirdness, they're also nowhere near the quality of anything on the original trilogy of Stooges albums. "Skull Ring" at least has a decent chorus, but Iggy sounds like a particularly out-of-breath Alice Cooper on "Loser," album opener "Little Electric Chair" is fast but forgettable, and features "Whoo!" background vocals, which no Stooges song should ever do. The best one, the one that comes closest to honouring the band's legacy, is "Dead Rock Star," which starts out moody and psychedelic before becoming chugging art-punk, with Iggy doing his Goth-crooner thing on top. It's sort of cool that the Ashetons could — and were willing to stretch in this way; it says a lot for them as musicians, as though Fun House weren't proof enough of their brilliance. But no matter who's playing them, these songs are ultimately forgettable. (The track with Sum 41, which is sort of arena-metal meets hardcore, was the single, which tells you a lot about the quality of the Stooges material.)
Honestly, though, the two collaborations with Green Day are the best stuff here, particularly "Private Hell." Hearing Iggy go trad-punk is amusing, as if he'd made a rockabilly album. The two tracks with Peaches are surprising and also somewhat interesting, in an industrial rap-noise sort of way, though the lyrics are an absolute embarrassment. In fairness, it was encouraging to see Iggy try to counter the overt nostalgia move of reuniting with the Stooges by collaborating with present-day punk and punk-adjacent acts. Still, this one's pretty far from essential, or even good.
Beat 'Em Up (2001)
Iggy's first album of the 21st century is a cartoon, from its lurid cover art (a girl in a bikini with a revolver protruding from the crotch and pointing directly at the listener) to the massive, chugging metal riffs that underpin the songs. It's his only album to feature dual lead guitars — Whitey Kirst, who worked with him for over a decade, and Pete Marshall, formerly of Glenn Danzig's early '80s band Samhain (he can be heard on Unholy Passion and November Coming Fire). The bass is handled by Lloyd "Mooseman" Roberts, formerly of Ice-T's thrash act Body Count, and Whitey Kirst's brother Alex, formerly of grunge also-rans the Nymphs, is on drums.
Beat 'Em Up is easily Iggy's heaviest record, leaving the next contender, 1988's explicitly metal-oriented Instinct, in the dust. Indeed, "Go For The Throat" and the title track adopt the cadence of the crudest rap-metal, and "The Jerk" is built around a funk-metal riff (and a lyrical message) that recalls the Rollins Band, while the opening "Mask" was written after Iggy met some members of Slipknot. But there are also tracks like "Death Is Certain" that return to the sound of Raw Power (albeit with much better production), and some real weird ones like "Savior," which is about Jesus, and "Football," which is Iggy imagining himself as a football. Yes, really. The biggest problem, other than the forehead-slapping dumbness of a lot of the lyrics, is the sheer relentless length of the thing — 15 (16 if you count the hidden "Sterility") tracks in 72 minutes, many of which, particularly in the album's back half, are totally nonessential, verging on pointless. If you listen to "It's All Shit" or "V.I.P." all the way through, and have any desire to hear either of them a second time, there's something wrong with your brain.
Brick By Brick (1990)
Seemingly never brought down by the idea of mortality or musical stagnation, Iggy Pop was still at the top of his game when the nineties reared its ugly head over the horizon. With Brick By Brick, Iggy proved he could still throw a few fists or two when faced with a fearsome foe.
Following 1988's metallic, boneheaded Instinct, Iggy changed labels again, moving to Virgin Records. As part of the deal, and due to corporate reshuffling, this meant his late-'70s RCA trilogy  "The Idiot, Lust For Life", and "TV Eye: 1977 Live" got reissued, which was very good news on its own. He also headed into the studio with Don Was, who'd recently produced Bonnie Raitt's Nick Of Time and the B-52's Cosmic Thing, and was rapidly becoming the go-to guy for artists in need of commercial resuscitation under the guise of "maturity." And "Brick By Brick" is nothing if not the work of a "mature artist" in the Mojo/Rolling Stone sense of that term. It's as close to pure dadrock as Iggy has ever gotten, all the weirdness and explosive energy drained away and replaced with strummed acoustic guitars, heartfelt choruses, and lyrics about wanting to make something of oneself and holding onto love. Sounds awesome, doesn't it?.
Iggy's only US solo Top 30 hit, 1990's "Candy" remains one of his most successful collaborations. A high-quality pop song with a soaring chorus, this intensely personal paean to his teenage girlfriend Betsy inspired one of Pop's most impassioned vocals, but it was further elevated by The B-52s' Kate Pierson, who articulated Betsy's side of the story to perfection. "I wanted a girl who would sing with a small-town voice," Pop told Pittsburgh Post-Gazette of their duet, "and Kate has a little twang in her voice that sounds slightly rural and naïve." It proved an inspired choice. The contrast between his rich baritone and Pierson's feisty retro cool works beautifully, ensuring that "Candy" still sounds transcendent today.
Seriously, Brick By Brick commits the ultimate sin, where Iggy Pop music is concerned: It's dull. The arrangements are dominated by strummed acoustic guitars that are louder than the distorted electric guitars on all but two or three tracks. It features two duets: one with Kate Pierson of the B-52's on "Candy" (which was a big hit on MTV) and with John Hiatt, maybe the ultimate boring-guy-who-Boomer-rock-critics-liked-a-lot, on Hiatt's song "Something Wild." Slash and Duff of Guns N' Roses pop up on a song called (seriously) "My Baby Wants To Rock And Roll," and are barely noticeable. There are a few decent lyrics, and the gang background vocals on "The Undefeated" are reminiscent of "Success," from Lust For Life, albeit with about 10 percent of that song's anarchic hilarity. Iggy was trying to be taken seriously on Brick By Brick, and for the most part, it worked. Rolling Stone gave it four stars.
Zombie Birdhouse (1982)
After leaving Arista, Iggy was left in need of a label once again. Enter Chris Stein of Blondie, who agreed to produce him, and release the results on Animal (his short-lived Chrysalis sub-label that also issued the Gun Club's "Miami" and "The Las Vegas Story", James White & The Blacks' "Sax Maniac", and the soundtrack to the hip-hop documentary Wild Style). Though short-lived (it folded in 1984, after Stein was struck down with a serious skin disease), Animal released at least two cult-level classics Stein also played bass on Zombie Birdhouse, with his Blondie bandmate Clem Burke on drums; guitarist Robert Duprey was Iggy's primary song writing partner for the album.
Co-written with guitarist Rob Dupry and featuring Stein on bass and Blondie bandmate Clem Burke on drums, Zombie Birdhouse found Iggy re-engaging with the leftfield experiments of The Idiot and presenting a mouth-wateringly diverse collection of tracks. The skewed, Captain Beefheart-esque "Bulldozer" and the African-influenced "Street Crazies" are also excellent, but the adrenalized "Run Like A Villain" grabs the gold medal here.
Zombie Birdhouse is not a great record. It has a few songs worth saving from the fire: "Run Like A Villain," which kicks off the album, has a cool drum machine beat, including primitive synth handclaps, and a grinding guitar riff that suits his baritone roar well. "Ordinary Bummer," the last track on the first side, is a tender ballad with some very pretty piano and a space-dub bass line; Duprey's guitar sears the air in the background. The album's second half launches with "Eat or Be Eaten," which has a pulsing energy, and Iggy's lyrics ("Eat or be eaten/ Beat or be beaten") are intermittently funny. But pretty much everything else is forgettable, even the weirdo experiments like "Watching The News" (Iggy rambles aimlessly over a burbling electronic track reminiscent of something Remain In Light-era Talking Heads would have tossed and started over). That track has exactly one redemptive moment — Iggy's Burroughs-ian line, "The President today announced that he's pushing all the buttons in a giggling fit." Frankly, Iggy's vocals, which frequently go totally out of tune (if there was ever a tune to begin with), are the album's biggest weak point. A more disciplined performance from the nominal leader would have made this a much better record.
Instinct (1988)
In the second half of the '80s, Bill Laswell, then best known for making hip-hop, jazz, and world music albums (he produced Herbie Hancock's "Rockit"), suddenly decided to dabble in hard rock and heavy metal. He worked with White Zombie, Motörhead, the Ramones, Swans, and Iggy, and in each case the results were mixed, at best. (White Zombie and Swans have basically disowned the albums they made with Laswell; Motörhead's Orgasmatron contains its immortal title track, but has relatively little else to recommend it.)
Instinct was a second collaboration between Iggy and former Sex Pistols guitarist Steve Jones, who'd co-written three songs on 1986's Blah-Blah-Blah. With the '80s pop sheen of that album scrubbed away in favour of a trashy hard rock sound (the guitars sound like they're blaring from a solid state practice amp), the primitive riffs and thudding drums — programmed at least half the time — weigh the music down, and Iggy's snarling delivery doesn't do much to elevate it. The album opens with its two singles, "Cold Metal" and "High On You," which are also the two best songs on it. After that, it's a parade of relative mediocrity, with "Easy Rider" and "Power & Freedom" probably the low points (though the line "I'll take my tom tom and go," from "Tom Tom," puts that song in contention, too). In a way, Iggy's decision to work with Bill Laswell could be compared to the Cult's decision to work with Rick Rubin for Electric, also released in 1988, but one of those albums is a classic slab of modern-day hard rock, and the other is "Instinct".
Iggy's pop-oriented A&M debut, Blah Blah Blah, got him back on track commercially, but instead of sticking with the formula, he returned with 1988's hard rock/metal-inclined Instinct, helmed by wunderkind producer Bill Laswell and featuring Steve Jones on lead guitar. Brash and abrasive, it included several blistering anthems ("High On You," "Easy Rider") and earned Pop a Grammy nomination for the album's stand-out cut, the irrepressible "Cold Metal."
Metallic K.O. (1976)
The Stooges broke up in 1971. In 1973, Iggy Pop and James Williamson flew to England to make Raw Power, hiring Ron and Scott Asheton as their rhythm section and christening the band Iggy And The Stooges. A coup d'etat like that was bound to be bad for band morale, and by the following year, Iggy And The Stooges were no more. Their final gig was a violent train wreck at Detroit's Michigan Palace on February 9th, 1974, a show mostly defined by extremely hostile verbal and physical exchanges between Iggy and a biker gang in attendance, who pelted the stage and the group with eggs and whatever else was around as they attempted to stagger through their set.
Metallic K.O. is an extremely poorly recorded bootleg that nevertheless has a, well, "raw power" that few live albums can match. Part of that comes from its being, in rock critic Lester Bangs' words, "the only rock album I know where you can actually hear hurled beer bottles breaking against guitar strings." There have been several versions released over the years, the "best" one being Metallic 2xK.O., which features the complete recordings of two shows — the February 9th final implosion, and a previous and almost as rage-filled encounter from October 1973. The songs are performed with maximum rage by the band, and Iggy is a capering terror throughout, constantly baiting the audience with exhortations to throw more of whatever they've got ("I don't care if you throw all the ice in the world. You're paying five bucks and I'm making 10,000, baby, so screw ya…You pricks can throw every goddamned thing in the world, and your girlfriend will still love me"). The last song the Stooges would ever play, until 2003 that is, is on this album — a raucous, out-of-tune stomp through "Louie Louie."
TV Eye: 1977 Live (1978)
This album was Iggy's way of getting out of his contract with RCA records. The story goes that they gave him $90,000 for a live album, and he grabbed soundboard tapes from four 1977 shows (three from the Idiot tour and one from the Lust For Life tour), spent about $5000 adjusting — not "fixing" — them in a Berlin studio, and split the rest with David Bowie. The album contains eight tracks and runs 36 minutes, and although it's pulled straight from the board, it sounds like it was recorded on a single microphone stuffed into one of those old bucket-of-sand ashtrays in the lobby of the venue. The loudest elements, most of the time, are Hunt Sales' drums and Iggy's vocals, in that order, with the keyboards (played either by David Bowie or Scott Thurston), guitars (Ricky Gardiner or Stacey Heydon), and Tony Sales' bass all murked together into a thick, chewy wad. Still, it has energy — particularly on the opening "TV Eye," "I Got A Right," and "Lust For Life" — and wit (Iggy sings "Nightclubbing" in German over a massive, militaristic beat) and if it's not exactly a worthy companion to the two studio albums that came before it, its sonic perversity and sheer ugliness make it worth at least one listen.
1970: The Complete Fun House Sessions (1999)
If you're a serious Iggy fan, at some point you have to reckon with this lunatic object. A seven-CD box, it's exactly what its title claims: Every note of music recorded at the sessions for 1970's Fun House. See, the album was recorded in a proudly labor-intensive way, with the entire band bashing through take after take of each song until they got a keeper. That means 28 takes of "Loose," 15 takes of "T.V. Eye," 14 takes of "Down On The Street." Also, versions of two songs that didn't make the album — "Slidin' The Blues" and "Lost In The Future." In between, you get band members goofing off, making fun of each other, imitating a Detroit-area wrestling promoter, etc.
Musically, it's…well, they definitely picked the best takes of each track for the album, but sometimes the margin between "final version" and "next-best version" is razor thin. It's also interesting because you can hear Iggy's lyrics, particularly for the songs "1970" and "Loose," take shape from take to take. And if you really hate your neighbours, just crank up Disc Two (the one where they play "Loose" 19 times in a row).
If you need this in your life, you already know it. There's one on my shelf
American Caesar (1993)
American Caesar is long. Seventy-five minutes long, including the CD bonus track "Girls of N.Y." (Originally, it ended with the bizarre seven-minute monologue "Caesar," in which Iggy inhabits the title character, going on about those crazy Christians and periodically shouting, "Throw them to the lions!" with a cackle.) Its cover is adorned with a mock sticker reading "Parental Warning: This Is An Iggy Pop Record," like he's GG Allin or something. And it is superficially more of an Iggy record louder, cruder, weirder than the slick, "mature" Brick By Brick, released three years earlier. That album had no room for a lyric like "She's got methedrine but I want marijuana," which comes from the first song here, "Wild America."
American Caesar sold less than its predecessor (1990's Brick By Brick), but 1993's American Caesar was a more consistent record – and certainly Iggy Pop's most compelling album of the 90s. Primarily recorded in New Orleans with Daniel Lanois acolyte Malcolm Burn at the controls, the album featured a series of supercharged, politically-aware anthems ("Hate," "Mixin' The Colours"), plus a spirited cover of The Kingsmen's garage-rock classic, "Louie Louie," but its stand-out track was "Wild America": a scything rocker that vividly chronicled a hedonistic night out ("Now I'm in a black car with my Mexicana/She's got methedrine, but I want marijuana") with help from Henry Rollins on backing vocals.
American Caesar's songs are mostly one-riff wonders; when he shouts "Bridge!" in the middle of "Sickness," it's mildly shocking to realize the song actually has one. Some of them are aggressive and rockin', like "Plastic & Concrete" or the cranked-up version of "Louie Louie" (with new lyrics referencing Dostoyevsky); others are soft and gentle, like "Mixin' The Colors," the simmering "Jealousy" (which could easily have been retitled "Class Rage"), and "Beside You," a semi-sequel to "Candy" with Lisa Germano handling the female vocals. Despite its length and the heavy presence of acoustic guitars, though, it never quite becomes boring. Iggy seems to have once again struck a balance between stupid and clever, to paraphrase This Is Spinal Tap, and the band of nobodies he's got behind him are sonic kindred spirits, deploying exactly the right amount of crunch and clatter to suit the frontman's mercurial moods. This isn't Peak Iggy, but it's definitely Peak '90s Iggy.
Party (1981)
Iggy's third and final album for Arista Records is the weakest of the three, but you can't say he didn't go out swinging. His song writing and creative partner this time out was Patti Smith's guitarist Ivan Kral, and the songs have a mainstream-ish punch, even bringing in the Uptown Horns on several tracks.
The best songs on Party "Pleasure," the weirdo poetry-spew "Eggs On Plate," "Sincerity," "Houston Is Hot Tonight," and particularly "Bang Bang" could easily have been hits. "Bang Bang," in fact, was handed over to famed producer Tommy Boyce (who'd worked with the Monkees) to mix, in the hopes that it would chart. Its surging strings, throbbing bass line, booming drums, reverbed-out vocals and punchy garage-rock organ line (plus a couple of crazy Chuck Berry-esque guitar solos) all blend together perfectly, making it one of Iggy's most brilliant songs. Unfortunately, Party also includes lame covers with unconvincing vocal performances ("Sea Of Love," "Time Won't Let Me"), and chintzy attempts at ska ("Happy Man") and hard rock ("Pumpin' For Jill"). It's way too much of a jumble to really stick up for, the glories of "Bang Bang" aside.
Ready To Die (2013)
Ron Asheton died in 2009, and the Stooges reunion seemed to have died with him. But then Iggy pulled a stunt absolutely no one would have expected; he got James Williamson to come back to rock 'n' roll. Williamson, who'd played on Raw Power and the 1975 demos that became Kill City, and helped out with New Values and Soldier, had left the performing side of the music industry to become an electrical engineer and spent the '80s and '90s working in Silicon Valley, later joining Sony and helping codify industry standards for the Blu-Ray disc, among other products. But in 2009, he took early retirement, and became a Stooge once more.
Ready To Die is much, much better than the previous Stooges album, The Weirdness. Iggy and Williamson aside, the line up is Scott Asheton on drums, Mike Watt on bass, and Steve Mackay on saxophone. Various guests, including keyboardist Scott Thurston and violinist/backing vocalist Petra Haden, pop up on one track or another, but for the most part it's a fierce, rockin' slab. Williamson produced it, and the first thing a listener's likely to notice is that his guitar sound has lost none of its broken-glass-shoved-in-your-ear ferocity in the 40 years between Raw Power and this album. "Gun," in particular, could be a lost track from the Raw Power sessions musically, anyway.
But Williamson's ambitions extend beyond recreating proto-punk's past. He apparently still had the dream of making a Rolling Stones-like mainstream rock record with Iggy, like he'd tried to do on Kill City, so Ready To Die also includes a strutting, funky title track, and a couple of acoustic ballads that sound inspired by "Wild Horses." Of course, as with pretty much every Iggy Pop project post-Brick By Brick, the lyrics are the weak point; he's back in social-commentary mode, rather than "the adventures of Iggy" mode, which is good, but the fevered poetry of his 1970s work is long behind him.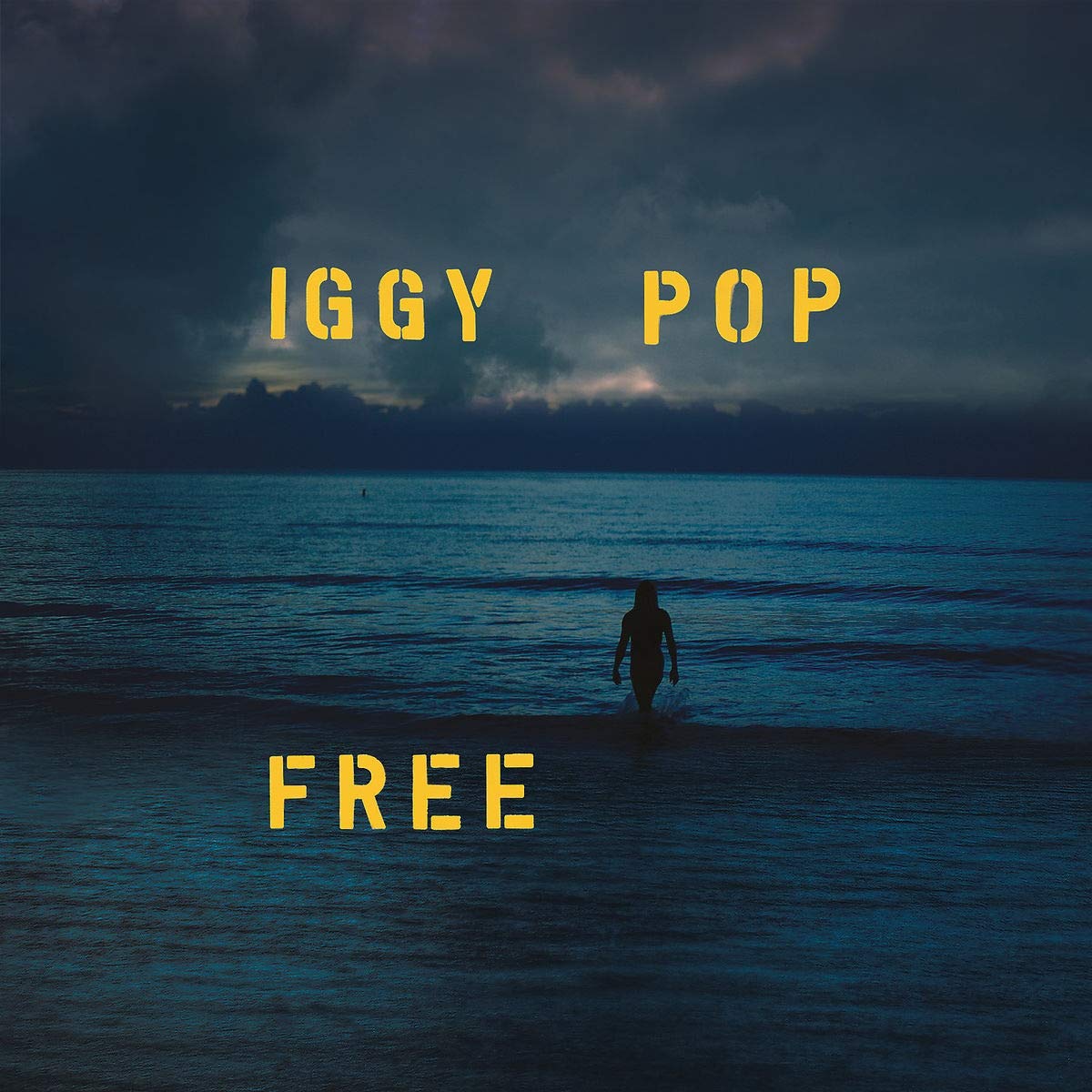 Free
The Washington Post's review of "Free" said that "Iggy haunts these new songs like a dignified spirit," suggesting that the album emerged as "an exposition on death, or transcendence, or both." However, while Free was atypically ruminative in design, the introspection was leavened by the compelling "Loves Missing," a strident, Pixies-esque rocker tempered by Pop's fatalistic lyric ("Love's absent, it's failing her once again, again") and' otherworldly trumpet inflections.
Naughty Little Doggie (1996)
For the follow-up to American Caesar, Iggy retained the same core band: guitarist Eric Schermerhorn, bassist Hal Cragin, and drummer Larry Mullins. The music is harder and heavier than the previous album, practically metal, with screaming lead guitars, big riffs, and that ringing snare sound every rock band had in the mid '90s. The production, by Thom Wilson, who'd done the Offspring's big albums a few years earlier, gives the music plenty of power with just enough roughness to remind you that Iggy Pop was once a threatening weirdo, even if here he's yowling gibberish when he's not making dumb, crude jokes (there's a song called "Pussy Walk" on this album that basically consists of Iggy inhabiting a leering character that would make Brian Johnson of AC/DC ask, "Have you considered a more subtle approach?").
The biggest problem with Naughty Little Doggie is one that started, effectively, with Brick By Brick: the shifting of Iggy's lyrical perspective from first-person insight to first-person narration in character as "Iggy Pop." Even on tracks like "Turn Blue" from Lust For Life, where he stops the song to say, "Jesus? This is Iggy," there was always a sincerity to his madness. On these 1990s albums, though, he seemed to be pandering, giving people what they wanted and writing songs that were "the adventures of Iggy" rather than the thoughts of a relatable human person wandering through the world. Fortunately, there are some songs here with real meaning, particularly the album-closing "Look Away," a sad but clear-eyed tribute to former New York Dolls guitarist and legendary junkie Johnny Thunders, and his former girlfriend, LA groupie Sable Starr. So while Naughty Little Doggie may be forgettable, it's not offensively bad.
Post Pop Depression (2016)
Iggy Pop has always had a canny ability in picking the right artists to work with at the right time and, on 2016's Post Pop Depression, Iggy, alongside Josh Homme created one of his finest albums. He and Homme had sparked the idea of a possible collaboration after exchanging lyrical ideas and, with the key introduction of Arctic Monkeys' Matt Helders, the album was solid gold.
A critical and commercial success, Iggy's 17th studio album, 2016's Post Pop Depression, was one of that year's most celebrated releases. The album became Iggy Pop's first US Top 20 success, as well as a Top 5 entry in the UK. Also later spawning director Andreas Neumann's excellent American Valhalla documentary, Post Pop Depression was stuffed wall-to-wall with rich, satisfying tracks imbued with cinematic flavors and hints of Iggy's Berlin-era work with David Bowie. One of its very best songs, "Sunday" was a compelling mid-paced rocker built upon Helders' tom-heavy drumming and Homme's insistent riffs, and it culminated in an unexpected, yet glorious orchestral coda that still dazzles.
Iggy's phenomenal 17th album, "Post Pop Depression", would represent a landmark in any great artist's career, and several of its tracks (not least "Break Into Your Heart" and "Gardenia") deserve honourable mentions, though they don't make the cut here. The album's hypnotic title track, however, is an absolute must-hear. It sprang from a conversation between Josh Homme and Iggy Pop about how the Norse version of heaven (Valhalla) is the best "paradise" compared to the afterlives of other cultures. Homme later told Mojo how that led to Pop writing "American Valhalla's" remarkable, self-referential lyric: "Here's an icon coming to the later stages of his life, the creator of punk rock, who's survived, and displayed a willingness to be himself in the face of great odds, in a band that was hated but spawned all the good bands. Those lyrics: "Lonely, lonely deeds that no one sees/I've nothing but my name…" He's facing mortality and sensing none of the stuff matters. To be part of that statement felt so wonderful."
This collaboration with Josh Homme, recorded in secret on the artists' own dime, might well be Iggy's last album. He's 68 as of this writing, after all. But rather than continue down the path of jazzy, bilingual croonerdom he explored on 2009's Préliminaires and 2012's Après, he's made a moody, arty rock album strongly indebted to his late '70s Berlin-era work (The Idiot in particular) and featuring some of his strongest lyrics and vocals in some time.
The band is a strong one: with Josh Homme on guitar, bass, keyboards and percussion, as needed; Dean Fertita of Queens Of The Stone Age and the Dead Weather on guitar and keyboards; and Matt Helders of the Arctic Monkeys on drums. The nine songs are all midtempo to slow — the riffs all sound like variations on the mournful "Dum Dum Boys," from The Idiot. But if there's little rage left in Iggy at this point, he's not morose, either; he's introspective and thoughtful throughout. Helders maintains rock-solid grooves that blend blues and post-punk art-rock, atop which Fertita's and Homme's guitars are like ocean waves, repeating simple structures again and again as Iggy bobs on top, singing in his low, fatalistic voice about women named Gardenia and memories of Germany and his desire to move to Paraguay.
Post Pop Depression isn't some magical artistic rebirth. Iggy's in good voice, but the songs are too of-a-piece (except for "Vulture," which has a Spaghetti Western guitar sound that's unexpected) and his weird side rarely pokes through. It's a bunch of guys whose own work was likely heavily influenced by him treating him like an elder statesman. And it's pleasant enough while it's playing, and produced extremely well, but there's a hollowness at its centre that reveals itself over multiple listens, and finally can't be ignored. One song with the goofiness of "Girls" (from New Values) or the air-humping mania of "Loose" (from the Stooges' Fun House) would have gone a long way.
Préliminaires (2009)
At the time of its release, Préliminaires easily grabbed the title of "weirdest Iggy Pop album." Inspired by French novelist Michel Houellebecq's The Possibility Of An Island, it's a jazzy, quiet record that he performs almost entirely at the lower, more crooning end of his range; both the arrangements and his performances sound more like Leonard Cohen or, at times, Tom Waits than anything he's ever done before. It includes versions of Antonio Carlos Jobim's bossa nova song "How Insensitive" and the jazz standard "Autumn Leaves" (performed in the original French as "Les Feuilles Mortes," with Iggy sounding like he learned the words phonetically). Another track, "King Of The Dogs," which borrows bits of its melody from "King Of The Zulus" (written by Louis Armstrong's wife Lil), could have been pulled from a Disney movie about a pack of stray dogs who band together and go on an adventure. There's more trumpet, trombone and clarinet than electric guitar on Préliminaires. There's even a track where Iggy reads a section from the Houellebecq novel, over a subtle electronic backing. But ultimately what's most interesting about Préliminaires is how well it works. This is a really cool experiment from a guy who's always been smarter than most people assume.
1999's sombreAvenue B and 2009's New Orleans jazz-influenced Préliminaires albums revealed that there's a lot more to Iggy Pop than high-octane garage rock. For 2019's Free, he again succeeded in his intention to "wriggle out of the frame of rock instrumentation I'd gotten encased in over time." One of numerous Free tracks that leaned towards jazz, the gripping, synth-driven "Sonali" was an introspective, genre-defying treat that was accurately described as "a rushing, fluttering, quasi-waltz" by The New York Times.
Avenue B (1999)
Iggy's last album of the 1990s was also one of his strangest, and most emotionally resonant. Avenue B, for which he reunited with Don Was, who'd produced his critically acclaimed and commercially successful Brick By Brick, is far away from the crunching hard rock that had marked his output for years. On most tracks, Iggy strums an acoustic guitar and croons softly. Bassist Hal Cragin and drummer Larry Mullins, who played on 1993's American Caesar and 1996's Naughty Little Doggie, are still around, though guitarist Eric Schermerhorn has been replaced by Whitey Kirst. But on three tracks, he's backed by the organ trio Medeski, Martin & Wood, and on three others, he plays keyboards himself, accompanied by violinist David Mansfield. Those latter three are short spoken-word interludes, in which Iggy tells a story of getting old and breaking up with a younger girlfriend to whom he can't relate, but realizing in her absence that the fault was his, not hers.
Avenue B isn't totally anti-rock, though. Three tracks, "Corruption," "Español," and a cover of Johnny Kidd And The Pirates' '50s rock 'n' roll classic "Shakin' All Over," feature loud electric guitars. The first is a bluesy strut, the second a garage-rock stomp with Iggy himself on guitar, with MMW behind him, and lyrics in Spanish(!). Meanwhile, the Kidd cover, slowed-down and psychedelic, actually comes close to recapturing the power of the Stooges in their prime. Ultimately, for all its patchwork feel and shifting moods, Avenue B is one of Iggy's most interesting records; it feels personal in a way his music hadn't since the early '80s.
Soldier (1980)
Iggy kicked off the 1980s still on Arista Records, and if his second album for the label was a disappointment, it was only because of the heights he'd scaled on 1979's New Values. "Soldier" seems like a slightly more light hearted record on first listen, but in fact it's one of his darkest, most sardonic albums, close kin to Alice Cooper's Special Forces, Zipper Catches Skin and DaDa, the first of which came out the following year.
"Soldier" from 1980 saw Iggy lose his song writing partner when Williamson declined the invitation to rejoin the singer and work on New Values Part II. Instead, Iggy leaned on some friends of old. Another remarkable band saw Patti Smith Group's Ivan Krahl on guitar and former Sex Pistol Glen Matlock on bass—some serious chops.
As you might imagine it is a glorious racket and while the punk kids were looking left and right for a place to go, Iggy just followed wherever his gut took him. Songs like 'Ambition' and 'Dog Food' should be the first port of call.
Musically, Soldier starts off in perky, garage-pop territory, with the circus organ and handclaps of "Loco Mosquito." Indeed, for more than half the album, there's no lead guitar at all. On the disc's second half, it shows up from time to time, but it's a dialled-down snarl, sounding like it's coming through a bad phone connection. Other tracks feature horns, female background vocalists offering snarky commentary, and other surprises.
Of the album's 11 tracks, probably five are keepers, and some of them are mini-classics: "Knockin' 'Em Down (In The City)" is a snarky, Cooper-style ripper; "Mr. Dynamite" is a weird, almost jazzy performance piece; "Dog Food" is two minutes of hilarity, like Iggy parodying the punk rock that came after him; and "I Snub You" is artfully sneering. But the album's one moment of genuine glory is "I Need More." A swaggering manifesto with a killer chorus, it's Iggy taking on American materialism and disillusionment and wearing it like a custom-tailored suit. Again, Soldier isn't half as good as New Values, but its high points are a blast.
Iggy retrospectives usually concentrate on the turbulent sessions for 1980's Soldier (during which a visiting David Bowie reportedly fought with producer James Williamson) rather than the music that went into the can. With hindsight, however, the album proffered a clutch of classics, including several songs Iggy co-wrote with bassist/ex-Sex Pistol Glen Matlock. Of these, "Ambition" and "Take Care Of Me" are strong contenders, though the Matlock/Pop peak surely remains "I Need More": a prowling, bicep-bearing rocker on which an animated Iggy thirsts for "More venom, more dynamite, more disaster!"
The Idiot (1977)
Iggy's official debut as a solo outfit would come in 1977 and see the mercurial frontman in fine form. Working alongside his confidant Bowie, Iggy created one of his greatest albums. As well as being imbued with the kind of sparkled pop hit Bowie ate for breakfast on a regular occasion, the album still sounds authentically Iggy in every single note of every single song. As well as the glimmering pop surface the album had a seedy underbelly where songs like 'Nightclubbing' and 'Funtime' come out to play. 
The Idiot, recorded in summer 1976 and early 1977, was Iggy's second collaboration with David Bowie, following 1973's farewell to the Stooges, Raw Power. This time, Bowie took the singer in a wildly different direction than anything he'd done before, planting him amid the same minimal, electronics-driven sound he'd explore on his own Low and "Heroes" albums. The band was largely Bowie's, including guitarist Carlos Alomar, bassist George Murray, and drummer Dennis Davis; Bowie himself contributed keyboards, synth, guitar, saxophone, and even xylophone, as well as backing vocals on a few tracks.
Iggy's voice is vampiric and low, his disturbingly insomniac delivery virtually inventing Goth. Every song here sounds like it was recorded at 4 A.M., the band members only managing to remember their parts by playing them at half speed. The production is wildly inconsistent. The first few songs ("Sister Midnight," "Funtime," "Nightclubbing") have a bottom-heavy thump and even something of a groove, while "Baby" is a romantic ballad that almost sways. The last song on the first side, though, "China Girl," is virtually unrecognizable as the massive pop hit it would become when Bowie covered it in 1983. Here, it sounds like a primitive demo, the mix foggy and subdued and dominated by weird chugging guitars that seem underpowered, never quite getting the song's energy level high enough.
With its instantly recognizable motif, The Idiot's "China Girl" quickly established itself as a keeper. Co-written with David Bowie, the song was inspired by Pop's infatuation with his Vietnamese girlfriend Kuelan Nguyen, though its surreal and sometimes ominous lyric ("I'd stumble into town/Just like a sacred cow/Visions of Swastikas in my head/And plans for everyone") imbued it with a frisson of danger. Bowie's excellent, Nile Rodgers-helmed recording of the track (from 1983's Let's Dance) later became a transatlantic Top 10 smash, though Iggy's darker original version arguably remains the definitive cut.
Minimalist, electronic, and experimental, Iggy Pop's superb solo debut album, The Idiot, was a significant departure from The Stooges' nihilistic proto-punk. Produced by David Bowie, the album was primarily recorded at France's famous Château d'Hérouville, but its most influential cut, "Nightclubbing," evoked the atmosphere and ambience of the more sleazy nocturnal hotspots in Berlin, where Bowie and Pop had relocated. Built upon a loping beat generated by a Roland drum machine and featuring one of Iggy's most otherworldly vocals, the song's ghostly vibe has frequently been imitated but never bettered, though Grace Jones and The Human League later recorded their own acclaimed cover versions.
There's one really good song on The Idiot's second side: "Dum Dum Boys," a tribute to/elegy for the Stooges that begins with a poignant spoken rundown of what happened to them. Iggy says, "What happened to Zeke [Zettner, bassist]? He's dead on a jones, man. How about Dave [Alexander, bassist]? OD'd on alcohol. Oh, what's Rock [Scott "Rock Action" Asheton, drummer] doing? Oh, he's living with his mother. What about James [Williamson, guitar]? He's gone straight." The song itself is slow and sad, with Iggy confessing that without the Stooges, he "can't seem to speak the language" and ending with, "The walls close in and I need some noise." Thanks to David Bowie's rubber stamp, The Idiot was embraced by many critics and portrayed as revealing Iggy as the artist he'd been all along, but it's really more of a weird one-off than a representation of where he'd go in the years to come.
The Idiot's oppressive, closing track, "Mass Production" was inspired by the smokestacks and factories of Iggy Pop's native Michigan, an industrial landscape that fascinated the singer during his formative years. The song's dystopian lyric ("Though I try to die/You put me back on the line/Oh damn it to hell") was perfectly matched by its backing track, a looming drone built upon a tape loop of industrial noise supplied by bassist Laurent Thibault which churned on remorselessly for eight minutes. Arguably the sound of post-punk being birthed, "Mass Production" has been cited as an influence by seminal acts such as Joy Division, Depeche Mode, and Nine Inch Nails, and it still sounds futuristic.
Kill City (1977)
The tracks on Kill City were originally recorded in 1975, when everyone but guitarist James Williamson seemed to have left Iggy behind. The singer was actually living in a psychiatric hospital, trying to get clean, and left on weekends to record the vocals for what were, at the time, demo tapes. No label would touch them, though, until 1977, when Iggy's profile was higher thanks to the David Bowie-produced, critically acclaimed Lust For Life and The Idiot. Then, LA-based Bomp Records gave Williamson money to overdub and generally clean up the material. It still didn't sound great, though not until 2010, when he and Pop went back and remastered the original tapes. Nowadays, "Kill City" sounds like what it should have sounded like all along. Basically, it's a document of Iggy's attempt to go commercial in the '70s.
Some of these songs are Stooges leftovers, never officially recorded by that band ("Johanna," "I Got Nothin'"). The latter has a screaming punk energy; the former, though, has an almost Alice Cooper-esque sense of drama. And the new songs — the title track, "Beyond The Law," "Sell Your Love" and "No Sense Of Crime" in particular — are really strong, with Iggy in desperate but powerful voice and the arrangements, which include piano, saxophone and background vocals, driving the material home in a way that simultaneously recalls the Rolling Stones' Exile On Main Street and prefigures Tom Petty And The Heartbreakers. The band includes Tony and Hunt Sales on bass and drums, who would later back Iggy live and on Lust For Life, and Scott Thurston, a latter-day Stooge (and now a member of the Heartbreakers), on keyboards. This is a pretty amazing record, largely overlooked because of the circumstances and timing of its original release. But the remaster proves its importance to Iggy's catalogue and career arc.
As the infamous Live Metallic KO album confirms, The Stooges literally split up in a hailstorm of violence early in 1974. Iggy, however, didn't hit rock bottom until the following year, when he spent time sequestered at a psychiatric facility on the UCLA campus in Los Angeles. Granted weekends off to try and get his career back on track, Pop reconnected with Stooges guitarist James Williamson, and Kill City – the album's worth of material the duo recorded at Jimmy Webb's home studio in 1975 – eventually received an official release in the wake of The Idiot's release. Though borne of precarious personal circumstances, Kill City remains a mandatory purchase for serious Iggy/Stooges fans, and its edgy title track – propelled by Williamson's driving riffage – is a stone classic.
The mix may be a touch weak but the decision by the great Greg Shaw to pick up this previously shelved Iggy album from 1975 was a masterstroke. It may not be one of the big names on the list but as a singular piece it is fantastic.
It captures all of the raw nature Iggy possessed and the fuel of the city around him that continually stoked his fires. 'Johanna', in particular, is one of Iggy Pop's finer songs and luckily James Williamson would remix the album in 2010. So all is well that ends well.
Blah-Blah-Blah (1986)
Four years after the dismal Zombie Birdhouse, Iggy's career was in need of resuscitation again. Fortunately, he was back in David Bowie's orbit. Bowie had covered "China Girl" on 1983's Let's Dance, and the follow-up, 1984's Tonight, was practically a full-on Bowie-Pop collaboration, including versions of "Don't Look Down" from New Values and "Tonight" and "Neighborhood Threat" from Lust For Life, as well as two brand-new, co-written songs, "Dancing With The Big Boys" and "Tumble And Twirl." Bowie decided to return the favour by co-producing Blah-Blah-Blah and co-writing five of its nine songs with Iggy.
"Real Wild Child's" title seemingly sums Iggy Pop up to a T, yet this legendary song – originally recorded by Johnny O'Keeffe in 1958 – was actually one of Australia's first fully-fledged rock'n'roll records. Its lyrics were reputedly inspired by a brawl at an Aussie wedding reception that ended up in a full-scale riot, so it seemed ideal fare for Iggy to put his anarchic stamp upon. The centerpiece of 1986's David Bowie-helmed Blah Blah Blah album, Pop's reliably faithful take, titled "Real Wild Child (Wild One)," also helped get his career back on track when it climbed to No.10 on the UK singles chart in January 1987.
Blah-Blah-Blah is a nakedly commercial '80s rock album, despite the presence of former Sex Pistols guitarist Steve Jones, who co-wrote three tracks, including the single "Cry For Love." It's slathered in synths, the drums are more programmed than not, and Iggy's vocals are coming from the lowest end of his range, sounding positively vampiric at times. But the songs are actually really good, and it's not that hard to get past the initially dated-seeming production, especially not now that similar retro sounds have taken over the world of indie music. This is an album that's overdue for reassessment and celebration.
The commercial success of 1986's David Bowie-helmed Blah Blah Blah was critical to the resurrection of Iggy's career, but it's an album that polarises opinion. Reviewers criticized its (then bang on-trend) reliance upon synthesizers and glossy production techniques, while Bowie biographer David Buckley has asserted that Iggy referred to it as "a Bowie album in all but name," even though his famous friend didn't sing or play any instruments. Bowie and Pop did, however, co-writeBlah Blah Blah's most enduring song, "Shades": an affecting love song about Iggy receiving a pair of sunglasses from his girlfriend ("I'm not the kind of guy who dresses like a king/And a really fine pair of shades means everything"), which he performs with grace and serenity.
The Stooges (1969)
The Stooges were barely a band when they made their first album. Though Iggy had been in a few groups before, he had a vision for something more like proto-industrial, audience-baiting theater than a rock band. (This is based purely on testimony from eyewitnesses; no pre-1969 recordings, live or studio, have ever emerged.) The musicians backing him — guitarist Ron Asheton, bassist Dave Alexander, and drummer Scott Asheton were perfectly suited to the task, grinding out slow, feedback-laced, garage rock riffs that could easily transform into extended, trance-inducing improvisations. When Elektra signed them, they only had five songs, and the label rejected the sprawling, jammy versions they recorded as being unsuitable for commercial release, so they wrote three more in a day and that was the album. John Cale of the Velvet Underground produced the record, and his fondness for drones is all over the place, most notably on the 10-minute "We Will Fall" but just as present on tracks like "I Wanna Be Your Dog" and "No Fun."
The album kicks off with "1969," which pairs a simple tribal beat with an equally primitive nearly mindless riff. Cale plants Ron Asheton's guitar, and the overdubbed leads, in the far left and right corners of the mix, with Iggy and the bass and drums hovering in the middle. This makes it easy to hear just how important the interplay of Scott Asheton and Dave Alexander was, and how thick a groove they could set up. That's followed by "I Wanna Be Your Dog," one of the great perverse love songs of all time it picks up where Elvis Presley's "(Let Me Be Your) Teddy Bear" left off ("Put a chain around my neck/ And lead me anywhere") and runs straight into the darkest corners of sexual obsession. Seven of the album's eight tracks operate in this throbbing, psychedelic-but-bummed out mode (Iggy's vocals are a near monotone, until he starts screaming hoarsely at climactic moments). The exception is the 10-minute "We Will Fall," an almost liturgical (in that it's just as boring as church) drone piece that was surprisingly the band's idea, not Cale's.
It's also worth noting that Cale's original mixes subdued the Stooges quite a bit, making them sound like cavemen recording demos. It was only after the label rejected the album, and Iggy and Elektra head Jac Holzman remixed it, that the band was ready to make their debut with a disc that perfectly bridges the gap between sullen teenage hostility and arty rock fervour.
Raw Power (1973)
By 1973, things were already getting tough for Iggy. After the commercial failure of 1970's brilliant Fun House, the Stooges began to splinter; bassist Dave Alexander was fired for being a drunk, but the heroin that Iggy, Scott Asheton, and new guitarist James Williamson were all using was apparently A-OK. Filling out the line-up with no-names (bassists Zeke Zettner and Jimmy Recca, guitarist Bill Cheatham), the band staggered through whatever gigs they could get, playing faster, more aggressive material that they'd never track in a studio, because nobody would give them money. By the summer of 1971, the Stooges were officially no more.
Enter David Bowie. Bowie's star was ascendant in 1972, and he used his influence to support artists he admired: Iggy, and Lou Reed. He produced Reed's breakthrough, Transformer, and followed that by flying Iggy and Williamson to London to make Raw Power, which was supposed to be a Pop solo album, but when a suitable English rhythm section couldn't be found, the Asheton brothers (with Ron demoted from guitar to bass) were brought back on board, and Iggy and the Stooges were formed.
Raw Power is a fast, noisy, ugly album. The production is a bleeding, staticky mess, with guitars jumping in and out of the mix almost at random, particularly on the album-opening "Search and Destroy." Williamson's guitar leads, which have a Chuck Berry-esque rawness, and Iggy's vocals (frequently distorted themselves) are by far the loudest elements at all times; the Ashetons are mixed together into a thudding blob of low-end. They're mostly good songs, with some of Iggy's best lyrics, particularly on the ballads "Gimme Danger" and "I Need Somebody," but they're extremely ill-served by the production. Raw Power is an album that jumps right in your face from its first eardrum-sawing chord, and will probably leave you with a headache. But when you need a dose of pure rock adrenaline, there are few that can beat it.
New Values (1979)
For 1979 effortNew Values, Iggy Pop teamed up with former Stooges partner-in-crime, the esteemed James Williamson, who produced and played on the LP. Released in the aftermath of the punk explosion, Iggy showed the youngsters how it's done. 'Girls', 'I'm Bored' and 'Five Foot One' are as much 'of the era' as they are timeless, while the title track, with its circular guitar riff, ranks among Pop's finest.
After closing out his RCA Recording contract with the shambling live album TV Eye, Iggy moved to Arista Records, where he put out three strong studio records, beginning with this one, which is secretly one of the best records of his career. Former Stooge James Williamson, who'd stuck around post-Raw Power to record the 1975 demos later released as Kill City, came back as both guitarist and producer. Multi-instrumentalist Scott Thurston, who'd also played on Kill City, returned too. The rhythm section consisted of unknown bassist Jackie Clark, and Klaus Krüger, who'd previously worked with Tangerine Dream, on drums.
The first seven tracks on New Values "Tell Me A Story," "New Values," "Girls," "I'm Bored," "Don't Look Down," "The Endless Sea," and "Five Foot One" — are damn close to perfect, blasting through your brain like diamond bullets of punk-pop genius. The lyrics are sharp and funny, too; Iggy says he's "healthy as a horse/ but everything is spinnin'"; talks about girls ("They're all over this world/ Some have beautiful shapes/ I wanna live to be 98″); indulges a love of puns ("I'm the chairman of the bored"); and mourns a life of capitalist oppression ("Oh baby, what a place to be/ In the service of the bourgeoisie").
Maybe because it arrived in the slipstream of the killer duo The Idiot and Lust For Life, Iggy's third solo album, 1979's "New Values", is often pegged as an underachiever. In reality, though, it's a bona fide new wave classic, with an on-form Pop aided and abetted by decisive contributions from a hot band that included guitarist/producer James Williamson and versatile guitar/keyboard alumnus Scott Thurston. "Five Foot One" and the scorching title track are immediate stand-outs, but when it comes to ennui-stricken garage-rock anthems, the taut, nihilistic "I'm Bored" ("I'm bored, I'm the chairman of the bored!") is truly unassailable.
Not everything here is as great as that long opening stretch, though. The ballads, "How Do You Fix A Broken Part" and "Angel," are weak and gooey, and "Curiosity" is jumpy filler. But it's "African Man" that comes closest to sinking the whole album. Despite being built on a slinky Afrobeat groove that predates Brian Eno's collaborations with Talking Heads, the lyrics are seriously cringe-inducing — "I eat a monkey for breakfast/ I eat a snake for lunch…I hate the white man." At one point, Iggy actually grunts like an ape. It's bad news. But that misstep aside, New Values is a great album that belongs next to Lust For Lifeas one of Iggy's career peaks.
Lust For Life (1977)
Incredibly, the title track from this album, now easily Iggy Pop's best-known song (from movies, commercials, etc.), was not released as a single in 1977. What track did Iggy and RCA pick to promote Lust For Life? The goofy singalong "Success," of course, which closes the album's first side with Iggy and band singing, "I'm gonna do the twist/ I'm gonna hop like a frog/ I'm gonna go out in the street and do whatever I want/ Oh shit." Yeah, plenty of hit potential there.
David Bowie was once again behind the mixing desk when Iggy got ready to deliver his seminal solo album, "Lust For Life". Buoyed by possibly the greatest title track of all time (seriously, is there a better one?), the album is full to the brim with energetic effervescence and supreme potent punk tendencies.
Iggy is brimming with possibilities and ready to redefine rock and roll once more. Sure, the world was just catching on to his ultra-violet punk act but now Iggy was ready for a new direction. Though his stage performance was imperious he was still as fiery with the pen. Seriously, though, Lust For Life is the complete antithesis of Iggy's other David Bowie-produced 1977 album, The Idiot. Where that was a cold, studio-concocted release that featured mostly Bowie sidemen and a sound that prefigured Goth and industrial, this was a big, stomping slab of handclapping, shout-along rock 'n' roll mostly performed by Iggy's road band — guitarist Ricky Gardiner, bassist Tony Sales, and drummer Hunt Sales. (Bowie contributed keyboards, as he'd done on The Idiot, and Carlos Alomar plays rhythm guitar.) And the whole thing was bashed out in eight days, as soon as the tour supporting The Idiot was over.
Composed by Iggy and guitarist Ricky Gardiner, "Lust For Life" highlight "The Passenger" is instantly recognizable thanks to its taut, clipped guitar riffs, loping beat, and vivid lyric pertaining to Iggy's frequent nocturnal rides in David Bowie's car around both Europe and North America during the mid-70s. A staple of all self-respecting indie/alt.rock discos for the past four decades, this enduring rocker has been covered and/or performed live by stellar artists ranging from Siouxsie & The Banshees to R.E.M., and it's also been used in adverts by firms as disparate as Germany's T-Mobile and Japanese car manufacturers Toyota. The latter's deployment of the song in a 1998 TV commercial granted Iggy a belated UK Top 30 hit.
Unlikely as it may sound, the tempestuous "Lust For Life" stemmed from David Bowie's attempted to imitate the Armed Forces Network call signal on a ukulele. In Berlin during the late 70s, the AFN "was one of the few things that was in English on the telly," Bowie later recalled, "and it had this great pulsating riff at the beginning of the news." During the Lust For Life sessions at Berlin's Hansa Tonstudio, Hunt Sales reinforced this same beat with the thunderous drum tattoo that launched Iggy Pop's magnificent signature hit. Bassist Tony Sales and guitarist Carlos Alomar then worked up the song's relentless, Motown-esque riffs, while Pop improvised the now-famous lyric, throwing in references to the character Johnny Yen from William Burroughs' 1962 novel, The Ticket That Exploded. Lauded since its release, "Lust For Life" later gained a whole new audience during the 90s, when it was used during the introduction to the box office smash Trainspotting. It's now widely accepted as one of the most riotous anthems known to rock.
The songs are almost all great. The title track in particular is an immortal classic, as much for its massive drumbeat and layers of piano and guitar, all hammering out that simple Morse Code-like riff, as for Iggy's wild braggadocio ("I'm worth a million in prizes"). But "Sixteen," "Some Weird Sin," and "The Passenger" all show him graduating to a level of songwriting he'd never previously achieved, and even the simpler tracks like "Tonight" and "Fall in Love with Me" work. Lust For Life is an easy candidate for "if you're only gonna listen to one Iggy Pop album…" status.
Lust For Life's show-stopping widescreen ballad was co-written with David Bowie, who later recorded his own version of the song as a duet with Tina Turner and made it the title track of his 1984 album. Iggy later famously paid tribute to Bowie by performing "Tonight" at Carnegie Hall's House Benefit in 2016, presaging his performance by saying, "It's a wonderful, elegant song with a deceptively simple lyric, and I think it's the right lyric for right now and for tonight."
Fun House (1970)
"Fun House" isn't just Iggy Pop's best album, it's one of the greatest rock albums ever made. It builds on the strengths of the Stooges' self-titled 1969 debut, packing its 40-minute running time with five rockers, one ominous ballad, and one indescribable free-rock freakout, all produced with muscle and impact by Don Gallucci, former organist for the Kingsmen (yes, the band whose indecipherable rendition of "Louie Louie" actually prompted the FBI to investigate whether the record was obscene).
The first side of Fun House swaggers out of the gate; "Down On The Street" is propelled by a strutting hard rock riff over which Iggy's vocals, much more impassioned than on the debut, conjure atmosphere more than concrete imagery. "Loose" picks up the pace, ripping along at an almost punk-rock tempo, and seems to be about sex (the chorus "I'll stick it deep inside…'cause I'm loose!" is a big giveaway). "TV Eye" opens with a full-throated scream and blazes from first power chord to final drum blast (and quick reprise of its crushing riff). Then things settle down with "Dirt," a seven-minute, crawling dirge that prefigures Alice Cooper's "I'm Eighteen" in both tempo and general don't-get-too-close vibe.
The second side is where the album gets truly nuts, though. The first track, "1970," is another "Loose"-style ripper, so you almost know what to expect, but then at the three-minute mark, after Iggy's screamed "I feel alright" (the tune's original title) about 80 times in a row, in comes…a saxophone? Yes, Steve Mackay is Fun House's secret weapon, held in abeyance until needed, and holy fuck, does he make an entrance. He starts out in gutsy R&B mode, honking and howling, but by the time the song ends, he's screeching and squealing like Pharoah Sanders, ripping it up free jazz style as the band crashes and bangs behind him. On the title track, he's there right from the beginning — Mackay and psychedelic thug guitarist Ron Asheton are duelling lead voices, cranking up the riff over Dave Anderson's throbbing bass line and drummer Scott Asheton's primal, unstoppable beat, going at each other with such force that Iggy is literally reduced to cajoling them, "Lemme in," as though they've forgotten he's even there. And on the album-closing "L.A. Blues," well, he might as well not be there, as it's a free jazz/noise-rock instrumental, with Iggy shouting a few indecipherable phrases into a red-hot, distorted microphone as feedback, saxophone skronk, and random percussion barrages basically invent (and outdo) Sonic Youth and all of No Wave in just under five minutes. With Fun House, the Stooges inspired literally thousands of bands in the 45 years since its release, none of whom have equalled its power.
The Stooges had made a splash with their self-titled debut the year before but on "Fun House" they upped the ante. The sound was darker and more intense, it swirled above you and can still to this day render an entire party speechless. It was the sing of the decade to come—things had got real. Inevitably, the person to tell us was Iggy Pop.
thanks http://www.stereogum.com
Few performers can compete with Iggy Pop when it comes to embodying the sheer wildness and unpredictability of rock'n'roll. Yet, while this extraordinary performer has courted infamy for his personal excesses and outrageous live shows, we should remember that his legend has primarily been enshrined because of five decades' worth of future-shaping records.