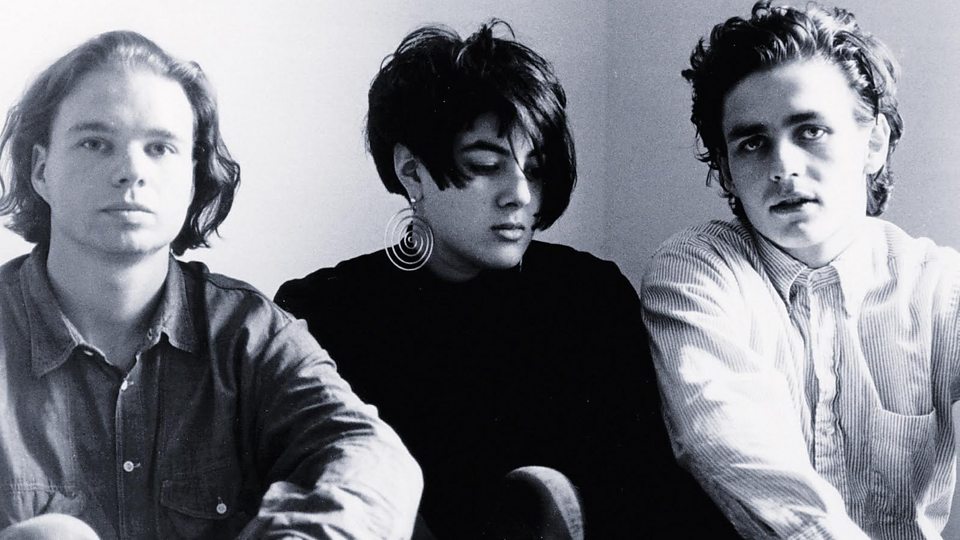 Galaxie 500 were a really well-regarded indie rock band at the time. They signed to a big indie label, they got to tour a lot, to record extensively with the single producer on Earth they were most suited to work with, and they were absolutely adored all over in Europe. Galaxie 500 made three great records that people bought thousands of copies of, Galaxie 500 have later emerged as one of the pivotal underground groups of the post-punk era, dreamy and enigmatic, their minimalist dirges presaged the rise of both the shoegaze and slowcore movements of the 1990s. The group formed in Boston, Massachusetts in 1986 and comprised vocalist/guitarist Dean Wareham (a transplanted New Zealand native), and bassist Naomi Yang and drummer Damon Krukowski, longtime friends who first met in high school in New York City before all three attended Harvard. Wareham and Krukowski initially teamed in the short-lived Speedy & the Castanets, which split after their bass player experienced a religious conversion; upon re-forming, the duo recruited Yang to play bass, although she had no prior musical experience.
Named after a friend's car, Galaxie 500 began performing live throughout Boston and New York before recording a three-song demo tape which they sent to Shimmy Disc head honcho Kramer, who agreed to become the trio's producer. After bowing in early 1988 with the singles "Tugboat" and "Oblivious" (the latter track featured on a flexi-disc included in an issue of Chemical Imbalance magazine)
They issued their full-length debut, "Today" in 1988, which highlighted the group's distinct, evolving sound pitting Wareham's eerie, plaintive tenor, elliptical songs, and slow-motion guitar textures against Yang's warm, fluid basslines and Krukowski's lean drumming.
Damon Krukowski: said ,We had been listening to a Half Japanese record produced at Noise [Music to Strip By]– it sounded very spacious. All the other Boston bands were turning out a very heavy, dense sound. We were looking for something else. We weren't a heavy band after all. We called to ask the rates– they were cheap! So we booked time. That's how we came to record the "Tugboat" single at [his studio] Noise, and how we met Kramer. It turned out he was the only employee.
Galaxie 500's debut doesn't merely live up to the sweet promise of the band's debut single "Tugboat," Today's final song, but almost without trying becomes its own gently powerful touchstone. While the influences are clear — third album Velvet Underground, early non-dance New Order, psychedelic haze and fuzz thanks to the reverb Kramer piled on as producer. By never feeling the need to conventionally rock out, the Krukowski/Yang rhythm section comes up with its own brand of intensity. Sometimes the two are persistently skipping along without Krukowski having to bash the hell out of the drums (the downright delightful "Oblivious" is a good example), other times they simply play it soft and slow. Meanwhile, Wareham's low-key chiming and slightly lost, forlorn singing, at places wry and whimsical, often achingly sad, forms the perfect counterpoint to the songs' paces, feeling like a gauzy dream. When he comes up with his own brand of electric guitar heroics, it's very much in the Lou Reed and such descendants vein of less being more, setting the moods via strumming and understated but strong soloing. One particular Descendant gets honored with a cover version: Jonathan Richman, whose "Don't Let Our Youth Go to Waste" is turned into a deceptively calm epic, with marvelous playing by all three members.
Dean's smallish high voice, subtle accent, and laconic guitar were seated by Damon's spacious sound– long cymbal splashes, bottom heads on his sparkly Gretsch kit– and Naomi's unique, wide toned high on the neck melodies made a big, wide, slowly moving cloud.
It's easier to lose oneself in the flow of the sound rather than worry about any deep meaning, making the stronger images that come to the fore all that more entertaining, like "watching all the people fall to pieces" in "Parking Lot." "Tugboat" itself, meanwhile, remains as wonderful as ever, a cascading confession of love at the expense of everything else, somehow mournful and triumphant all at once.
After signing to the U.S. branch of Rough Trade, Galaxie 500 issued its defining moment, 1989's evocative "On Fire", a remarkably assured and rich record including the superb singles "Blue Thunder" and "When Will You Come Home." Having already made a fine account of themselves on "Today", the three members of Galaxie 500 got even better with "On Fire", recording another lovely classic of late '80s rock. As with all the band's work, Kramer once again handles the production, the perfect person to bring out Galaxie 500's particular approach. The combination of his continued use of reverb and the sudden, dramatic shifts in the music — never exploding, just delivering enough of a change — makes for fine results.
We were signed to Rough Trade by Robin Hurley, who ran the American label, and Geoff Travis, who was our A&R man and the head of the company back in England– both great people. It's kind of amazing the list of things he has been involved with: Swell Maps, Jonathan Richman, Shockabilly, the Smiths, the Jesus and Mary Chain, Pulp, the Strokes.
Consider "Snowstorm," with Krukowski's soft-then-strong drums and Wareham's liquid solo and how they're placed in the mix, leading without dominating. Yang's vocals became more prominent and her bass work more quietly narcotic than before, while Krukowski adds more heft to his playing without running roughshod over everything, even at the band's loudest. Wareham in contrast more or less continues along, his glazed, haunting voice simply a joy to hear, while adding subtle touches in the arrangements — acoustic guitar is often prominent — to contrast his beautifully frazzled soloing. Lead off track "Blue Thunder" is the most well-known song and deservedly so, another instance of the trio's ability to combine subtle uplift with blissed-out melancholia, building to an inspiring ending. There's more overt variety throughout "On Fire", from the more direct loner-in-the-crowd sentiments and musical punch of "Strange" to the Yang-sung "Another Day," a chance for her to shine individually before Wareham joins in at the end. Again, a cover makes a nod to past inspirations, with George Harrison being the songwriter of choice; his "Isn't It a Pity" closes out the album wonderfully, Kramer adding vocals and "cheap organ." Inspired guest appearance  Ralph Carney, Tom Waits' horn player of choice, adding some great tenor sax to the increasing volume and drive of "Decomposing Trees." CD pressings included the bonus tracks from the Blue Thunder EP.
After a limited-edition 7″ release featuring live renditions of the Beatles' "Rain" and Jonathan Richman's "Don't Let Our Youth Go to Waste".
The group returned in 1990 with This Is Our Music, a diffuse collection spotlighting the wry, sunny single "Fourth of July" and a haunting cover of Yoko Ono's "Listen, The Snow Is Falling" .
What turned out to be the final Galaxie 500 album was also arguably the band's most accomplished. Not that the earlier records lacked either charm or ability, but right from the charging, chugging start of "Fourth of July," the amazing single and lead off song from This Is Our Music (even including a cheeky Velvet Underground reference from "Candy Says"), the trio here sounds like they could take on anyone. Kramer's production and the use of reverb from past releases all once again contribute to Galaxie 500's magic, while the individual members continue to sound fantastic. Somehow, though, everyone aims higher, Wareham's singing among his finest and his guitar going for the truly epic more than once, Krukowski and Yang even more perfectly in sync than before, often being very bold without losing their intrinsic warmth.
From a generally different approach, Galaxie 500 here easily equaled the heights of their U.K. shoegaze contemporaries and often trumped them — "Summertime" in particular is a stunner , while making a lot of contemporary American indie rock seem fairly dull and workaday. The choice of cover version this time out is astonishing Yoko Ono's "Listen, the Snow Is Falling," with Yang singing beautifully over, initially, Wareham's echoed guitar strums, and Krukowski's barely-there percussion cascade. The switch to a full-band arrangement, far from destroying the song's spell, makes it even more intense and gripping a listen.
The subtle touches throughout the album add immeasurably to its magic — the soft ringing bells shimmering through "Hearing Voices" quiet synth on "Spook," and Kramer's self-described "cheap flute" on "Way up High." It all concludes with "King of Spain, Part Two," a reworking of the flip side to "Tugboat" while it wasn't a planned finale, as an unexpectedly right bookend to a career, it ends both Galaxie 500 and This Is Our Music on a perfect note.
Later CD versions include a cover of the Velvet Underground's "Here She Comes Now," originally the B-side from "Fourth of July.".
Galaxie 500 recorded two sessions for John Peel's BBC Radio 1 programme, these later released on the Peel Sessions album. Their cover of Jonathan Richman's "Don't Let Our Youth Go To Waste" was also voted into number 41 in 1989's Top Festive 50 by listeners to the show. Dean Wareham: The first Peel Session we did was engineered by Dale "Buffin" Griffin, formerly the drummer in Mott the Hoople. I remember him being impatient. We were amazed at how big the studio was, and this computer they had that could mark the different sections of the song and take the tape machine right to them. My favorite Peel Session recording was our cover of the Sex Pistols' "Submission". People always say that's an unlikely cover but Damon and I had been playing that one since our days in Speedy and the Castanets; it was one of the first songs we learned together.
Following a subsequent tour, Galaxie 500 disbanded after Wareham phoned Yang and Krukowski to say he was quitting the group.
A few months later, after Dean Wareham formed his new band, Luna, Rough Trade went bankrupt, and with the label's demise went the trio's three albums, as well as their royalties. In 1991, at an auction of Rough Trade's assets, Krukowski purchased the master tapes for the group's music, and five years later the Rykodisc label issued a box set containing Galaxie 500's complete recorded output. A previously unreleased 1990 live set, dubbed Copenhagen, followed in 1997.
A presumably final punctuation mark on Galaxie 500's work, "Copenhagen", released in 1997, is actually a recording from the last date of the band's late 1990 European tour, captured for radio broadcast in the Danish capital in front of a vocally appreciative crowd. One main reason to listen in is hearing how the band's studio approach clearly differed from the concert arena — while Kramer handles the live sound, the cocooning web of reverb familiar from the records isn't present here. As a result, the performances have a more direct approach, Wareham's voice a little more naked, his thoughts on emotional connection, and the oddities of life easier to capture. Yang's bass gains in prominence as well, almost more so than Wareham's guitar at points, while Krukowski as always keeps the beat well, adding subtle flourishes and touches as he goes. All this would be mere technical notation if the performance itself wasn't worthy, though, and that it is. Touring for "This Is Our Music" as the trio was, the set list is mostly focused on that, though a fine version of "Decomposing Trees" starts things off. Three of the band's favored covers close the set — Yoko Ono's "Listen, the Snow Is Falling," the Velvet Underground's "Here She Comes Now," and a version of Jonathan Richman's "Don't Let Our Youth Go to Waste" that provides a great final kick. For all the excellence of the show, one can hear a little more than once in Wareham's soloing what Yang and Krukowski later described as his tendency to play the big rock star toward the end of the band's life. It's not bad work, but the cracks were starting to show.