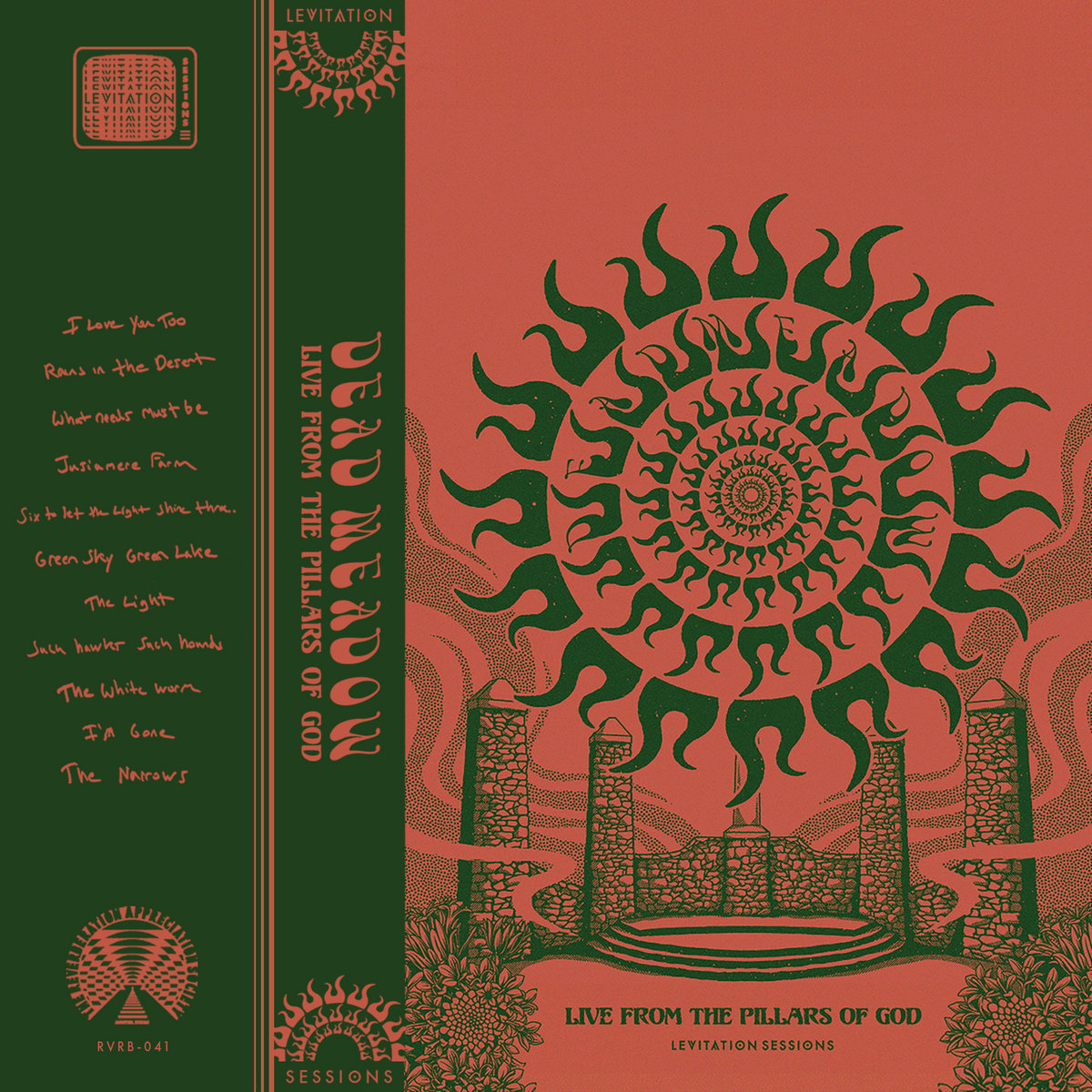 In the Autumn of 2020, Dead Meadow convened at Camp Mozumdar, hidden away in the mountains above Los Angeles, to record their Levitation Session at The Pillars of God. The film captures a full performance from the legendary trio, with all original members — Steve Kille (bass), Mark Laughlin (drums) and Jason Simon (guitar/vocals). The three rip through tracks across their discography in front of the monumental structure, part of a sprawling complex built by A.K. Mozumdar and his followers in the mid 20th century in the mountains of Crestline, California as a place of worship for people of all faiths.
"On moonlight nights, when the sky lowers itself with its myriad of stars and when the wooded hillside and desert play with lights and shadows, one's heart is filled with gratitude just to be alive." – A.K. Mozdumar "When Steve showed me the all-but-forgotten Pillars of God, tucked away down a mountainside dirt road, we both knew this was a place we needed to play. Dead Meadow has always been a retreat of sorts for us, a sanctuary of creativity and freedom. We learned the Pillars were built with similar ideas in mind, open for all as a place to turn towards an inner world. It seemed only fitting to break the longest period in our twenty year history without performing live at this nearly 100 year old monument. Our music echoed out into the night and travelled across the tree tops in the valley below. Come join us here, all are welcome."
In October 2020 Dead Meadow recorded a live performance at the mystical ruins of Camp Mozumdar, the amphitheater Pillars of God.
The band's Levitation Session gathers tracks from over 20 years of the band's work, distilled into a potent 70 minute performance, featuring rare tracks and a handful that have never been released live before. Dead Meadow runs through classic live favourites like "Green Sky Green Lake", "What Needs Must Be", and "The Narrows" but then delves into more esoteric regions of their catalogue. "White Worm" occasionally finds its way into a set but is captured live for the first time here while "Jusiamere Farm" has not been played since shows in the early 2000s. Dead Meadow bring us a generous offering of psychedelic rock, imbued with the spirit that inspired The Pillars of God.
"Your mind is your inner empire. Whatever you vision yourself in your mental empire, the same you become." – A.K. Mozdumar
Released March 5th, 2021
Setlist: 1. I Love You Too 2. Rains in the Desert 3. What Needs Must Be 4. Jusiamere Farm 5. Six To Let The Light Shine Thru… 6. Greensky Greenlake 7. The Light 8. Such Hawks Such Hounds 9. The White Worm 10. I'm Gone 11. The Narrows