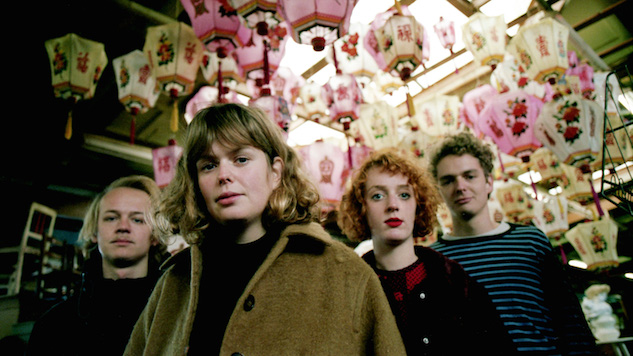 Dutch indie rocker Pip Blom and her band are preparing to release their debut album Boat, out on May 31 via Heavenly Recordings / PIAS. After a searing showing at SXSW last month (their first set of U.S. dates), the band have shared the video for "Ruby," premiering exclusively at Paste.
After 2018's solid Paycheck EP and recent single "Daddy Issues," the 22 year-old singer/songwriter's new song "Ruby" is another rapturous gem of post-punk adjacent indie rock. With clamoring guitars and vocals that range from sassy to melancholic to euphoric, "Ruby" embodies the ephemeral rush of joy you get from a gentle beachside breeze.
Set on the seaside, the music video captures Blom visiting a UFO hypnotherapist after catching a glimpse of something eerie. The video's director Raymond van Mil said of the cryptic clip, "We made a few jumps in our imagination, and we were explicitly not trying to explain or illustrate the lyrics. We started with flamingos. Apparently there are two distinct families standing some 20 meters apart on one exact place in Zeeland/the Netherlands. We went there and were in amazement, it looked so alien in the Dutch landscape. From there the UFO story unfolded and was fun. Was it a dream? A memory? A documentary? Only Pip knows."
Ruby, Video by Raymond Van Mill. Shot on analog film, Super 8 – Kodak Ektachrome / Kodak TriX
'Ruby' taken from 'Boat' LP out 31st May on Heavenly Records.