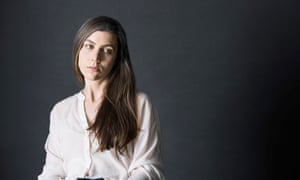 Julia Holter's fourth album, "Have You in My Wilderness", was released just over four months ago. It was received with almost universal rapture, and comparisons to Kate Bush, Laurie Anderson and Nico flooded in. Music blogs dedicated themselves to decoding the enigmatic lyrics and cryptic allusions. The album was ubiquitous in critics' end-of-year lists: it was chosen as the best album of 2015 by Mojo and Uncut, and in the top five by the Guardian, the Sunday Times, Loud and Quiet, Q and the Wire.
Yet, Julia Holter says, her life has not changed "at all". She doesn't get stopped for autographs. "No one recognises me on the street ever," she says. "Maybe once or twice in my entire life, if at all. I think people have an idea that if you have a record out you're famous." Ask a roomful of critics what they think of Julia Holter and you'll be submerged in breathless adoration; ask a random person in the street and you're likely to get a blank stare. This suits her perfectly well. "I prefer this; I'm happy that way. You can have an internet presence but it doesn't mean anyone has any idea who you are or what you look like. Which is great."
Reviews usually foreground Holter's background as an avant-garde composer – previous projects included field recordings and making a 1920s recipe book into music – and her references to Greek tragedies, Virginia Woolf and Frank O'Hara have helped create an aura of literary loftiness. Yet there is a danger of taking it all too seriously, something Holter is reluctant to do. Icy voiced on record, in conversation she's warm and self-deprecating, with a soft Californian lilt. "I don't like to talk too much about my music, I like people to just experience it and not worry what I have to say," she says. "There's definitely been a focus on the literary aspects of my music and I always get a little cringey, because I don't feel like I'm particularly literary. There's a sort of academic label that's put on me that seems inaccurate."
Best albums of 2015: No 4 – Have You in My Wilderness by Julia Holter
A painterly album, a kind of musical impressionism, it evoked the otherworldy quality of love through landscapes of free jazz and minimalist classical music
The album's sweeping melodic crescendos and dramatic flourishes are counterbalanced throughout with pretty, airy melodies and playful touches. Feel You and Everytime Boots are upbeat numbers, as vivacious as they are thoughtful ("There are so many days of rain/ In Mexico City/ A good reason to go/ You know I love to run away from sun," she coos on the former). It's a more approachable sound than her previous albums, which placed experimentation and concept above vocals and melodies. "All of my projects are very different, in my mind," she says. "But this one's working in a tradition of 60s ballads. I really wanted to have this big sound, although it doesn't mean I'm going to make music that sounds like that again."
The overarching feeling that Holter tries to capture when writing, she says, is a sense of longing. Silhouette, for example, is about an impatient lover waiting for her man to return; Lucette Stranded on the Island, inspired by Colette's novella Chance Acquaintances, is about a wounded woman who is abandoned on a beach. However, listeners looking for details of Holter's personal life in her songs – her relationship with Real Estate and Ducktails musician Matt Mondanile, now ended, attracted some attention in the music world – won't find them.
Her songs tend to be vignettes told from the point of view of different characters, both male and female, often borrowed from the past, creating a sense of both anachronism and timelessness. Often, the events in the songs are fragments, disjointed episodes in a whole that is concealed. In the Christopher Isherwood-inspired How Long?, one character asks singer Sally Bowles: "Do you know the proper way to ask for a cigarette?"; the gnomic reply is: "All the people run from the horizon."
Holter sees herself as a storyteller rather than a confessional songwriter. "Every time I do an interview, people ask me what it has to do with my personal life. I think it's really weird; I don't understand why it matters. It's not like art is just supposed to be this revealing of one's personal life. They think I'm directly trying to avoid singing about my life, which is totally wrong. A lot of the music I make is based on emotions I've felt, but I'm not writing about literally what's happening to me. When I'm listening to music I'm never thinking, I wonder if this really happened to Adele. I don't want to know about all that."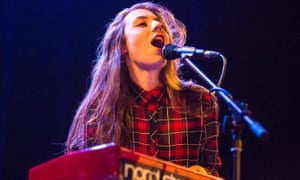 There is a cinematic element to Holter's songs, both in terms of atmosphere and narrative. The opening track on her 2012 album Ekstasis is called Marienbad, a nod to Alain Resnais's elusive 1961 classic L'année dernière à Marienbad. 2013's Loud City Song is overtly inspired by the 1958 musical Gigi. Although she says "I don't feel like I'm a film buff", she is also influenced by the imagery and sounds of Lars von Trier's apocalypse drama Melancholia and Andrei Rublev, Andrei Tarkovsky's three-and-a-half-hour-long 1966 film about a medieval Russian painter (and named by the Guardian as "the best arthouse film of all time").
Holter's disparate influences began in adolescence, when she "flirted around with all these different types of music": modernist European composers (Ligeti), folk (Joni Mitchell), jazz (Alice Coltrane); later, Robert Wyatt and Patti Smith. She wanted a piano at the age of eight – "I remember as a kid hearing music in my head and wanting to make it real" – and later attended a public school in LA that focused on music, where she was surrounded by like-minded aficionados. She then studied composition at the California Institute of the Arts. Writing was her first love, but she started to enjoy performing when she switched to her own songs: "I hated piano recitals as a kid. I got so nervous. I used to think I hated performing, but I actually really like it. I just have to feel that what I'm doing is genuine." Now, she incorporates both old and contemporary influences into her music. Futuristic-sounding electronica sits easily alongside sax solos and harpsichord interludes: the blend of genres, she says, "is actually not thought out too much – I follow my musical impulses". There are affinities with fellow Californians Ariel Pink, Jessica Pratt and Joanna Newsom (in a recent dual review of Holter and Newsom, Observer critic Kitty Empire praised the "niche sub-genre [of] recherché, baroque-tinged pop made by long-haired Californian women".
Despite her interest in classical plays and black-and-white films, Holter is a product of her time. She speaks fondly of how "amazing" MySpace was, which she used at the start of her career to share music. She is now a fairly prolific poster on Twitter and Instagram, although it's an enthusiasm tinged by millennial ambivalence about social media ("I have some issues with these things and I think it's possible I might not even be on Twitter in a while. I enjoy it to some degree, but I don't think that interacting with people there is very healthy").
Though her music isn't overtly political, Holter is outspoken online: recent tweets include "so many men with power get away with abuse of all kinds, incl. rape, in legal system"; "severe oppression against women growing in many other countries but we have issues too"; and a video her cousin made in support of leftwing Democratic candidate Bernie Sanders. On the subject of the US election primaries, her response is diplomatic: "I'm pretty confused about it. I definitely think there are really good things about both Democratic candidates."
Does she have any opinions about Donald Trump?
"Um, yeah. We don't need to talk about him."
She describes her life in LA, with her boyfriend and his dog, Francis, as low key. "I like to go on walks… I don't know what else I like to do. I really don't do much else. I eat, walk around." The beach features prominently in the song and video for Sea Calls Me Home, but she only goes if someone's visiting. "I actually find the sea terrifying, but I really appreciate it, and I respect people who surf. I think the sea for me is a sign of mystery and expanse and foreboding, and freedom at the same time."
Since the release of Have You in My Wilderness, Holter has been on a worldwide tour: the US, Asia, Europe, Australia. Last November, she was due to perform in Paris a couple of days after the terrorist attacks that killed 130 people, including 89 at music venue Bataclan. The show was cancelled, but she performed in Paris last week. "It felt kind of like the start of the third world war," she says. "It was really awful. But I was excited about playing there." Her tour finishes in March, followed by summer festivals including Primavera and Green Man. She is clearly itching to return to songwriting.
"I love being alone in my messy office, playing stuff on the keyboard, playing with ideas. I miss that so much. But mixing and recording are really fun too. I like aspects of touring: I like seeing new places, but I hate flying and I'm terrified of it and the more I do it the more my fear is. But if that's the most difficult part of what I'm doing it's fine."
Although still not a huge fan of interviews, she's starting to get used to them. "It's still pretty weird to me. But I find that I do like reading interviews with other people, so I see why it's interesting to someone. It's also an opportunity for me to talk about my music a little, so I don't have to tell in the song exactly what's going on."
Things are changing fast. A few years ago, Holter was recording albums alone in her bedroom; now she's signed to respected independent label Domino Records, recording in a studio with a team of musicians and co-producer Cole M Greif-Neill, touring the world. She might even start to get recognised in the street soon.
For now, though, what matters to her is that her music has struck a chord. "Whenever you make something and people respond to it it's surprising, because you feel like maybe what you're doing is insane, because it's coming from you. I tend to feel like everything I'm doing is crazy, which isn't true really, I'm just human. I think it's easy to feel like you're a crazy person talking to yourself. But I think everyone has that side to them – the crazy side – so I'm really happy if people connect with it."
Julia Holter's UK tour ends in Edinburgh on 20th February