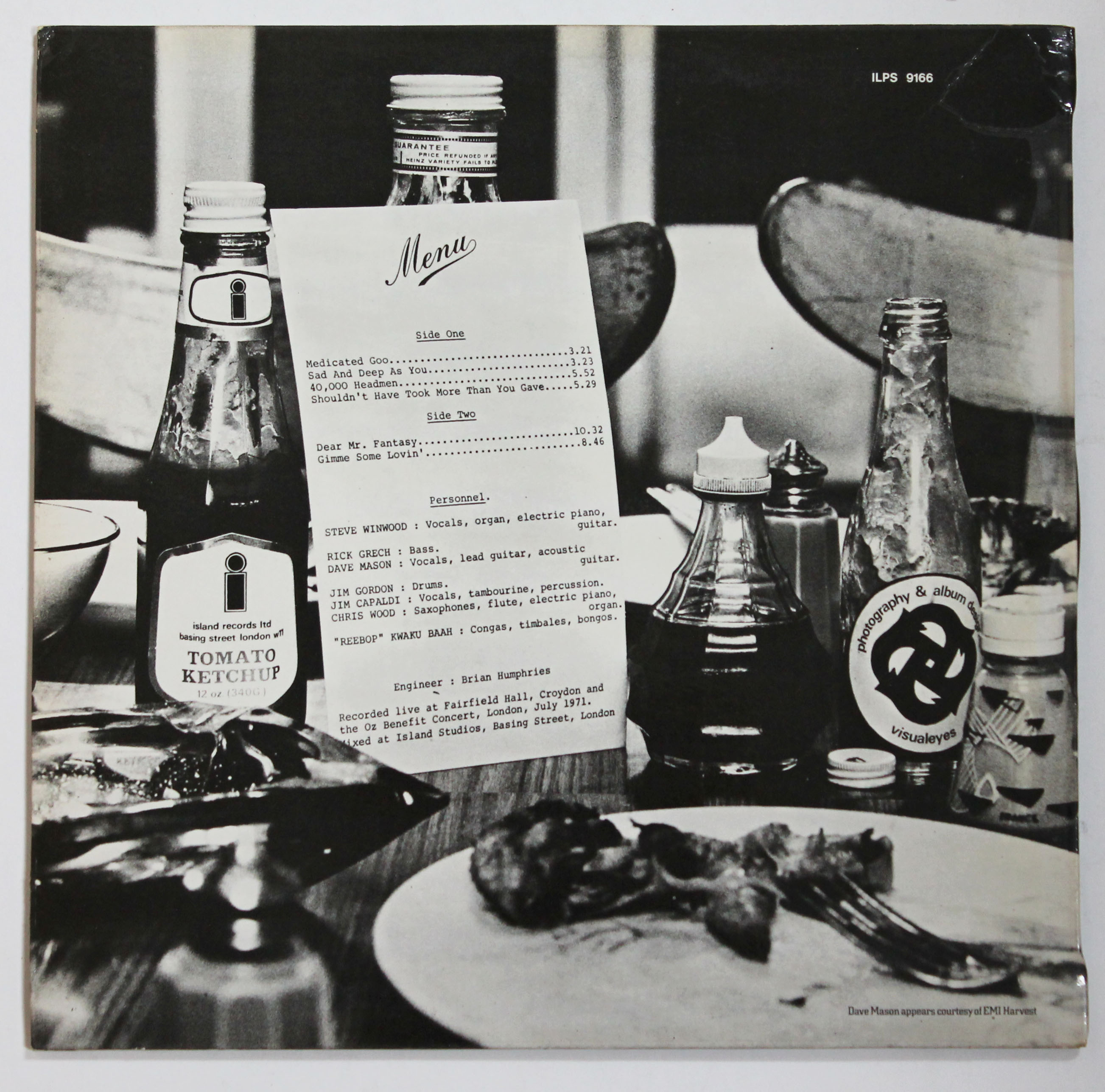 The South London town of Croydon opened the arts, entertainment and conference center Fairfield Halls in 1962. With well over a thousand seats in the main concert hall, it quickly became a favoured venue for opera, theatre and, especially, pop and rock as it exploded during the '60s. The Beatles, the Who, Stevie Wonder, Pink Floyd and Elton John played there; Free, the Nice and Soft Machine recorded live albums in the venue.
When guitarist Dave Mason and drummer Jim Gordon stepped on stage in Croydon on June 6th, 1971, they'd already been there numerous times, including as part of Delaney and Bonnie and Friends, who recorded their On Tour with Eric Clapton album there December. 7th, 1969. Likewise, vocalist and bandleader Steve Winwood was familiar with the venue, playing there with Traffic most recently on May 31st, 1970, although the group's line-up had changed in the interim. Mason, who had repeatedly clashed with Winwood over the years, was now back for another go, lasting only six gigs (including June 21st at the Glastonbury Fayre festival and the OZ magazine benefit in London on July 3rd).
The 1971 Fairfield Halls show was billed as "Traffic With Friends," and the live album that resulted, "Welcome to the Canteen", wasn't credited to Traffic at all: the front cover listed only the names of participants with no band name. Winwood sang, played keyboards and guitar, Rick Grech (ex-Family and Blind Faith) was on bass, Traffic co-founder Jim Capaldi sang and played percussion (leaving his normal seat at the drums for Gordon), Chris Wood handled saxophone, flute and keyboards as he had from Traffic's inception, and a newcomer, Ghanaian musician Anthony "Reebop" Kwaku Baah, added congas, timbales and bongos.
Shortly after the Croydon gig, Winwood told New Musical Express that he already knew the current line-up wasn't permanent. "There is every possibility of getting other guys in, but I don't know dates or specific time." Winwood was downbeat and uncertain, and said he was "not optimistic about the future." His crystal ball was cloudy; Mason went home to Los Angeles, but the remaining six-piece recorded a classic LP a few months later, "The Low Spark of High Heeled Boys".
"Welcome to the Canteen" contains three tunes from Traffic's early days: "Medicated Goo," "40,000 Headmen" and "Dear Mr. Fantasy"' two originally on Mason's 1970 debut solo album Alone Together ("Sad and Deep As You" and "Shouldn't Have Took More Than You Gave"); and a nine-minute blast through the Spencer Davis Group hit "Gimme Some Lovin'," which Winwood had sung when he was still a teenage phenom.
There is nothing from Traffic's most recent album, John Barleycorn Must Die. Engineered by Brian Humphries and mixed at Island Studios, the tapes are not of a particularly high quality, with a thin dynamic range and a bit too much "sound of the room"; some of the vocals seem to be very distant, as if we have a balcony seat instead of one in the front row.
"Medicated Goo" is far funkier than the original 1968 single. Winwood and Capaldi harmonize well, the guitar work is gritty, and the congas give it a very different flavour. The crowd recognizes "Sad And Deep as You" when Mason begins singing "Lips that are as warm could be/Lips that speak too soon." The song benefits from Wood's up-front flute winding around Mason's acoustic guitar, subbing for Leon Russell's central piano part on the original studio version.
With one of Winwood and Capaldi's finest combinations of melody and lyrics, "40,000 Headmen" is next. Winwood's on acoustic guitar, singing a tale that balances between psychedelic surrealism and Gulliver's Travels: "Forty thousand headmen couldn't make me change my mind/If I had to take the choice between the deaf man and the blind/I know just where my feet should go and that's enough for me/I turned around and knocked them down and walked across the sea." Winwood sings with gospel fervour, Reebop's punctuation is well-placed and occasionally explosive, and Wood lays down some more jazzy flute lines that go well with Gordon's light, swinging drums.
The LP side ends with Mason singing "Shouldn't Have Took More Than You Gave." Gordon really shines, Winwood is strong on organ, and Mason's vocal and guitar playing are top-notch, with echoes of his friend Jimi Hendrix especially during the long concluding solo.
The second side of the original LP contains two lengthy workouts, 10:57 of "Dear Mr. Fantasy" and 9:02 of "Gimme Some Lovin'." The first features some spectacular Winwood/Mason electric guitar duelling, and was described by Rolling Stone's Ed Leimbacher as "eleven swirling, blending, building, wonderous minutes…with Winwood as pensive/yearning/mournful as ever." Reebop begins "Gimme Some Lovin'" before Gordon takes over with a driving rhythm right out of his work with Delaney and Bonnie. The whole band moves like a locomotive, from Winwood's intense organ work to Mason's insistent riff. Every so often in the background you can hear Wood's saxophone struggle for some room.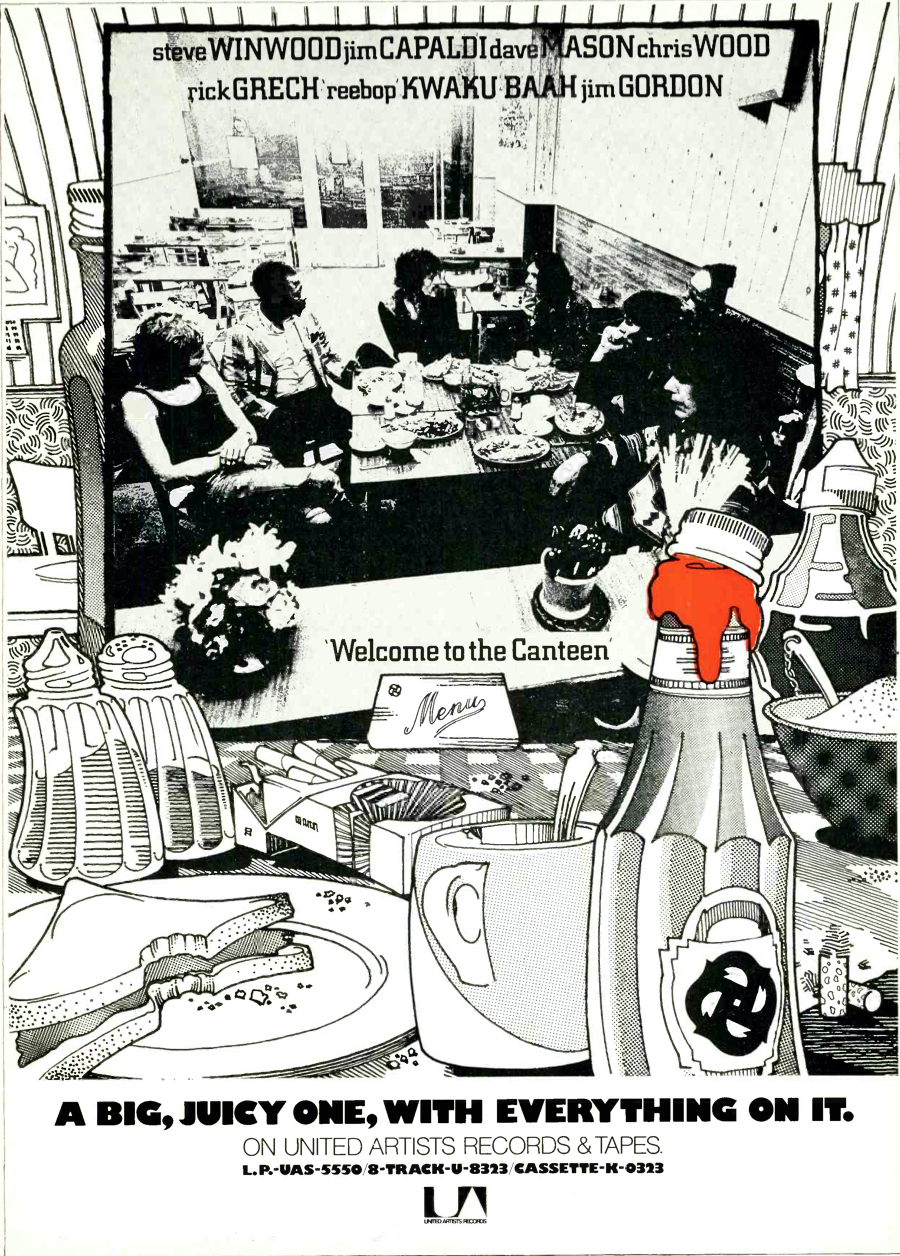 Released in September 1971, Welcome to the Canteen reached #26 on the Billboard LP chart in America, but flopped in their native Britain. In the U.S. the whole incendiary performance of "Gimme Some Lovin'" was issued as a 45 rpm single (cut into A- and B-sides), credited to "Traffic, Etc." It made it to #68 on the Billboard Hot 100, but was the last hurrah for Traffic's association with their American label United Artists. Their long time British label Island set up its own U.S. operation, distributing music through Capitol, and that's where the next chapter appeared in late 1971 with the studio album Low Spark of High Heeled Boys.
There were many different Traffic projects, tours and lineup changes to come. More recent history has included some really good times and some very bad ones for Winwood and co. The original four members were inducted into the Rock and Roll Hall of Fame in 2004, with Stephanie Wood standing in for her late brother Chris, who'd passed away in 1983 before reaching his 40th birthday. Kwaku Baah died in 1983 as well, the same year Jim Gordon, during a psychotic episode, murdered his mother. He's still incarcerated in a state prison in Northern California.
Grech died in 1990 at the age of 44, and Jim Capaldi at the age of 60 in 2005. Now septuagenarians, Steve Winwood and Dave Mason remain active, with Winwood issuing the solid Greatest Hits Live album in 2017 and Mason releasing a terrific re-recording of his solo debut called Alone Together Again in 2020. Both expect to be on the road again as soon as the Covid-19 pandemic recedes. Maybe Fairfield Halls will be on the itinerary once again.
Traffic in 1971 : Rick Grech, Reebop Kwaku Baah, Jim Capaldi, Steve Winwood, Chris Wood, Dave Mason, Jim Gordon