After three thrilling but taxing years spent fronting the Montreal quartet Ought, Tim Darcy needed a break. The group had accomplished a tremendous amount in a short period of time; their first album, 2014's More Than Any Other Day, was remarkably assured, efficiently sketching out the blueprint for the band's sound: fitful, snarling post-punk, topped with Darcy's piercing lyrics, which explored the ways that daily choices are subtly influenced by people in power.
After a world tour in support of that record, they started the process all over again with 2015's Sun Coming Down. But three years spent globetrotting takes a toll, no matter how romantic it seems from the outside. So for Room Inside the World, their third full-length and first for Merge Records, the band decided to prioritize deliberateness over the ruthless cycle of record, tour, repeat. The result is the band's finest work to date, and a striking indication of where they may be heading.
"It's amazing how much a little bit of downtime can do, as far as regrouping yourself," Darcy says. The relief in his voice is audible; on previous albums, the recording process was a 100-yard dash: write the songs, record the songs, release the songs, hit the road. With Room Inside the World, the band wanted to flip the script, not just in terms of the writing and recording process, but also when it came to the album's sonic palette.
On first listen, Room Inside the World is a sharp departure from Ought's signature mix of post-punk precision and Talking Heads-y pop-funk. There's a stripped-down glam gem ("Into the Sea"), an ode to '90s indie rock ("Disgraced in America"), and a ballad that manages to work a 70-person choir into the mix ("Desire"). Room Inside the World is the sound of a band confident enough to edge away from the wiry, worked-up songs that made them successful in the first place. On the whole, the album feels more relaxed and controlled.
http://https://bandcamp.com/EmbeddedPlayer/album=1503174799/size=large/bgcol=ffffff/linkcol=de270f/transparent=true/
"The thing we were able to get with More Than Any Other Day was a really cohesive statement that really matched what was happening in our live show," says Darcy. "Before that, as a group of four musicians, we were interested in a lot of different tonalities and sensibilities that weren't present on the recordings we were putting out. [With this record], it's not like we're disowning that stuff, we just had a desire to get back in touch with some of the other things we were doing.
Darcy's lyrics suggest that, while 2017 was an alarming departure from the norm, that norm wasn't all that great to begin with. The world is still a frightening and unfair place for most of the population, and 2017 simply helped crystallize what Darcy has been singing about since More Than Any Other Day.
https://bandcamp.com/EmbeddedPlayer/v=2/track=3067094640/album=1503174799/size=large/bgcol=ffffff/linkcol=0687f5/tracklist=false/artwork=small/
"Part of what I appreciate about the band and the way it addresses politics is that it's always been interwoven with more general poetic reflection and thoughts about life," Darcy says. "That's more true way to us than, 'Oh, now we need to write the political song to maintain our image.'"
In short, Darcy views political songwriting and evolution more as a spectrum than a single flashpoint, and much of what has transpired over the course of the last 12 months bears that thinking out. "It's good to be able to parse out what elements are fleeting versus things that have been ongoing, and to embrace the power of realizing that bad things are happening even when we thought our society was doing so well," Darcy says. "The #MeToo moment is a product of our era. The light is just being shone."
With Room Inside the World, Darcy and Ought solidify the ideas they've been working through since the band began, which can be loosely summarized as: "Things are bad, but evil isn't new. Our job is to persist, regardless." Room Inside the World may feel more streamlined, but defiance—red-hot and electric—still pulses beneath its sleek surfaces.
The Band:
Tim Darcy: voice and guitar
Tim Keen: drums, viola, vibraphone, and synth
Matt May: keys, guitar, and synth
Ben Stidworthy: bass
Nicolas Vernhes: guitar, keys, and noise box
James Goddard: saxophone
Eamon Quinn: clarinet
Choir Choir Choir: additional vocals on "Desire"
Released February 16th, 2018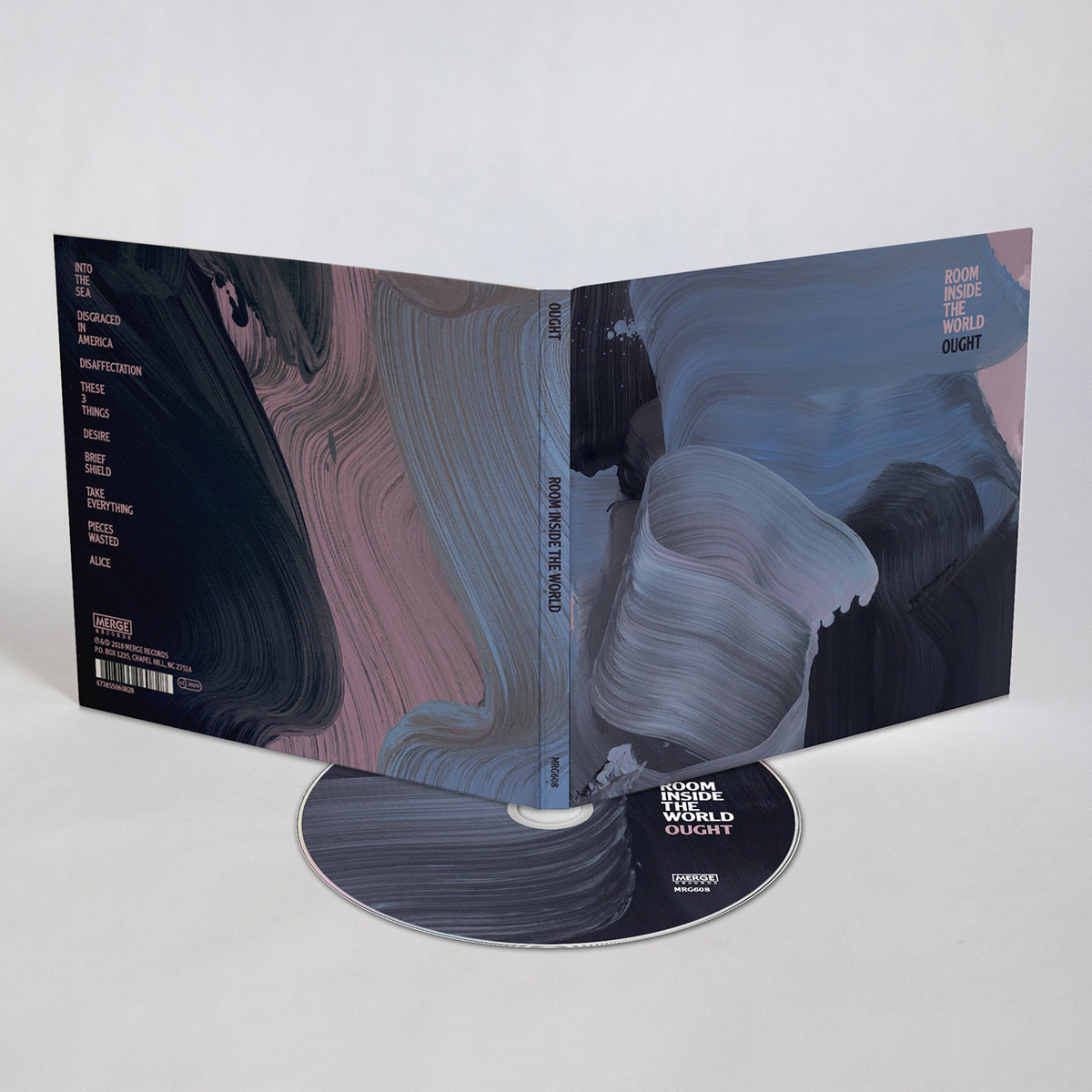 In summer of 2016, we finished up a North American tour and then headed back to Montreal to start work on our third record. We spent about 4 months writing and recording what would become Room Inside the World. The process in Montreal was the most in-depth for us to date. More Than Any Other Day was tracked in 3 days. Sun Coming Down we wrote in something like 30 practices, and then recorded and mixed over a spotty 2-week period. With Room Inside the World, we had a full month in the studio to record and mix and yet we wasted no time. We worked every day and did 2 rounds of demos on our own before we went down to NYC.
We finished at the end of the year and then took some time off to work on other projects while we sorted out changing labels and the like. In April I recorded Choir! Choir! Choir! in Toronto for "Desire", the last piece of tracking. The record was done. In August 2017 we got together for our first tours of the year. We did some festivals, a tour with Waxahatchee, and now we're here, getting ready for a release party in Montreal.
So it's been a minute, since we've released new music at least, and we couldn't be happier to finally have this thing out there.  It's an honest statement of where we're at now and we're thrilled and honored at the response so far.  We're really looking forward to seeing you at shows over the rest of the year.
As a final note, we'd like to take this moment as a group of mostly Americans to advocate for increased gun control and medicare for all. These are very achievable things that we should all keep renewing our faith in. Let's see that happen in our lifetimes.
And as always, please support your local record shop wherever possible. There's a lot of love in this record, we hope that comes across.
Best, Tim Darcy + Ought