The discography of American rock band The Shins consists of five studio albums, one live album, one remix album, three extended plays, two splits, sixteen singles and nineteen music videos. Evolution has been a tremendous theme throughout The Shins career. Whether they're transforming their bill, sound or approach, the band have never managed to find a comfortable niche to settle down in.
However, instead of letting this constant fidgeting work to the detriment of their music, they've turned it into one of their greatest assets, championing a sound that is simultaneously varied and distinct. Despite their many internal conflicts and line-up changes, The Shins are yet to make an underwhelming or poor record and even after five studio albums, it still feels like they have many more facets of their colourful and multi-dimensional sound to flaunt and unveil.
The band was formed by Mercer as a side project to Flake Music, who were active from 1992 to 1999. Flake Music released two 7″ singles and a full-length album "When You Land Here It's Time To Return" on Omnibus Records and were touring with Modest Mouse following the Shins' subsequent signing to Sub Pop Records, with the band's classic line-up consisting of Jesse Sandoval on drums, Marty Crandall on keyboards, and Dave Hernandez on bass (who was temporarily replaced by Neal Langford until rejoining in 2003).
The band's first two records, "Oh Inverted World" (2001) and "Chutes Too Narrow" (2003) performed well commercially and received critical acclaim. The single "New Slang" brought the band mainstream attention when it was featured in the 2004 film Garden State. Consequently, the band's third album "Wincing The Night Away" (2007), was a major success for the group.
Following this, the Shins signed to Columbia Records and Mercer parted ways with the entire original line up, deeming it "an aesthetic decision." Following a near five-year hiatus, "Port Of Morrow" the band's fourth studio album, was released in 2012. Their fifth album, "Heartworms" was released in March 2017.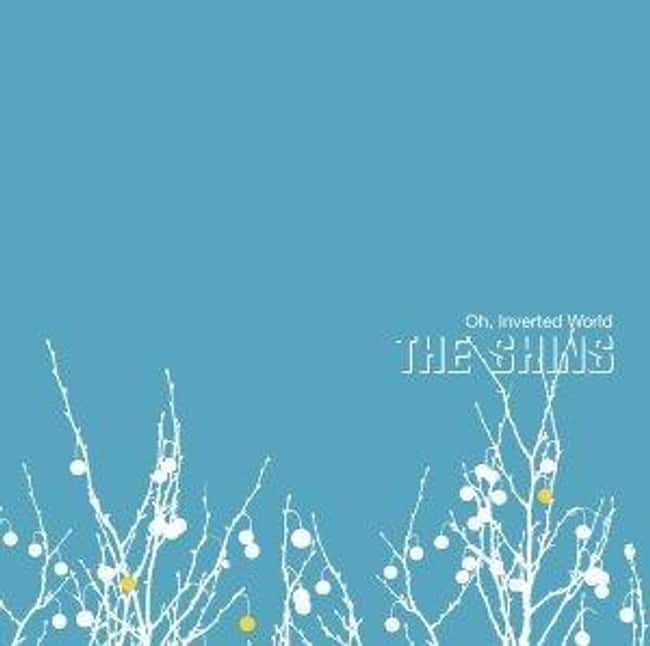 Oh, Inverted World
When a band is constructing a debut album, the unrealistic goal that is perfection should never be something to strive for. Instead, the primary goal of a premiere project should be to tease some of what you have to offer and leave listeners wanting more. The Shins' first full-length is a definitive indie rock album of the 2000s not just because of its thoughtful, tuneful songs, but also because of the vivid portrait it painted of indie culture. "Oh, Inverted World" is the sound of realizing there's more to life than being a smart-aleck – but also not being ready to open up completely. Caring might be creepy, but it's hard to avoid; Oh, Inverted World chronicles this post-ironic vulnerability, wrapping it in jangly guitar pop that echoes the Kinks, Zombies, and Beach Boys.
Sun-bleached pop at its most blinding, choose a '60s touchstone (the Kinks, the Left Banke) with a gorgeously Byrds-ian bridge, "Girl Inform Me" is one of the more deceptively simple numbers on the band's debut. What's so charming about it is just how out of time it sounds — it could've been recorded in any era, and its bubblegum lyrics ("Girl inform me/ All my senses warn me/ Your clever eyes could easily disguise some backwards purpose") render it beguilingly irresistible.
All of Oh, Inverted World's songs hang together in an immensely satisfying way. Oh, Inverted World is so full of ideas and emotions, and so fully realized, that it's hard to believe it's just 33 minutes long. Whether or not the album lives up to the breathless "It'll change your life!" claims made about it in Garden State, the less ironic direction of 2000s indie begins here.
The Shins' 2001 debut, "Oh, Inverted World" did just that. The album is one that went on to shape the sounds of many indie rock acts that existed throughout the naughties. Even today you can still hear its timeless, bittersweet jangle ring out in the music of some the most exiting acts of this decade. While flawed and at times, indecisive, it manages to maintain an astounding amount of cohesion and maturity.
Before "New Slang" was etched in pop culture iconography after its appearance in 2004's Garden State, it was merely the standout track on one of the finest pure pop records to be released in years. Lyrically enigmatic like early R.E.M., it finds Mercer in a poignant mindset, waxing downcast as he pines, "Turn me back into the pet I was when we met/ I was happier then/ I had no mindset." When the track was initially released as a single, there was a video for the song directed by Lance Bangs, with the band posed in shots referencing classic albums including Slint's Spiderland, the Replacements' Let It Be, the Minutemen's Double Nickels On The Dimes, and Husker Du's Zen Arcade, suggesting that, in the divine fire they were playing with at the time, they'd somehow always stood in posterity amongst these epochal giants, like Jack Torrence in the final shot at the Overlook Hotel of The Shining.
Taking cues from The Beach Boys and the Beatles, "Oh, Inverted World" makes typical, sunny rock sombre with darker lyrical themes. From beginning to end, the record never lacks in integrity or truth. Everything feels real and exposed and because of that, it's by far The Shins' most honest work.
"Oh, Inverted World", the earth-shattering, indie-rock-redefining 2001 debut album by The Shins, is presented here in its finest form, dressed up all nice for its 20th birthday. The classic tunes get new life by way of a full remastering job under band leader James Mercer's watchful eye, the art is given a little extra zest via a die-cut jacket and a classy inner sleeve, and the package is rounded off with a big ol' booklet with vintage photos, handwritten lyrics, and more.
The music, of course, is obviously essential. Aside from a friendly reminder that this is the album with the smash hit "New Slang," as heard in the hit movie we just need to note that the remastering job truly makes this the album James Mercer always wanted it to be. Never quite satisfied with the sonics of the original, Mercer has took the 20th anniversary of the album as his opportunity to finally set the (literal!) record straight. And the results sound stellar: great for new fans, and well worth the attention of those already on board!
Capturing a sense of suburban ennui as well as any Big Star number, the sprightly melody of "Know Yur Onion!" belies its cloistered sense of dread, knowing that redemption lies far, far away. As Mercer contemptuously spews the opening line "Shut out, pimpled and angry/ I quietly tied all my guts into knots," over a curdled guitar line, he eventually finds solace in the minutiae of having "lucked out found my favourite records lying in wait at the Birmingham mall," only to concede that his "body caves to his whims and suddenly struggles to take flight … three thousand miles northeast."
For old times' sake, here's what we had to say about this record back when it came out: Hailing from Albuquerque, NM, The Shins sprung from the ashes of Flake/Flake Music in 1997 (though those previous incarnations date back nearly a decade) – same members, different instruments, different approach. Counterpoint guitars have given way to a single guitar pitted against calculated keyboard passages; swarming indie rock machinations led to pop-based melodic endeavors (who knew?).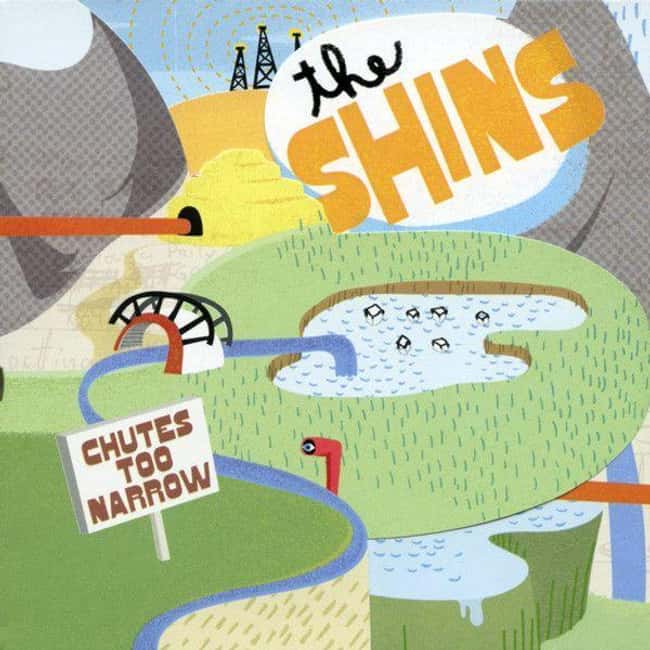 Chutes Too Narrow
The superb follow-up to their universally-adored 2001 debut, Oh, Inverted World. more acoustic than their debut – but it still pops and shakes like the kinks and soars like the Beach Boys. It will make you smile and will make your heart swell. this was one of 2004's albums of the year.
People don't fall in love with The Shins because they are this revolutionary, genre-defining band. People fall in love with The Shins because they make the kind of music that you connect with. They make the kind of music that soundtracks a significant time in a person's life. They make the kind of music that certainly isn't flawless or smooth but more reflects our state, as deeply imperfect beings.
A pretty slice of melodic grandeur from Chutes Too Narrow, "Saint Simon" has a metronomic cadence that suggests a certain level of catatonia from sheer emotional exhaustion. Mercer sounds bereft as he intones, "I'll try hard not to pretend/ allow myself no mock defense as I step into the night," as the song's lockstep groove gives way to a woozily vertiginous orchestral sway.
Shortly after the release of their 2003 sophomore album, "Chutes Too Narrow", the band gained a foothold in pop culture via the Zach Braff-directed film Garden State, when Natalie Portman's character proclaimed that the Shins "would change your life," before the Inverted World track "New Slang" was played over a particularly maudlin scene in the film. The band had already attained a fairly strong following preceding that shout-out, as the success of Chutes was nearly commensurate with their superb debut. But after that, their profile ballooned, which put an enormous strain on Mercer, who'd had the mantle of life-changer thrust upon him.
"Fighting In A sack" A rollicking number that provides a necessary frenetic yin to the docile yang of the song that precedes it, "Saint Simon," Mercer's breathless vocals convey a lucid dream with a certain degree of levity, drifting effortlessly into Neutral Milk Hotel territory. Yet this is sheer vintage Shins, all glistening melodies and opaque lyrics.
"Chutes Too Narrow" is the album that makes you realise exactly why people fall in love with this band. The album is wonderfully versatile, ringing with as much gloom as exuberance. "Kissing The Lipless" rips open the record, setting a precedent for the rest of the album. Pure infectious frivolity on the surfaces, as is one of the band's trademarks, reveals itself to be "the gray remains of a friendship scarred" once you've perused the lyrics. It's often said that eskimos can identify 50 types of snow, and Mercer can identify at least 100 ways love comes to an end, and this number finds him at his most astute as he ruminates, "You tested your metal of doe's skin and petals while kissing the lipless who bleed all the sweetness away," at the track's plaintive denouement.
Filled with gaudy guitars and intimate, strong vocal performances, the remainder of the record goes onto serve as an outlet for Mercer to express some of his built-up frustration about his heartbreaks and setbacks.
"Chutes Too Narrow" is their most confident effort, each song feeling even more ambitious than the last. It highlights a definite peak in The Shins' career and serves as a reminder as to why they are such a loved band.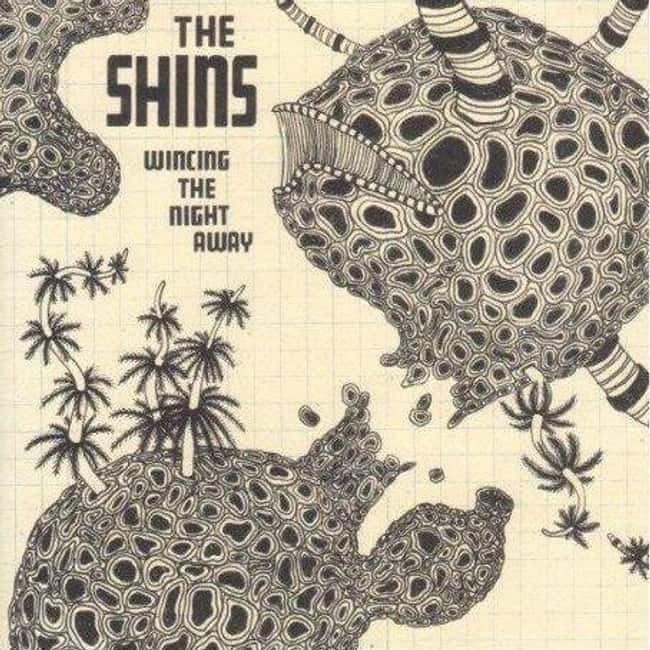 Wincing The Night Away
A protracted delay occurred between "Chutes Too Narrow" and 2007's "Wincing The Night Away", due in part to that strain. By backing away momentarily, though, he may have done a service to his craft. Instead of over-thinking the Shins' third album — as many bands are wont to do when following break-out successes — the songs on Wincing were left with room to breathe. While they may have lacked the visceral punch that imbued the band's earlier works, the tracks on Wincing were nonetheless melodically stunning, epicurean crafts.
"Wincing The Night Away" is one of The Shins' greatest masterpieces. The layered, rich and vibrant record was composed in the dark of night and echoes with the tired, hazy attitudes reflective of those times. 'Under-appreciated' hardly begins to describe the state of the album. The band pulled off a sound that is polished but still filled with character, creating an amalgamation of the most enticing aspects of their sound.
The Shins had their work cut out for them with the release of the "Wincing the Night Away". Their previous album, 2004's Chutes Too Narrow, topped many critics' Best of the Year lists, and was given a lucky dose of both marketing push and indie credibility by featuring heavily in the film Garden State. It's good to know that all that success hasn't gone to their heads. Sure, they've managed to bring in heavyweight producer Joe Chiccarelli, who's worked with both U2 and Beck, but they're still signed to Sub-Pop Records at this time, crucially, they're still writing great songs. In fact, Wincing the Night Away is, in some ways, a better album than its predecessor. It's certainly bigger and more symphonic than Chutes Too Narrow. Album opener "Sleeping Lessons" starts off relatively low-key, with a simple looped keyboard before building to an explosive finish.
First single "Phantom Limb" is their catchiest song yet, packed with reverb-rich vocals and sunny, Beach Boys-inspired harmonies. Throughout, the Shins seem more comfortable and willing to take advantage of their no-doubt bigger recording budget, from the layered, 1960's-style American pop of "Turn On Me" to the sound loops and samples of "Spilt Needles". Wincing the Night Away is the sound of the Shins spreading their wings, and it positively soars.
A plaintive number with a tasteful dollop of reverb, "Turn On Me" is a high point on an album replete with low-key, ruminative numbers, more subdued yet no less brilliant than the band's prior two efforts. Its lyrics are dour, expounding upon a relationship far past its expiration date, culminating with a goose bump-inducing middle eight, before Mercer concedes, "The worst part is over, so get back on that horse and ride," keenly aware that the cycle's unlikely to cease anytime soon.
The skeletal and exposed instrumentals are ridiculously refreshing compared to some of the more cluttered and involved ones on previous outputs. Cuts like "Black Wave" and "A Comet Appears" have an emptiness and vacancy laced throughout them, exhibiting an intense and heavy side of Mercer's songwriting.
Even on the record's bright and rich cuts, everything feels succinct, purposeful and necessary. The album contains some examples of Mercer's greatest songwriting and plays seamlessly from beginning to end, it's hollow indie rarely exhausting.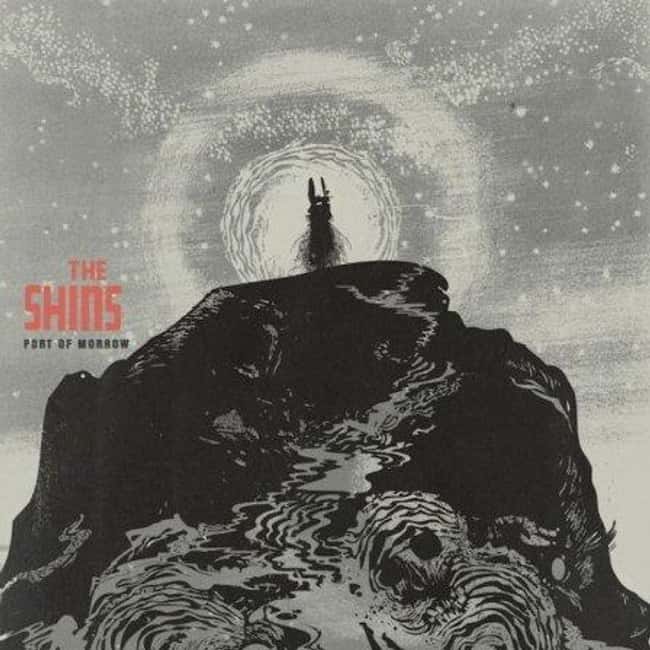 Port Of Morrow
Mercer jettisoned his entire band prior to the recording of 2012's Port Of Morrow, claiming he had "production ideas that basically required some other people." And while it wasn't akin to R.E.M. losing Bill Berry — as Mercer had always been essentially the band's sole songwriter, one couldn't help but feel that a certain innate chemistry had been sacrificed. Nonetheless, "Port Of Morrow" is a damn impressive album (it made our list of 2012's), their first released outside Sub Pop, on Mercer's Aural Apothecary Label. It proves that whomever he surrounds himself with, Mercer is one of his generation's preeminent songwriters. But even with heavy-hitters enlisted, including Modest Mouse's Joe Plummer, Ron Lewis from the Fruit Bats, and Janet Weiss, Morrow feels like something of a transitional album for the band, although you still can't help but to be dazzled by the grandiose arena-ready cadences of "Simple Song".
The Shins seem to travel in a new direction with every record, it's no secret they're unable maintain satisfaction with one, recognisable sound and completely hone it. On 2012's "Port Of Morrow", however, the band weren't just travelling in a different direction, they were untying their boat from it's dock and sailing into seas that left some fans in a place of discomfort. 'Port of Morrow' is The Shins' first new material in four years and in a world where the young 'uns are dabbling in skew-whiff electronica and art funk 'jams' with varying results, this glorious record is a timely reminder of how to craft good old, solid indie rock built on smart storytelling and melodies that head straight for the heart. highly unfashionable, yes, and not a huge departure for the band admittedly, but why deviate from a formula that produces music as swoonsome as opener 'The Rifle's Spiral', buzzing riff-tinged ode to existential angst 'It's Only Life', the skittering and sweet 'Bait and Switch' and 'No Way Down' and thundering drums-led epic 'Simple Song'? these are love-on-first-listen songs that have made us fall for the Shins all over again.
As epic as the Shins have sounded to date, "Simple Song" has a title that belies its bombastic nature — locomotive drums and a sinewy guitar figure give way to a minor key shift in a deceptively clever accoutrement. For perhaps the first time, the instrumentation trumps the lyricism in a Shins track, thanks to its sheer production acumen, which is something of a mixed bag. If the rest of Port Of Morrrow had been this memorable, it would've been in the conversation of the Shins' best album.
Allowing the record to be more accessible and hold more pop appeal, the band had a more anthemic and cheerful outlook on "Port Of Morrow". Leaving some of the darkness explored on earlier records behind, the outfit had a new found love for singing guitars, bouncy beats and catchier choruses.
While what came out of Port Of Morrow wasn't necessarily game-changing, the record was an outlet for them to dispense some of their most explosive and loud material to date (Bait & Switch, No Way Down). However, embedded within the album's tidy and concentrated production came a lack of personality and heart, integral parts of their previous outputs. They had misplaced something so important and, in turn, made a record that didn't feel as authentic.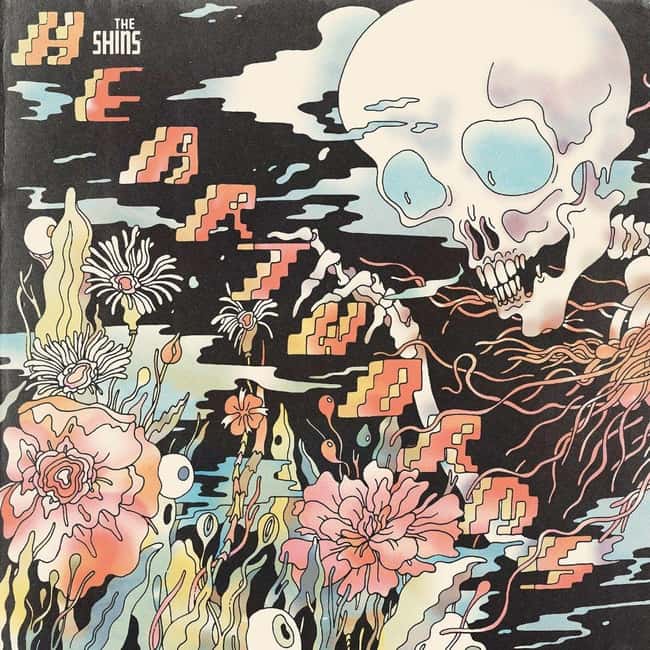 Heartworms and The Worm's Heart
"Heartworms" is The Shins' most experimental record to date. Playing around with abrasive electronic sounds that are relatively out of character for the band, they don't hold anything back. Completely stripping away distortion-tinged guitars, once a vital part of a Shins record, they explore uncharted territory and their sound in more depth on Heartworms.
The Shins released their fifth studio album, "Heartworms". In contrast to 2012's Port of Morrow, Heartworms ushers in a return to the handmade. Heartworms is, as always, entirely written by James Mercer, with exception of "So Now What" (produced by band member Richard Swift). Heartworms is the first Shins album to be self-produced by Mercer since Oh, Inverted World in 2001. Heartworms features Mercer's most diverse lyrical palette to date. The result is a cohesive, yet genre defying album marked by Mercer's distinct voice and melodic composition. Unified by his singular vision, Mercer creates a sound that is both familiar – a nostalgic nod to the album's predecessors – and distinctly new. The album's first single, "Name For You", is a resounding call for female empowerment inspired by Mercer's three daughters.
Alike to "Port Of Morrow", they aim for a more appealing sound with memorable hooks aplenty. However, instead of reaching their hand into the world of indie rock to create peppier feel, they dive into the electro-pop sphere, taking inspiration from bands like The Dirty Projectors. The 80s influence certainly isn't absent on the record either.
Heartworms is a bright and warm return for The Shins after a five-year break.
When James Mercer was recording his latest Shins LP Heart Worms as a creative exercise he decided to re-record the songs in the opposite way of the originals. Songs that were more rock and uptempo became more acoustic and slow, and songs that were acoustic and slow in tempo became more upbeat. They were flipped. The result of those sessions he calls, The Worms Heart. What began as an exercise in song writing transformed into a commentary on what it means to be a songwriter. After writing the first track for Heartworms (released 10th March 2017), James Mercer decided to recreate each song from scratch. Driven by its malleability, its ability to be foundationally identical, yet aesthetically and sonically utterly new, Mercer continued experimenting until he had two complete albums: one original and one "flipped". Mercer's ability to create two totally divergent albums from the same underlying compositions not only highlights his immense capability as a song writer, but also functions as a reminder of what it means to be an artist, how an artist acts as both the master and facilitator of his artistic product.
The Albums;
Oh, Inverted World (2001)
Chutes Too Narrow (2003)
Wincing the Night Away (2007)
Port of Morrow (2012)
Heartworms (2017)
The Worms Heart (2018)
The Shins had a Live Album on the way via Jack White's Third Man Records label,