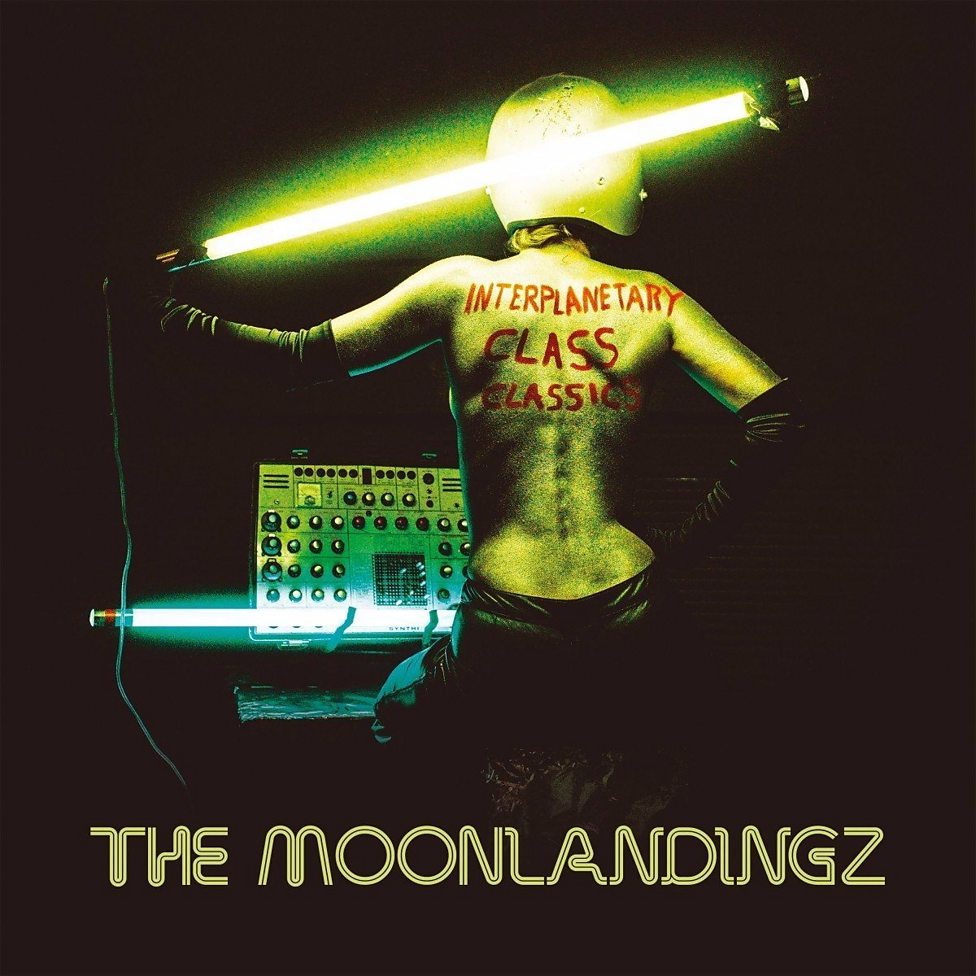 The Moonlandingz – comprised of members of the Eccentronic Research Council and Fat White Family – are Hale-Bopping their way into our consciousness with this blistering debut: a sonic rollercoaster that ricochets somewhere between Earl Brutus and The Cramps, the nihilistic vocal stylings of Nick Cave and a swaggering zombie Elvis. The band have just released a MOONLANDINGZ DELUXE version of this acclaimed album. 
The Moonlandingz—the outer space troupe featuring members of the Fat White Family and Eccentronic Research Council—have readied this special edition of their lauded debut full-length, Interplanetary Class Classics.
The Sean Lennon-produced LP was picked on BBC 6Music's top albums of the year,
Out January. 26th, the deluxe version features the original 11 compositions, plus 20 bonus songs. These tracks include b-sides from all the EPs, remixes, unheard demos, and more.
Special guests include Philip Oakey of The Human League, Yoko Ono, and Randy Jones of the Village People.
The band's Adrian Flanagan says, "It's nice to have all these tracks in one place, so to draw a line under what's gone and make way for our future, next to the greats. We may not be there when you want us but we will be there when you truly need us. Till then, we are observing your earth!"
 A new version of "Sweet Saturn Mine," featuring Philip Oakey of the Human League.
Among the eerie swirling synthesizers and infectious singalong melodies is a well-crafted opus of total cosmic bedlam. It also features guest vocals from Yoko Ono, Phil Oakey, Rebecca Taylor of Slow Club and Randy Jones aka the Cowboy from The Village People. Expertly crafted, Interplanetary Class Classics exists truly in a class of its own.Absolutely fucking mental. Really the review could be that first sentence and still be entirely encapsulating of what is an incredible album. Unrestrained and entirely liberated The Moonlandingz take on everything and everyone in this LP.
While there are some more 'dance floor ready' tracks (Sweet Saturn Mine is a particular favourite), it also features that enigmatic swashbuckler Johnny Rocket (Lias Saoudi of FWF) getting all croony. This album calrifies The Moonlandingz as the supergroup they've always professed to be. 'The Strangle Of Anna', might be the best track of the year too.