There are a number of ace new releases this week, with Ty Segall's newest hammering psychedelic opus, beautifully balanced between tender but driven acoustic balladry and pulsing stoned psychedelia. It's a superbly sequenced and brilliantly engrossing outing, like we'd expect any less! Nils Frahm's 'All Melody' manages to expertly toe the line between his earlier more acoustic outings (The Bells, Felt, etc) and his more recent electronic synthy workouts. There's a killer new LP from No Age on Drag City, a new Django Django album .

Dream Wife –  Dream Wife
Since forming in 2015 as a college art school project, Dream Wife – a name chosen as commentary on society's objectification of women – have become one of the foremost up-and-coming bands out of the U.K. Now the band release Dream Wife – their debut album via Lucky Number. When it comes to their sound, Dream Wife worships at the twin altars of David Bowie and Madonna. A scene unto themselves, their gigs are a riot of handmade props and stage sets that cover everything from space beaches to haunted graveyards, while their finely tuned show is the product of extreme DIY beginnings. It's the songs too that make the shows, from the fiery fury of FUU, to the new wave politico-pop of Somebody, and euphoric old school indie hit Fire. These are songs in the classic mould – big, beautiful and crazily catchy. And, of course, there's the three dynamic women at the band's core. Get ready to fall under Dream Wife's spell. For fans of Blondie, Elastica, The Strokes and Le Tigre.

Ty Segall  –  Freedom's Goblin
Freedom's Goblin flies us around the soundworld of Ty Segall in nineteen tracks, allowing him to do a bit everything for the free and the goblins of Freedom alike! Deep impact rock of all shapes and sizes and some of the most violent, passionate, funny and free pop songs of 2018. The songs came in the flow of the year: days of vomit and days of ecstasy and escape too, and days between. The rulebook's been tossed, but Freedom's Goblin is thick with deep songwriting resources, be it stomper, weeper, ballad, screamer, banger or funker-upper, all diverted into new Tydentities in the name of love and loathing. Whether chilling at home or on tour with the Freedom Band, tracks were cut at five studios in LA, Chicago and Memphis, engineered by Steve Albini, F. Bermudez, Lawrence "Boo" Mitchell and of course, Ty himself. The goal was getting free: embracing any approach necessary to communicate new heights and depths, seeking new places for the fuzz to land among octaving harmonies, dancefloor grooves, synths, saxes and horns, jams, post-Nicky-Hopkins r'n'b electric piano vibes, children-of-the-corn psycho-rebellions, old country waltzes and down-by-the-river shuffles. Basically, the free-est bunch of pop songs Ty's ever put on tape – free to love or to be alone; to be pretty or pretty ugly; free to turn the other cheek or to turn up the volume. And of course, free to make just about any kind of song that'll free people when they hear it – because we're ALL Goblins and we ALL want our Freedom!
The Spook School  –  Could It Be Different?
If a debut LP is an artist's introduction to the world and their sophomore release is their now-or-never moment, their third is their most cathartic: they've made it out, they're here. Glasgow, Scotland's indiepop optimists The Spook School, despite personal and political obstacle, made it out, and their latest full-length Could It Be Different? is here. It's been a journey of self-discovery and feel-good realism; modern, dance-friendly indiepop fueling the fun. They made a name for themselves for their exultant and empowering pop, and now, they've shown real growth in nuance. Even at their most beaten down, The Spook School manage to find hope free of naivety. That's clear the second the album opens with Still Alive, and its ascending chorus (and soon-to- be crowd favourite) of Fuck You, I'm Still Alive, written by Nye after surviving an emotionally abusive relationship. The song avoids villainizing the past, instead, it celebrates the present and welcomes the unknown future. The energy of working through the wicked exists all over Could It Be Different?, Bad Year makes personal connections with universal ennui, the debilitating feeling of an atrocious political climate and the desire to do better. Could It Be Different? is a human release-a record full of the insecurities and anxiety that arrive after self-awareness, in learning something new and potentially frightening about yourself. But at it's heart is joy-there's no desolation on the LP, because The Spook School manage to find light in moments of darkness. All things glum must pass-even if hope comes only in the form of acceptance.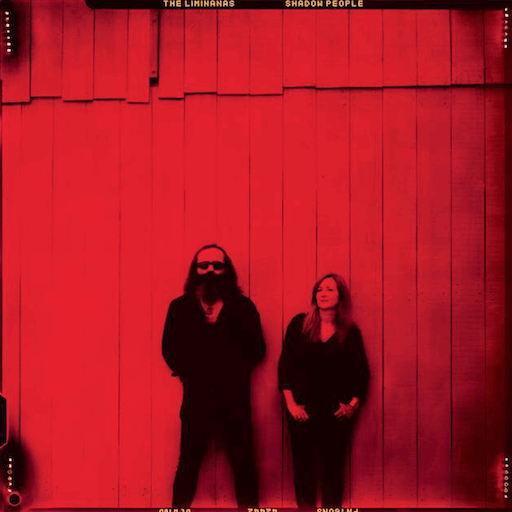 The Limiñanas  –   Shadow People
It's easy to make The Limiñanas' brand of rock 'n' roll sound cool.
Plug in some amps. Make 'em buzz. Pound out an ominous, tom-heavy drumbeat. Play one note on the bass a hundred times. Write a cool guitar lick and repeat it. Get a dude or gal to lay down diabolically droning vocals. Cultivate a psychedelic vibe, man. So yeah…it's pretty easy to make that concoction sound cool. It's much harder to make it sound interesting.
The Limiñanas have the cool part down. The French duo has been pumping out buzzy psych-rock with a shadowy vibe for a decade, consistently releasing their work via ultra-hip record labels (Hozac, Trouble in Mind, and now Because Music). Their music is the aural equivalent of a shapely cloud of cigarette smoke hanging elegantly in a ray of light…with sunglasses on.
The band's new album Shadow People has its share of that stuff. Opener "Ouverture" pairs a steady, stomping beat with a guitar line that seems to be descending stairs that go down forever. The reverbed guitars and spoken French vocals of "Le Premier Jour" blend into something like Serge Gainsbourg doing slo-mo surf-rock.
"Dimanche" follows a slightly quicker pace and features windswept, high-pitched sounds for flavor. And closing track "De La Part Des Copains" pushes The Limiñanas through a cinematic filter; its mournful horns tell a vivid story without uttering a word. (Lionel and Marie Limiñana should do film scores, if they're not already.)
Elsewhere, the band does explore other sonic ideas, too, often through the work of guests. Brian Jonestown Massacre's Anton Newcombe adds a little sizzle to "Istanbul is Sleepy" with his simmering vocal, and New Order bassist Peter Hook injects "The Gift" with a sense of swing and a bit of bounce that's nowhere else to be found on Shadow People.
On "Motorizatti Marie," The Limiñanas showcase their punk streak and lighten the mood with some piano. "Pink Flamingos" belongs on the soundtrack to a candy-coated, English-language dream. But the band's most successful trip comes on the title track, which soars higher anything else on the album, thanks in part to the buoyant guest vocals of French actress Emmanuelle Seigner. There are truly transcendent moments on Shadow People, they're just nestled in among the ones that never quite lift off. Add it all up and The Limiñanas remain a very cool band, which is a perfectly fine thing to be.
Calexico – The Thread That Keeps Us
Limited copies come with a postcard set. The ninth studio album from Calexico, The Thread That Keeps Us is a timely snapshot of the Arizona-bred band: a family portrait capturing their stylistic variety and unpredictability while still finding solace in limitless creativity. In bringing the album to life, vocalist / guitarist Joey Burns and drummer John Convertino found a spiritual home in unusual surroundings – not in Arizona, but on the Northern California coast in a home-turned-studio called the Panoramic House. Built from debris and shipyard-salvaged timber – and dubbed "The Phantom Ship" by the band – the grandiose house and its edge of-the-world-like ambience soon made their way into the songs. The specter of California also had a powerful effect: as both dream state and nightmare, its infinite duality is mirrored in the music, giving Calexico a new direction and new edge. With less polish and more grit than ever before, The Thread That Keeps Us both honors enduring traditions and reveals Calexico's confidence in songwriting, ultimately setting a whole new standard for the band.
HC McEntire  –   Lionheart
HC McEntire, frontwoman of Mount Moriah, strikes out on her own with her debut solo album Lionheart, a collection of songs inspired by the American South and a desire to reclaim "country" music from the hetero-normative, homogenous schtick of tailgates and six-packs and men chasing women. Stereogum describes her voice as "weary, wise, and bright as morning sunshine all at once," and that sunshine glows throughout the triumphant Lionheart. For the album, McEntire collaborated with many of her favorite musicians, including Kathleen Hanna, Angel Olsen, Amy Ray, Tift Merritt, William Tyler, Mary Lattimore, and Phil Cook, while remaining bravely devoted to her most authentic self throughout the process. Lionheart was recorded during the first few months of 2017 with additional recording and mixing taking place on the run as McEntire toured the world as a member of Angel Olsen's band.
 The Moonlandingz – Interplanetary Class Classics
They began as a fictional band from a fictional town featured on the Eccentronic Research Council's 2015 concept album Johnny Rocket, Narcissist And Music Machine… I'm Your Biggest Fan. Now The Moonlandingz have lurched, sticky and bleeding, into the real world and are releasing the first great album of 2017. Interplanetary Class Classics, released on Transgressive Records, is a feast of swirling juddering synths, wailing guitars, motorik stomp and extraordinary songwriting. The Moonlandingz have proven themselves to be one of the best live bands in the UK ("Magnificent, cosmic and batshit!" said The Quietus. "Feral antics and louche anarchy!" said The Guardian) and now they've produced an album of proper weird catchy glorious filthy pop. The Moonlandingz is Eccentronic Research Council's Adrian Flanagan and Dean Honer in cahoots with Fat White Family's Lias Saoudi (aka frontman Johnny Rocket) and Saul Adamczewski. They recorded the album with Sean Lennon at his studio in upstate New York. Also on the record: Randy Jones the Cowboy from The Village People, Rebecca Taylor from Slow Club, drummer Ross Orton, bassist Mairead O'Connor, Phil Oakey and Yoko Ono, who sings and yowls on epic closer This Cities Undone.
The Moonlandingz – the band born from a semi fictional concept album by Sheffield electronic analogue weirdos the Eccentronic Research Council and fronted by Fat White Familys legendary frontman, Lias Saoudi, release an extended deluxe version of the overwhelmingly critically acclaimed debut album 'Interplanetary Class Classics'.
The deluxe includes a single version of album closer 'This Cities Undone' featuring guest vocals from Yoko Ono and Human League's Phil Oakey, alongside a Confidence Man remix, new cut 'Dirty Red Rose' from the band's recent 'Cities Undone' EP and lots more previously unheard bonus material.
Beachwood  –  Songs From The Land Of Nod
What happens when an anti-social petty thief, a male hustler, and a delinquent runaway come together to join forces in the streets of NYC? One of two things, usually. Either the birth of a gang of misfit criminals, or a legendary rock and roll band. Luckily, for society's sake, the latter has turned out to be true for Beechwood. Echoes of everything from Stiv Bators to the Electric Prunes to Velvet Underground to Johnny Thunders and with an obvious love of the Nuggets boxset.
Holy  –  All These Worlds Are Yours
Sweden's HOLY follows up his 2015 garage punk debut with the more experimental psych-pop of All These Worlds Are Yours. The project of Umeå native Hannes Ferm, HOLY first began making noise in 2014, issuing a rickety four-song EP called Silver of Your Heart that jangled along pleasantly enough to net him a deal with Stockholm's Pnk Slm Records. The slightly more expansive Stabs LP followed a year later as Ferm began to stretch out a bit and add some new colors to his lo-fi garage pop. A subsequent move to the nation's capital prompted a creative breakthrough as the singer funneled the personal alienation of adapting to a large city into a sprawling concept anchored around a massively psychedelic title cut weighing in at almost nine minutes long. Swirling mists of space echo and ambient noise thread between many of the album's ten tracks, which veer from Mellotron-aided Beatlesque orchestrations to abrasive fugs of distortion interrupted by what feels like an endless collection of drum fills. Easily Ferm's most ambitious collection to date, All These Worlds Are Yours works best when he eases back on the filters and lets a song be a song. Cuts like "Night on Earth" and "Heard Her" are tuneful and memorable, showing off Ferm's craft as a songsmith without bludgeoning the listener with overindulgent explosions of knob-twisting and mid-rangy fuzz. While these sonic explorations make sense in the context of a concept album, the tonal palette he uses doesn't develop quite enough to warrant how liberally it's applied, and the general busyness of it ultimately detracts from the songs.
Nadine  – Oh My
Bringing together singer Nadia Hulett with Carlos Hernandez and Julian Fader of Ava Luna, oh my is the debut LP of indie pop trio NADINE. With a restrained, jazz-inflected sophistication that can evoke '70s jazz-rock and the softer side of Laurie Anderson, at least in passing moments, the group steers clear of Ava Luna's more vivid sound. Here, playful reflection and understatement reign on a set of 11 songs that still challenge expectation. On the more whimsical side, "Ultra Pink" seduces with a dance-funky groove and blippy electronics behind Hulett's silken vocal tone, which alternates between spoken and sung repeated phrases. The slinkier "Not My Kind of Movie" features complementary piano and keyboard timbres, a fat bass tone, and jazzy chord progressions, while "Contigo" is a quietly glitchy interlude with layered vocal samples and effects. A sparer track like "That Neon Sign" has an a cappella opening and closing, more earnest lyrics, and sustained accompaniment. The album as a whole is guided by Hulett's quiet confidence and includes production touches that surprise and enrich without disturbing an overriding calm coolness. A skillful debut by musicians with notable prior credits, they've settled into something intriguing and distinct out of the gate.