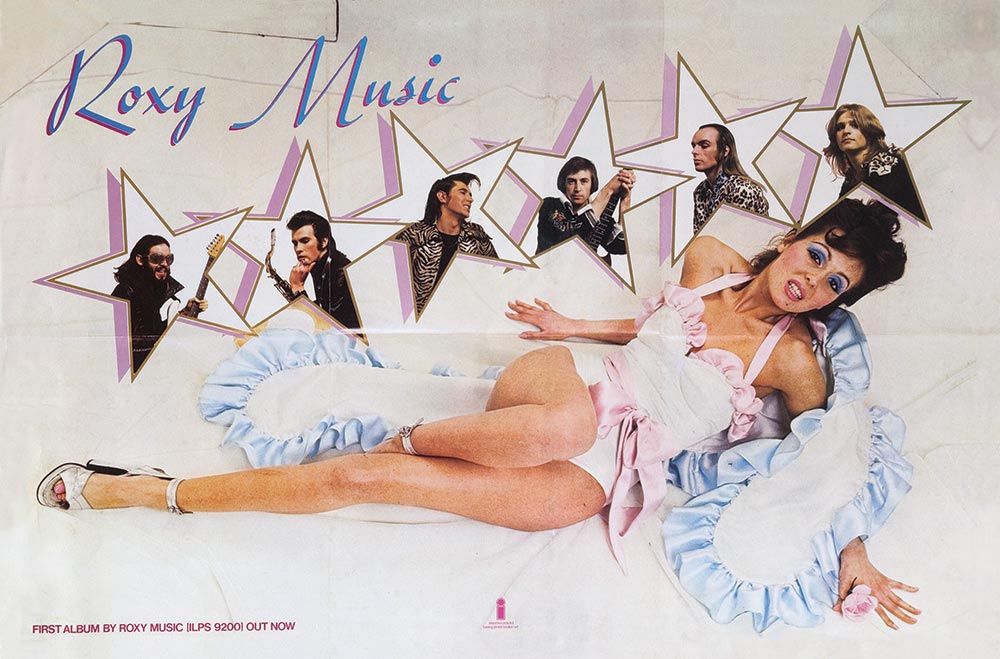 Back in 1972, "postmodernism" was a rarely used term, much less "retro" or "vintage" – words now almost fetishised in their description of everything from fashion to music, gaming to boutique coffee shops. Without describing themselves in such terms, however, Roxy Music embodied postmodernism a full decade before the thought of cycling through styles and genres entered the mainstream.
Released on 16th June 1972, the same day as Bowie's breakthrough The Rise And Fall Of Ziggy Stardust And The Spiders From Mars, Roxy Music was a true raid on pop music's past… and present… and a signpost towards its genre-blind, boundary-breaking future.
Roxy Music's opener, 'Re-Make/Re-Model', blares out of the speakers as a perfect declaration of intent: a manifesto for the group's assault on the pop world, reconfiguring and recontextualising old tropes, while presenting them as something utterly unique – futuristic, even. "Eno was always pushing the boundaries," Manzanera recalled. "I know it sounds ridiculous, but there was a point where we used to be DIed [direct injection] into, through his synths, a mixing desk, and he'd be out in the audience mixing."
Not that music was Roxy Music's sole concern. As a song title such as 'Ladytron' suggests, with its hint of glamour welded to futuristic possibilities, Bryan Ferry (vocals, keyboards), Brian Eno (vocals, synths, tape effects), Phil Manzanera (guitar), Andy Mackay (vocals, oboe, saxophone), Graham Simpson (bass) and Paul Thompson (drums) were juxtaposing disparate elements from all over the pop culture spectrum.
Roxy Music themselves weren't the only ones entering history with 'Virginia Plain': "Make me a deal and make it straight/All signed and sealed, I'll take it/To Robert E Lee I'll show it," Ferry sings at the start, directly name-checking his lawyer. As with '2HB' – and almost everything Roxy Music did – the reference is doubled: "The Bob" took its title from Battle of Britain (1968) and included a passage simulating the sound of gunfire.
Discussing the music, Andy Mackay later said "we certainly didn't invent eclecticism but we did say and prove that rock 'n' roll could accommodate – well, anything really"
Still astoundingly modern today, Roxy Music remains not only one of the finest debut albums in history, but rock music's first true postmodern masterpiece. What follows is an attempt to trace the influences and pop culture references in an album that continues to go beyond all expectations – not only of what a rock group can do, but what a true work of art can accomplish. The band's penchant for glamour was showcased both in the lyrics and in the 1950s-style album cover. The photographer Karl Stoecker shot the cover, featuring model Kari-Ann Muller, who later married Chris Jagger, brother of Mick Jagger
Phil Manzanera recalls "sitting down with Bryan at the first audition and talking about Humphrey Bogart and all the films we loved". For later solo albums and Roxy Music appearances, Ferry would adopt the image of Bogart as Rick Blaine in Casablanca, suave in a white dinner jacket. On Roxy Music, Bogart is homaged in '2HB', the lyrics directly quoting his Casablanca catchphrase: "Here's looking at you, kid."
"The great thing is that we had friends who were great fashion designers, who were just beginning to make their mark," guitarist Phil Manzanera recalled to this writer in 2009. Among them were painter Nick de Ville, who acted as the group's art director; designer Anthony Price, who advised on clothing and make-up; and hairdresser Keith Wainwright. Each band member conferred with them individually, "never as a coherent, co-ordinated thing", Manzanera recalled. The first time the band would see each other's costumes was "literally just before going on the first gig of the new tour… and we'd go, 'My god! Where did that come from?'"
That's how you create a group that looks as though each member is performing in a different band – or on a different planet, as Brian Eno noted when he described some of the Roxy Music costumes as the sort of thing the president of the Galactic Parliament might have worn in a sci-fi movie. It was, as Manzanera recalls, a "wonderful coming together of random elements – but behind those random elements were people with a lot of learning".