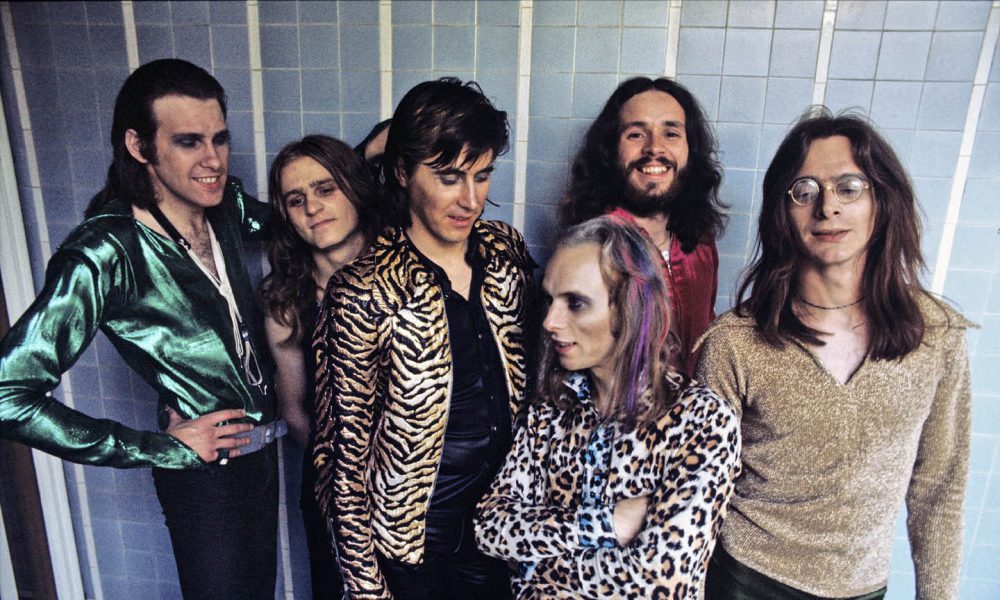 Roxy Music are set to release newly-remastered half-speed editions of their legendary self-titled debut album and its acclaimed follow-up, For Your Pleasure. Both titles have been afforded a fresh Half-Speed cut by Miles Showell at Abbey Road Studios in London. To reflect the audio, the albums have had their artwork revised and with a gloss laminated finish so that each album is not just a record it's a piece of art.
Roxy Music's self-titled seminal classic debut, first released in 1972, firmly put Bryan Ferry and Eno at the forefront of the art-rock movement, their penchant for glamour was showcased in the lyrics and immortalized in the 1950s-style album cover. Roxy Music's game-changing eponymous debut from 1972 has been given the fancy reissue treatment. With a sound as poppy as it is strange, 'Roxy Music' put the band at the forefront of both the glam rock and art rock scenes, effectively launching the careers of Brian Eno and Bryan Ferry in the process. Debuting in the UK Top 10 the album would go on to become one of the pioneering art rock albums of all time.
Roxy Music's 1972 debut album was an instant classic, heralding in an extraordinary manifesto which pulled in influences as diverse as pop-art, vintage Hollywood glamour, progressive rock, R&B and campy science fiction. In the process of plundering the past this revolutionary album single-handedly kicked off the 1970s.
Roxy Music has continually been praised by successive generations of critics. In 2003, Rolling Stone included the album at number 62 in its list of the best debut albums of all time and stated: "In England in the early Seventies, there was nerdy art-rock and sexy glam-rock and rarely did the twain meet. Until this record, that is."
In 1973 Roxy Music followed up their debut album with "For Your Pleasure". This time the band were able to spend more time in the studio, resulting in the production values being more elaborate and experimental, Brian Eno's blend of tape loop effects abundantly apparent on "The Bogus Man" and "Do the Strand" has been called the archetypal Roxy Music anthem. Roxy Music delivered the sucker punch that was 'For Your Pleasure'. A kaleidoscopic art-pop explosion that boasted the archetypal Roxy songs 'Do The Strand' and 'In Every Dream Home A Heartache', it was the result of a much longer period in the studio, during which Brian Eno's tape loops came to the fore and interwove beautifully with Bryan Ferry's arch song-writing.
"For Your Pleasure" is the second and final album Roxy Music performed with Brian Eno, who left the British band over what seemed to be creative differences. After their excellent self-titled debut, these guys could have played it safe, but they instead pick up where they left off and venture into uncharted territory. Brilliant glimpses of bold avant-garde rock highlight key tracks such as the brash and confident opener "Do The Strand", the elegant "Beauty Queen", and the signature cut "Editions Of You". as any great band would, Roxy Music isn't afraid to get a little weird on us and test our patience; case in point is "Bogus Man", an instrumental that takes its sweet time during its 9 minute running time.
Ascending the charts "For Your Pleasure" would earn the band a UK No 4 position. The cover photo, taken by Karl Stoecker, featured Bryan Ferry's girlfriend at the time, singer and model Amanda Lear, who later became Salvador Dalí's muse.
As with "Roxy Music", "For Your Pleasure" has been widely acclaimed. In 2000, Q placed "For Your Pleasure" at number 33 on its list of the "100 Greatest British Albums Ever".
"Roxy Music" and "For Your Pleasure" will make their reappearance on April 1st, 2022 via Virgin/UMe. They were mastered in half-speed mastering at Abbey Road Studios by Miles Showell.