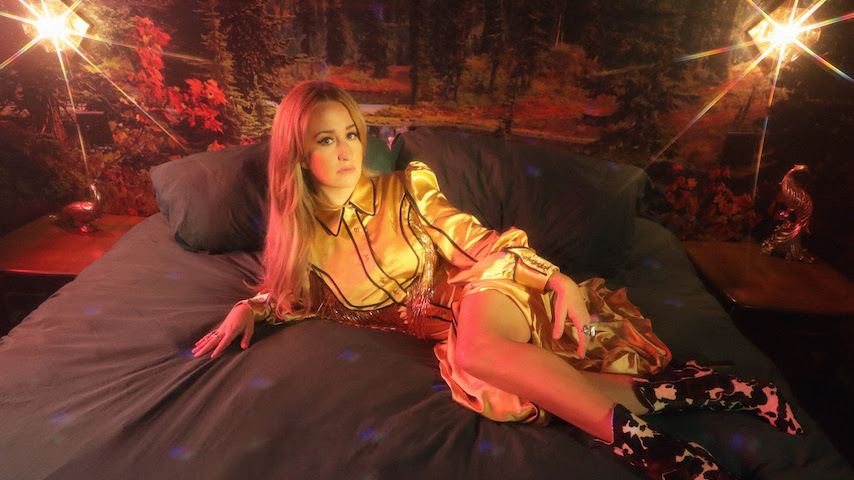 Margo Price's album is the work of a singer ready to shake up preconceived notions. The Nashville musician has been doing that all along to a degree, but That's How Rumors Get Started is a conscious—and sometimes self-conscious step out from under the shadow of all the "bright future of country music" buzz that surrounded her previous solo work. That's How Rumors Get Started is Price's third LP as a solo artist, after three previous albums fronting the Nashville band Buffalo Clover. If that group had a shaggy late-'60s blues-rock bent à la Big Brother and the Holding Company, Price certainly leaned more toward the sound of fiddles and pedal steel guitar on Midwest Farmer's Daughter in 2016 and All American Made in 2017. The latter even featured a duet with Willie Nelson. This time around, there's as much blustery rock and hard-edged soul as there is country twang. Margo Price has paid her dues, both professionally and personally. Whereas she honours those challenges, she rejects singularity as the underlying factor in defining her music and identity. In That's How Rumors Get Started, Price reimagines Americana's sound as well as her position within the genre.
Some of that change is probably due to Price's old pal Sturgill Simpson, who produced the album and assembled a band to play on it, in place of Price's usual road band. On the other hand, the mix of sounds is more in line with what Price presents onstage in concert. When it works here, she demonstrates a certain amount of breadth as a performer. Yet it doesn't always work. There's a difference between upending expectations and contrarian posturing, and the song writing on That's How Rumors Get Started isn't consistently sharp enough to strike the right balance. Price goes for broad strokes on these 10 songs, musically and lyrically.
"That's How Rumors Get Started", an album of ten new, original songs that commit her sky-high and scorching rock-and-roll show to record for the very first time. Produced by long time friend Sturgill Simpson (co-produced by Margo and David Ferguson), the LP marks Price's debut for Loma Vista Recordings, and whether she's singing of motherhood or the mythologies of stardom, Nashville gentrification or the national healthcare crisis, relationships or growing pains, she's crafted a collection of music that invites people to listen closer than ever before.
Margo primarily cut That's How Rumors Get Started at Los Angeles' EastWest Studios (Pet Sounds, "9 to 5"). Tracking occurred over several days while she was pregnant with daughter Ramona. "They're both a creation process," she says. "And I was being really good to my body and my mind during that time. I had a lot of clarity from sobriety."
While Margo Price continued to collaborate on most of the song writing with her husband Jeremy Ivey, she recorded with an historic band assembled by Sturgill, and including guitarist Matt Sweeney (Adele, Iggy Pop), bassist Pino Palladino (D'Angelo, John Mayer), drummer James Gadson (Aretha Franklin, Marvin Gaye), and keyboardist Benmont Tench (Tom Petty & The Heartbreakers). Background vocals were added by Simpson on "Letting Me Down," and the Nashville Friends Gospel Choir, who raise the arrangements of "Hey Child" and "What Happened To Our Love?" to some of the album's most soaring heights.
Margo Price and her steady touring band – Kevin Black (bass), Jamie Davis (guitar), Micah Hulsher (keys), and Dillon Napier (drums) – will perform songs from That's How Rumors Get Started at dozens of shows with Chris Stapleton and The Head & The Heart this spring and summer, in addition to festival appearances and more to be announced soon.
"That's How Rumors Get Started" follows Margo's 2017 album All American Made, which was named the #1 Country/Americana album of the year by Rolling Stone, and one of the top albums of the decade by Esquire, Pitchfork and Billboard, among others. In its wake, Margo sold out three nights at The Ryman Auditorium, earned her first Grammy nomination for Best New Artist, and much more.
Released July 10th, 2020
New album, "That's How Rumors Get Started" out now