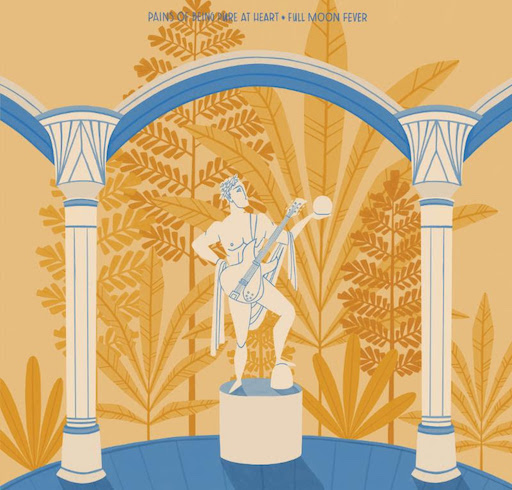 The latest installment in Turntable Kitchen's series of releases featuring artists covering a full album of their choice is one of its most curious: The Pains of Being Pure At Heart tackling Full Moon Fever, the 1989 solo effort by Tom Petty. It's a novel, unexpected choice for the band considering their core sound, but it's also one that doesn't make for the most gentle transition to a shoegaze/dreampop format. The otherwise sturdy songs have been made wispy and empty at their core, with even The Byrds' "I'll Feel A Whole Lot Better" turned into something dippy and fey. The key downfall is Kip Berman's vocal performances throughout.
He didn't need to try and replicate the twang-y tones of Petty but Berman makes the wrong choices throughout. He opts for his breathy croon when he should growl, and growls when he should get dreamy. It upends the more inventive moments like the band's rendering of "A Face In The Crowd" as a synthpop dance classic and "A Mind With A Heart Of Its Own" as Beatles-esque blues. A pleasant diversion that will only inspire revisits to the Petty original. Maybe that was the point all along. Pains' Kip Berman announced his debut solo EP Know Me More under the name the Natvral. Last year, the band released The Echo of Pleasure.
The Pains of Being Pure at Heart have covered Tom Petty's 1989 solo debut Full Moon Fever in its entirety. It's due out October 25th as part of Turntable Kitchen's ongoing Sounds Delicious series—a monthly vinyl subscription of full-length cover albums, Full Moon Fever was Petty's solo debut record and it is absolutely packed with hits. No less than 5 tracks charted on the Billboard Top 100: Free Fallin', I Won't Back Down, Runnin' Down a Dream, Yer So Bad, and A Face in the Crowd. But even the tracks that didn't chart could have been hits: Love Is A Long Road, Depending On You, A Mind With a Heart of its Own. The same could be said for so many of his albums. This dude's catalogue is deep.