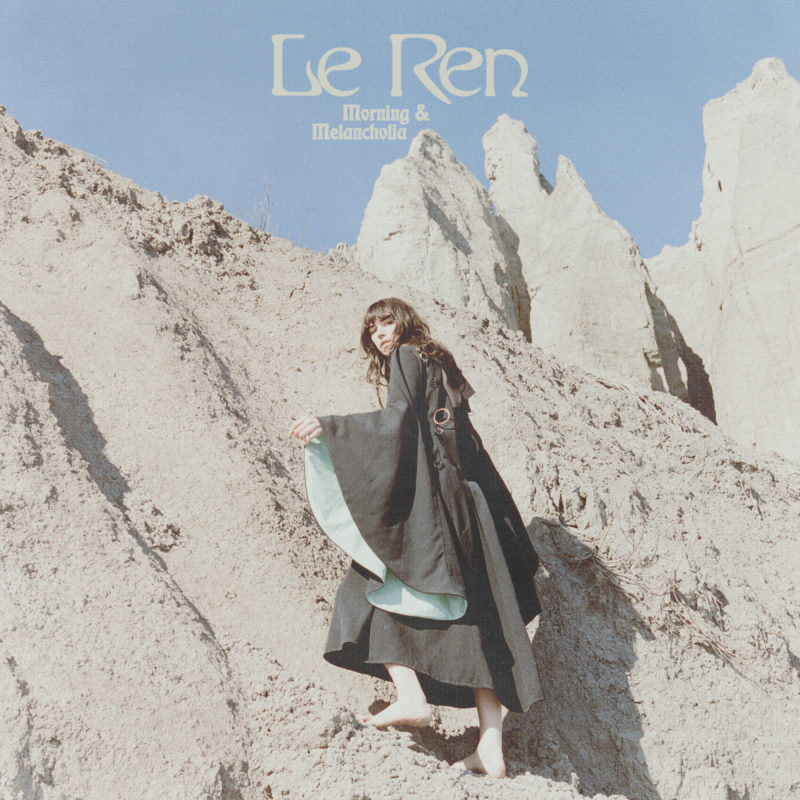 If you caught Orville Peck on tour last year, you likely cried during the set of opener Le Ren, a.k.a. Lauren Spear. Spear has released material with two other projects this year — folksy band Maybel and pop-punks Skunk — and now as Le Ren she is gearing up to release Morning & Melancholia (via Secretly Canadian and Royal Mountain) on July 31st. The EP's four tender folk ballads will leave listeners in awe and, once again, reaching for the tissues.
Two years ago, Spear's ex-boyfriend was killed in a car accident. Since then, she has been struggling with the weight of being the sole keeper of their shared memories and in response, translated a sliver of that experience into music. Morning & Melancholia is a mediation on mourning, memory and how to live with the ellipses you're forever left with in the wake of loss.
The way Le Ren is able to look tragedy directly in its eyes and never let her voice so much as quiver is owed to a few things. Raised on rural Bowen Island, British Columbia, the isolated lifestyle allows for a certain independent dedication to craft that is evident in her performances. With a folk and bluegrass study going back to her early teens, you can hear in Le Ren, the gorgeous folk formalism of Canadian heroes Kate and Anna McGarrigle, or The Holy Trinity of John Prine, Joni Mitchell and Bob Dylan. Their curious, deadpan and cosmic approach to life's most brutal swipes feed Le Ren's sensibilities, and her own lyrical couplets are as simply put as they are devastating. "Discussing songwriting feels the same as when someone asks about your tattoo," says Le Ren. "You're putting it out there, showing it in public right on your arm. Then, when someone asks you 'Hey, what's that tattoo mean?', you're shocked to have to explain it, as it is a choice that feels essential for a particular moment."
Le Ren, moniker of 26-year-old Montreal-based musician Lauren Spear, announces her debut EP, Morning & Melancholia, out July 31st on Secretly Canadian / Royal Mountain. Today, she presents a new single/video, "If I Had Wings." Following "Love Can't Be The Only Reason To Stay," " a brief, delicate, and restful folk gem" (Uproxx), 
"If I Had Wings" sways with pedal steel and Le Ren's stirring voice as she sings of wishing to be able to see a loved one again: "If I had wings // I'd fly away, oh lord // Ya, I'd be heaven bound // So I could see your face once more." The accompanying video, directed by Ali Vanderkruyk, is spectral. "This video lives somewhere in the distance between Tkaronto (Toronto) and Nexwlélexm (Bowen Island). It was shot with an iPhone and on 16mm film and was processed, printed and scanned at Niagara Custom Lab in Toronto (where the director works as a technician)."
Le Ren's music is gut wrenching, but sure-footed. And you can almost hear the slight smile on one side of her mouth as she sings, the knowing smile of someone who knows real pain, knows there's surely more to come, but who also knows it doesn't erase life's humorous, enduring beauty.
'If I Had Wings' from 'Morning & Melancholia' by Le Ren, out July 31st on Secretly Canadian