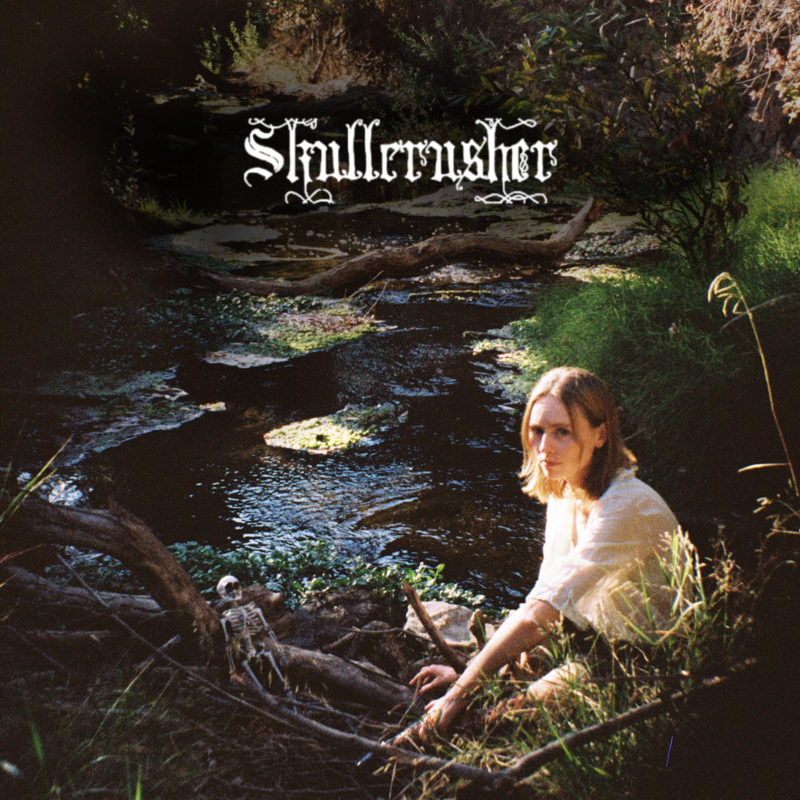 Skullcrusher, the project of Los Angeles-based songwriter Helen Ballentine, releases a new single, "Day of Show," and an accompanying video. The track is off of her debut, self-titled EP, out June 26th on Secretly Canadian, and follows its hypnotic lead single, "Places/Plans." "Day of Show" glows with melancholy guitar and faint, hovering synth. As the synth rises and percussion joins in, Ballentine's voice becomes more urgent: " You decorate the back of the stage with my things // As you sing about who you were// And were you better then // When you didn't have to tell me how // It all works out in the end." The accompanying video is both pretty and eerie, layering overly contrasted video clips of Ballentine on top of one another.
"I wrote 'Day of Show' on a hot day last summer in my roommate's bedroom because mine didn't have AC", explains Ballentine. "I felt dazed and restless from sitting around in the heat all day. It is a song about feeling trapped in yourself, unable to help yourself and reluctant to let others in. It explores the fragmented behavior and thoughts that arise from this feeling: a kind of daydreaming that can be really creative but also the darkness that also exists there. It's musically inspired by a lot of the shoegaze music I listen to."
Ballentine has been playing music for most of her life — piano from age five, guitar since high school — but her song writing didn't emerge until later. After moving from her home in upstate New York to Los Angeles to study studio art in college, a trajectory she had been on since she was a teenager, Ballentine quit her full-time gallery job. Suddenly faced with a peculiar freedom, she decided to seriously pursue music for the first time.
On the "Skullcrusher" EP, Ballentine offers an airy, intense, and unflinchingly open collection of songs written about – and from – one of life's in-between grey areas and the subsequent search for identity. The four dark, dreamy songs on the EP, which she worked on alongside producer Noah Weinman, were influenced by a strange-but-fitting amalgamation of media consumed in the immediate aftermath of quitting her 9-5. There's Nick Drake, ambient electronica, and Valerie and her Week of Wonders, the Czech new-wave film that went on to inform Skullcrusher's aesthetic. There's Ballentine's love of fantasy and surrealism, her appreciation of the way fantasy novels juxtapose beauty and violence (perhaps  a nod to her unusual moniker, as well).
"Day of Show" by Skullcrusher, from their upcoming self-titled EP out June 26 on Secretly Canadian.