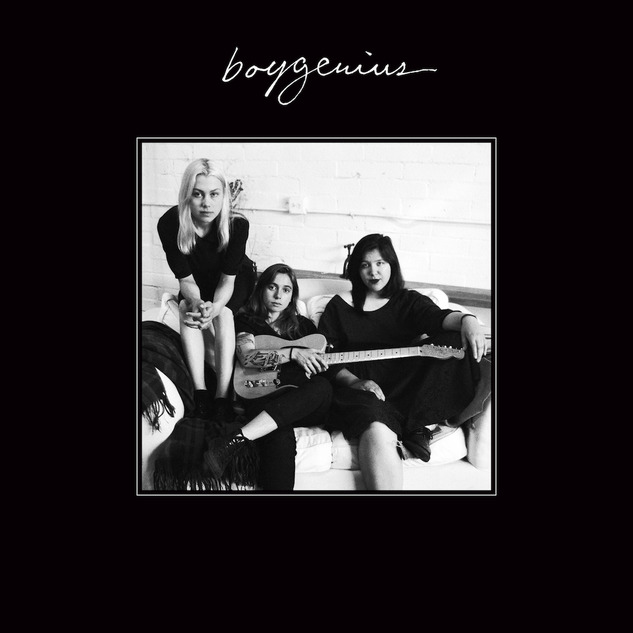 The good people at Matador Records have finally pulled back the curtain on their new supergroup made up of songwriters Lucy Dacus, Julien Baker and Phoebe Bridgers. The all-star trio's self-titled, six-track EP Boygenius is coming out on November. 9th via Matador, but you can hear the project's first three singles now.
Dacus, Baker and Bridgers' mysterious and much-anticipated team-up first made waves in early August when Bridgers confirmed its existence at an NPR Music event. Soon after, a media outlet received a photo of the group, accompanied only by the word "boygenius" and the Matador logo. We now know that to be the name of both the trio and their forthcoming release, previewed via lead singles "Me & My Dog," "Bite The Hand" and "Stay Down."
Bridgers takes point on the affectionate, yet anxiety-ridden "Me & My Dog," singing over steady electric guitar strums, "I had a fever / until I met you / Now you make me cool / but sometimes I still do / something embarrassing," her gossamer vocals giving way to delicate banjo notes and droning synths. Baker's voice bolsters Bridgers' as the chorus-less song crescendos, pushing through the fears that obstruct desire. "I dream about it and I wake up from it," the duo conclude, their voices drowned out by a rising tide of reverb.
Second single "Bite The Hand" is Dacus' chance to shine, an unflinching declaration of independence that would have fit right in on Historian. What sets it apart from her solo work, however, is its choruses, on which Dacus, Baker and Bridgers harmonize to drop-dead gorgeous and increasingly powerful effect, warning an unwanted partner, "I can't love you how you want me to." The song closes on their voices, with nothing but bare conviction against the silence.
The devastating "Stay Down," meanwhile, is all Baker, her trademark reverb-steeped guitars and emotive vocals expanded upon with scattershot percussion and moving strings. Her lyrics are shot through with heart-rending resignation: "I wasn't a fighter till somebody told me / I had better learn to lean into the punch / so it don't hurt as bad when they leave / There you were, turning your cheek," Baker begins, later demanding, "Push me down into the water like a sinner, roll me under / and I'll never come up again / I'll just stay down." Fuck us up, boygenius.
Dacus, Baker and Bridgers head out on tour together this November, though they won't do so as a trio—rather, they'll each be performing their own solo sets. But who knows? Judging by the unpredictable way in which their boygenius team-up has come to light, perhaps the collaborators will see their way to delivering some surprises live, as well.
Julien Baker, Phoebe Bridgers, and Lucy Dacus formed Boygenius after booking a tour together, but the trio had subconsciously been in the works for longer than that. Through a series of tours and performances together, and chance encounters that led to friendships – including Bridgers' and Dacus' first in-person meeting backstage at a Philadelphia festival, greenroom hangouts that felt instantly comfortable and compatible, a couple of long email chains and even a secret handshake between Baker and Dacus – the lyrically and musically arresting singer-songwriters and kindred spirits got to know each other on their own terms.
"When we met, Lucy and Phoebe and I were in similar places in our lives and our musical endeavors, but also had similar attitudes toward music that engendered an immediate affinity," Baker explains. "Lucy and Phoebe are incredibly gifted performers, and I am fans of their art outside of being their friends, but they are also both very wise, discerning and kind people whom I look up to in character as much as in talent."
Listen to boygenius' EP "Me & My Dog," "Bite The Hand" and "Stay Down".