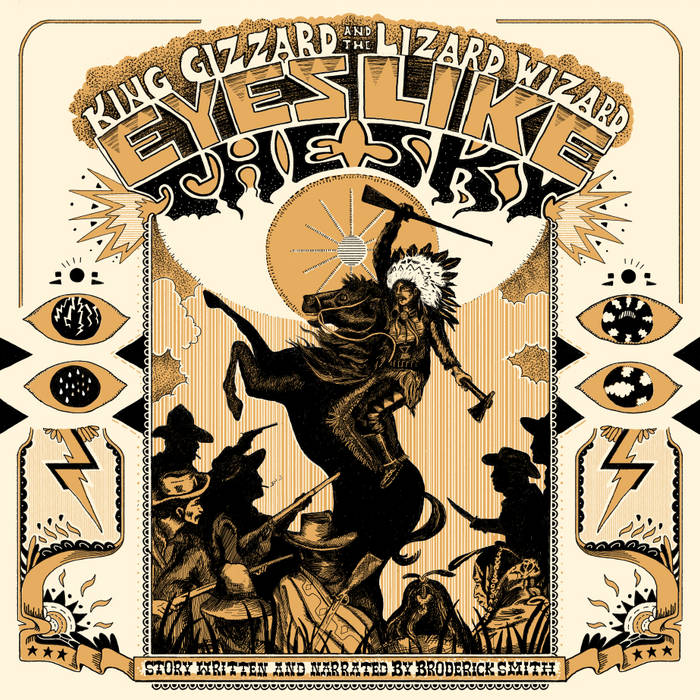 Like a better version of Murder of the Universe, Gizzard's raw early side is the best. Eyes Like the Sky is the second studio album by Australian psychedelic rock band King Gizzard & the Lizard Wizard. It was released on 22nd February 2013 on Flightless Records
Not only is the album unlike any other of theirs, described as a "cult western audio book", the album is narrated and written by Broderick Smith – who tells a story of outlaws, child soldiers, native Americans and gun fights, all set in the American frontier. As it turns out, the roots of Eyes Like the Sky lie in King Gizzard's debut album, 12 Bar Bruise.
Stu Mackenzie – "the weird, genius savant of that band" – and Smith both share a similar obsession of the Wild West, so Mackenzie approached his bandmate's father (who is a respected musician in his own right) to pen the lyrics to a single track he had written. When asked about the album's influences, Stu Mackenzie alluded to the spaghetti western influence throughout the album, stating "I love Western films. I love bad guys and I love Red Dead Redemption. Oh, and I love evil guitars"
It was the book My 32 Years Among the Indians by Richard Dodge where Smith found his inspiration.
"There was a section in the book called Sam Cherry's Last Shot… about Sam Cherry who was a scout that was killed by the Indians."
Smith took that story and narrated it for the band, and that tune became Sam Cherry's Last Shot on their debut album. When the band looked at doing a second record, Mackenzie simply contacted Smith and asked if he'd like to do a full album. When it came to a story for the album, Smith again turned to American history. Specifically, he looked at a time in Texas in the 1840's where Comanches (a population of Native Americans from the south) were raiding white settlements and kidnapping the young boys to raise as their own.
Smith tells. Through this historical lens, he created a story not only about American history, but one that also explores the importance and struggles of heritage and identity.
Let's now turn to the band itself. Formed out of casual jam sessions with mates, King Gizzard & the Lizard Wizard have become a staple on the Australian indie music scene. They have cemented themselves a place among the most ambitious artists in the world today, from having two drummers  to releasing five albums in a single year.