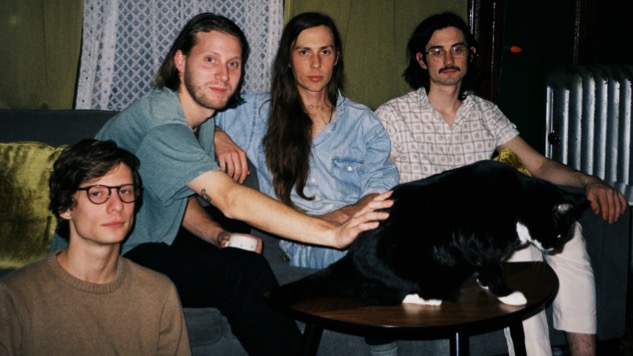 Breezy Detroit rockers Bonny Doon, who will release their second full-length, Longwave, on March 23rd, make the sort of effortless, lo-fi indie that both you and your dad can love.
For their second full-length (and debut on Woodsist Records), the Detroit folk-rock quartet stopped thinking too much and just went to the beach instead. Last month, we dug their earnest "A Lotta Things" single, and now they're sharing a pastoral new video for their record's title track. When Bonny Doon began sketching out a strategy to follow up their self-titled debut, they knew they wanted to do things differently. "I think everything's always a reaction to how you did it the last time and what's exciting you at the moment," says Bobby Colombo, who splits vocal and guitar duties in the band with Bill Lennox. While their first record was a strong arrival, Colombo and Lennox characterize its creation as long and arduous. So the band snuck away from their native Detroit and rented a house on the beach in Northern Michigan, recording their next album in just five days, aiming for a looser, more instinct-driven process. "We were just thinking, 'First thought, best thought' with this one," Colombo explains.
The result is Longwave, an album Bonny Doon might still have made if they weren't holed up on a beach house, but probably not. Delicate and contemplative, the ten new songs feel very much like a product of their recording process—while Bonny Doon weren't necessarily intent on tearing up the playbook, this record is still a totally different beast from its predecessor. Longwave embraces the stylings of Bonny Doon folk rock with some alt-country sprinklings but the band's more spontaneous approach lends it a scrappiness that feels fresh. Rather than rein these songs in to the point of suffocation, the band allows them to breathe, rambling and untangling themselves in unexpected ways.
The homemade, found-footage vibe of "Long Wave" is rustic, charming, and the perfect visual accompaniment for the track's calming influence. BRB, finding a hilltop in nature to roll down this weekend. in fact, Bonny Doon sound like they're gunning to be spiritual successors to Silver Jews and Neil Young, with a pinch of Summerteeth-era Wilco thrown in. It's because of this mood that the record never comes across as overly self-serious. The title track, which opens the album, ends in a knowing refrain, zen-like in its conviction: "You are who you're supposed to be." It's delivered with the confidence of a band that believes it, and is comfortable enough in their skin to act accordingly.
The paradigm of live music is so old and stagnant, Colombo laments. "We're interested in and would like to figure out ways to push us further… We have sort of an unhinged live show sometimes. We play the songs almost like they're falling apart, but they never really do." Bonny Doon's Longwave is out March 23 via Woodsist.
The Band:
Bobby Colombo (guitar/vocals), Bill Lennox (guitar/vocals), Joshua Brooks (bass), and Jake Kmiecik (drums)
Bonny Doon's Longwave is out March 23rd via Woodsist Records.