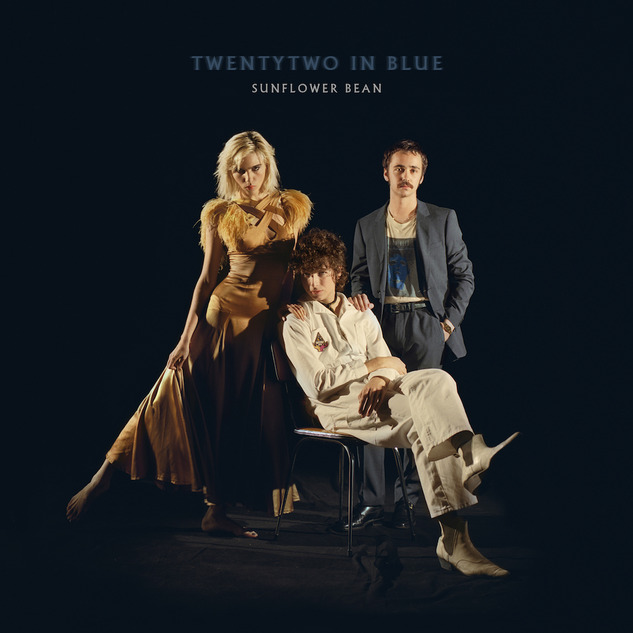 Sunflower Bean made a late play for putting out one of 2017's best songs when they released "I Was a Fool" in November, the first new music they had released since their acclaimed 2016 debut Human Ceremony. Today, the New York trio have done us one better by announcing their second album Twentytwo in Blue, due out March 23rd via Mom + Pop Records. Jacob Faber, Julia Cumming and Nick Kivlen will each be 22 years old at the time of the record's release, which comes almost two years and two months after that of Human Ceremony. See what they did there?
Twentytwo in Blue's second single is "Crisis Fest," an urgent, yet upbeat call to arms that warns, "If you hold us back, you know that we can shout / We brought you into this place, you know we can take you out." The track feels of our time and timeless at once, a heartening and defiant reminder of rock 'n' roll's power to galvanize. "2017—we know / Reality's one big sick show," sings vocalist/bassist Cumming. "Every day's a crisis fest." "Crisis Fest" also received an Andy DeLuca-directed music video,
Sunflower Bean say of their new song:
This last year was extremely alarming, traumatic and politically volatile. While writing this album, we often reflected back on the people we met while on tour. We felt a strong kinship with the audiences that came to see us all over the country, and we wanted to write a song for them—something to capture the anxieties of an uncertain future. "Crisis Fest" is less about politics and more about the power of us, the young people in this country.
Indeed, the band is unafraid to address the many anxieties of our modern moment on their new album, which was co-produced by Unknown Mortal Orchestra's Jacob Portrait (who also mixed the record) and Matt Molnar of Friends.
Says vocalist guitarist Kivlen:
This has been such an unbelievable time. I can't imagine any artist of our ilk making a record and not have it be seen through the lens of the political climate of 2016 and 2017. So I think there's a few songs on the record that are definitely heavily influenced by this sort of—whatever you want to say what the Trump administration has been.
"A shit show," answers Faber.
Listen to "Crisis Fest" below ,Twentytwo in Blue is out March 23rd on Mom +  Pop Records.