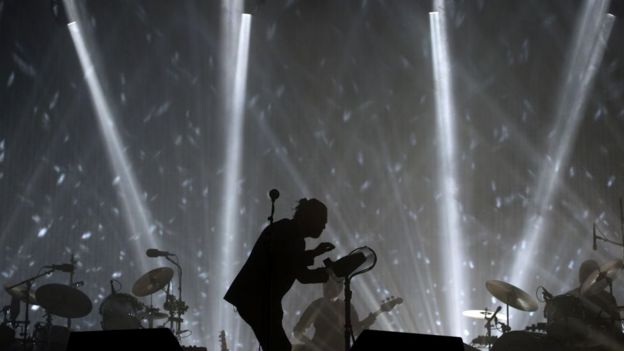 Radiohead headlined the Pyramid Stage of Glastonbury 2017 on Friday night with an astonishingly mesmerising – if not a little unruly – set in what resulted in an utterly compelling two hours and 25 minutes.
The performance came on the 20th anniversary of Radiohead's first headline set at Glastonbury, a reminder of the reissue of the iconic album 'OK Computer' and a statement of intent of the band's utter dominance.
Absorbing, challenging and achingly beautiful – Radiohead delivered a typically Radiohead sort of set for Glastonbury's opening night. The Oxford quintet emerged, bathed in white light, to the haunting piano refrain of Daydreaming, from last year's A Moon Shaped Pool album.
Two hours and 25 songs later, they closed with Karma Police, singing: "For a minute there, I lost myself."
Such is their confidence, Radiohead's set list was nothing short of experimental, eclectic and downright enthralling. Tracks such as 'No Surprises' tempted Thom Yorke into a brief political outburst when he ominously pleasured the crowd with "see you later, Theresa" as the song, with lyrics such as "bring down the government, they don't speak for us," came to a close.
Opening with 'Daydreaming' from 2016 record A Moon Shaped Pool, the band indulged fans with favourites such as 'Airbag' and the aptly titled 'Pyramid Song' before Yorke couldn't resist busting out his new dance moves during a revised version of 'Idioteque'.
Encore one saw the likes of 'No Surprises', 'Nude', Paranoid Android and Fake Plastic Trees before the second and final encore welcomed the three big hitters: Lotus Flower, 'Creep' and 'Karma Police' the last of which left the crowd and Yorke singing: "For a minute there, I lost myself."
Thanks to faroutmagazine