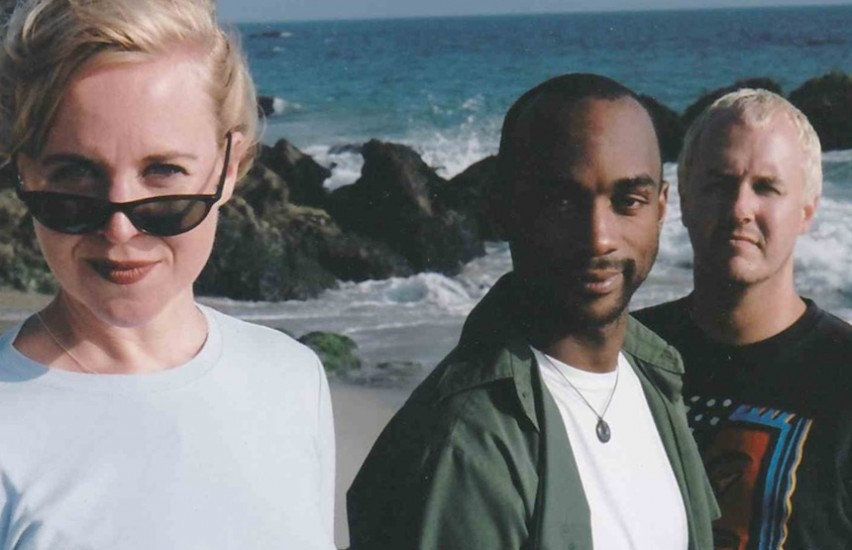 50FOOTWAVE has just released their 'Bath White' EP via HHBTM Records. This is their sixth mini-album since forming in 2004 and their first release since 2012's 'With Love From The Men's Room'. Once again, they dish up addictive power chords, sublime hard rock riffs and complex structures that fuel raw emotion.
Packing an album's worth of ideas into six songs, 'Bath White' is loud and highly dynamic, with change-ups and massive drive, delivering some of the band's most powerful material to date.
The EP was produced by Los Angeles producer Mudrock, best known for his work with Godsmack. As Mudrock states, "These are the best musicians I've ever worked with, easily the most facile…they're pros and they're good people. 50FOOTWAVE is why I do what I do."
Comprised of Kristin Hersh and Bernard Georges of Throwing Muses, and monster drummer Rob Ahlers, this LA-based power trio is known for pioneering the name-your-own-price movement, which began with their 2005 release "Free Music".
Named after the lowest note audible to human ears, 50FOOTWAVE was intended as an outlet for the noise/math rock pieces that didn't fit the aesthetic of Throwing Muses or Kristin Hersh's solo work. Their most successful and influential release, 2009's Power + Light, is thirty minutes of non-stop music, a barrage of free-form sound that found the band challenging its own complex song structure.
50FOOTWAVE's early releases are available for download free of charge here http://50footwave.cashmusic.org/freemusic/ and licensed for sharing via Creative Commons. In this relation, Kristin co-founded the non-profit Coalition of Artists and Stake-Holders (CASH Music) in 2007. Over the past few years, CASH has not only completely funded Kristin's own output, but has also powered dozens of other artist and label projects and has grown into a widely-recognized powerhouse of technical tools that enable commerce, communication and sustainability for artists.
TRACKLIST
1. Bath White
2. God's Not A Dick
3. Human
4. Ratted Out
5. St. Christopher
6. Sun Salute
'Bath White' is available through HHBTM Records or via digital download from Bandcamp
Back on vinyl for this Kristin Hersh fronted project, a super rare 2016 EP of enchanting and exhilarating sounds that shift from dreamy and emotional melancholy to jagged and almost Neu!-like rhythms that evolve behind her pointed prose and astute one-liners. A rush to the head that's caustic yet comforting.
https://50footwave.bandcamp.com/album/bath-white. Deluxe 12" colour vinyl packages also include full-size artwork, a screen-printed tote bag and a limited edition button.