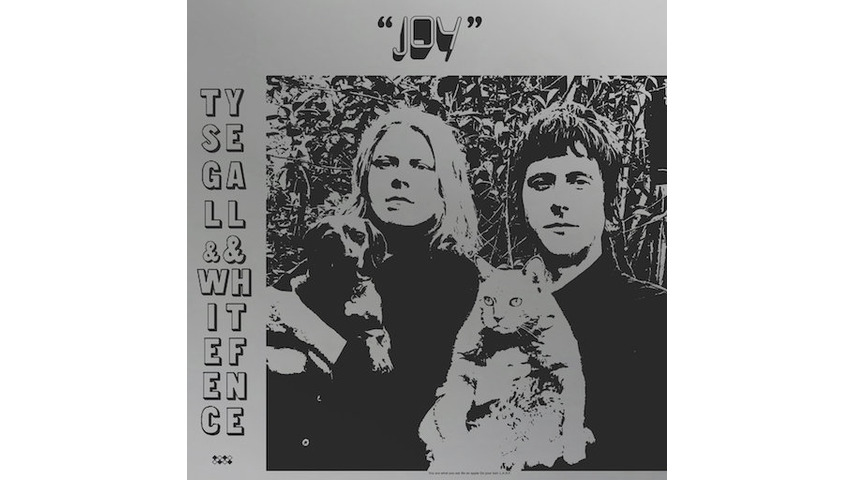 Once again, Ty Segall and White Fence's Tim Presley have slipped the madness of the straitjackets they were fitted for years ago, and made a record not just of songs, but of climactic essence – a stretch of sequential time organized for entertainment's sake! Behold, Joy—their mind-meld complete, fizzy experimentations and sonorous bangers alike. Joy unrolls from within and in between them and electricity takes many forms, plunging from rock trips to acoustic strollers to poppy reveries to freak-downs at side's end.
These sounds are too big to be confined just on some wax or your shitty headphones; Ty and Tim are also taking the show on the road! With select West Coast dates in the near future, total joy-ination is imminent. Fellow DC-ites The Peacers will be opening some gigs, as well, so you know it's going to rule! Who knows what else the future holds?
So another month and another Ty Segall album. the prolific king of California psych/garage/punk-rock is arguably THEE most prolific major musician working right now, and the level of quality he achieves across his releases is incredibly high. The guy is quickly putting together an all-timer of a catalog in such a short time.
The latest entry in said catalog is Segall's second collaborative album with veteran Los Angeles psych-pop experimenter White Fence, aka Tim Presley, formerly of The Nerve Agents and Darker My Love, and more recently Cate Le Bon's partner in the project DRINKS. The two men joined forces in 2012 to produce a fun and fuzzed-out collection of songs called Hair, a "glorious mess of an album" .
Joy is a little more messy but almost as glorious. With track times mostly clocking in under 120 seconds, it's a series of quick hits that are warped but relentlessly tuneful, like a Beatles LP that's spent a blazing hot afternoon lying on a busy freeway. As songwriters, Segall and Presley complement each other nicely: Segall certainly knows his way around a catchy tune, but Presley's a more natural melodicist, and while Presley definitely has his own rough edge, Segall's a prodigious shredder. In the form of…the fucked-up pop song!
Highlights on Joy include "Body Behavior," a pulsing acoustic rocker that snakes in the verses and sparkles in the chorus; "Other Way" a dead-eyed noise excavation that feels like it fell off the Incesticide tree of influence; and "A Nod," another rhythmic strummer that may just boast the prettiest melody on the album. It also features one of the least abstract lyrics on Joy:
Tried to please my mother
Tried to please my father
Tried to please everyone but me
Bank says I need money
My friends say I need followers
But I want to believe in me
Me
There are other great songs here: the occasionally jazzy "Good Boy," the beautiful and Neil Young-ish "My Friend," and the propulsive "Do Your Hair," which is powered by a bouncy bass line and uses its 95 seconds with impressive efficiency. The opposite is true for a couple of tracks that show up near the end of the album, "She Is Gold" and "Tommy's Place," two silly and/or stoney studio experiments that go nowhere, really. Joy would've been a tighter overall package if they'd been cut.
With Segall, though, it's worth hearing a couple of clunkers if it means he'll keep making music at his preferred dizzying pace, because his hit-to-miss ratio is so high. And collaborating with Presley doesn't dent that ratio. In fact, it brings out good things in both men. Here's hoping their next album isn't another six years away.