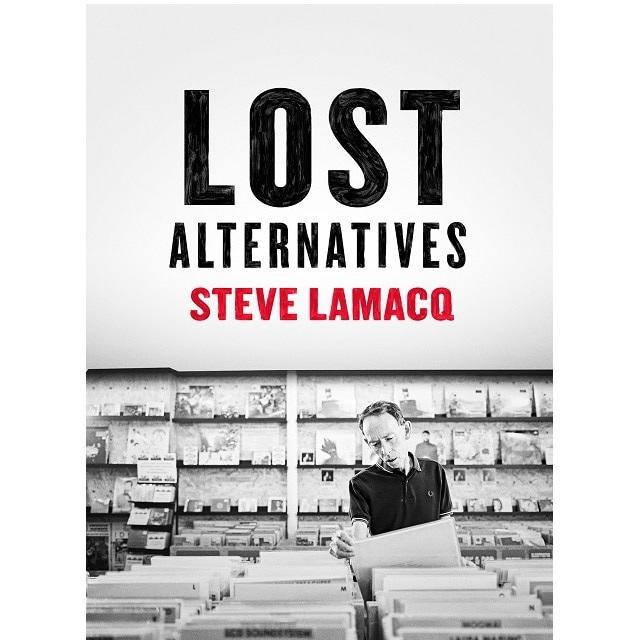 Most alternative music lived underground. It made a lot of noise, but no-one in the mainstream could hear it…. The nineties would see it go so much further than many of us expected. It wasn't just the popularity of alternative music which would change; the music was constantly reinventing itself too, sucking in influences from different genres and different eras.
And that brings us to this compilation…Create a compilation which tries to dig a little deeper; which attempts to give another side of the nineties, which wasn't Cool Britannia, Laddism, and Blur Vs Oasis. What's here represents, at least one version, of the evolution of guitar music through the nineties, as told, not by the big hits, but by the limited edition singles, The Evening Session cult favourites and the bands who maybe never made it, but in some cases never wanted to anyway. " Curated by acclaimed BBC 6 Music radio DJ and former NME journalist, Steve Lamacq, This 4CD compilation. 71 tracks from the 1990's chosen by the UK's leading Indie tastemaker. This is a great compilation. If you were a gig-going regular seeing 'new bands' in the 1990's you will find lots to love here.
It is a useful historical over-view which tries valiantly to present as much as possible of the music on offer over the decade in the indie/guitar sphere and create some sort of evolutionary narrative… but inevitably it fails to be all-inclusive and ends up being just one mans choices in vaguely chronological order.
Steve Lamacq, for a leading BBC6 purveyor of taste, is pretty much some-one you can trust though.  He's the same age as me, was a teenage Lurkers fan and we, I imagine, went through our teenage years listening to exactly the same music, diverging as we reached our twenties in the mid eighties.
Like with any boxed set or comp, every now and then you get a run of three songs in a row which are perfect; they run together beautifully and make you go 'Yes!' as each one starts and you recognise it within a second or two despite not having heard it for yonks.
Despite 71 tracks though,  there are so many bands missing; And I don't just mean The big guns like Oasis, Blur, Verve and Pulp -there was no necessity for them to be there, but something from the pre-Sony Manics should have opened proceedings if we're honest. Lamacq will be forever indirectly associated with them due to the For Real blood-letting which was during an interview with him.
Huggy Bear I can only assume refused permission for Her Jazz to be included – leaving Voodoo Queens the sole representative of Riot Grrrl groups.
It is just guitar bands ( No Red Snapper, Fluke or Credit To The Nation) and apparently "nothing which has been included on a 'Shine' compilation", The Bands which deserved to be on here, are Shed 7,  the Headcoats, Mantaray, Flinch, Tindersticks, Baby Bird, Prolapse,  Gretchen Hofner, Bandit Queen, Thrum, Breed, Compulsion, Five Thirty, David Devant & his Spirit Wife, A House, Into Paradise, Die Cheerleader, the Flaming Stars, Add N to X, Quickspace, Nubiles,,, to name a few and there is nothing from the Too Pure  / Clawfist / Wiija labels   -Stereolab   Gallon Drunk…. but that at least means there is plenty of scope for a second volume.
There has been some comment about the 'Lost' part of the title. Suede, Charlatans etc are hardly 'lost'. Even the more obscure acts are only a google and YouTube search away.  Nothing is really 'lost' any more.
CD 1   Is a mix of Baggy Northern sounds and Thames Valley Shoegazing to start with.  Ride sound tame and lame, Northside sound naive and fun, the New FAD's are their generations A Certain Ratio. Curve sound class and ahead of the game.  Kitchens of Distinction emerge as the band whose back catalogue needs to be tracked down.   The Fraggle-Pop-Punk of the Family Cat, Senseless Things and MC4 somehow hasn't aged well. particularly when they are followed by Teenage Fanclubs finest moment  Everything Flows… which is certainly does with a final four of Silverfish / Daisy Chainsaw / Voodoo Queens and the noisy experimental wonkiness of Cornershop.
CD 2 Is, to my mind the best, – 14 really great tracks out of the 19 – the New Wave of New Wave and Brit-Pop Division 2. (and Premier division debuts by Suede, Auteurs & Elastica)  all of  which are classics – as are Tiny Monroe, Salad and Mansuns contributions.
CD 3 is more of a mixed bag, genre and quality-wise.  The appalling, irritating Bis, the dull bluster of Travis and Marion, but then that classic Rialto song (Monday Morning 5:19)  and superb examples of the work of Strangelove, Whipping Boy and Scarfo – seriously good bands who should have been more than contenders.   Kenickie and Catatonia both sound excellent, now as then – and both frontwomen have gone on to deserved success, Cerys as Greatest Living Welshwoman and broadcaster and Lauren Laverne -purveyor of some terrible unbearable dance-music on 6-Music -but a superb Desert Island Discs host.
CD 4 Starts with Arab Strap and Mogwai so with Delgados has a strong Scottish flavour and marks a progression and seriousness as well as quality.  The Beta Band make sense in such company, as do Clinic, but Ten Benson, Wubble U and Campag Velocet do nothing for me and only prove stoners don't always make great music.  Cay, Cable and Seafood are interesting but not a patch on some of the bands omitted.
The good stuff outweighs the iffy and it is a great, eminently listenable boxed set.  An American equivalent culled from the Nineties US underground would be interesting to hear -but probably wouldn't be as pop and would stick to even tighter generic parameters.
I feel sorry for Lammo, his hands tied by the BBC, in that he cannot 'promote' his 'product' on their airwaves, when, if he's anything like me, he probably wants to shout 'Listen To This! It's fuckin' ace!' because if its on here, you can guarantee that he loves it, and he wants to share his love and have a wallow in the nostalgia of the nineties for a while.