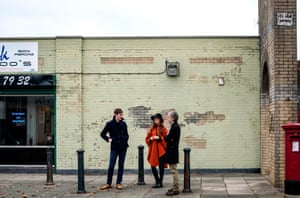 There's always music to give us hope. And in 2016, it came in the unlikely shape of a concept album about Skelmersdale of all places, if you were going to jump to trite and simplistic conclusions, then a record about a the birth of a "new town" from the late 1960's, and in particular, one about Skelmersdale itself, wouldn't necessarily fill you with unbridled joy. But this album by The Magnetic North does and continues to do so in spades the more you listen to it.
The Magnetic North–Erland Cooper (Erland & the Carnival), guitar wizard Simon Tong (ex of The Verve) and Hannah Peel (composer and arranger) – steered clear from all the clichés about Skem and in writing about the town where Tong moved to at a young age and grew up in, have produced a record that deals with dreams, hope and visions of a better world.
By assiduously researching not only Tong's childhood but also going to Skem and speaking with people who where there at the birth of the new town, immersing themselves in the place, The Magnetic North came up with a suite of songs that will live in your memory for a very long time.
There's a constant thread throughout the album that things should be better and can be better and will be better. Its memories of half-remembered past, of Tong's childhood and of a world that seems half-lost in mist, but is still out there, somewhere.
It's difficult to isolate just one or two tracks for deserve special mention as the whole thing hangs together so well, but Sandy Lane, Signs and especially Little Jerusalem, where Peel's crystal clear and diamond sharp voice, evokes both a weariness of the present and hope for the future and melts the iciest of hearts.
Prospect of Skelmersdale is a follow-up to what was intended to be a one-off album about Elrand Cooper's birthplace (Orkney: Symphony of The Magnetic North) and with the tantalising prospect of a new Magnetic North album dealing with Hannah Peel's childhood in the works,