The Verve's third studio album "Urban Hymns", originally released September 29th, 1997. Mojo magazine's recently published a revisionist assessment accompanying the album's deluxe reissue's, which curtly dismisses the album as "a flawed piece of wish fulfillment: Thus epic songs struggling to mend a broken heart."
"I remember listening to "Urban Hymns" for the first time and I was completely enthralled with it," I couldn't stop listening to the album from beginning to end. It was pure brilliance. Each song could stand on its own and the album was flawless.
Although Urban Hymns represented my overdue introduction to The Verve's songs, my education thankfully didn't end there. The band's excellent first two albums, 1993's A Storm in Heaven and 1995's A Northern Soul, the latter of which many still believe remains their greatest achievement on wax, both albums are remarkable in their own right.
Listening to all three albums also prompted me to seek out more information about the group's genesis and career progression up to that point. Together with his schoolmates Simon Jones (bass guitar), Nick McCabe (lead guitar), and Peter Salisbury (drums), the Wigan, England born Richard Ashcroft formed The Verve in 1990 (guitarist/keyboardist Simon Tong joined the band in 1996 and remained until 1999). Three years later, the group released its critically acclaimed debut LP A Storm in Heaven, a hypnotic song suite defined by its sweeping arrangements awash in distortion, reverb, and vocal effects in abundance. Their follow-up effort, A Northern Soul, found the band balancing their more experimental proclivities with noticeably more accessible and melodic fare, including a trio of singles ("This is Music," "On Your Own," and "History") that rank among the finest songs to emerge during the British Rock resurgence of the mid '90s.
Though the band briefly split a few months after A Northern Soul's release, the fracture thankfully proved ephemeral and they soon returned to the studio to record once again. Initially propelled by the ubiquity of lead single "Bitter Sweet Symphony," but also owing to the fact that the album as a whole is a masterpiece of exquisite musical vision and expertly executed songcraft, Urban Hymns became one of the biggest selling and most critically applauded British albums of all time upon its release.
Co-produced by the band with Youth and Chris Potter roughly splitting duties across its thirteen songs, Urban Hymns is defined by its ambitious, anthemic compositions that sound like the natural expansion from its two precursors. It's immediately apparent, upon even cursory listens, that this was The Verve's bold attempt to fulfill their self-imposed destiny, which envisaged them morphing into a band capable of crafting a truly timeless suite of songs. A fully realized album that lodged itself firmly within the depths of listeners' hearts, minds and souls. And I'd say mission accomplished, gents.
Urban Hymns' legacy is not without its blemishes and distractions, particularly when it comes to the infamous legal rigmarole surrounding "Bitter Sweet Symphony" and more recently articulated conflicts regarding acknowledgement of the album's creative influences. But these antagonisms have not diminished the album's enduring power and resonance, with respect to what ultimately matters most: the music.
Though the album's creation was indeed a family affair with contributions from each of the group's five members, a compelling case can be made that McCabe and Ashcroft were the central driving forces most instrumental in executing the band's vision. McCabe's adventurous, at times counter-intuitive guitar work is the sonic glue that holds each of the songs together and solidifies their sweeping grandeur. Meanwhile, the songs' existential weariness and angst, coupled with their whimsical innocence and palpable romanticism, are the product of Ashcroft's lyrical prowess. There are plenty of moments that gravitate toward the darker, more sobering dimensions of early adulthood, but Ashcroft's boyish optimism and joie de vivre do shine through from time to time.
Though listeners have inevitably attempted to decode the true meanings behind Ashcroft's sometimes elusive verses, it may simply be the case that he penned his lyrics so as not to be immediately or singularly interpreted. "I don't think the listener needs to know anything more than the song," he explained to MTV back in 1997. "Because we always abuse our listeners' imaginations by giving them too much, and telling them too much. We're making music, we're not making cheeseburgers. So I'm not about to give it to them on a plate and say what exactly it's about. I think that's important. I hate it when you see lead singers taking all the mystery away."
The universally familiar album opener and lead single "Bitter Sweet Symphony" is one of the easier songs to discern, as Ashcroft sings the praises of self-agency as the means of triumphing over the thankless, soul-sapping grind of the material world, with music offering much-needed respite ("I let the melody shine, let it cleanse my mind, I feel free now"). "As for 'Bitter Sweet Symphony,' all those legal wrangles still don't take away the hours I put into it in the studio to create an incredible piece of pop art," Ashcroft reflected to Vogue magazine earlier this year. And incredible it still most definitely is. Having said that, and perhaps because of its prevalence, it's not among the five or six songs that instantly come to mind for me when I think of Urban Hymns after so many years.
The lower profile songs with the album, beginning with the other three official singles that were released from the LP. On the inspired "Sonnet," Ashcroft unleashes his yearning for the purer incarnations of love, without the embellishments of false or forced sentimentality, through a mixture of despair and hope, with lines like, "Sinking faster than a boat without a hull / My lord / Dreaming about the day when I can see you there / My side / By my side."
An introspective, sombre ode to the fleeting comfort of drug-induced escapism, the profoundly stirring "The Drugs Don't Work" can be construed as an examination of Ashcroft's feelings about his own drug use and/or perhaps a nod to his father, who died of a brain hemorrhage when Richard was eleven years old. "When I heard 'The Drugs Don't Work,' I stood there with a lump in my throat," The Verve's former manager Jazz Summers recalled in 1998. "At times like those, you know why you're in the music business."
"Lucky Man" is a notably more uplifting anthem of redemption and self-satisfaction, with Ashcroft overcoming personal adversity to find balance and contentment in life: "Happiness / More or less / It's just a change in me / Something in my liberty / Oh, my, my / Happiness / Coming and going / I watch you look at me / Watch my fever growing / I know just where I am."
Though it's challenging to distinguish highlights when the entire album unfurls as one grand highlight reel, a handful of non-single tracks are bona fide standouts. "Catching the Butterfly" is a stirring ode to summoning youthful innocence as a way to cope with the harsher realities of adult life ("So you're born / And so you thought / The future ours / To keep and hold / a child within / Has healing ways / It sees me through / My darkest days").  With McCabe's insistent guitar play galvanizing the steady percussion, "Space and Time" is a moving exploration of a relationship that has been sapped of its passion, with Ashcroft doing all that he can to salvage the connection to assuage his fear of being alone.
The longest track at seven minutes and seemingly the antithesis of the more accessible, radio-friendly fare on offer throughout the album, the sprawling jam "The Rolling People" harkens back to the more free-form sonic footprint the band established on A Storm in Heaven. As does the considerably shorter, largely instrumental "Neon Wilderness" and the dissonant, reverb-laden "Come On," which features a brief Liam Gallagher cameo.
Elsewhere, "Weeping Willow" is a melodic dirge that finds Ashcroft exploring the symbiotic connection between depression and addiction, with references to suicidal tendencies captured in the song's outro ("Weeping willow / The pills under my pillow / Weeping willow / The gun under your pillow"). With allusions to The Velvet Underground in the song's title and lyrics, not to mention the Lee Hazelwood and Nancy Sinatra's classic 1967 duet "Some Velvet Morning," the subdued come-down of "Velvet Morning" is an introspective portrait of loneliness and despondency, feelings that come into sharper focus as the remnant effects of last night's pills fade away as a new day dawns.
Most people seldom cite "This Time" as among their favourite tracks from the album, but it has always been an exhilarating, standout moment for me. The coalescence of its propulsive momentum, Ashcroft's vocal echoes, and the overarching message of acknowledging past regrets and moving on with life the best you can has always resonated, particularly as conveyed through memorable refrains such as "No time for sad lament / A wasted life is bitter spent" and "Into a light I pass / Another dream, another trance / This time, this time / This time I'm gonna rise."
I've spoken to people who've got nothing to do with the critical side of this business," Ashcroft shared with MTV shortly after Urban Hymns' arrival. "I've spoken to people in pubs, I've spoken to people on the street who weren't even aware of who The Verve were six months ago. But something connected with them with "Bitter Sweet Symphony" and "The Drugs Don't Work" that they can't explain. Sometimes music touches you and you can't deny it. So I'm not too interested in what the critics say. I'm interested in how the music can still have a power, and can still affect people and still move people."
Controversies, conflicts and commercial achievements notwithstanding, The Verve's "Urban Hymns" remains their creative pinnacle and continues to move people twenty years on. For better or for worse, all of The Verve's and Richard Ashcroft's music that has followed since 1997 has been measured against "Urban Hymns", an unfair but inevitable consequence of the album's ubiquity and acclaim. And while I embrace it as my personal favourite album of all time, I also appreciate that "Urban Hymns" is just one component—albeit a vital one—of the much broader narratives of the band members' careers, which are still evolving in exciting and unexpected ways.
Expertly catching the mood of the late-'90s upon its release in September 1997, The Verve's third studio outing went on to become one of the all-time classic British albums. Eleven times platinum in the UK and with ten million copies sold worldwide to date, it also delivered four of the era's most iconic singles – 'Bitter Sweet Symphony', 'The Drugs Don't Work', 'Lucky Man' and 'Sonnet'. Now, exactly twenty years on, comes this 3 double-LP box set version of 'Urban Hymns' containing a host of special features. Re-mastering was undertaken by original co-producer Chris Potter and the original album, spread over two vinyl discs, comes supplemented by a double album of B-sides and sessions, plus a further double set containing the previously unreleased concert at Haigh Hall. The box also comes with a 20-page booklet book including a selection of unseen photographs by Chris Floyd, who travelled with the band and was granted unprecedented backstage and offstage access. There is also a download card entitling the purchaser to all of the audio and the further music included on the 4CD Box Set edition.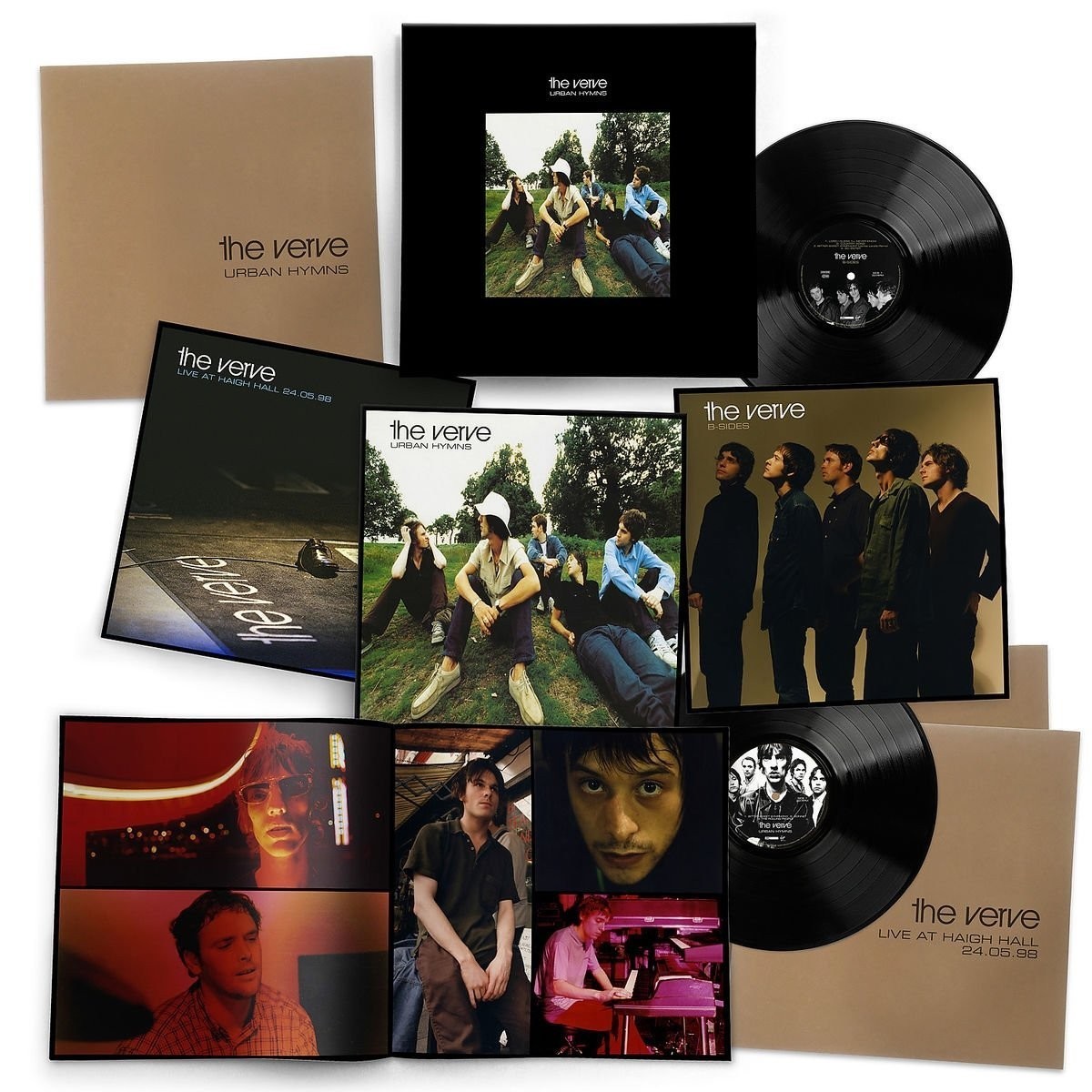 The Verve's third studio album "Urban Hymns", originally released September 29th, 1997.