Despite being miles ahead of their time and writing one of the greatest rock songs ever ("For What It's Worth"), Buffalo Springfield fell into the margins of rock history after making three albums between 1966 and 1968 and splitting up. That's probably because a few of the members namely Stephen Stills, Neil Young and Jim Messina would go on to even bigger things. Another core member, Richie Furay, took Messina (plus recruits Rusty Young, George Grantham and future Eagle Randy Meisner) and started Poco as a vehicle for the blend of rock and country that he'd brought to Buffalo Springfield. Poco's debut 1969 album, Pickin' Up the Pieces, along with the first Flying Burrito Brothers album, are now considered two of the most influential albums of the country-rock movement. On Poco's self-titled sophomore album, another future Eagle, Timothy B. Schmit, replaced Meisner on bass. Both records were well-regarded, but neither got much radio play.
Messina departed in 1971 but, interestingly, secured the services of his replacement, guitarist and songwriter Paul Cotton, and actually oversaw a transition of power during a three-night run at Fillmore West on Oct. 30th, 31st and November. 1st, 1970, when Poco opened for Procol Harum. On the first two nights, Messina played while Cotton studied. On the final night, Cotton took over, with Messina observing. It wasn't the band's first personnel shake-up, and it would be far from the last, but Rusty Young kept Poco kept chugging along into the 21st century.
Initially naming themselves after Walt Kelly's iconic comic strip character Pogo, the band made its live debut three months after the release of the Byrds' seminal Sweetheart of the Rodeo and three months before the Burritos' debut, The Gilded Palace of Sin."If any one event can be said to have ignited L.A.'s country-rock scene it would have to be the debut show by Pogo at the Troubadour in November 1968," writes Barney Hoskyns in Hotel California, his definitive history of Southern California's folk-rock scene in the '60s and '70s. Playing in full view of Linda Ronstadt, Rick Nelson and other luminaries that would share country influences, they played "a tight, ebullient set as good as any performance the Buffalo Springfield had given,"
During sessions for that band's final album, Buffalo Springfield co-founder Richie Furay and Jim Messina, the Springfield short timer who produced the set, recruited steel guitarist Rusty Young to play on Furay's "Kind Woman," the album's most country-influenced piece. With the band's demise, the trio formed the core of the new band, adding bassist Randy Meisner and drummer George Grantham and gaining not only a rhythm section but two more singers, thus laying the foundation for the choral muscle that would become an earmark.
Poco (as they would rename themselves following legal threats from Kelly) gelled quickly. With Furay on rhythm guitar, Messina's wiry Telecaster leads answered Young's virtuosic pedal steel and Dobro. If the Byrds and Burritos gave country-rock substance, Poco helped fine-tune its style with a tight live sound that moved the fulcrum of the genre away from Nashville and straight into Bakersfield—country and western, emphasizing California's leaner accent.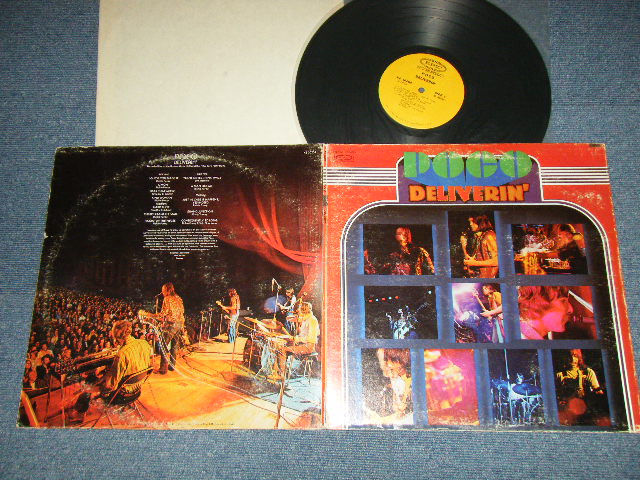 Behind the scenes, they were less cheerful: Tension over Furay's dominance as songwriter and Messina's guiding hand as producer fractured the nascent group before it could complete the album, with Meisner rebelling when he was excluded from final mixing sessions. Meisner quit prior to its release, his bass parts and backing vocals retained and lead vocals erased and replaced by new leads by George Grantham. Poco's formation occurred at an inflection point in country's influence on rock. Apart from the Byrds and the Burrito Brothers, former Byrds lead singer Gene Clark, Bob Dylan, the Beau Brummels and the Everly Brothers all tapped into country elements between '67 and '68, with the pace of country-rock releases quickening in 1969 with the Burritos' debut, the Byrds' Dr. Byrds & Mr. Hyde and Dylan's Nashville Skyline preceding Poco's first studio album in May. Manager David Geffen landed them a contract with Epic Records, freeing Furay from his ties to Atlantic Records in a swap enabling Graham Nash to depart his obligations to the label, via the Hollies, and join David Crosby and Stephen Stills on Atlantic.
Furay and Messina wasted little time in replacing Meisner with Timothy B. Schmit, whose fleet, melodic bass guitar and high tenor vocals brought a seamless fit onstage and on their self-titled second studio album a year later. It was this line-up that was recorded at back-to-back concerts at the Boston Music Hall and New York's Felt Forum on September 22nd and 23rd, respectively
The quintet's early records met with modest sales, but onstage they were a force from inception, as captured by their third album and first live recording, "Deliverin'", released on January 13th, 1971.
Deliverin' opens at a gallop with "I Guess You Made It," showcasing Young's shapeshifting pedal steel, here routed through a Leslie speaker cabinet to emulate a Hammond B-3 organ. Like the Burritos' steel player "Sneaky Pete" Kleinow, Young shrewdly mixes classic steel technique with rock effects. Both the brisk tempo and the band's vocal zeal are signatures that recur throughout the set, with Poco noteworthy for spontaneous shouts closer to the days of the British Invasion than typical for the era.
Reflecting both Furay's prolific song writing output and the band's confidence in breaking in material on the road, the album includes three more previously unreleased songs, while devoting the other four tracks to more familiar works, starting with a leisurely performance of "Kind Woman," the Springfield track that first brought Furay, Messina and Young together. A warm ballad in waltz time, the song offers a breather between the uptempo songs and medleys that dominate their set.
The album's first medley welds a new Schmit song, "Hard Luck," with Furay's "A Child's Claim to Fame," introduced on Buffalo Springfield Again, and his title track for the Poco debut full-length. A testament to Young's technical command, his Dobro work here gives no ground to James Burton's studio take on the Springfield perennial. With tracks from their second studio album still percolating on FM playlists, the band refreshes one of Poco's best-received songs, Messina's "You Better Think Twice" (here listed as "You'd Better Think Twice") by shifting from the razor-edged electric lead figures Messina played in the studio to an acoustic setting their spoken intro flags as "down home," with Young moving to Dobro rather than steel.
For the album's closing track, the band revisits three of the debut album's songs in a medley framing Rusty Young's lively pedal steel instrumental, "Grand Junction," with two more Furay originals, "Just in Case it Happens, Yes Indeed" and "Consequently, So Long."
Across its brisk 39 minutes, Deliverin' maintains a lighter touch than harder blues-leaning rockers of that era, consistently pushing vocal harmonies higher thanks to Schmit's and Furay's ease at slipping into falsetto head tones. Coupled with the band's instrumental dexterity, that style was what galvanized that first audience at the Troubadour and would continue to be a hallmark of the band and an influence on peers and successors such as Pure Prairie League, Firefall and the Eagles.
That Deliverin' conveyed their potency as a live band was borne out by sales handily outstripping their two studio albums, reaching #26 on the album chart and yielding a minor hit in "C'mon" that validated their confidence in emphasizing new material rather than familiar album tracks. But internal squabbles would again interrupt Poco's forward momentum, this time between Furay and Messina, who chafed at Furay's control, leaving the band less than a month after those live shows to partner with a more compliant Kenny Loggins and bequeathing his perch in Poco to Illinois Speed Press alumnus Paul Cotton.
Young's steady commitment to the band would provide the constant that enabled Poco to become one of the longest-running country-rock outfits, based in Colorado where the native Californian was raised. Furay would remain with the band for three more albums, quitting in 1973 to join J.D. Souther and Chris Hillman in the ill-fated Southern Hillman Furay Band, while Schmit would leave four years later to join the Eagles, replacing Meisner for a second time.
Poco's most successful album came a year later, with 1978's Legacy reaping the hit profile for which Furay and Messina had hungered. Its breakout hit was "Crazy Love," written and sung by Young, the last man standing from the original band. Young's persistence would enable Poco to survive subsequent label and line-up changes, securing the band's induction into the Colorado Music Hall of Fame in 2015, two years after Young's formal retirement.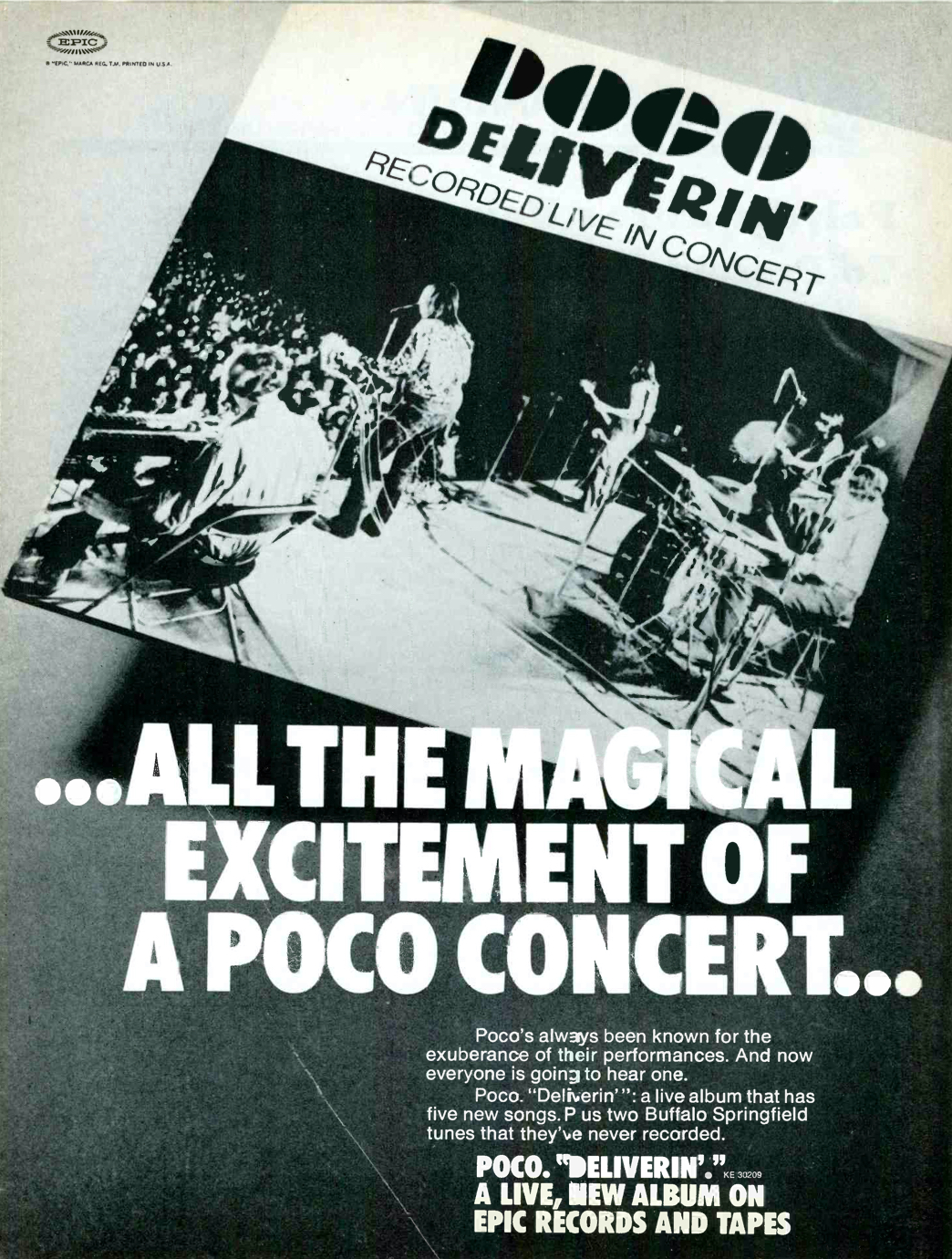 .