Hope Sandoval and The Warm Inventions – Son Of A Lady
Hope Sandoval And The Warm Inventions are Mazzy Star's Hope Sandoval and My Bloody Valentine's Colm Ó Cíosóig. This limited 10″ vinyl features new tracks alongside recordings from their 2016 critically acclaimed LP 'Until The Hunter' sessions.
The release includes an acoustic version of their album favourite 'Let Me Get There' featuring Kurt Vile as well as three new tracks Sleep, Son Of A Lady and Antiquity – the latter track being exclusive to the vinyl format.
'Until The Hunter' also featured guest performances from longtime friends and collaborators Dirt Blue Gene, Mariee Sioux, Kurt Vile and the 'Artist General' Michael Masley.
Siv Jakobsen  –  The Nordic Mellow
Having impressed with single Like I Used To earlier in the year, Norwegian songwriter Siv Jakobsen is now making waves with her debut album. Produced by Matt Ingram (Laura Marling, The Staves) at Urchin Studios in London, The Nordic Mellow is a brooding and intense work, loaded with the intimacy of her delicate voice, acoustic guitar, strings and unfiltered lyrics, that calls to mind the earlier works of Ane Brun and Laura Marling. It follows her seven-track EP from 2015, The Lingering.
Julia Jacklin  –  Eastwick / Cold Caller
Limited 7″ on Light Blue Vinyl. Julia Jacklin releases a new 7″ released via Transgressive Records. The first single Eastwick is a captivating, slow building track, inspired by a night in front of the TV watching Dancing With The Stars. It's a bittersweet and mourning pop nugget.
Slotface – Try Not To Freak Out
Following 2 critically acclaimed digital-only EP's, Slotface return with their debut album Try Not To Freak Out recorded with producer Dan Austin (Pixies, Doves, Queens Of The Stone Age). Try Not To Freak Out is nothing short of a massive rock record – one that weds the pop nous of Robyn and Blondie to the exuberant, freewheeling attack of bands like Joyce Manor and Little Big League.
Flowers  –  Say 123
Limited Edition Red Vinyl 7" (300 copies). London trio Flowers return with a new single via Fortuna Pop!, the last to be released on the label, singer Rachel Kenedy's ethereal vocals and Sam Ayres textured guitar are, as always, backed by the powerful, metronomic beat of drummer Jordan Hockley. Rachel told us a little bit about the genesis of the recordings: "Sean from Fortuna Pop! is sadly moving on to greener pastures in Japan and ending the label, but he asked us to do one last single for him, as we owed one for his Jukebox 45s Singles Club. We don't know where we'll end up next after Fortuna Pop!, so rather than looking forwards for this single we decided to be nostalgic and do something that, for us at least, is classic. For the three of us in the band, "Flowers" has always meant our live performances and our home demos, of which Sam and I have produced hundreds and hundreds (we write them every day), and most of which will probably never be heard by anyone except us, our dog and our long-suffering neighbours. Say 123 is one of these home recordings. The best bit is at the end. The b-side, Rhodes, was recorded at Big Jelly Studios, where we'd gone to record an EP. We realised after recording the songs we'd brought with us that we'd made a mistake, as the songs weren't quite right or ready yet. But while we were there, we fell in love with the sound of the Fender Rhodes in the corner of the studio. With about half an hour left before the van arrived to take us back to London, Sam quickly played me some chords on guitar and hummed a melody for a verse. I got out a pencil and paper and somehow by the time all our gear was loaded into the van we'd written and recorded this song (we did it live and used one take)."
Susanne Sundfor  – Music For People In Trouble
Acclaimed Norwegian singer-songwriter and producer Susanne Sundfor releases her highly anticipated new album Music For People In Trouble, through Bella Union. Sundfor's most poignant and personal album to date, Music For People In Trouble marks her out as one of the most compelling artists in the world. The album was inspired by a journey Susanne made in a bid to re-connect, travelling across continents to contrary environments and politically contrasting worlds from North Korea to the Amazon jungle.
Courtney Marie Andrews  –  Sea Town / Near You
Courtney Marie Andrews brings you the first new recordings since her highly successful album Honest Life. With an album already tipped for a place in everyone's end of year lists under her belt, Courtney Marie Andrews wastes no time in following it up with two brand new songs. Songs written on the road about being on the road – "I've probably driven north up I-5 towards Seattle five hundred times by now. I wanted to write a song that documented that feeling I get when I'm driving back up north after many months spent on the road. So much of my life has been spent driving that portion of highway, and I wanted to sonically capture the feeling I get when I'm headed north for that sweet Sea Town." These two songs are exclusive to this release.
Ariel Pink –  Dedicated To Bobby Jameson
Los Angeles's prodigal songwriting son Ariel Pink shares his eleventh studio album, "Dedicated to Bobby Jameson". The album's title makes a direct and heartfelt reference to a real-life L.A. musician, long presumed dead, who resurfaced online in 2007 after 35 reclusive years to pen his autobiography and tragic life story in a series of blogs and YouTube tirades. Standout tracks from Dedicated to Bobby Jameson include Feels Like Heaven, a lovelorn insta-classic paying tribute to the promise of romance, Another Weekend, which encapsulates the lingering euphoria of a regrettable weekend over the edge, "Dedicated to Bobby Jameson," a rah-rah psych romp paying homage to L.A.'s punk history, and Time to Live, an ironic anti-suicide anthem that promotes survival as a form of resistance before devolving into a grungy, Video Killed the Radio Star-style breakdown that supposes life and death as being more or less the same fate and embraces the immortal anarchy of a rock song as an alternative to the prison of reality. Alternately contained and sprawling, Dedicated to Bobby Jameson is a shimmering pop odyssey that represents more astonishing peaks and menacing valleys in the career of a man who, through sheer originality and nerve, has become an American rock and roll institution. The album marks his first full-length release with the Brooklyn-based label Mexican Summer.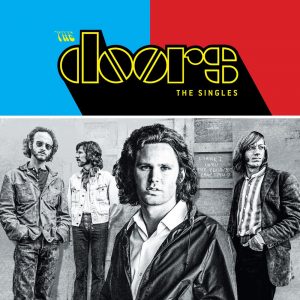 The Doors   –  The Singles
Singles compiles all 20 of the singles from The Doors' official discography. This not only includes every A and B-side from their core studio albums, but several albums recorded and released after the passing of frontman Jim Morrison, including Other Voices (1971) and Full Circle (1972) plus An American Prayer (the divisive 1978 album which put Morrison's poetry recordings to music) and the 1983 live set Alive, She Cried. All tracks are sourced from the original analog single masters and remastered by the band's engineer Bruce Botnick. That means all the original, unique and rare single mixes and edits will appear in this set, many for the first time on CD. The pot is sweetened even further with the presence of mono radio versions of "Hello, I Love You," "Touch Me," "Wishful Sinful" and "Tell All the People," entirely unreleased since their appearance on promotional singles.  Two deluxe editions will also be available. One adds to the 2CD set a Blu-ray Audio disc of 1973's quadraphonic The Best of The Doors. A vinyl version, limited to 10,000 copies and available through the band's official web store, features all 20 45RPM singles in replicas of their original sleeves (with an enclosed poster featuring all those sleeves as well).
Deer Tick  –  Vol 1
Deer Tick  –  Vol 2
Deer Tick proves with their two new simultaneously released albums titled, Deer Tick Vol. 1 and Deer Tick Vol. 2 that their punk-roots rock have only gotten better with age since their last LP. The twin albums complement one another but also stand independently. Vol. 1 is classic Deer Tick: folk-rooted acoustic guitars and soft piano cushion out-front vocals. Vol. 2 commits wholly to the band's longtime garage-rock flirtations for a triumphant foray into punk. McCauley sees the two records as a natural progression as he's always had one foot in each door. It's been four years since Deer Tick's last release, Negativity. In the meantime, Deer Tick – an all-consuming band known for constant touring and steady artist output – took a backseat. The band – made up of McCauley, guitarist Ian O'Neil, drummer Dennis Ryan, and bassist Christopher Ryan pursued solo and worked on others' projects. Personal lives also underwent massive changes, especially for McCauley, who married Vanessa Carlton and became a dad. When the band came back together for their beloved after-party shows at the Newport Folk Festival, the reunion reminded them what they missed about creating with one another so they started making plans to go in the studio.
Steve Miller Band  – Ultimate Hits
Steve Miller Band's Ultimate Hits, available as standard (1CD/2LP) or deluxe (2CD/4LP) packages, features the many AOR-oriented hits that made Miller's first compilation, Greatest Hits '74-'78, one of the highest-selling albums in America, including "The Joker," "Rock'n Me," "Fly Like An Eagle" and "Jungle Love," plus later hits like "Abracadabra" and "I Want to Make the World Turn Around."  Rarities abound on both sets: the standard version includes unreleased live versions of "Living In The USA" and "Space Cowboy" plus a solo rendition of "Seasons" from Steve Miller Band's 1969 album Brave New World. The deluxe edition features 40 tracks total, including all those rarities plus unreleased live versions of "Gangster of Love" and "Kow Kow Calculator," a demo of "Take the Money and Run" and unheard studio versions of "Baby's Callin' Me Home" and "In the Midnight Hour," for a total of eight bonus tracks in all
Shawn Colvin – A Few Small Repairs – 20th Anniversary
Columbia / Legacy Recordings celebrate the 20th anniversary of Shawn Colvin's masterpiece, A Few Small Repairs, with the release of a newly expanded edition of the album. A Few Small Repairs includes the Grammy Award-winning Sunny Came Home plus chart-toppers You and The Mona Lisa and Nothin' On Me (the theme song for the NBC sitcom Suddenly Susan). A Few Small Repairs reunited her with producer / cowriter John Leventhal (who'd helmed Steady On) and proved a watershed in the artist's career and musical evolution. While her previous albums were founded mainly upon first-person confessionals, A Few Small Repairs saw Colvin foray into third-person storytelling with a powerful impact. Drawing from the downs and ups of her own life experiences, Shawn Colvin crafted an album of emotional complexity, nuance and revelation, combining images of traditional femininity and domesticity–wedding gowns, kitchens, white picket fences–with images of tools as metaphors for reparation. The album paints a searingly honest portrait of the scope of human relationships, from the acrimonious Get Out of This House to the wistful The Facts About Jimmy, a duet with Lyle Lovett, to the quiet resignation of Wichita Skyline to Sunny's ultimate act of revenge in Sunny Came Home. With brutal honesty, Colvin examines the harrowing potential for emotional damage to the redemptive power of subsequent emotional redemption. This 20th anniversary edition is a newly remastered and expanded edition, featuring the 12 track original album (remastered) plus 7 rare and unreleased bonus songs. Enhanced artwork, includes newly written liner notes by Shawn Colvin and producer John Leventhal, plus recently discovered archival photographs.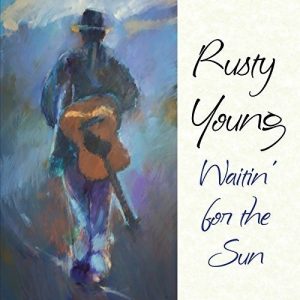 Rusty Young  – Waitin' for the Sun
Poco's Rusty Young has a new solo album featuring ten original compositions inspired by artists and friends such as Neil Young, Stephen Stills, and America's Gerry Beckley.  Waitin' for the Sun was recorded at Cash Cabin in Hendersonville, Tennessee.
Linda Ronstadt – Simple Dreams 40th Anniversary Edition
40 years ago, Linda Ronstadt released one of the most successful albums of her ground breaking career in 1977 with Simple Dreams. The new expanded version features remastered audio plus a trio of live songs taken from a 1980 concert performance. Simple Dreams spawned two massive hits thanks to Ronstadt's cover of Buddy Holly's It's So Easy and Roy Orbison's Blue Bayou earning Ronstadt Grammy nominations for both Record of the Year and also Best Pop Vocal Performance Female. The album also won the Grammy for Best Recording Package. Along with major hits, Simple Dreams also featured several tracks that would emerge as fan favourites, like the singer's take on Warren Zevon's Poor Poor Pitiful Me and the Rolling Stones' Tumbling Dice. Country superstar Dolly Parton joined Ronstadt on the traditional ballad I Never Will Marry. Almost a decade later, Ronstadt, Parton, and Emmylou Harris would release their first Trio album. In addition to newly remastered sound, the Expanded Edition of Simple Dreams also includes bonus live recordings of It's So Easy, Poor Poor Pitiful Me, and Blue Bayou. All three are taken from a concert recording that originally aired on HBO in 1980 and are available here for the first time as standalone audio tracks.