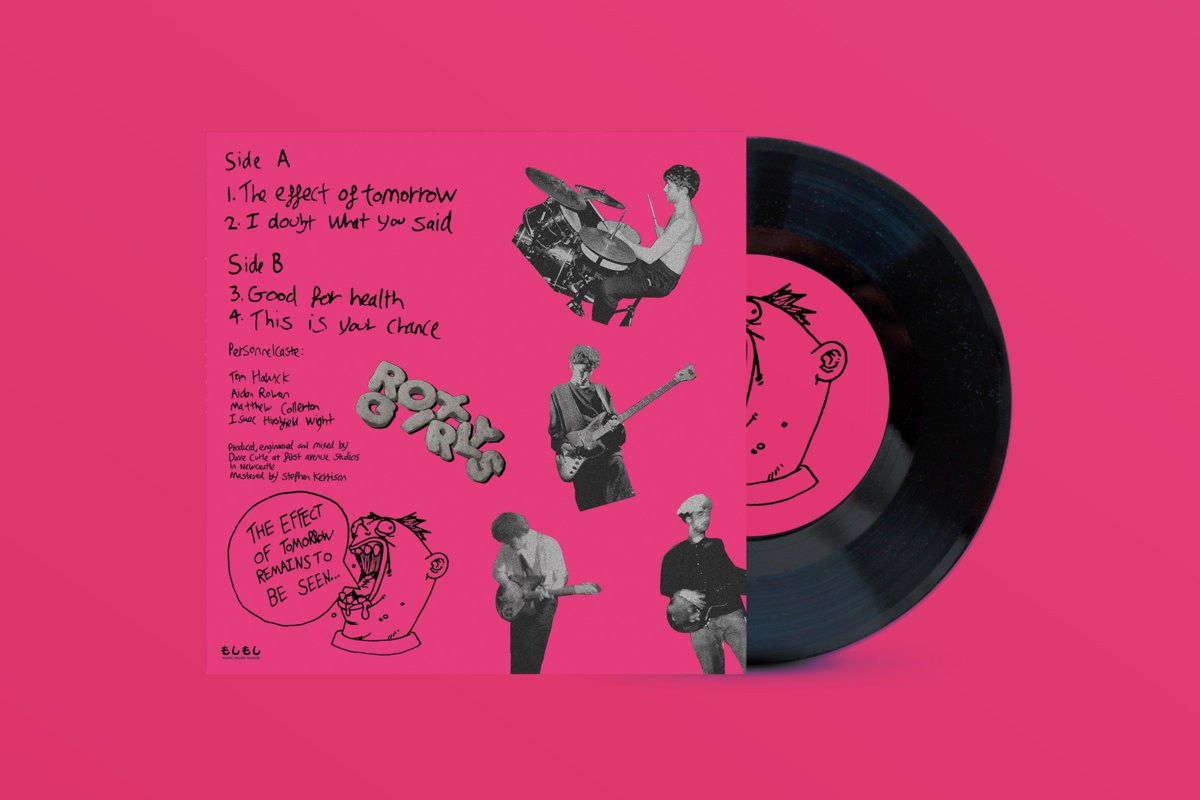 Like all involved in the arts and culture sector, Roxy Girls haven't been able to pursue their passion for performing live since March. During the slight reprieve between lockdowns, however, the four-piece were able to reunite to record a new EP. The four-track record has been released as a limited edition vinyl, with 75% of profits going towards Sunderland Foodbanks, who've provided a lifeline service to the city's most vulnerable during the pandemic. Made up of Tom Hawick on lead vocals and guitar; Isaac Hirshfield-Wight on guitar and vocals; Matthew Collerton on bass and Aidan Rowan on drums, the band had already built up a firm following in their native Sunderland and were gaining real momentum, with their first headline UK tour booked, before lockdown hit.
Tom, who founded the band with Isaac after the pair met as teenagers at the city's Pop Recs culture hub, said: "We had the opportunity to finally get together in August and it was very much needed. We've all been doing our own musical endeavours in lockdown, but that was the first time we could actually get together. As performers, our entire life has been turned on its head and it's been really difficult.
Recorded over two much needed days at First Avenue Studios, Newcastle Upon Tyne. The Effect of Tomorrow was only meant to have 100 vinyls pressed, but after all 100 were pre-ordered, subscription service Flying Vinyl donated a further 100 to the cause, with around 90 of those left. Discordant mackems in every which way.
Tom lives with Isaac and the pair already have a backlog of songs written during lockdown, which they're hoping to be able to perform with the rest of the band for audiences next year.
The singer said: "Having such a backlog of songs is one positive to come out of this and puts us in a really good position for when we're coming into our first album. We're confident we'll be doing gigs again next year and we're already getting offers in for next summer. Rather than rescheduled dates, they're new offers, which is great."
*The Effect of Tomorrow limited edition pink vinyl is £6.99 and is available from the Roxy Girls Bandcamp page.
Released November 23rd, 2020
Written and produced by The Roxy Girls
The Roxy Girls are,
Tom Hawick – Guitar and Vocals
Isaac Hirshfield-Wight – Guitar and Vocals
Aidan Rowan – Drums and Percussion
Matthew Collerton – Bass and Turner Rollies