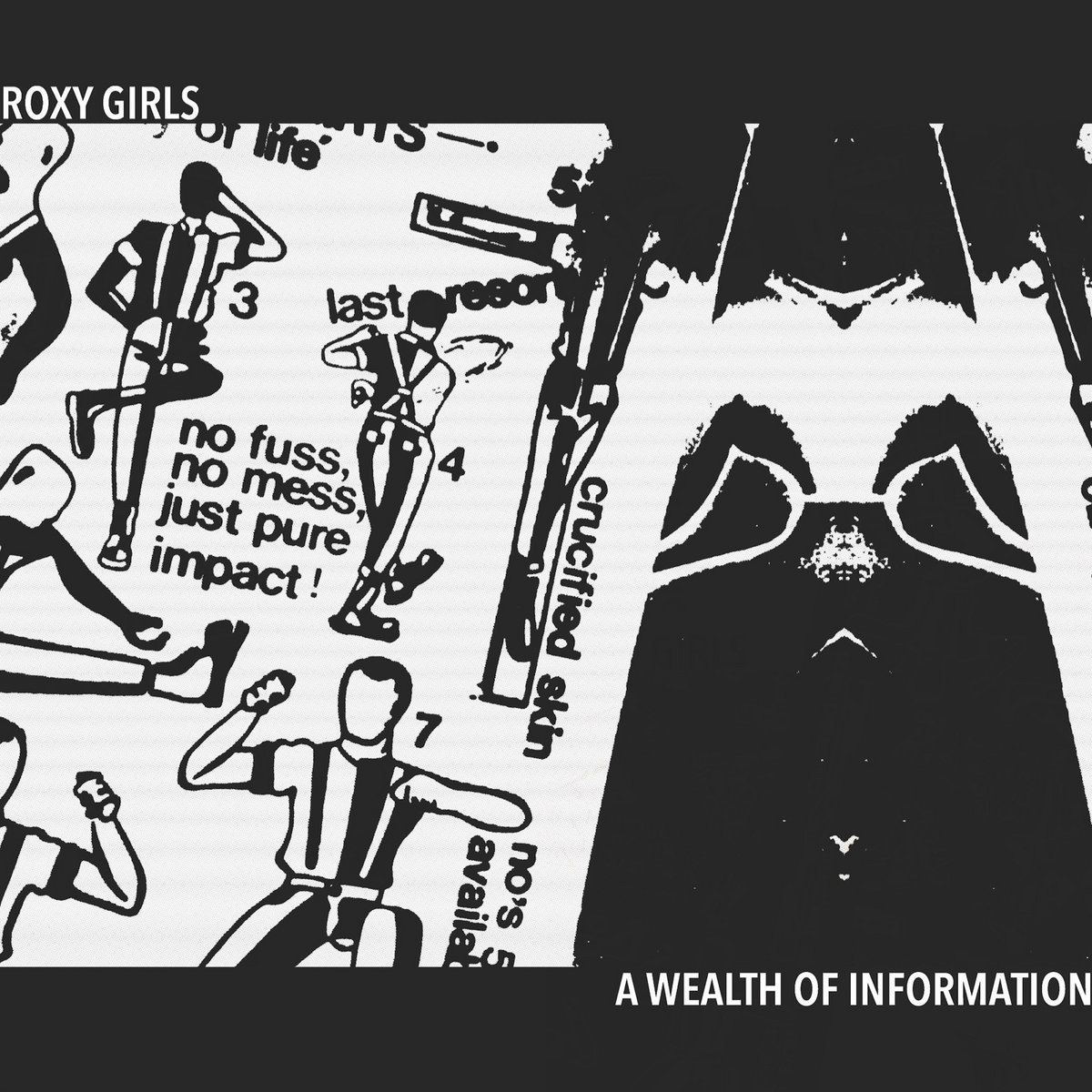 'A Wealth Of Information' sees Roxy Girls expand on their unique and idiosyncratic take on the post-punk format. Whilst the band still conveys the same breathless intensity and intricacy in their instrumentation, the new material also finds them developing on their stripped-back sound and experimenting with warmer and more densely structured dynamics. Whereas 'A Poverty Of Attention' introduced Roxy Girls high-energy and mordacious lyrical humour to the world, 'A Wealth Of Information' exemplifies a more considered insight to the band. Whilst the musicianship is still largely rooted in hook-driven indie-rock territory, the new EP shows a very natural evolution of a sound that has become completely their own.

Speaking about the new EP, Tom Hawick (frontman) says, "A progression in musicianship and technicality, A Wealth Of Information takes A Poverty Of Attention and flips it on its head. Focusing on the tropes of 21st century living and the mundanity that comes with it, these songs focus on themes that have, in one way or another, affected each mortal modern human life."
Sunderland band, Roxy Girls consists of… boys and kit on his A wealth of information, released by Moshi Moshi Records, a good string of pieces of post-punk obedience, nervous and no frills although not hesitating, within a single essay, to change lanes. Active, in terms of releases, since 2017, the English have been plotting with Dirtier, establishing a punk emergency, recalling Parquet Courts and touching the impact. Commands ,just as jerky and in between, evokes Gang of Four for the raw riffs a tad funky, and demonstrates that here, it seems that we came across a bunch of four guys who do things without derailing, with a youthful spirit that makes them win, again, in impact. You Have To Waste Your Time (if it's to listen to this skeud, it won't be a waste of time), based on a similar approach, also unfusses on a short time that makes it all the more efficient. Poor Cow, at first hesitant, then sets up his jolts without softness, his songs allied to the snatch. We're a taker.
The sketch takes well, it sends itself a draft. Suddenly, she breaks, slightly tempers the ardour of the men. The droid features chatty guitars, one of the advantages of the quartet of Tom  Vocals/Six String, Matthew  Four String, Aidan  Drums/Cowbell, and Isaac  Vox/Six String. By regaling us with their late 70's impulses, with a rough modernism, the young wolves display real virtues.
All talk, its riffs and dry rhythms, confirms. This is a reliable tape, whose work betrays nothing wrong. It sends continuously, nuanced by remaining in excellence. At Moshi Moshi, it is rare for the product to smell bland. The proof here is assailed, with a noticeable aplomb. Get Up (Seize The Day), carried by the "high energy" mentioned on the Bandcamp of Roxy Girls, completes the work without crumbling. From a block, A Wealth of information reveals tense and vigorous tracks, crossed by a beautiful inspiration.
At the end, and after replay, we will go to explore the previous releases of the clique, while keeping an eye on the products of his laudable label. This one offers indeed, and in frequency, a nice scramble of records that deserve an extended stay in our readers of his indies.
Released June 5th, 2020