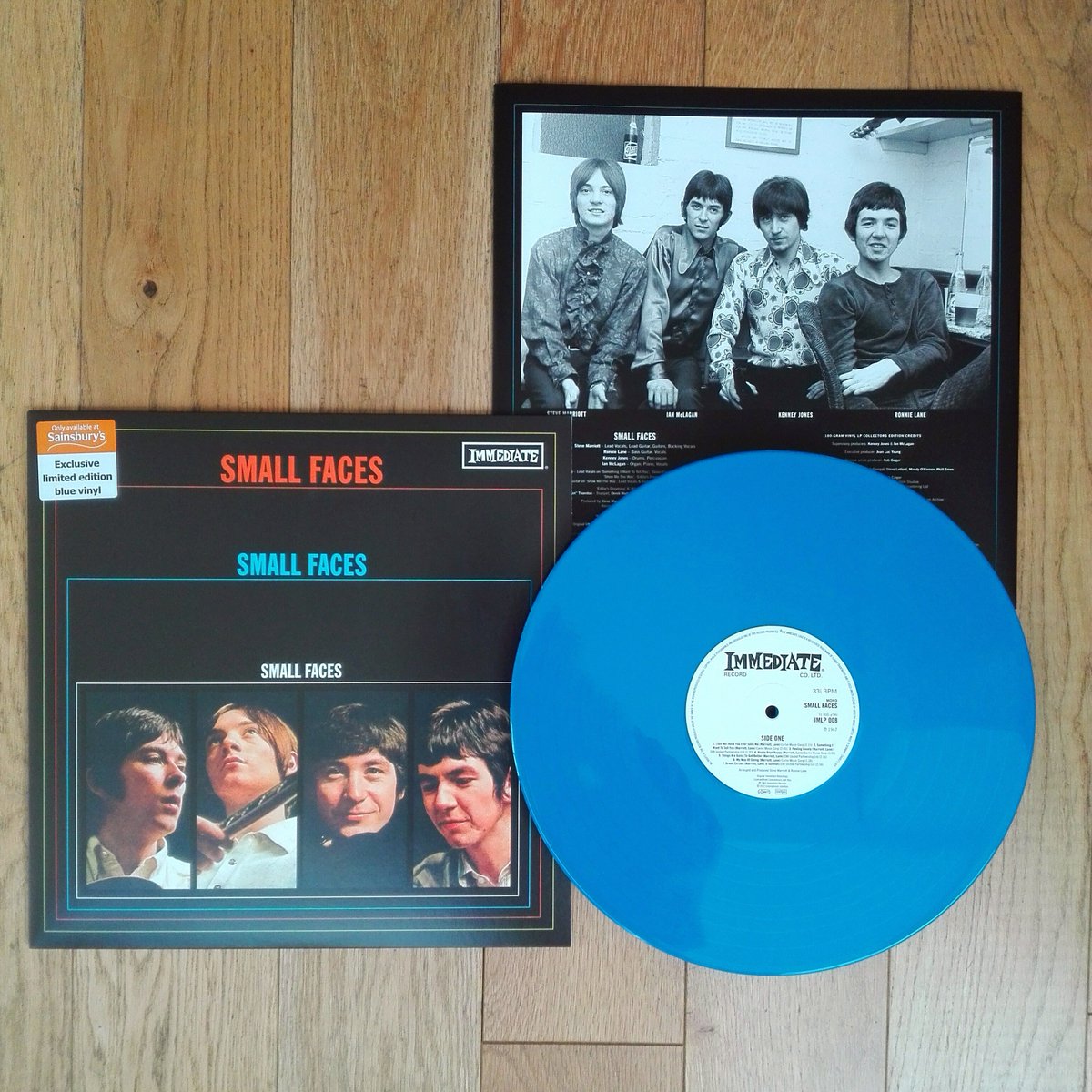 Released in June 1967 the same month as the Beatles' 'Sgt Pepper', 'Small Faces' is the band's first album for Immediate Records, recorded at IBC and Olympic Studios. With lead vocals shared between three band members it has been described as their first "grown-up" record and a "neglected gem" which saw them develop a more fully-formed sound.
The Small Faces were Mod to the core, but could also play instruments. The band members were lead singer/guitarist Steve Marriott, bassist Ronnie ("Plonk") Lane, drummer Kenney Jones, and organist Ian McLagan (who replaced Jimmy Winston early on). All four stood under 5 feet 5 inches tall (Eric Clapton, upon meeting them for the first time, said they all looked like little "haw-bits"). Their short stature, mischievousness, and stylish Carnaby Street threads made them the most eye-catching band in England for a time,
Two extraordinary Small Faces release from Immediate Records albums were requested by Sainsburys as exclusive coloured vinyl editions. Released 1st June and limited to 2,500 and in every UK Sainsbury's that stocks vinyl. Ogdens' is stereo, Small Faces mono. The last five years have seen a massive programme of tape recovery and upgrading with the full co-operation and endorsement of both surviving band members. Kenney Jones has given access to his personal tape archive and many of the band's original master tapes and session multi-tracks, previously lost for over forty years, have been discovered and re-mastered. It is thus now possible to present the Small Faces' recordings sounding better than at any time since the 1960s. The Re-Masters series also presents a host of newly discovered tracks and alternative versions, alongside original artwork, photos, rare publicity material and memorabilia with comprehensive new sleeve-notes based around band interviews.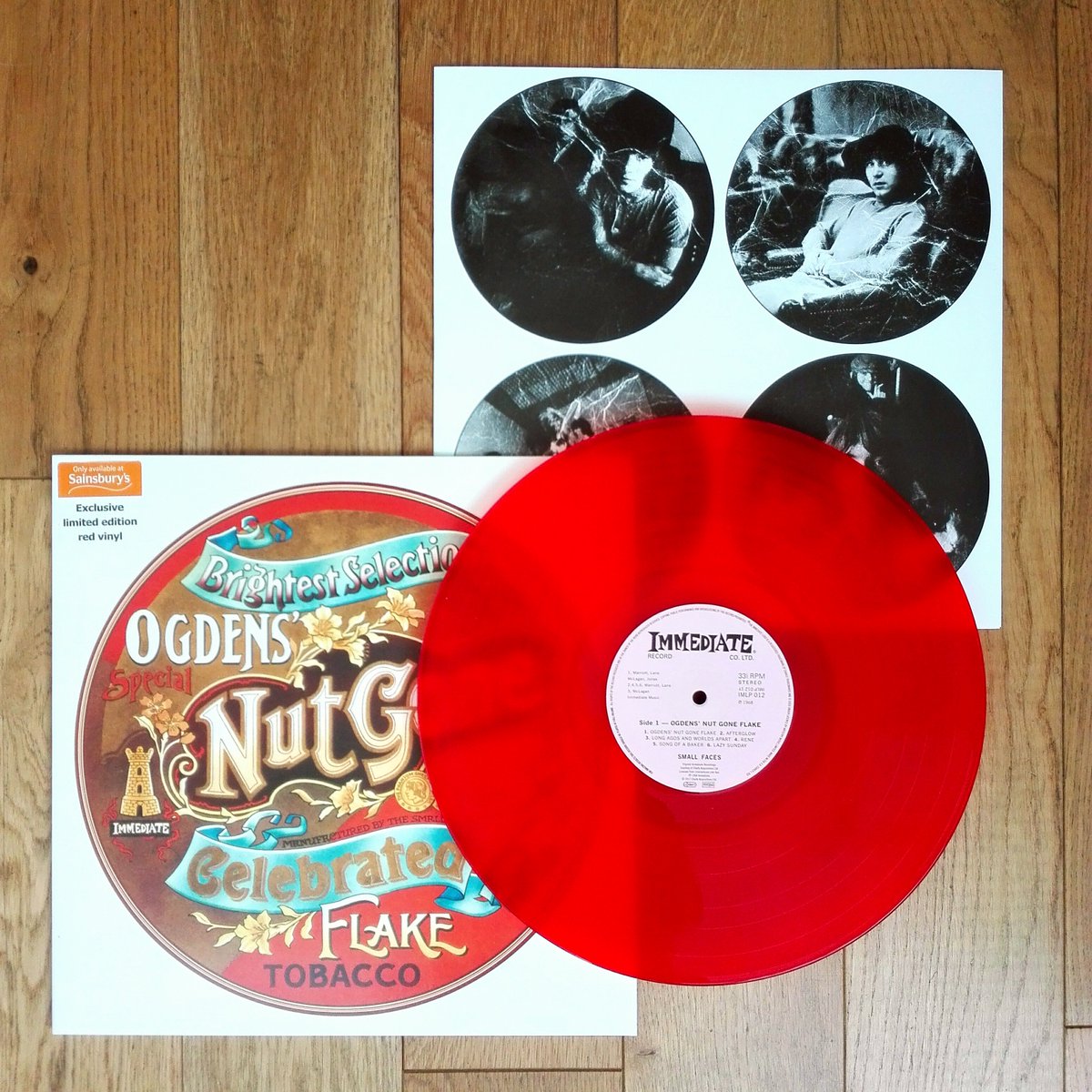 One of Britain's most influential bands of the Sixties and a major influence on the new wave of Britpop bands, the Small Faces hit their creative and commercial highpoint with their psychedelic concept album Ogdens' Nut Gone Flake. Released in May '68. Ogdens' Nut Gone Flakeis considered a classic by "those in the know," but often overlooked when classic rock albums are bandied.
Ogdens' was the first record released in a round sleeve, designed to resemble an old tobacco tin, and the name parodies an 1899 brand of tobacco. The sleeve unfolds to four circles with moody black-and-white pics of the band members by famous photographer Gered Mankowitz . Musically, Ogdens' is equally mind-blasting. After the Beatles' Sgt. Pepper, Ogdens' was the first "concept album," preceding both S.F. Sorrow by the Pretty Things and The Kinks Are the Village Green Preservation Society by several months. The second side is a Ronnie Lane-inspired musical fairy tale about "Happiness Stan," who goes on a quest, assisted by a friendly fly, to find the other half of the "dangly" moon. Linking various musical snips is daft narration by English comic Stanley Unwin, who combined the Small's cockney slang with his own nonsensical "Unwinese" speak
A bona fide classic of the late Sixties, Ogdens' was released on the famous Immediate label in the summer of 1968 and went straight to the number one spot in the UK album chart, remaining there for six weeks. A heady blend of cockney music-hall humour, tough rock numbers, blues and psychedelia, it spawned two of the group's biggest hit singles in Afterglow (Of Your Love) and Lazy Sunday.
The six tracks which made up side two of the original LP are introduced by Stanley Unwin, one of Britain's most popular comedians of the day, renowned for his inventive use of English.
The fourteen bonus tracks are highlights from the group's time with Immediate Records from 1967 to 1969.
As well as hit singles such as Itchycoo Park, Here Come The Nice and The Universal, these include live recordings of Tin Soldier and their 1966 Decca number one single All Or Nothing, plus their memorable duet with label mate P.P. Arnold.
The Small Faces : Steve Marriott on Vocals and Guitar, Ronnie Lane on Bass, Kenney Jones on Drums and Ian McLagan on Wurlitzer Piano and Hammond Organ were rogues and rounders,