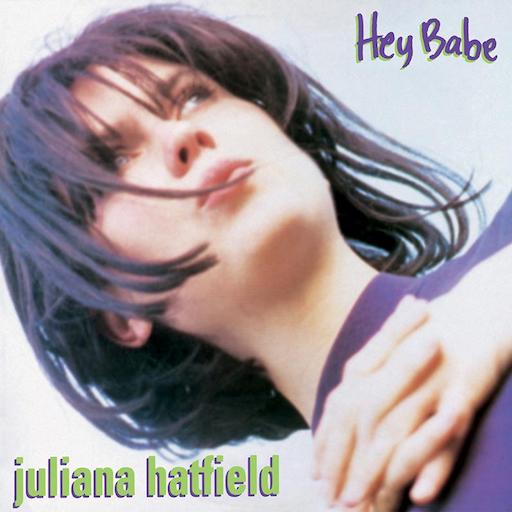 The early '90s were very good to Juliana Hatfield. In the first half of that decade, she contributed to the best album by her former band Blake Babies, released two fantastic solo albums and one with a new project, The Juliana Hatfield Three, and played bass on The Lemonheads' greatest achievement "It's A Shame About Ray". It's a period of Hatfield's career ripe for rediscovery, even as she continues to release fine new music currently.
Juliana Hatfield's debut album Hey Babe. Filled with effortless melodies and catchy guitar riffs. Hatfield's intelligent, hook-laden songs shine here in here exceptional debut.
A great first step is to listen to this new vinyl edition of her 1992 solo debut, Hey Babe. The album belies its heartbroken, self-reflective songs through Hatfield's chirpy delivery of her lyrics and the urgent grind of its guitar rock (with help from members of Bullet Lavolta and fIREHOSE). All of that is rendered with sharp definition on this new pressing of the LP. This music needs clarity like this to let every shard of Hatfield's broken heart stick in the listener's skin while the music surges and blooms around the room.
It's release from 1992 was the inaugural year of the "women in rock" era: a stretch of several years when artists from Courtney Love and PJ Harvey to Meredith Brooks unwittingly formed a cohort of so-called girls with guitars and the phrase "girl power" seeped into the popular lexicon from the underground precincts of the riot grrrl scene.
Juliana Hatfield was at the heart of this zeitgeist. In 1992, Hatfield had just broken up her college band Blake Babies and released her solo debut Hey Babe on Mammoth Records. Hey Babe was among the most successful independent releases of the year; 25 years on, it remains a largely forgotten minor masterpiece. Hey Babe offers a landscape of emotion – self-disgust, second-guessing, depression, cautious optimism – that has no place in a reception model so narrowly hinged on "empowerment". The album dwells on muddled feelings, elevating confusion and insecurity over anger. Its 11 songs build entire worlds out of the state of feeling small, delivered in a voice that skids from girlish wail to shattered mumble. The album's centrepiece is the song Ugly, an acoustic instruction manual on living with low self-esteem. "I'm pretty lost but I don't want to be found/ My tiny screams don't make a sound," sings Hatfield.
Hatfield herself stopped playing its songs shortly after it was released. "Immediately after recording the album, I was really embarrassed by it," she explained , "but now I'm really proud of myself." Hey Babe will strike a chord with a new generation of listeners who are shy, ambivalent, inward and emotionally complex.
Sean Glonek at SRG Studios newly master from the original 1/4″ analog tapes. The artwork has been recreated from the original LP art but with a little twist thanks to the skill and creativity of award-winning designer, Aaron Tanner of Melodic Virtue. This exclusive limited-edition pressing, in a single-pocket gatefold jacket, was pressed by hand at Burlington Record Plant in Burlington, VT.
"Hey Babe" was produced by Gary Smith (Pixies, Throwing Muses, Blake Babies), and was originally released on Mammoth Records back in 1992. The album featured a bevy of guest players, including Mike Watt, Evan Dando, John Wesley Harding, Clay Tarver, Chick Graning, and Todd Philips.
This special 25th Anniversary Reissue is produced and distributed by American Laundromat Records, Inc. under license from Mammoth Records. .
Check out :
Undiscovered Planet – A Short Film by David Doobinin (with Juliana Hatfield) Shot, Directed and Edited by David Doobinin Starring Juliana Hatfield with Ayla Huguenot, Maia Devoy, Ananda Liveright
Songs "Touch You Again" (Juliana Hatfield) "Everything's For Sale" (Juliana Hatfield) "Wipe It Up" (Juliana Hatfield/John Strohm) "Instrumental" (Juliana Hatfield) "Lost Ship" (Juliana Hatfield) "I Don't Know What To Do With My Hands" (Juliana Hatfield/Matthew Caws)
"David (Doobinin) shot and directed the two videos from my Olivia Newton-John album and he has photographed me, too, and I've really liked working with him. There is a casualness to his style that puts me at ease–he doesn't push too hard. And I like the results. He manages to capture something real about who I am and how I see myself, and not many photographers/vidoegraphers are able to do that. I was talking to David about maybe working with me on a larger project like perhaps documenting the making of my next album. As of now we've had trouble scheduling that but we did have time to sort of get our feet wet and shoot some everyday documentary footage in and around my home, which we thought made an interesting little short film." – Juliana Hatfield "What always struck me about Juliana the previous times we worked together is her physicality. The way she moves through each moment. It's an unselfconscious dance that teeters between a stumbling Chevy Chase and a Runway Model. She has this fearlessness in her music and the way she lives her life. I wanted to try and capture some of that." – David Doobinin