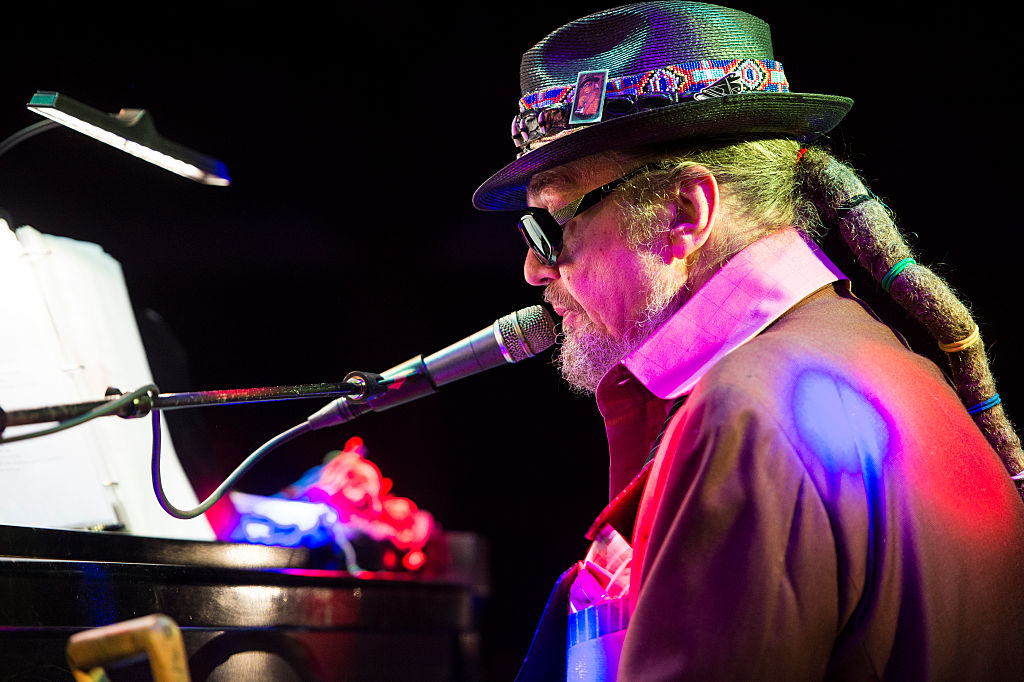 The family of the Louisiana-born musician known as Dr. John says the celebrated singer and piano player who blended black and white musical influence with a hoodoo-infused stage persona and gravelly bayou drawl, has died. He was 77. A family statement released by his publicist says Dr. John, who was born Mac Rebennack, died early Thursday of a heart attack.
His spooky "Gris Gris Gumbo Ya Ya" slithered onto the pop-dominated market in 1968, startling listeners with its sinister implications of other-worldly magic..
In the summer of '97, the love of indie music was at its most highpoint with Spiritualized's Ladies and Gentlemen We Are Floating In Space. Dr John plays on the awesome "Cop Shoot Cop,".
Dr John classic vinyl of Gris Gris. Mac Reddenback recorded it in L.A. with some NOLA studio musicians its a melange of psychedelic choogle with swamp gas vocals. It is one of the truly original listens in pop history. It's singualar in the way Astral Weeks doesn't really have a parallel, or the first Suicide album is true standalone.
the startling brew of voodoo funk and strange incantations, epitomised by the eerie eight-minute mantra "I Walk on Guilded Splinters". Nobody had heard anything like it, including his label boss, Ahmet Ertegun. "Ahmet asked me: 'What is this record you gave me … Why didn't you give me a record that we could sell?'" Dr John recalled. He took the album on tour with a show resembling a bayou magic act, decking himself out in outlandish feathers, witch-doctor robes and headdresses.
Two follow-up albums to Gris-Gris – Babylon (1969) and Remedies (1970) – began to make him influential friends, including Eric Clapton and Mick Jagger, who both appeared on The Sun, Moon & Herbs (1971), After The Sun, Moon & Herbs he brought out the album Dr John's Gumbo (1972), conceived as a tribute to New Orleans music, particularly the compositions of Professor Longhair . In 1973 he released the biggest selling album of his career, In the Right Place. Produced by Allen Toussaint and with the Meters as backing band, gave him a US Top 10 hit single with Right Place, Wrong Time. It also included Such a Night, which Dr John would perform at the Band's 1976 farewell concert, filmed by Martin Scorsese as The Last Waltz.
Born Malcolm John Rebennack in 1941 in New Orleans, he began taking music lessons as a teenager and was exposed to jazz and early rock 'n' roll at a young age. In 1965, he moved to Los Angeles, where he developed the Dr. John persona, inspired by New Orleans voodoo. His style of music initially blended New Orleans R&B with psychedelic rock, and his debut album "Gris Gris" was released in 1968, which was a bold and strange introduction to his singular sound. In 1973, he released what would become his biggest hit, "Right Place, Wrong Time," and over the course of his career he released two dozen albums. In 1997, he also collaborated with Spiritualized, performing piano on their sprawling track "Cop Shoot Cop."
In 2011, Dr. John was inducted into the Rock and Roll Hall of Fame. His last album was 2014′s Ske-Dat-De-Dat: The Spirit of Satch,