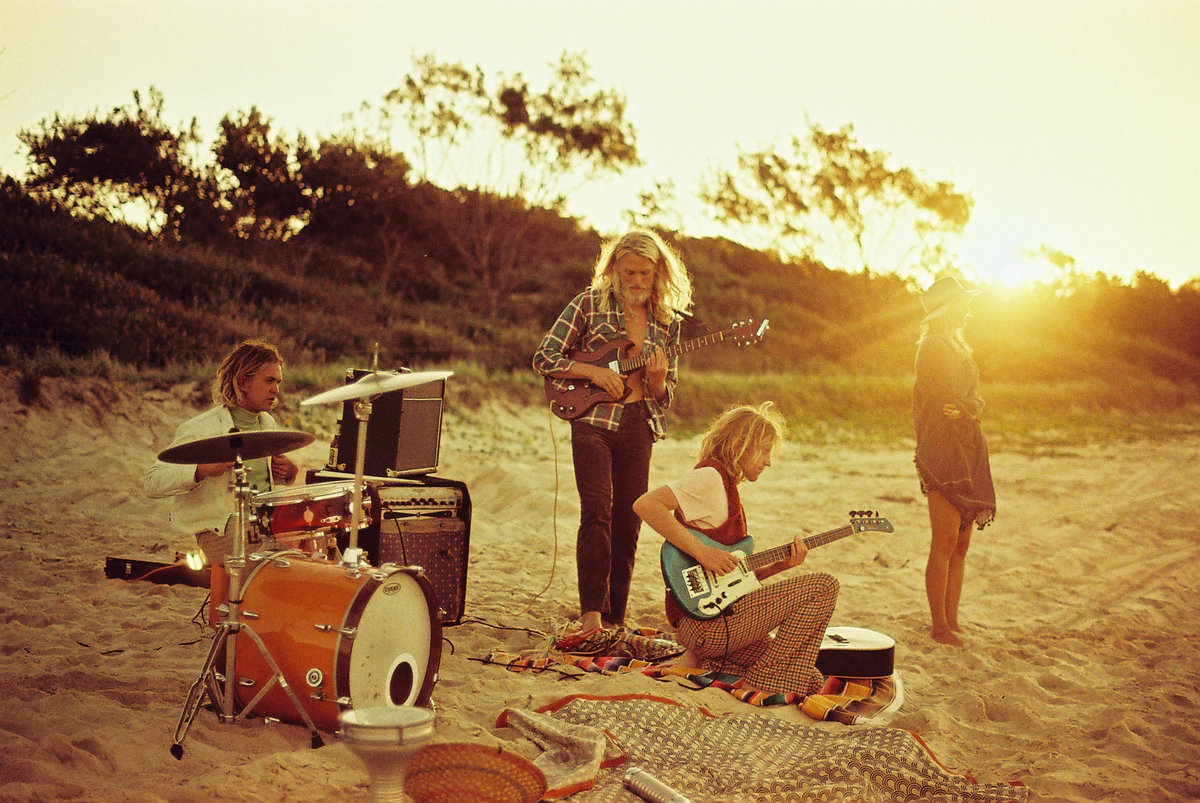 The Babe Rainbow was formed in the summer of 2014 by Angus Dowling and Jack Laughlan Crowther in the coastal surf town of Rainbow Bay, Australia. Students of English, lovers of permaculture, riders of waves – the pair also found common ground in the 60's music like The Incredible String Band and Swing Mademoiselles. Their early singles attracted the attenion of Flightless Records who went on to release their breakout single Secret Enchanted Broccoli Forest. The band, which now includes Lucas Mariani and Jessi Dunbar, caught the attenion of US record producer, artist and now label owner Danger Mouse who signed them to his 30th Century Records. The album was produced by Stu Mackenzie (King Gizzard and the Lizard Wizard).
They come loosely from the same staple as King Gizzard and the Lizard Wizard, and are similarly enamoured of the less murky side of 60's psychedelia. Their album, Double Rainbow epitomises the summer vibe with its mellifluous harmonies, second-gear beat architecture and bright acoustics. Double Rainbow has some influences from the 60's such as The Beatles and Grateful Dead, as you'll read elsewhere, but what it really reminded me of was J.J Cale'sNaturally. Listen to 'Darby and Joan' and tell me you don't hear 'Call Me the Breeze'. Not only the song structure but J.J Cale's easy swagger and insouciance. Front porch therapy. Replete with tropical aromas, gentle breezes and cool temperament.
'Eureka' clamours successfully for that vibe as well, but ventures more into sunset party territory with accentuated wah-wah and a drummer riding the cymbals with free abandon. The album starts out with a song, 'The Magician', so assured, so beautifully written, it's hard to believe these guys have been only hanging together for a year and a half. Probably longer as surfing mates if the truth be known.