Lou Reed's influence has touched each new generation of music fans. These are his best albums, When American rock critic Lester Bangs called Lou Reed "a completely depraved pervert and pathetic death dwarf… a liar, a wasted talent, an artist continually in flux, and a huckster selling pounds of his own flesh", he was describing his hero.
Lou Reed famously changed his mind, frequently, regarding which of his songs he liked and which he loathed. But listen – he loved every last one of them. Every single second of every last one, OK?" There were many turkeys along the way, as well as many triumphs. Few artists in the history of rock'n'roll are as enigmatic as Lou Reed, and few have created a body of work as influential, erratic and controversial as with Lou Reed's, first seminal art-rock group The Velvet Underground and then as a solo artist.
Born Lewis Allen Reed in Brooklyn, New York on March 2nd, 1942, he was always an outsider. As a teenager he was subjected to electro-shock therapy intended to 'cure' homosexuality. In his early 20s he dropped out of university to work as a staff songwriter at Pickwick Records where he wrote novelty pop songs, completely at odds with his love of experimental jazz. It was at Pickwick that Reed met Welsh classically trained musician John Cale. The pair formed a band called The Warlocks, which by 1965 had mutated into The Velvet Underground, comprising Reed on guitar and vocals, Cale on bass, viola and organ, Sterling Morrison on second guitar and Maureen 'Moe' Tucker on drums.
The Velvets were a band ahead of time. Their debut album, released in 1967, was the antithesis of the Summer Of Love's hippie idealism. Their lo-fi sonics and Reed's dark lyrics proved too uncompromising for mass consumption, but the Velvets' influence would carry over generations, from David Bowie to punk rock and beyond. It was Bowie who helped Reed achieve his breakthrough success as a solo artist, co-producing 1972's "Transformer", the album that featured two of Reed's best-loved and biggest songs: "Walk On The Wild Side" and "Perfect Day". But pop stardom didn't suit Lou Reed, and in 1975 he attempted career suicide with "Metal Machine Music", an album comprised entirely of guitar feedback.
This maverick streak runs throughout Reed's career, as evidenced by his final two albums: the ambient electronica of 2007's Hudson River Wind Meditations, and the unlikely collaboration with Metallica on 2011's "Lulu". But it's with a guitar in hand that Lou Reed created his definitive work as a classic rock'n'roll anti-hero: the outsider, in black leather and shades, the original poster boy for heroin chic, the straight-talking poet laureate of New York City.
Lou Reed –  Lou Reed (RCA 1972)
After leaving the Velvet Underground, Reed debuted as a solo artist with a self-titled album in June '72, though most of the songs were originally played at Velvet Underground concerts, or were outtakes from "VU" recording sessions. Reed would establish himself as a major artist in his own right soon enough, but the songs just aren't strong enough here. My favourite always is the taut, very VU-ish "I Can't Stand It."

Lou Reed – Transformer (RCA, 1972)
"Transformer" remains a remarkable arranged marriage of gritty, witty words and pop succour. It anointed him the godfather of anti-stars, opening up a career that may otherwise have swiftly gone the way of all flesh.
"I don't have a personality of my own," Reed said in 1972. "I just pick up on other people's."
He'd come to London for a change of pace, to "get out of the New York thing", but his first, eponymous, post-Velvets solo album, recorded on the dirty boulevards of Willesden Green in West London, had stuttered rather than strutted. Nobody, least of all him, was sure where a former Velvet Underground frontman should go next.
Lou Reed may not have made much of an impact, but Reed's second album, "Transformer" co-produced by David Bowie and released just five months later that year was a revelation. Its most famous song is the hit single "Walk on the Wild Side," and "Perfect Day" has become something of a standard over the years. "Vicious" and "Satellite of Love" are quite well known as well. But I'll go with "I'm So Free," a catchy rocker that sounds like it could have been made by The Ramones (though that band didn't even exist yet).
Reed's self-titled solo debut included various Velvets leftovers and, most bizarrely musicians, Steve Howe and Rick Wakeman of Yes. Unsurprisingly it sold no better than the Velvets' albums. His second album, released just six months later, made him a superstar. The first time many of us clapped our eyes on Lou Reed was via Mick Rock's camera lens. "Transformer's" haunting, kabukistyle cover image was captured during Lou's debut London show, at King's Cross in July '72. Reed, hastily dressed to impress in a rhinestone jacket by Angie Bowie, gazes into middle distance, the Velvets in his rear view mirror, on the cusp of solo greatness. It's the ultimate Lou Reed shot.
There's the fabulous Rock 'N' Roll Heart-era shoot: Reed in shades, a leather jacket so small it could've been made for a child, under a see-through plastic jacket from Ian's of St. Mark's Place, an NYC boutique that did fetish before McLaren and Westwood, just as Lou did punk before Pistols and Ramones. There's bleached '74 Lou: mean 'n' moody, dead-eyed 'n' skeletal, magnificent. With lines inspired by Warhol ('hit me with a flower') and Mick Ronson restraining himself until the fade, it's a great "hate song".
Yes of course this should be number one… but we're non-mainstream, hardcore obsessive fans here, right? And if you're not being perverse and contrary, you're not doing Lou Reed right. Whether Lou liked it or not – and he argued both sides depending on that day's mood swings – it's the song which made his post-Velvets name and by which the world at large remembers him. He didn't even think it was a single. Inspired by Nelson Algren and the colourful characters and pansexual "superstars" he'd met at The Factory, its atmosphere, created by Herbie Flowers' two-note bass slide, The Thunder Thighs' "doo da doo"s and baritone sax from Ronnie Ross (Bowie's sax teacher) is immortal. Its purring sarcasm that transformed his career.
"Satellite Of Love" had been demoed by The Velvets in the "Loaded" era, but not with this level of grace and grandeur. The Bowie-Ronson arrangement is redolent of Drive-In Saturday, with the piano flourishing in all the right places and the backing vocals, finger clicks and handclaps extracting the pop from the pomp.
It's frequently tricky to deduce whether Lou's being open-hearted or slyly sneering. Is "Perfect Day" a transcendent, vulnerable love song or a subversive paean to smack? Of course, it's been taken out of his hands since – not least, insanely, by the likes of Boyzone and Pavarotti on the BBC's chart-topping 1997 Children In Need interpretation. Yet even upon "Transformer's" release, most listeners heard genuine romance: sangria in the park, feeding animals in the zoo and catching a movie worked as sincerity incarnate. We thought we were someone else. Someone good.
Produced by David Bowie and his guitarist Mick Ronson, Transformer caught the mood of the glam-rock era with Mick Rock's cover of an androgynous Reed, and some classic pop songs – notably Satellite Of Love and Perfect Day – that echoed Bowie's early-70s material. The album even gave Reed a Top 10 hit "Walk On The Wild Side", despite blasé references to drugs and oral sex.
Lou Reed – New York (Sire, 1989)
New York (1989) is widely regarded as one of Reed's strongest solo albums, and "Dirty Blvd." is its principal gem of a song: An unflinching but compassionate tale of a New York boy trapped in a life of squalor and abuse, and yearning to escape. Dion's aching backing vocals are a perfect touch.
Not for Lou Reed the celebratory swing of Sinatra's Theme From New York New York, or the romance of Woody Allen's Manhattan; Reed's portrait of his home town was drawn from the mean streets he knew so well in his junkie years. New York is essentially a concept album, with instructions by Reed for it to be "listened to in one sitting as though it were a book or a movie".
Withering satire dominates, with Dirty Blvd. one of many brutally funny vignettes. Dirty Blvd. is also fundamentally a great rock'n'roll song, and New York is an album filled with them. It's Reed's late career classic. Recorded in late 1988, Lou Reed's New York album sounded like he'd spent months glued to six TV sets blaring out a cacophony of bad news. Making sense of noise was always his trick and, given that he liked nothing better than turning observation into fast art, Reed managed to juggle references that ricochet from TV trash talkers like Morton Downey, homicidal killer Bernard Goetz, some bloke called Donald Trump, the Virgin Mary and questionable UN leader Kurt 'just following orders' Waldheim.
Despite a bewildering set of references, Lou gave it a universal rock'n'roll thrust, reverting to Velvet Underground aesthetics – two guitars, bass and drums, with occasional glimpses of Moe Tucker on percussion.
From the violent click-clack opening of "Romeo Had Juliette" to the sombre investigation into divine versus human doubt of crucifixion epic "Dime Store Mystery", "New York" demanded close investigation. Once achieved, you could only marvel at how redolent of time and place the sound was. You can smell the stink of the Hudson River and that unique aroma of greasy avenues that characterise the city in heat. Warhol died, Nico died, but Reed somehow pulled himself out of the creative doldrums to deliver his most acclaimed album in many years, "New York" is so good he only named it once. Its "fierce poetic journalism" (Rolling Stone) now called out, instead of wallowing in, urban squalor.
The remastered Deluxe Edition brings clarity to the hit song Dirty Blvd (Dion DiMucci's vocals providing an appropriate Latino twist) and the stately evisceration of political corruption held like a flaming torch above Strawman.
All the songs get the live treatment from an already available concert recorded in Montreal. Work tapes and a live Sweet Jane and Walk On The Wild Side add heft, but the main work is the thing here.
Lou Reed – Berlin (RCA, 1973)
Rolling Stone magazine billed Lou Reed's third solo album as "the Sgt. Pepper of the 70s". Many since have called it The Most Depressing Album Of All Time. The truth is probably somewhere in between.
Berlin is undeniably Reed's most over-the–top statement. With a lavish production and an all-star cast including Steve Winwood, it's a concept album-cum-rock opera: the story of a doomed, drug-fuelled romance, told by Reed in the style of a heavily medicated torch singer. He was rewarded with a Top 10 hit in the UK. In the US the album stiffed and Lou went back underground.
Berlin (1973) is, I think, one of Reed's greatest efforts — an extremely dark song cycle whose characters suffer through addiction, abuse and more. It really has to be heard in its entirety to be fully appreciated but here is "Lady Day," the album's second song, which offers a first glimpse at one of the doomed characters, foreshadowing what is to come but not fully descending into tragedy yet. "I said, 'No, no, no, oh Lady Day,' " the narrator sings over and over, as if trying to fend off what is coming.
Before Side 2 of "Berlin" gets really dark, Side 1 is merely very dark indeed. This straddles the line between autobiography and fiction ('speeding and lonely'), with Reed's phrasing urgent yet studied. Bob Ezrin lets Alice Cooper's guitarists fully let rip only once the story's told. A tangible plea for a reprieve from the horrors of existence and making love by proxy. The album's most upbeat track, then.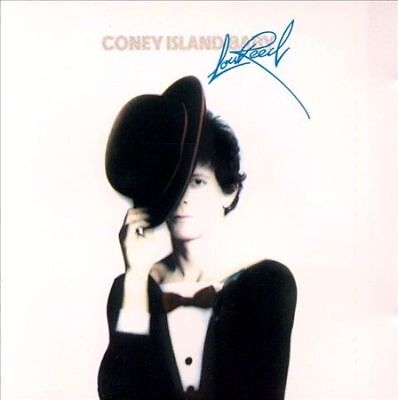 Lou Reed – Coney Island Baby (RCA, 1976)
After the commercial disaster of 1975's Metal Machine Music, Lou had his back to the wall. "I had no money and no guitars," he confessed. Reed had to promise his record label that he wouldn't make 'Son of Metal Machine Music', and he was as good as his word. Just five months after releasing Metal Machine Music, Reed went in almost the direct opposite direction on "Coney Island Baby". Though not without its dark moments, it's dominated by melodic, straightforward pop and rock music, and Reed has rarely sounded as tender and sincere as he does on the doo wop-flavored title track.
"Coney Island Baby" is classic Lou Reed, described in Rolling Stone as "timeless, terrific rock'n'roll". Reed has never written a more beautiful song than this album's title track. A bitter-sweet lament, reminiscent of Dylan's best 70s work, it ends with the redemptive mantra: 'The glory of love might see you through.' In desperation, Reed had dug deep. It's emblematic of Reed's career that as many fans think Coney Island Baby is a flaccid filler as rate it as one of his strongest. Following Metal Machine Music with a tender, vulnerable pastiche of soul and doo-wop had everyone confused. Yet its mellow mood is broken by the incongruous, visceral fusion of words, music, muttering voices and jolting sounds which constitute Kicks. It's as if Reed's dark side is banging on the closet door, demanding to be let out. Sex, blood and adrenalin: it's intense.
His piece de resistance: a loping soul groove, deft doo-wop and Bob Kulick's glistening guitar interjections knit a backdrop over which wannabe tough guy Reed drops the façade and exposes his youthful dreams and emotions ('I wanted to play football for the coach'). It's also a love letter to his transgender muse, Rachel. From the opening monologue's intimacy through the nod to The Five Keys' Glory Of Love (one of his favourite oldies), to the redemptive public-declaration-of-commitment punch-line, Coney Island Baby is as sensitive as it is audacious, and, sonically, a glory. Reed's world was often 'a funny place, something like a circus or a sewer', but here his better angels come shining through.
You could argue the case for A Gift as being one of Coney Island Baby's highlights – "it's so funny", said Lou – but this old Velvets draft from 1968 is updated with terrific feel, for which one-off producer Godfrey Diamond never got due credit. An exquisite surge of rhythm and lead guitars mesh with Bowie-influenced call-and-response "la la la"s, and Reed gauges his vocal to build from confident to pleading. Either his most sincere or artificial love song.
Growing Up In Public (1980)
On the witty, intricately arranged "Growing Up In Public", Reed takes one last long hard look at his various personalities before hitting forty. 'I'm so damned sane', he said. This pomp-rock opener, all piano pirouettes and dovetailed dynamics, a capella blurts and handclaps, borders on sounding like Queen. Lou gives it conviction, asking how he's supposed to talk to pretty girls when his father was "weak" and "simpering".
"Think It Over," from Growing Up in Public (1980), is, I think, an overlooked gem in Reed's catalogue, a sensitively sung grown-up love song that finds the singer proposing marriage but being warned by his partner that they shouldn't rush into anything: "When you ask for someone's heart/You must know that you're smart/Smart enough to care for it, so I'm gonna/Think it over."
Magic And Loss  (Magic And Loss, 1992)
Reed stared into the abyss of death on 1992's "Magic and Loss", which also, somehow, included one of his catchiest songs ever: "What's Good," in which he explores existential confusion in a playful way ("What good is seeing eye chocolate/What good's a computerized nose/And what good was cancer in April/Why no good, no good at all") and concludes, "Life's good, but not fair at all."
Lou's "Magic And Loss" album, which he compared to Beethoven's Fifth, was a set of buttoned-up ponderings on cancer and death which came dressed as Lofty Art: audiences who came to see him play it were barred from drinking or talking. Some believed his hype: weirdly it's his highest-charting UK album (no.6). But it was no Berlin, bar this slow-burn finale about passing through fire.
Lou Reed – Rock 'N' Roll Animal (RCA, 1974)
The best of Reed's 11 live albums was partly a reaction to the harsh criticism and weak US sales of the ambitious "Berlin". As its spiky title implied, "Rock 'N' Roll Animal" had Reed going back to basics, reprising Velvets songs while reaffirming his popular image as rock's junkie-in-chief. After releasing his commercial breakthrough Transformer in 1972 and the ambitious Berlin song cycle in 1973, Reed made one of the all-time great live albums, "Rock 'n' Roll Animal", recorded at the Academy of Music in New York in December '73 and released in 1974. With the exception of "Lady Day," from Berlin, the songs all dated back to his Velvet Underground years, and benefited from the muscular, polished guitar work of Steve Hunter and Dick Wagner. Hunter also wrote the stunning new extended intro for album opener "Sweet Jane":
Reed is backed by a slick five-piece band featuring guitarists Dick Wagner (a future Alice Cooper sidekick) and Steve Hunter. Their flashy licks transformed "Sweet Jane" and "Rock 'N' Roll" into swaggering arena rock anthems, while the album's centrepiece, a woozy, 13-minute version of "Heroin", couldn't have done more to glamourise Reed's drug of choice.
Reed's 1974 live album "Rock 'n' Roll Animal" was such a revelation that in 1975, he released more songs from the same 1973 concert as Lou Reed "Live". "Vicious," like the best of Rock 'n' Roll Animal, got a major boost from the hard-hitting guitar work of bandmates Steve Hunter and Dick Wagner.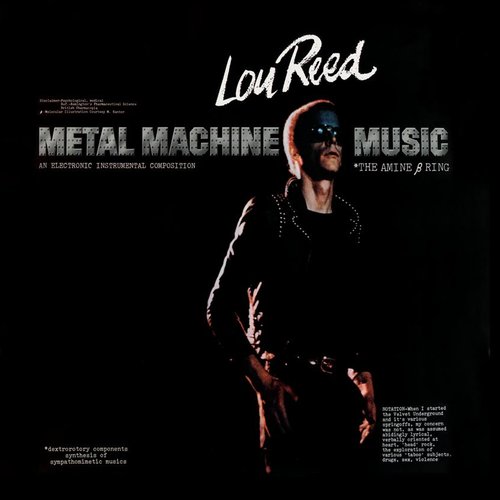 Metal Machine Music (1975)
The double album Metal Machine Music (1975) — almost universally reviled upon its release and rarely played again by anyone, afterwards — is an audacious experiment: Each side of the vinyl release contains 16 minutes of screeching electronic noise. I can hear some music in it, if I try really hard. But I would never listen to more than 30 seconds or so, voluntarily. To endure the whole thing in one sitting would be torture. Yet Reed clearly intended it as a sort of symphony (or anti-symphony) in four parts, so I am sharing, here, the whole thing. Enjoy.
Rock And Roll Heart (1976)
1976's "Rock and Roll Heart" was all over the place, ranging from plainspoken ballads to moody, Berlin-like art-pop and hard-edged rock, with even some occasional jazz influence working its way in. "Follow the Leader" was written back in the Velvet Underground days and still feels unformed — more like a sketch than a finished song. But Reed's new band (featuring keyboardist Michael Fonfara, saxophonist Marty Fogel, bassist Bruce Yaw and drummer Michael Suchorsky) helps give it an urgent edge and make it a standout.
"Rock And Roll Heart", with Reed producing and playing all the guitars, was a confused response to CBGB punk, which he took a while to grasp. "I'm too literate to be into punk rock". It leaps between fiery riffs and self-parodying neo-jazz. Just when you're boxing it off, he pulls out this moody, wilfully repetitive showstopper, a love-hate song, possibly to drugs, which feels clammy, grubby – you can smell it in your hair the next day. It's trashy, it's melodramatic, it's Reed in excelsis.
New Sensations (RCA, 1984)
In the early 80s, Reed quit booze and drugs, and regained his credibility with two cult classic albums: The Blue Mask and Legendary Hearts. What followed those was the most accessible work of his entire career. Shockingly, New Sensations was the sound of Reed lightening up.
I Love You, Suzanne, the most upbeat pop song Reed has ever written, set the tone, while the nonchalantly funky title track even had him pledging to 'eradicate my negative views'. The album wasn't a hit (No.56 in the US, No.92 in the UK). Perhaps the public just wouldn't buy a happy Lou Reed. Five years later the bleak New York proved a more effective comeback.
Mistrial, 1986
"Mistrial" (1986) was notable for Reed's experiment in rap — lead single "The Original Wrapper" as well as "Video Violence," a bracing protest song about the pervasiveness of violent images in film and television. Horrors have become mundane: "Up in the morning, drinking his coffee/Turns on the TV to some slasher movie," Reed sings.
"When I was thirty my attitude was bad". Yes, and your records were good. "Mistrial" is, apart from the hilarious The Original Wrapper, the sound of a forty-something man yelling at the telly from the sofa (Video Violence), and even Reed later bemoaned the production. This closing curveball, where Lou mistakes a film set for a UFO, carried a sly hint of the ghost of Transformer.
The Bells (1979)
Yep, we're *that* hardcore obsessive. Recorded in Germany, the left-handed jazz-rock of "The Bells" climaxes with this noir nine-minute electronic drone, punctuated with Don Cherry's wailing tributes to Ornette Coleman and semi-audible whispers and prayers. At the last, Reed's chipped voice breaks in, spontaneously reciting the story of a Broadway actor falling in ecstasy from a rooftop to his death. "The whole thing is a mood piece, supposed to cause an emotion", he explained. It does. Not an easy listen, it's inexplicably profoundly affecting.
"The Bells" is most notable for its daring, haunting title track, which lasts more than nine minutes, most of which is devoted to an ominous, free-form instrumental (featuring co-writer Marty Fogel on saxophone and Don Cherry on trumpet) wrapped around a short song about an actor committing suicide.
"If you can't play rock and you can't play jazz", declared Lou, "put the two together and you've really got something". "The Bells" is a bizarre, bipolar mix of experiments in binaural sound and so-dumb-it's-smart pop, as if he'd noticed Bowie's Berlin wall-demolishing and fancied some of that. Hated by punk purists at the time, "proof" to them that Reed had "lost it", Disco Mystic is white funk if you ran it through a photocopier fifty times then drained its blood then got an inauthenticity expert to triple-check it was fully inauthentic. Pastiche? Homage? It's stupidly, brilliantly funky.
Street Hassle (1978)
The title track of 1978's Street Hassle and its 11-minute, three-part centerpiece is musically gorgeous and lyrically ambitious, starting with tales of deadpan decadence but building to a heart breaking peak, with a cameo by Bruce Springsteen in the middle. Interesting fact: Reed claimed he wrote the "Tramps like us, we were born to pay" line without consciously thinking about "Born to Run."
Part seedy punk, part cello-led rock opera, "Street Hassle" was, hoped Reed, a cross between "Burroughs, Selby, Chandler, Dostoevsky and rock'n'roll. Dirty mainstream snot". The 11-minute, three-movement title track sees those looped cellos circling like vultures as Lou tells a graphic (even by his standards) tale of O.D.s, "little girls" and "bad shit". And ultimately, "bad luck". Probably the eeriest thing Bruce Springsteen has ever anonymously guested on.
Take No Prisoners (1978)
The double album Take No Prisoners (1978) was Reed's third live album of the '70s, and his fifth if you count Velvet Underground live albums. It was recorded at The Bottom Line in New York — an intimate, hometown venue for him — and finds him frequently talking at length, rambling on about all kinds of stuff, though he sticks to the music on the explosive album closer, "Leave Me Alone."

Set The Twilight Reeling (1996)
After a run of painfully worthy, hark-at-me I'm-so-profound albums, it was a relief and release to hear Lou crank up the guitars again, even if it meant his interviews became yawnsome drones about amplifiers and studio technology. It's full of clumsy poetry, but this attempt to echo Dylan Thomas' "Do not go gentle" does climax with a flare of the old heat.
"Set the Twilight Reeling" (1996) contained some of the strangest songs of Reed's career ("Egg Cream," "Sex With Your Parents"), and that's really saying something. But it also boasts, among its highlights, one of his greatest heart-to-heart ballads, the low-key but musically beguiling "Hang On to Your Emotions."

The Blue Mask (1982)
"The Blue Mask" marked a new chapter, with a new, often loud guitar band. But its best moments involve restrained musical subtlety. Stand-out The Gun has that, but also has Reed's sinister, deadpan narration covering violence, intimidation, home invasion, possibly rape. It's genuinely scary, reminding us that Reed had the genius to make a track haunt your psyche.
The Blue Mask(1982) was widely hailed as a triumph on its release, featuring sympathetic and dynamic backing by a tight three-piece band (guitarist Robert Quine, bassist Fernando Saunders, drummer Doane Perry) and a strong batch of songs. There's no camp and no bizarre experiments here, and no hip indifference. Here is the album's opening song, "My House," which functions as both a tribute to Reed's lyrical mentor (the poet and short story writer Delmore Schwartz) and an introduction to the new, mature, contented Reed. "I really got a lucky life/My writing, my motorcycle and my wife/And to top it all off a spirit of pure poetry/Is living in this stone and wood house with me," he sings.
Sally Can't Dance (1974)
Reed claimed to hate "Sally Can't Dance" (his only US top ten album), but it's rich with wry asides. Ennui, all but hidden away, is one of his frequent accidental not-trying-too-hard flashes of genius. It floats on a sullen mood, his voice so low it rumbles as he, cynical but arch, advises, 'Pick up the pieces of your life/maybe someday you'll have a wife'. Then he adds, 'And alimony'. That punchline's so unexpected that you laugh as you reel. "It's the track most people skip, I guess", said Lou. "It must be; it's the one I like".
After three striking albums in a row, Reed ran out of steam on 1974's "Sally Can't Dance", which goes for shock value at times and crass commercialism at others while rarely making much of an impact. The only track I can really recommend is the raw, harrowing "Kill Your Sons," inspired by Reed's own family history and his experiences with mental illness.
Legendary Hearts (1984)
When writing about Reed, one tends to focus on his lyrics and his audacious sonic experiments, but the main attraction of "Martial Law" (the standout track from 1983's Legendary Hearts) is the hypnotic groove Reed creates with the album's stellar band: guitarist Robert Quine, drummer Fred Maher and bassist Fernando Saunders.

Live in Italy (1984)
The double album Live in Italy (1984) offers a snapshot of Reed's great early-'80s band (guitarist Robert Quine, bassist Fernando Saunders and drummer Fred Maher) and shows them, here, stretching out on an intense medley of the Velvet Underground songs "Some Kinda Love" and "Sister Ray."

Songs For Drella
Starting with 1989's New York, Reed's stretch on Sire Records saw a robust return to form after years of weak albums, in a period that also saw him pick up his guitar again and finally find personal happiness with partner Laurie Anderson.
Reed reunited with John Cale for the poignantly Warhol-homaging "Songs For Drella", No one expected Reed and his equally headstrong Velvet Underground partner John Cale ever to make an album together after Cale left the group in 1968. But that's what happened in 1990, when they reunited to record a tribute to their mentor Andy Warhol, who had died in 1987. Their chemistry was back in full force on much of it, including "Work," which is about Warhol's fierce work ethic. Reed sings: "Sometimes when I can't decide what I should do/I think what would Andy have said/He'd probably say you think too much/That's 'cause there's work that you don't want to do."
Perfect Night: Live in London (1998)
Perfect Night: Live in London (recorded in '97, released in '98) was Reed's fifth concert album (his eighth if you count the Velvet Underground) and unique among them for its calmness and clarity. This isn't Lou Reed the showman or Lou Reed the provocateur, just Lou Reed the rock craftsman and a great, sympathetic band (guitarist Mike Rathke, bassist Fernando Saunders, drummer Tony "Thunder" Smith) working their way through his catalogue. Here's "Busload of Faith," from Reed's New York album.
Ecstasy (2000)
In 2000, Reed released his "Ecstasy" album. With a one-of-a-kind video like this, how could I not share "Modern Dance"? (I actually like the song quite a bit, too.)
The Raven (2003)
Lou Reed's 2003 double album "The Raven" was an ambitious, uneven affair, featuring songs written for "POEtry" — Reed's 2000 collaboration with director Robert Wilson, an experimental opera based on the works of Edgar Allan Poe — with support from a multitude of guest musicians and actors, including David Bowie, Laurie Anderson, Steve Buscemi and Willem Dafoe. Here's "Guilty," featuring one of Reed's biggest influences, Ornette Coleman, on alto sax.
Animal Serenade
"Animal Serenade" was a live album, recorded in Los Angeles in 2003, featuring a kind of chamber-pop band configuration with Reed and Mike Rathke on guitars, Fernando Saunders on bass and vocals, Jane Scarpantoni on cello, and some guest vocals by Antony Hegarty (of Antony & the Johnsons). Rathke also does an amazing job of re-creating the sound of a piano on a guitar synthesizer: Listen to him do so here on "Vanishing Act," originally from the then-recent album "The Raven".
Lulu ( 2011)
Lou Reed's last studio album was "Lulu", recorded with Metallica and released in 2011; he died in 2013. Lulu got mixed reviews, including some very negative ones. I'm not a huge fan of it myself but do offer, here, a track that I think does work pretty well: "Iced Honey."