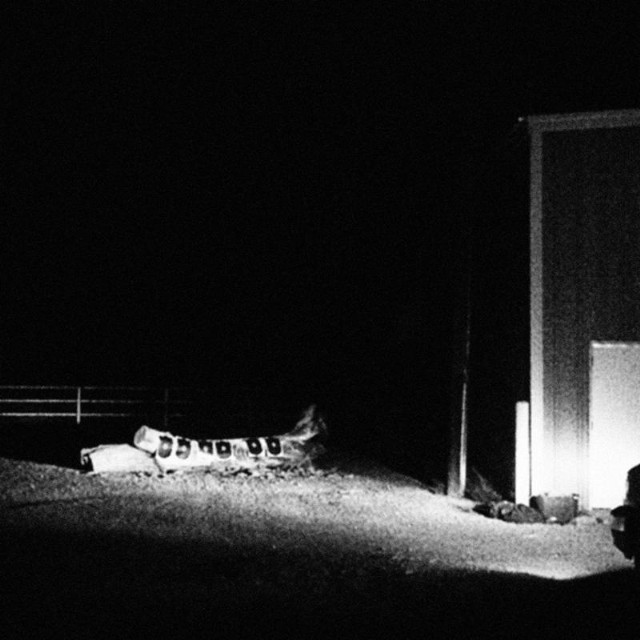 Cloud Nothings' "Modern Act" remains uniquely memorable for the sole fact of debuting on November 9th, 2016. Frontman Dylan Baldi claims he simply forgot about the PR timetable of Life Without Sound, which is how the video went live hours after Donald Trump won the presidential election, promoting an album to be released in the first week of his administration. This honest mistake set the tone for a mild reception like recent tourmates Japandroids, Cloud Nothings were docked as many points for releasing an atypically glossy and optimistic rock record as they were for failing to anticipate January 2017 as the worst possible time for glossy and optimistic rock records. The tunnel-vision approach positioned Cloud Nothings as a trusted source of spiteful and spiky mainstream punk in a less narrative-driven time, but their latest, Last Building Burning, proves Baldi isn't going to get caught failing to read the room again.
Every possible optic of Last Building Burning is directed at writing Life Without Sound out of history, reimagining Cloud Nothings going in an even grittier, grimier direction after their 2014 potboiler Here and Nowhere Else. Life Without Sound's cover was periwinkle? This one returns to black and white. Randall Dunn plays the same role as Steve Albini and John Congleton, a guy acclaimed for impeccable sonics and ingenious microphone placement who instead tries to make Cloud Nothings sound like they recorded inside a garage with a running car. The previous album lacked an extended freakout like Attack on Memory's "Wasted Days" or Here and Nowhere Else's "Pattern Walks," so not only do they bring that back for Last Building Burning, this one ("Dissolution") is 11 minutes.
And while no one begrudges whatever happiness, maturity, and stability Baldi has accumulated in life, expressing them as Cloud Nothings songs was, at worst, a misallocation of resources. "Leave Him Now" is a sign that Baldi hasn't completely given up trying to be topical or the better man this time around: It's the rare song that urges a woman to ditch the loser without implying that the singer is swooping in for the rescue. Early in the band's career, Baldi's voice didn't have the heft or grain to sound tough when he screamed, and that peevish edge still works to his advantage, making petulant lyrics sound convincing ("I'll be alone in my shame," "I wish I could believe in your dream").
Cloud Nothings are one of the only bands that could potentially sell their isolated drum tracks, but for long stretches ofLife Without Sound, I wasn't sure if drummer Jayson Gerycz was still around. The new album's opener "On an Edge" doesn't even bother with the pretense of trying to build suspense or a sonic arc—in essentially trying to cover Yank Crime within three and a half minutes, Gerycz gets to play as many fills in one song as the entirety of the last record. Throughout, he's the embodiment of Baldi's promised "bursts of intense, controlled chaos" Gerycz's snare is EQ'd like a reified action hero punch, and he occasionally plays ahead of the beat, jamming in fills that threaten to throw everything off-course, except that is the course it's supposed to take, like Russell Westbrook going to the rim, the chip on his shoulder remaining implanted no matter how much contact he makes. No one would call it efficient, but it's effective.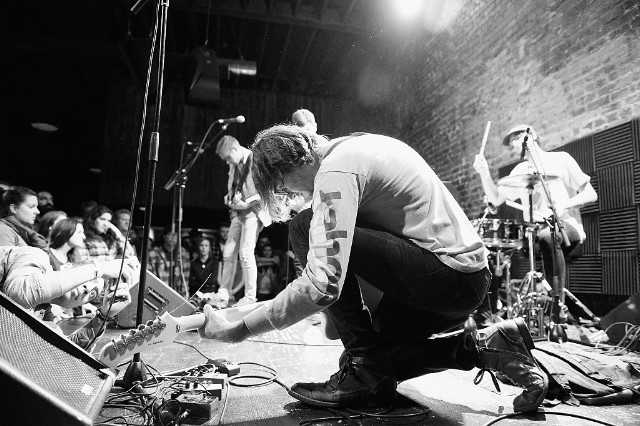 "I'm obsessed with energy at the moment," Baldi stated in a press release, heavily implying that was not the case last time around. But the suggestion of an adversarial relationship to its predecessor introduces something of a horseshoe theory with Last Building Burning. By setting its course in the equal and opposite direction of Life Without Sound, it becomes its evil twin, a still-incomplete picture of Cloud Nothings. Attack on Memoryand Here and Nowhere Else were pulled taut by the band's warring impulses—Baldi's trying when Cloud Nothings emulate the Wipers or Hüsker Dü, but the melodies that could've made Vagrant Records a lot of money had he been born 15 years earlier come naturally. A lot of times, the latter doesn't sit entirely well with Baldi and with the exception of "Leave Him Now," his hooks are almost entirely rhythmic or instrumental—"Echo of the World" with its Trail of Dead-like churn, the doomy drone of "So Right, So Clean." Yet Last Building Burning feels like a triumphant return because there isn't as much pressure on it to do or say anything beyond its purely utilitarian aims. It slaps, shreds, and whips ass.