Demon Records presents "Distortion: 1989-1995" , the first in a series of four expansive vinyl box sets chronicling the solo career of legendary American musician Bob Mould.
Bob Mould is releasing this massive, career-spanning box set chronicling 30 years of his solo music, as well as his work in the band Sugar. Distortion: 1989-2019 arrives October 2nd (via Demon Music Group). The anthology includes 18 studio albums, four live albums, and two albums of rarities and collaborations, spanning the 24 CD set Distortion: 1989-2019 and the 8xLP collection Distortion: 1989-1995. Find images of the full set below, and scroll down to watch a 2005 live video of Mould performing Hüsker Dü's "Could You Be the One?"; also, check out the trailer for Distortion.
Bob Mould's career began in 1979 with the iconic underground punk group Hüsker Dü before forming the beloved alternative rock band Sugar and releasing numerous critically acclaimed solo albums. Volume one in this new series covers 1989 to 1995, beginning with Mould's first post Hüsker Dü album workbook and continuing through to Sugar's final studio album file under: Easy Listening.
"It's called Distortion because it describes the music and it fits the world we live in," Mould said of the box set in a press release. "In this new age, everybody shares their life in real time. But I'm not done yet. If I didn't have a constantly active career, this anthology might feel like the proverbial dirt landing on top of my coffin—though somehow I seem to be able to crawl my way out of the dirt every time!" Of his 2005 performance of "Could You Be the One?" Mould said:
For years, I didn't play any Hüsker Dü material with my subsequent touring bands. This was the first time my long time friend and colleague Jason Narducy (bass) played in my touring band. Rich Morel (keys) was my work partner for 11 years in BLOWOFF, and the 9:30 Club was home for our monthly dance party. Brendan Canty (drums) nudged me out of my self-imposed "rock retirement" after the 1998 Last Dog and Pony Show tour (which is also chronicled in the box set). Brendan's company Trixie Productions filmed and edited the show.
Bob Mould's next studio album "Blue Hearts" arrives September 25 via Merge Records.
• each album is presented with brand new artwork designed by illustrator Simon Marchner and pressed on 140g clear vinyl with unique splatter effects .
• includes a 28 page companion booklet featuring: liner notes by journalist Keith Cameron; a foreword by writer and actor Fred Armisen ; a tribute from Richard Thompson; lyrics and memorabilia. • mastered by Jeff Lipton and Maria Rice at peerless mastering in Boston.
• featuring an array of bonus tracks including Sugar's 1995 collection of b sides and non album tracks besides , along with Distortion plus: 1989-1995 a new and exclusive collection of rarities and collaborations (pressed on clear vinyl).
• this indies exclusive edition is strictly limited to 750 copies worldwide and includes a 12"x12" screen print of the new Copper Blue album cover, hand signed by illustrator Simon Marchner and Bob Mould himself.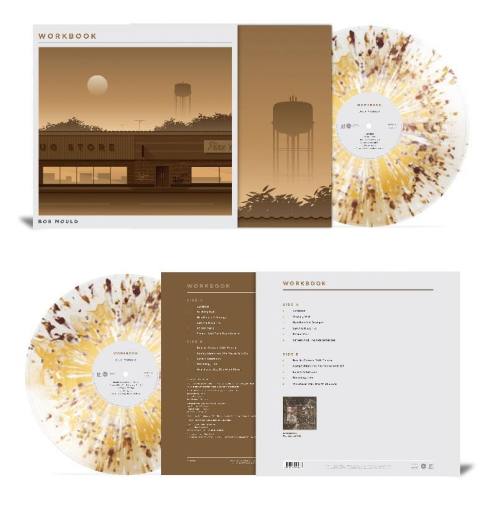 lp 1: bob mould workbook side a 1. sunspots 2. wishing well 3. heartbreak a stranger 4. see a little light 5. poison years 6. sinners and their repentances side b 1. brasilia crossed with trenton 2. compositions for the young and old 3. lonely afternoon 4. dreaming, i am 5. whichever way the wind blows
lp 2: bob mould black sheets of rain side a 1. black sheets of rain 2. stand guard 3. it's too late 4. one good reason 5. stop your crying side b 1. hanging tree 2. the last night 3. hear me calling 4. out of your life 5. disappointed 6. sacrifice / let there be peace
lp 3: sugar copper blue side a 1. the act we act 2. a good idea 3. changes 4. helpless 5. hoover dam side b 1. the slim 2. if i can't change your mind 3. fortune teller 4. slick 5. man on the moon
lp 4: sugar beaster side a 1. come around 2. tilted 3. judas cradle side b 1. jc auto 2. feeling better 3. walking away
lp 5: sugar file under: easy listening side a 1. gift 2. company book 3. your favorite thing 4. what you want it to be 5. gee angel side b 1. panama city motel 2. can't help you anymore 3. granny cool 4. believe what you're saying 5. explode and make up
lp 6 & 7: sugar besides side a 1. needle hits e 2. if i can't change your mind (solo mix) 3. try again 4. where diamonds are halos (live) 5. armenia city in the sky (live) side b 1. clownmaster 2. anyone (live) 3. jc auto (live) 4. believe what you're saying (campfire mix) 5. mind is an island side c 1. frustration 2. going home 3. in the eyes of my friends 4. and you tell me side d (bbc radio 1. if i can't change your mind 2. hoover dam 3. the slim 4. where diamonds are halos
lp 8: distortion plus: 1989 1995 side a 1. all those people know bob mould 2. no water in hell bob mould 3. dying from the inside out the golden palominos side b 1. dio throwing muses 2. hickory wind bob mould & vic chesnutt 3. can't fight it bob mould 4. turning of the tide bob mould