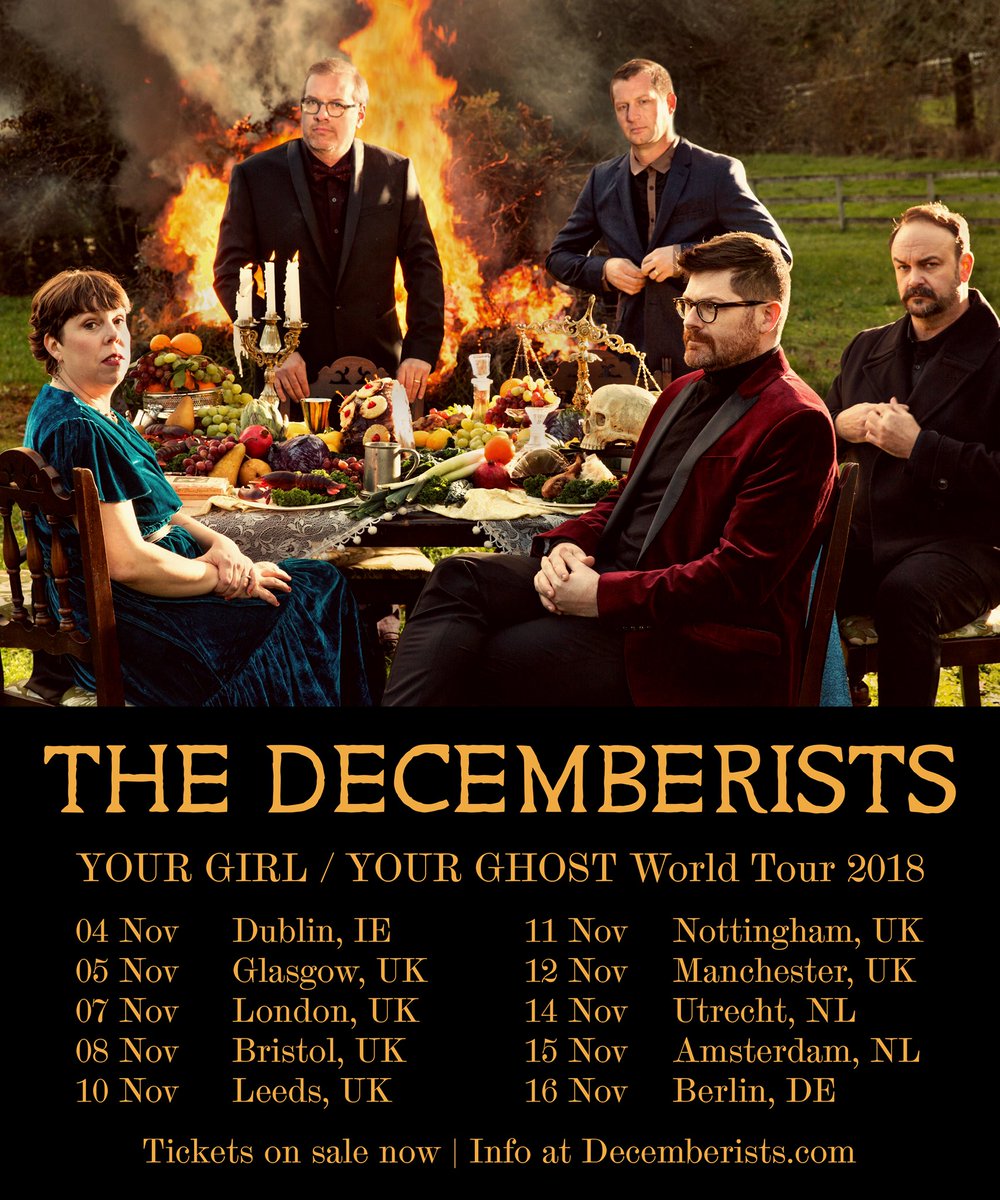 The Decemberists  have shared the second single from their forthcoming eighth studio album, I'll Be Your Girl, out on March 16th via Capitol Records.
Their first single, "Severed," saw the band taking on a radical new electronic, synth-pop sound as they name dropped unexpected influences like Roxy Music, New Order and Depeche Mode, and they even said it started as a punk song. Synths follow the band into their new single "Once In My Life" though the acoustic guitar-led intro and outro give off the familiar comfort of a traditional Decemberists track. However, sandwiched in between the song's edges is a spacey, synth-driven track that somehow manages to coexist with the indie-folk balladry of front man Colin Meloy's lead vocals.
Meloy said the track was elevated by the band in the studio and he commented, "We were playing that on the road as a folk-rock anthem thing, but bringing in that obliterating synth really took it somewhere different. The whole band really stepped up and transformed these arrangements."
New album 'I'll Be Your Girl' available March 16th:
This thing, this molten piece of spectacular extravagance, is available for pre-order now and will ship no later than June 15th, 2018. No fear: each pre-order will come with a digital download of the album that can be redeemed on March 16 (the four extra tracks will be available for digital download on the shipping date).
FEATURES:
• Sixteen songs — all eleven of the album tracks + four exclusive tracks from the IBYG sessions
• Eight  7" vinyl records, each a different color
• Nine sleeve pinwheeling, heavy duty cardstock book with slide-out record jacket pockets, full color art from Carson Ellis and paper engineered pop-up elements
• Full color booklet SIGNED BY THE BAND
• Lives tidily inside a hefty chipboard slipcase.
(Plus a few special secrets)
"Once In My Life" is the first song on I'll Be Your Girl. I imagine you've felt this way, or are maybe feeling this way right now. It's a pretty universal sentiment, I think. Embrace it. Hope you enjoy the song. – Colin Meloy
The Decemberists are back! Their band members include drummer Joen Moen, guitarists Chris Funk and Colin Meloy who takes lead vocals, multi-instrumentalist Chris Funk and Nate Query playing bass.
This year sees the release of their latest album; I'll Be Your Girl. And so, you can catch them showing off their new material Fans are all very excited to get their hands on The Decemberists tickets,